I'll never forget driving into the town center of Bergen, Norway for the first time. Colorful buildings, old-world architecture, and the mountainous backdrop all contributed equally to that tingling of wanderlust that nipped at my consciousness.
It was our first stop in Scandinavia and it made quite the impression.
We spent four days in the city and found it was enough time to take advantage of all the things to do in Bergen plus time to do some day trips as well.
If there is one place you should visit in Norway, Bergen is our pick. And here's why!
Things to do in Bergen, Norway
Rounding up all of the amazing things to do in Bergen, Norway.
Colorful buildings, old-world architecture, and a mountainous backdrop made for picture-perfect views.
For outdoor lovers, Bergen has it all. It's a city surrounded by seven mountains.
It's a rite of passage for residents to hike all seven summits in one day, but visitors can summit two mountains, Urlikan Mountain and Floyen Mountain with ease.
1. Urliken Cable Car – Urlikan Mountain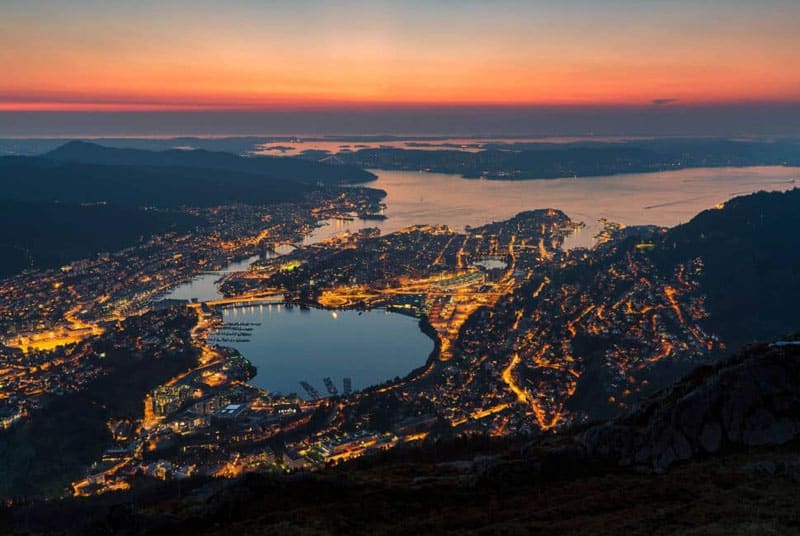 We had heard that sunset up Ulriken Mountain was the best place to see the city, so we made our way to the cable car for incredible panoramic views of Bergen.
You can take a local bus, but with limited time, we caught the tourist bus to the base of the mountain. It's faster but more expensive.
Everyone speaks perfect English in Norway, so it was easy to ask the driver for information.
He even showed us where to purchase tickets for the cable car at the kiosk once we arrived at the base of the mountain.
When we got to the top, we were amazed at the number of locals that had hiked up instead of taking the cable car.
If we had gotten to the mountain earlier, we would have definitely taken advantage of the endless hiking trails.
We were told that we could hike all the way to the funicular closer to the city in a few short hours.
See it on Google Maps
How to Get there: Catch the tourist bus from the center of Bergen.
You can also hike to the top from Bergen or take the local bus.
2. Ziplining and Paragliding from Urlikan
If you have time and are looking for something thrilling to do in Bergen, there is a zipline that takes you over the mountain vista from the top of Urlikan.
And paragliders were soaring overhead for sunset.
As the final zipliners finished their rides and the last of the paragliders soared overhead, we took in the splendid view, feeling grateful to begin our trip in spectacular fashion.
**Note: Norway is not cheap and basically a bus and cable car ticket costs about $32 USD pp**
3. Fløibanen Funicular to Fløyen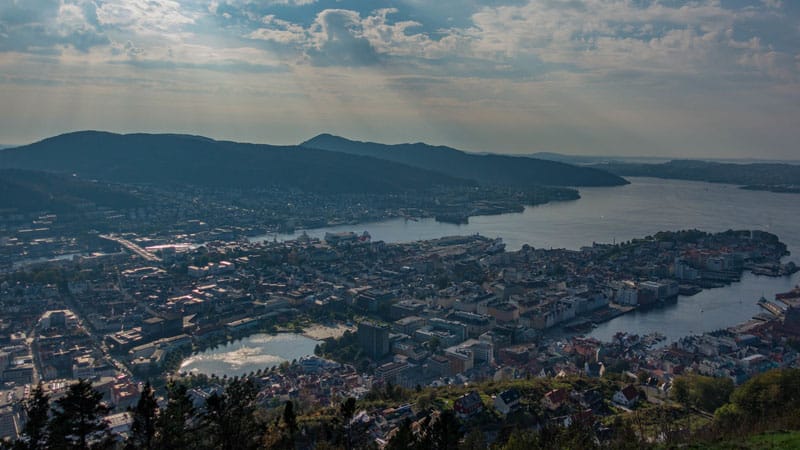 If you are only in Bergen for a short time, a good alternative to the cable car at Ulriken is a trip up the funicular to Floyen.
The base of the funicular is located right downtown and you will be at the top of the mountain in twelve minutes.
This offers another beautiful view of Bergen and here there are also hiking trails to take you to one of the other seven mountains surrounding the city.
It's a lovely afternoon sitting at the top, looking over the Norwegian Sea and sipping a coffee on the outdoor patio.
Don't forget to look for the resident mountain goats.
Make sure you walk along the path or to the bottom of the terraced steps to enjoy watching cut mountain goats scampering and munching on grass and leaves.
4. Explore the Streets of Bryggen
Bryggen is fairytale village of historic wooden houses lining the waterfront. It is also the best place to begin to explore Bergen.
We made a base at Clarion Havnekontoret Bergen on the wharf on the opposite side of the bay looking towards Bryggen.
Because of our location, we were walking distance from everywhere we took a walking tour to Bryggen to explore this picturesque World Heritage Site and learn of its Hanseatic History.
We were lucky to be able to tour Bryggen with our Go Ahead Tours Guide Derek who told us all about the Hanseatic wharf.
While the buildings are beautiful to look at, the history is even more fascinating.
The wharf is open to the public and can be entered for free.
3. Visit KODE Museums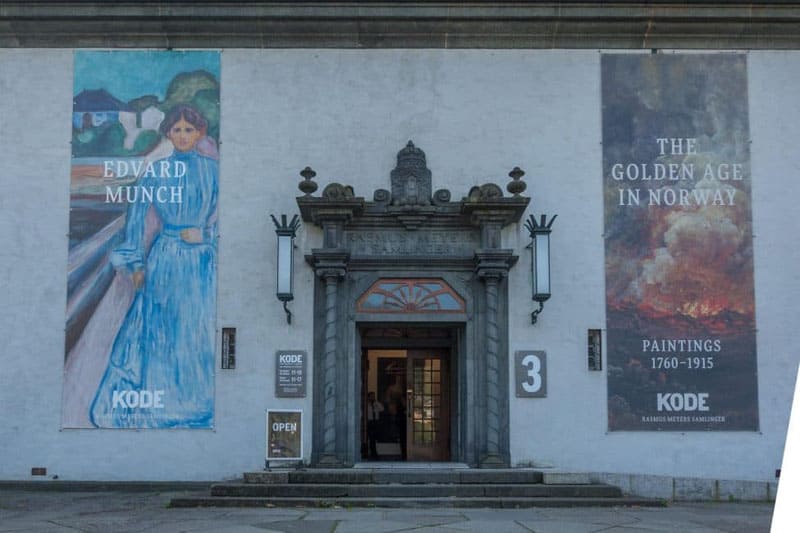 Bergen has an excellent museum district. What makes it unique is it not only houses art, but it is also a collection of composers homes.
KODE is one of Scandinavia's largest museums for art, design, and music.
There are four different museums displaying everything from modern art to furniture, music and arts and crafts.
KODE is located right in the city center and is a must to visit.
Simply browsing the exteriors is interesting enough but definitely make sure to go inside to see the masterpieces from the likes of Dahl, Astrup and Munch.
Get directions to KODE on Google maps

Visit the website for hours and information
4. Celebrate Edvard Munch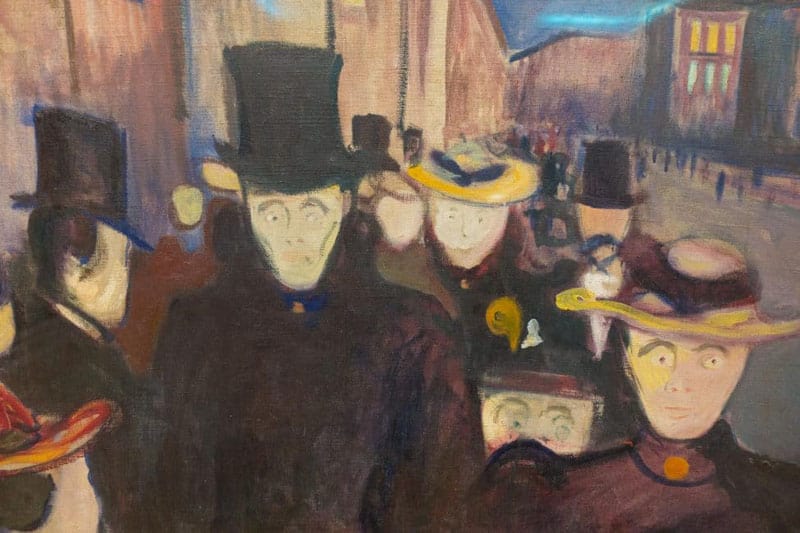 We were in Bergen to see Edvard Munch.
If museums are your thing, then hold onto your hat because you just hit the jackpot.
Bergen Kode number 3 has one of the largest and most important Munch collections in the world.
If you don't know him, Munch is famous for his painting "The Scream". There are four versions of The Scream around the world.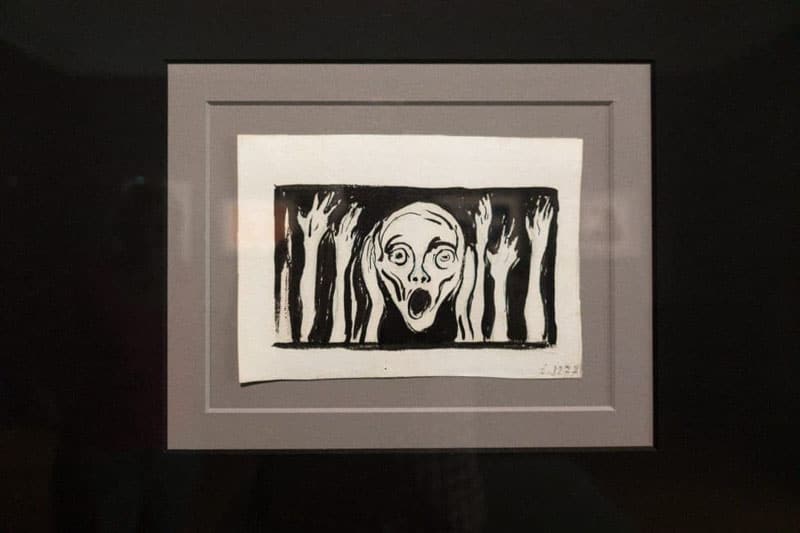 Three are located in Norway, while one is owned by a private collector.
Bergen has his pen and ink version which is very unique to see.
Get directions to KODE 3 on Google Maps

Visit the website for hours and prices.
6. Hanseatic Museum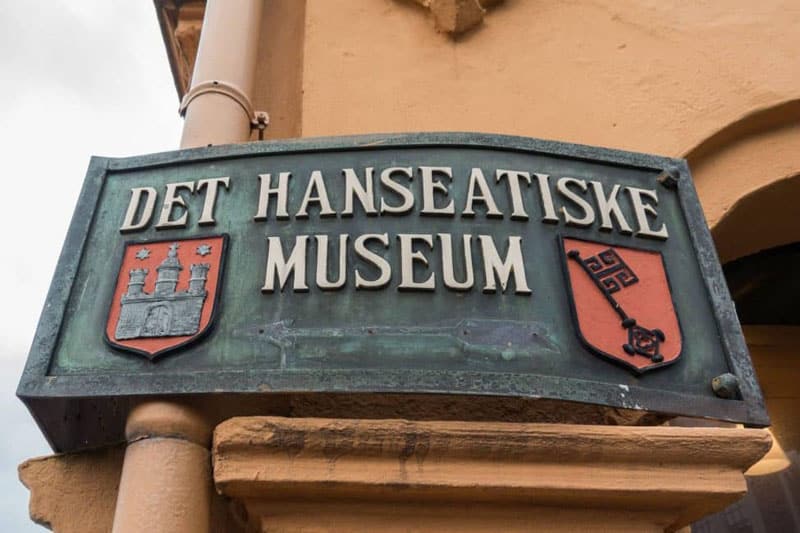 We started at the Hanseatic Museum where we learned about the Hanseatic culture.
The Hanseatic League ran Bryggen in the Middle Ages.
It was a thriving merchant society and the town became an important trading center.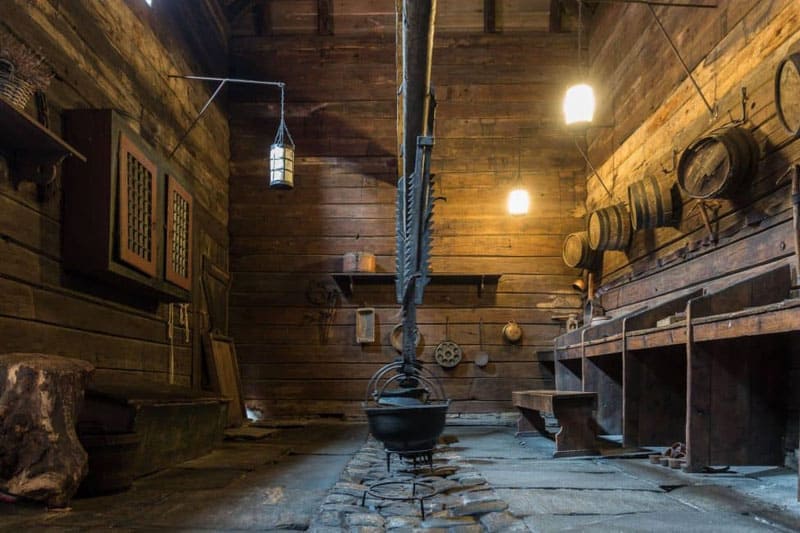 The buildings of Bryggen have seen many fires since it's establishment in 1070, but much of the old town has survived since the 1700s.
It's a beautiful walk through the narrow streets taking you instantly back in time to the moment you stepped foot on in the old wharf.
Get directions on Google Maps

For an indepth tour of the Hansiatic History book a walking tour with Get Your Guide. Free cancellation with 24 hours and last minute bookings!
7. Edvard Grieg Museum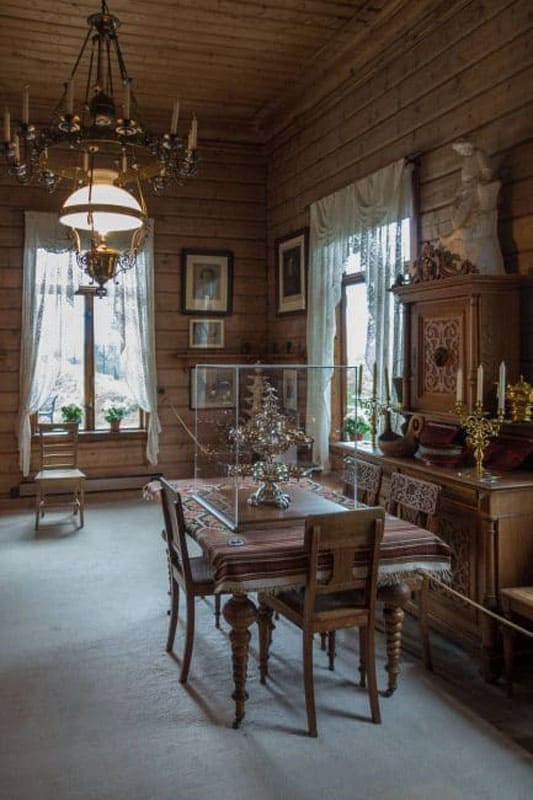 After spending two days in Bergen on our own, we joined our tour group for a trip to Troldhaugen where the famous composer Edvard Grieg spent his days writing music.
I must confess that my knowledge of composers doesn't extend much beyond Bach and Beethoven.
But I was curious when our guide Derek told us Grieg was Norway's most famous composer and wanted to learn more.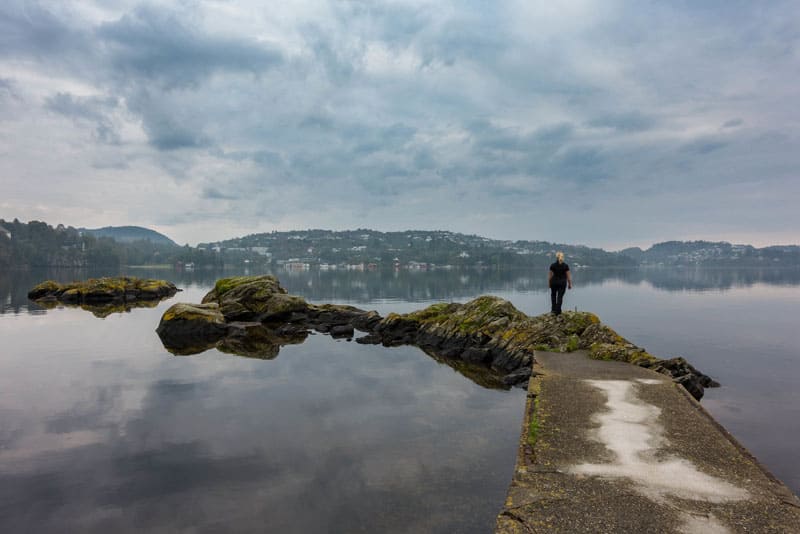 This countryside setting was his house and property where he wrote and composed his music.
The tour takes you through his home and also outside to his sanctuary where all the magic happened.
Edvard Grieg was more famous than Strauss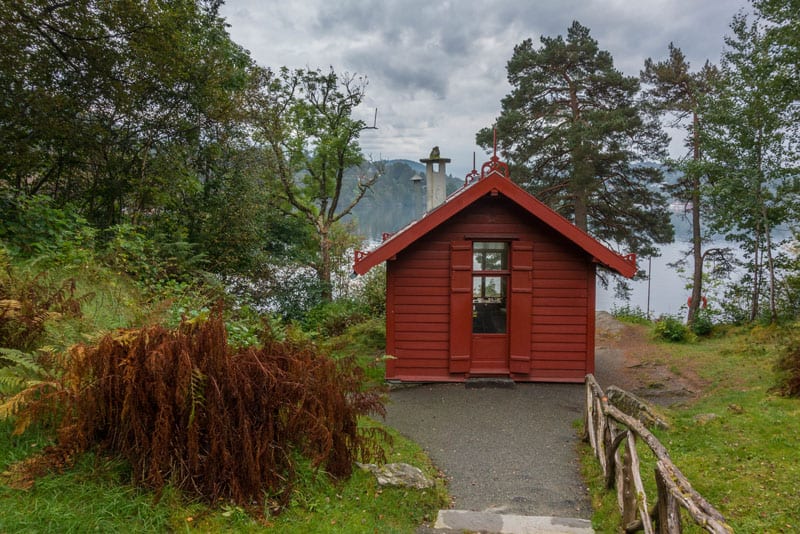 To give you an idea of how popular he was in his day, he was offered $20,000 USD to perform in America.
He had terrible seasickness, so he turned it down and they replaced him with Strauss who was only paid $6,000.
If you would like to listen to some Grieg you can check out some of his music here.
Check location on Google Maps.

You can take public transportation out to Troldhaugen but the Bergen City Card offers free transportation and entrance to museums in Bergen. You can purchase 24, 48 or 72 hour passes. More details here. (free cancellation up to 24 hours notice)
8. Old Bergen Museum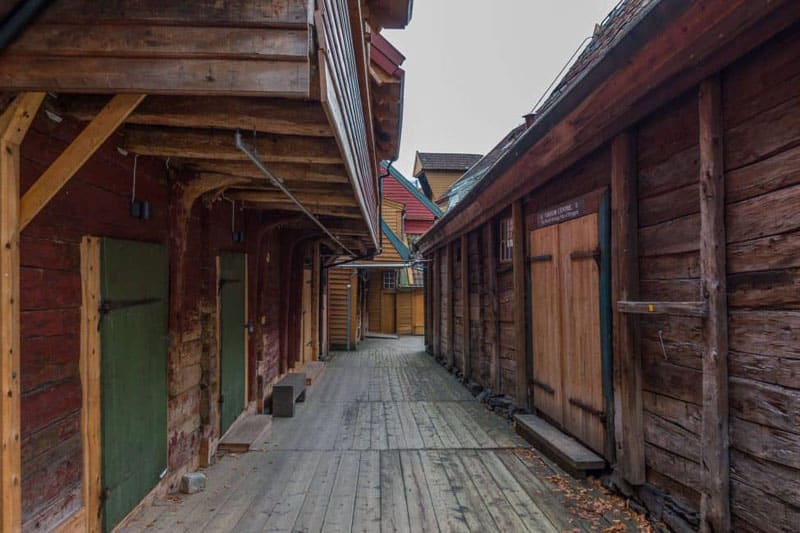 Located just a few km outside of town the Old Bergen Museum is a collection of 40 wooden houses from the 18th and 19th century.
It is Europes largest wooden city.
Step back in time as actors dressed in historical costumes reenact what life was like.
There's also a lovely park to go for a stroll.
Find it on Google Maps

Get the Bergen City Card for transporation and entrance to the Old Bergen Museum.
9. Explore the Fish Market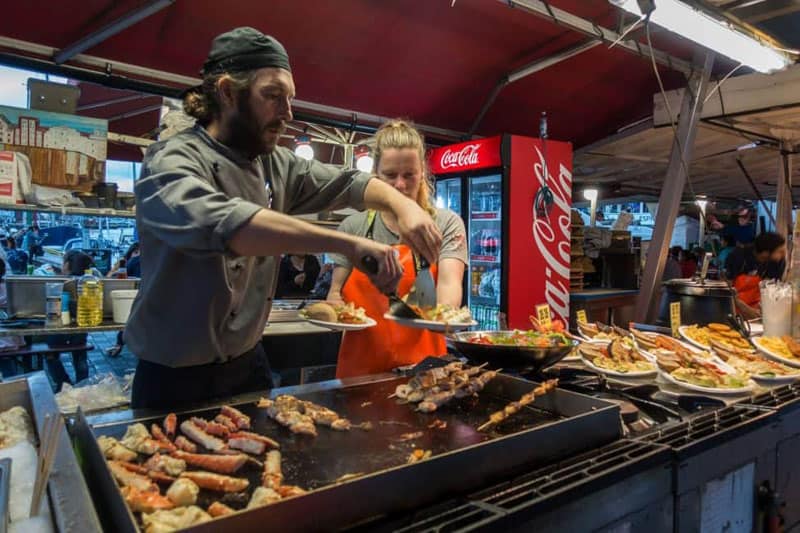 Norwegian culture was built on fishing. If you don't embrace the fish culture, you'll be missing a lot of what makes Norway tick.
The Bergen fish market dates back to the 1200s where merchants still sell their fresh catch of the day as they have for centuries.
The market lines the waterfront and is worth strolling through to check out the dried cod hanging from the florescent lights.
The fish market is a great option for dinner. Grab a spot on the patio and choose your fresh catch of the day. I preferred the bucket of muscles.
We'll be adding Bergen to our list of Europe's Most Beautiful Cities
Find it on Google Maps

Take a more in depth tour of Bergen on a walking tour.
10. Bergenhus Fortress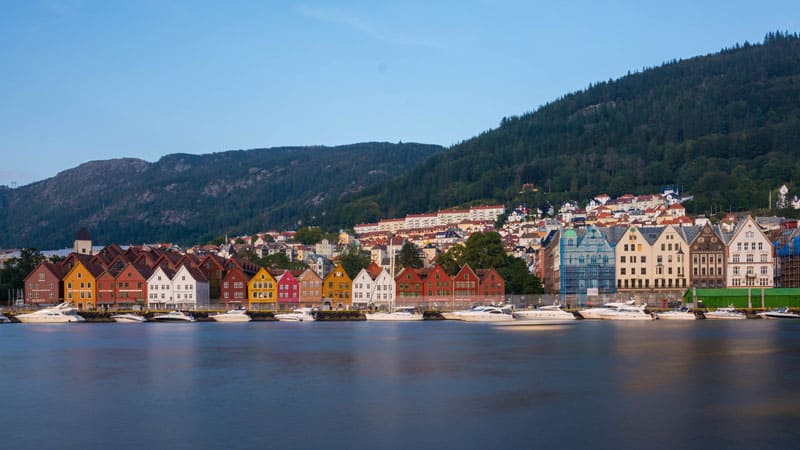 Located on the waterfront, the Bergenhus Fortress is a historic castle.
Dating back to 1240, it is one of the best-preserved stone forts in the country.
There are rotating exhibits inside the fortress and it is free to enter.
11. Rosenkrantz Tower
One of the more popular attractions inside the fortress is Rosenkrantz Tower.
It was constructed by Erik Rosenkrantz, the governor of Bergen Castle at the time.
Tours of the tower offer excellent views of the harbour and run daily on the hour taking you up the tower and to Haakon's Hall.
We mentioned KODE above when talking about Edvard Munch, but
Take a self-guided audio walking tour to explore the Bergen Fortress and the historic buildings and harbour of Bergen with this mp3 guide.
Day Trips from Bergen
12. Fjord Tour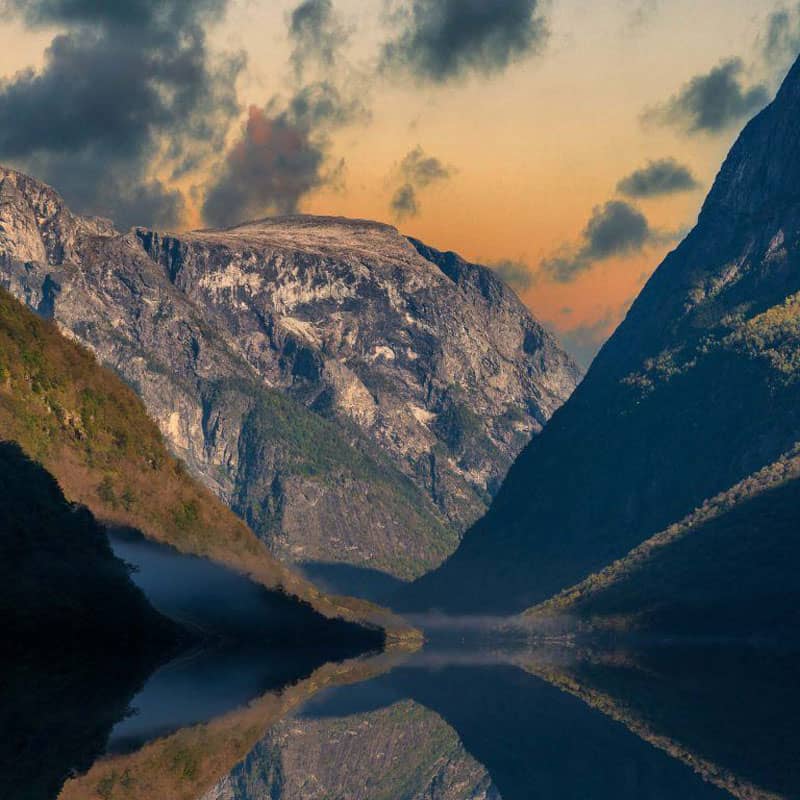 Bergen is the jumping-off point for visiting Norway's most famous fjords.
It's from here that you can take "Norway in a Nutshell" tour and be back in Bergen in time for dinner.
Norway in a Nutshell was included in our Go Ahead Tour where we caught a train to Voss.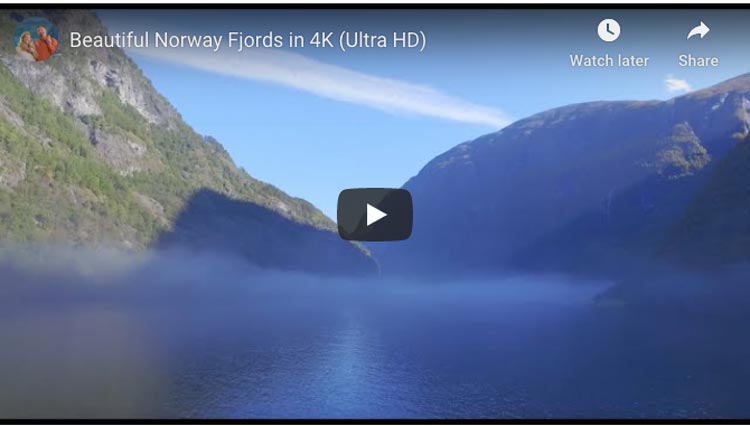 We then hopped on a bus that took us through the scenic mountains en-route to Gudvangen for our trip through the UNESCO-protected Nærøyfjord.
It was here that we hopped on a ferry and took in the magnificent fjords towering 1800 meters above the sea.
Taking in the towering gorges wet with the mist of the morning. Waving to local Norwegians that go about their daily routines in the small villages that dot this impressive landscape.
This is what Norway is all about. I could have cruised for days among these giants, but another adventure awaited on our train ride back to Bergen.
You can book Fjord tours from downtown Bergen or you can book in advance from GetYourGuide.

This 11 private tour takes you to the same route that we did.
13. Flåm Railway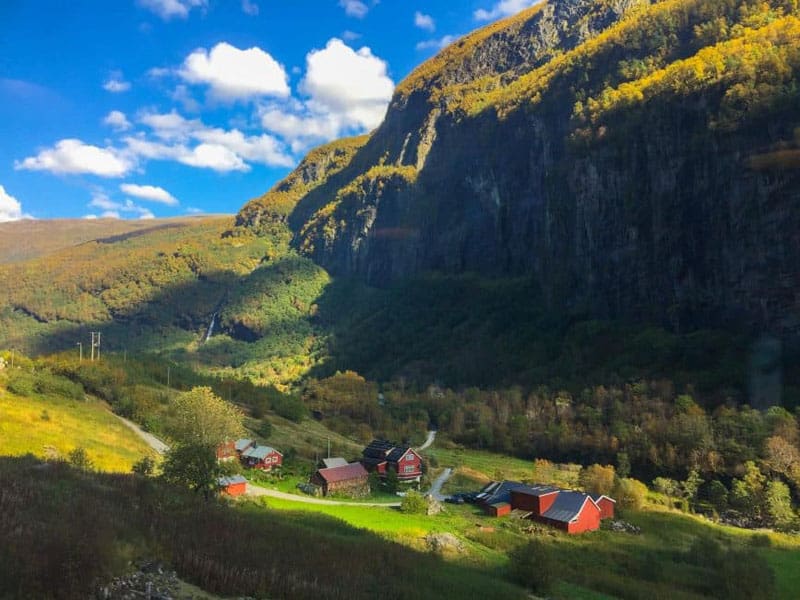 Our trip home ended along the Flåm Railway, the steepest railway in the world where we were treated to beautiful views of the mountains.
It is considered one of the most beautiful rail trips in the world.
14. Fantoft Stave Church
Ornamental Stave Churches can be found throughout Norway and the Fantoft Stave Church is one of the most famous.
Located just outside of Bergen it dates back to 1150. It was a victim of arson in 1992 and rebuilt, but it is a very good display of this architectural style.
Find it on Google Maps here.

Your Bergen City Card will give you access to the Fantoft Stave Church and access to transit to get there. Details here.
Where to Stay in Bergen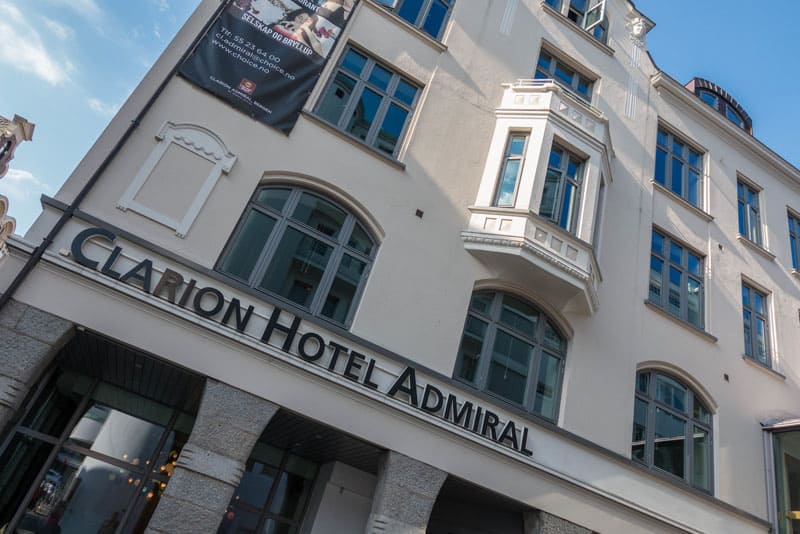 The Clarion Hotel was an excellent location in Bergen.
With a central location, it was also a spot with modern rooms, fine dining, and an excellent bar overlooking the port.
This was our base for exploring Bergen and explore the city we did!
Check out prices on TripAdvisor or Booking.com
Visit Bergen
With only a few days to explore this beautiful town, I am sure that we only scratched the surface of what Bergen has to offer.
But that is one of the reasons that we chose to go with GoAhead Tours.
It is a great way to discover a few gems and leave the others to be uncovered when we return.
If there is one thing I can guarantee, it is that we will be back in Bergen again.
Enjoy this article on Bergen? Save it to Pinterest for future travel planning.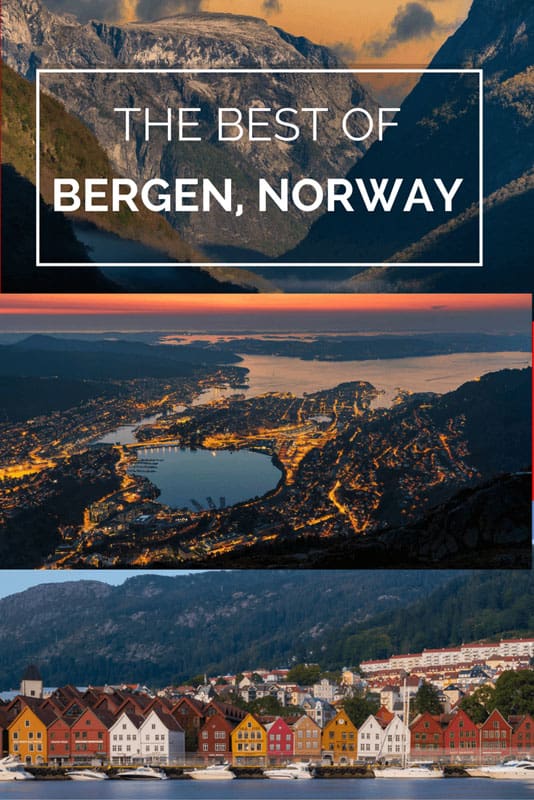 This post is in partnership with Go Ahead Tours who sponsored our trip to Scandinavia. As usual, all our opinions are our own. With more than 150 guided tours across all 7 continents, Go Ahead Tours has dedicated travel sites for both U.S. and Canadian travelers.
Read More about travel in Norway
See more Scandinavia Travel Tips