It was around 2003 when I read A Year in Provence
by Peter Mayle.  We had been traveling for a little bit, but we had also settled into buying a house.  We were wrestling with trying to juggle our life in Canada and satisfying our thirst for travel. 
During the 3 years that we owned our home, I read a lot of travel books.  I knew that we weren't destined to live in a house in the suburbs for the rest of our lives.
Belle Provence, Following the Footsteps of Cezanne
Maybe buying a home in Provence would be our answer. Then again maybe it wasn't. But I knew that I wanted to go to that quiet corner of France one day. Many years have past and we have finally made it. There is something magical about traveling through places that you have read about in literature that had a great impact on your life.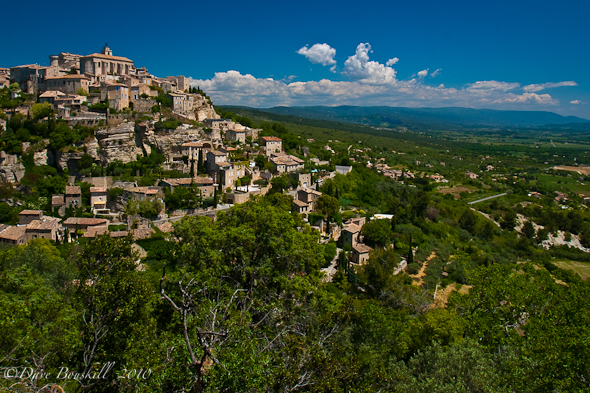 Provence is filled with beauty. Rolling hills, blooming flowers and quiet medieval cities scatter the landscape of this province located in the south of France.
Aix En Provence
There is one city however that isn't quite so serene, but is filled with life, youth and energy.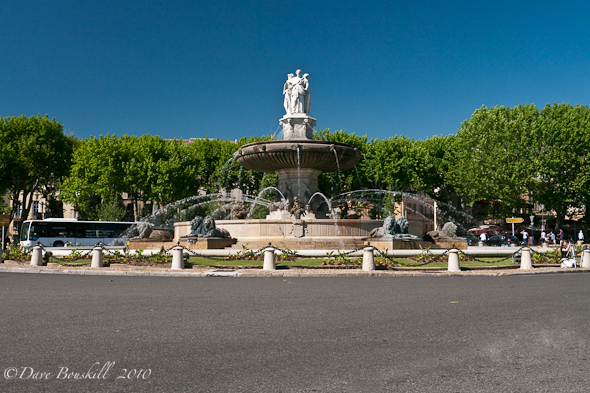 Aix en Provence is an artsy University town just 20 minutes north of Marseilles.  It was also the birthplace and home to the great painter Paul Cezanne. The city is proud of this historical fact and traces of Cezanne can be found everywhere in the city.
The Cezanne walk is your best way to see everything Cezanne.  This is a fun and interesting self guided tour that Dave and I did during a sunny afternoon.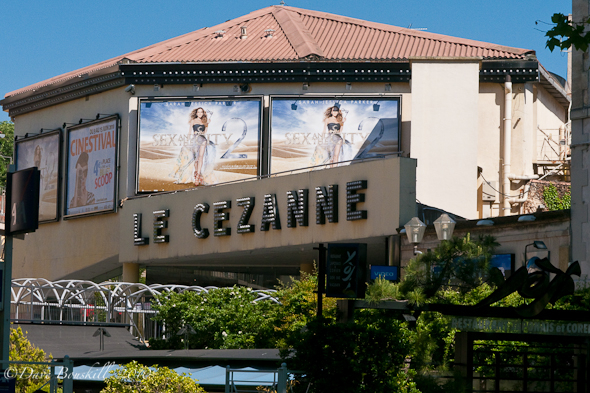 Walking Tour
Starting at the main tourist office on the La Rotonde at Ave. Napolean Bonaparte, we grabbed our "In the Steps of Cezanne" Map and started our walking tour through his life.
When you come out of the tourist office look to the ground.  The sidewalks have bronze plaques of C's lining the trail of Cezanne.  These bronze "C's" are easy to spot and easy to follow.  They guide you along a route throughout the city to places where Paul Cezanne spent his time and lived his life.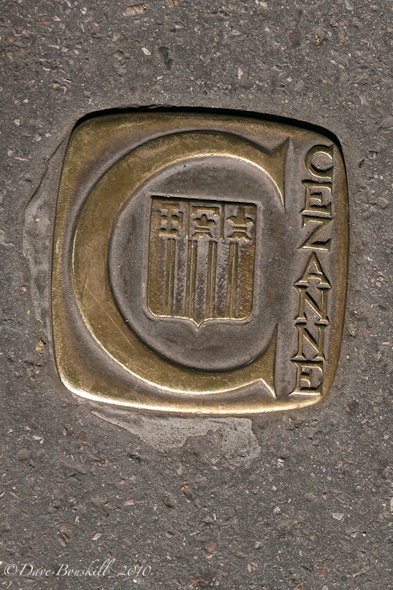 Make sure to pick up the map because it has dots showing what each building is and what it's significance was to Cezannes life.
Stops include the house of Cezanne's birth, and the funeral site of his mother death at the Church of St Jean de Malte. You can see the Granet Museum which was home to the art school where Cezanne took drawing classes and Mignet College where he studied his Bachelor of Arts.
Note: Cezanne failed his first session of college and only managed to pass with 60-70 percent during his second try.
Enjoy your day at Aix en Provence and eat at the cafes that Cezanne ate at and see the places that he lived in, visited and worked at.
It is a fantastic idea.
Provence has another tour of this kind in the city of Arles.  You can follow the trail of Vincent Van Gogh in this town some 70km away.
Other Aix En Provence Facts
Aix En Provence was a lovely town with large streets and wide sidewalks.  It makes for a pleasant stroll through the historical sites or for browsing the shops and stopping at cafes.  We enjoyed shopping for our dinner at the fresh markets.
We shopped where the locals shopped, purchasing fresh bread and fruit, fine cheeses, olives and meats.  Eating this way is the most economical way of enjoying fine French food and it is a lot of fun to set up a picnic in the park.
We also found a delicious boulongerie. We ate a full size baguette sandwich with fresh goat cheese and prosciutto, a decadent tart for dessert of rich chocolate and fresh pair slices for me and rich custard and raspberries for Dave.  This meal only cost us a mere 6 Euro and it included a drink.
Provence is a laid back vacation.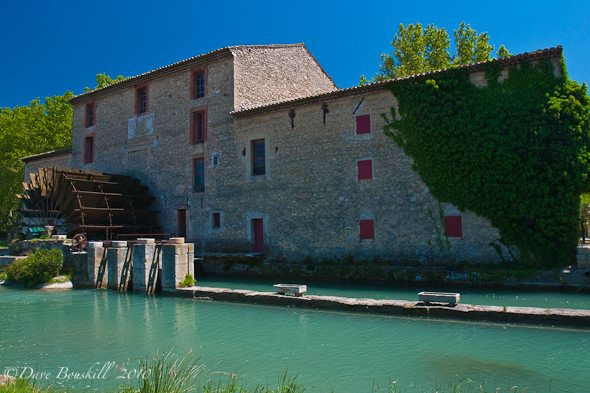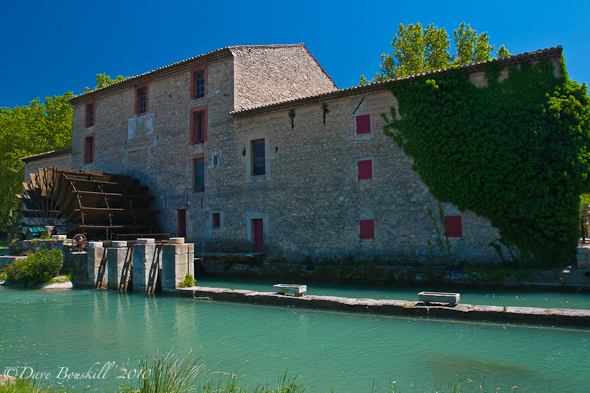 The joy of visiting this part of France is to slow down and enjoy life's simplicities.  Whether it be admiring a watermill in the middle of a lazy village, witnessing spring flowers in bloom on a rolling field or walking in the footsteps of great artists, Provence is a place where you learn to appreciate life's beauty.
Read More
24 Hours in Nice – Sometimes You Only have a Day to See it All
Living in France – How to Make Friends With the Locals (Even the French)