What comes to mind when you think of Kazakhstan? Barren landscapes? Vast unknown country? A country with a primitive way of life in a land that is frozen in time? But there are amazing cities too and Astana Kazakhstan is super modern. 
You aren't alone if you didn't know much about Kazakhstan. Before going there, we had never heard of it's capital city Astana, we didn't know anything about its people and we didn't really know what countries bordered it; Russia, Uzbekistan, China, Kyrgyzstan, and Turkmenistan.
How can this one little nation have so many countries border it? Well, Kazakhstan is the largest land locked country in the world!
Astana Kazakhstan
Kazakhstan is rapidly developing. With a large reserve of crude oil and a major exporter of uranium, Kazakhstan is seeing a large influx of foreign investment and nowhere sees that development more than its capital city of Astana.
Located in the North near the Russian border, Astana is positioning itself to be a major world city developing architecture that rivals some of the buildings you would see in Shanghai or Hong Kong.
Rapid Building of Astana
And it is going up just as quickly as Shanghai was built. In less than 15 years, this new capital of the country has been built to connect Europe to Asia and bring Kazakhstan to the forefront of people's minds.

When we drove up the the Skan Shatyr Entertainment Centre in Astana, we had now idea what it was.
What is the Skan Shatyr Entertainment Centre?
Could it be a government building? Was it a massive stadium? Did the Hershey family decide to open a factory here and shape it as a giant Hershey's Kiss? We didn't know.
It turned out to be the last thing we ever it would be.
A Mega Shopping Mall.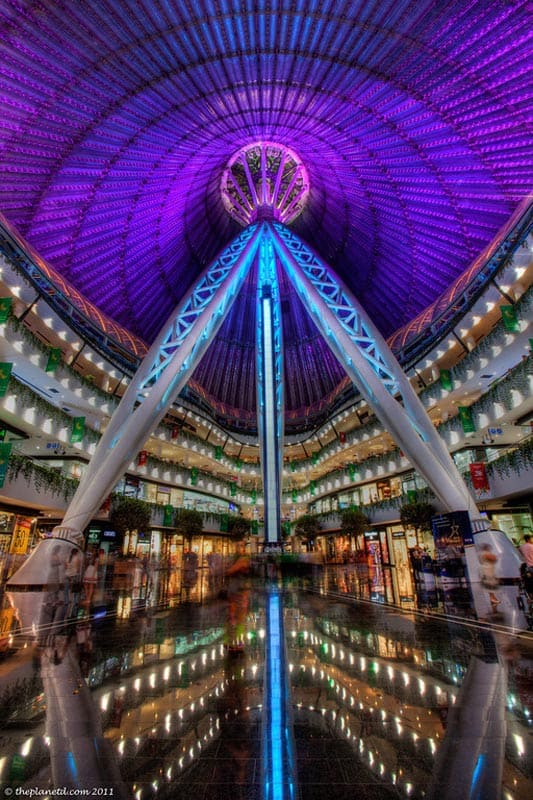 Imagine our surprise when we walked inside to see that this Sci Fi looking building was actually a mall.
A giant Shopping mall complete with Roller Coaster, Drop Zone, boutique shopping, fine dining, unbelievable arcade and fast food court with the first KFC we had seen in thousands of miles.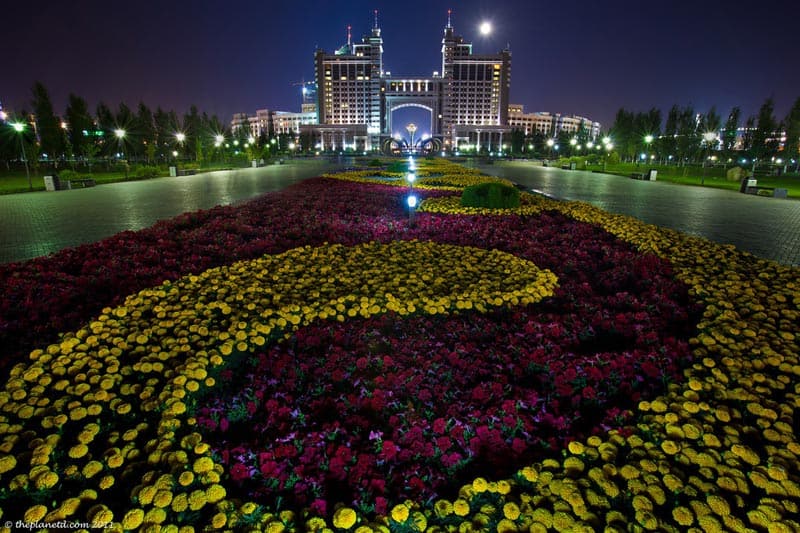 Astana is a walking city.
When you leave the front of the mall, you are treated to this view! People stroll along the gardens towards the main city centre where not a car can be found.
Traffic is diverted around the core of the city allowing for families to enjoy exploring in relaxation.
There were be-bop boys practicing their dance moves, free runners were flipping off sets of high stairs while crowds watched on and musicians were playing in the street.
Fountain Show in Astana
A light show went off at the fountain as the colours changed to the beat of the music. Once again, a crowd formed to watch the dazzling display as ice cream melted in the heat of the night.
Astana may be the second coldest capital on earth, but tonight the air was warm and everyone was out to enjoy the last few days of summer.
As we strolled through the centre of the city, we looked on in awe at the gorgeous government buildings surrounding the main square.
Young men offered to take photographs, vendors sold snacks and frozen treats and wealthy families sat on park benches checking their latest text message or email from their smart phones.
It was finally time to explore Kazakhstan's most famous landmark.
We saw billboards and images of this structure throughout the country and were intrigued to visit the capital city of Astana simply to view this unique tower.
The Bayterek tower was built to commemorate the naming of Astana as the new capital city of Kazakhstan. Built to resemble a poplar tree cradling the egg of a magical bird named Samruk, The Bayterek Tower is the symbol of the city.
About Astana
Astana is filled with unique building like this strewn throughout the capital. There are buildings resembling spaceships, pyramids and even ancient Roman ruins. There are skyscrapers and a modern art structures such as the Central Concert Hall.
We only had 2 days in Astana, but like all of Kazakhstan, we were surprised, impressed and couldn't wait to come back to explore more.
For more articles on Kazakhstan check out…
The Contrasting Country of Kazakhstan