We found ourselves in a campsite in Nice, France hanging out with a great family from Canada.
A Detour to Italy's Riviera. A Treat for the Taste Buds
Kelleigh and Andrew have been living in Geneva, Switzerland for a couple of years and they were traveling with Kelleigh's parents for a few weeks through France. It was a fantastic encounter and they gave us so much information about hikes, climbs and treks in France and Switzerland.
Our next trip will be filled with some great treks in the Alps!
We feel that we have only just started our travels in Europe. We have settled into the rhythm of European travel and we have now found inspiration and direction on where to begin looking for some adventure travel.
Unfortunately, we only have a little over a week left in our trip!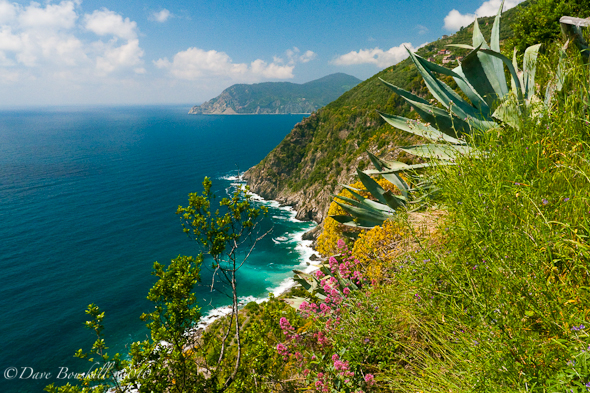 We couldn't waste any more time relaxing on the beach and we had to get ourselves to the Cinque Terra in Italy. It is a beautiful piece of the Mediterranean where one can walk and hike along a gorgeous path on the coast.
The minute we entered Italy we fell in love with it.
The language is music to my ears, the food is heaven to the taste buds and the people are friendly and passionate.
Whenever we ate at any restaurant in Cinque Terre our server was as passionate about our choices as we were. You like? How is it? He would ask with a big smile as he walked by or came back with another load of bread.
We attempt to speak our few words from the phrasebook and everyone talks back to us in English with a beautiful melodic Italian accent.
Everyone has huge smiles and talks loudly yelling Ciao and Grazie and Prego!
I can understand why Elizabeth Gilbert of Eat, Pray, Love
had to come to Italy to learn the language.
All we could think about was how we should have came directly to Italy instead of spreading our trip through France and Spain. We love the other two countries, but the weather was not the greatest in France and Spain requires much more time than we have on this trip.
There is something about being in Italy that makes everything no matter how extraordinary it has been pale in comparison.
And don't get me started on the Gelato.
O.K. I guess I started it, so I am going to have to tell you about the delicious gelato of Italy's Cinque Terre.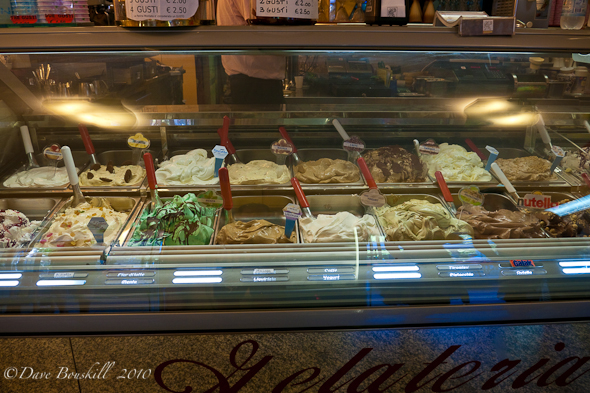 When we were cycling through Africa everyone was always looking for ice cream. People were mad about finding ice cream. While I have a large sweet tooth, ice cream has never been something that I crave and must have. Dave has never had a sweet tooth, so ice cream wasn't high on his list either. But the velvety whipped delicious sensation of Gelato in Italy is undeniable.
We must have gelato in Italy at least twice a day.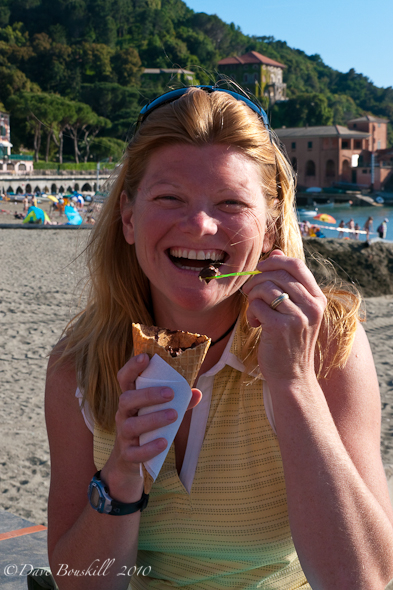 We could feel the excitement build as we walked up to the counter. What combination of flavours would we try today? Will it be limone with fondente and crema? My personal favorite and best combination in both of our opinions. Or do I try chocolate mint with fragola and pure chocolate?
We always had three scoops each.
I have never seen such mouth watering richness in any food. Sure we have gelato at home. Toronto has a "nice" little Gelato shop in Little Italy on College Street. But there is nothing that compares to anything we ate in the quiet area of Cinque Terra.
During our time in France and Spain we ate a lot of picnic meals. We had to stick to our budget and shop in markets and boulangeries. In Italy we threw our budget out the window and ate our hearts out. Italian Food is just too delicious to not eat to its fullest.
Cinque Terra is home of fresh basil, lemons, olive oil, wine and anchovies. Yes, I said anchovies.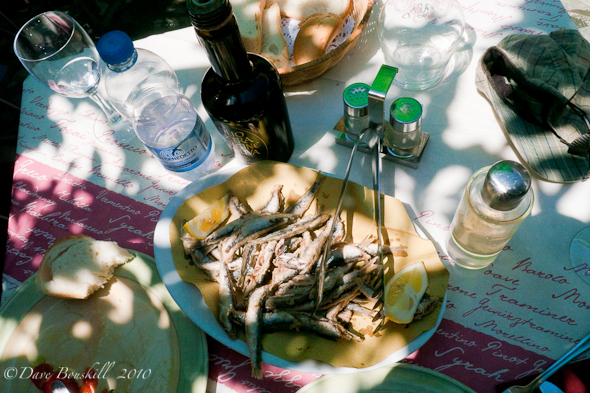 Whoever thought that anchovies could taste so good! Dave ordered and incredible pizza with fresh anchovies and giant capers. It was rich and decadent. I have never had anchovies on my pizza before and I don't think that I would attempt it again in Canada. But in Italy it is delicious and I am salivating just thinking about it.
I was never as adventurous as Dave with my food choices in Italy, although I did order the deep fried anchovies as an appetizer in one of my fixe price meals and I ate every one of them. And man there were a lot of them. They brought us a large basket filled with these skinny yet surprisingly meaty salted fish that were heavenly.
However, I stuck mostly to the regions culinary specialty.
Almost every meal I had to have something with Pesto on the menu. Pesto Lasagna, pesto linguine or pesto pizza. It was the most robust pesto I have ever had and I love pesto.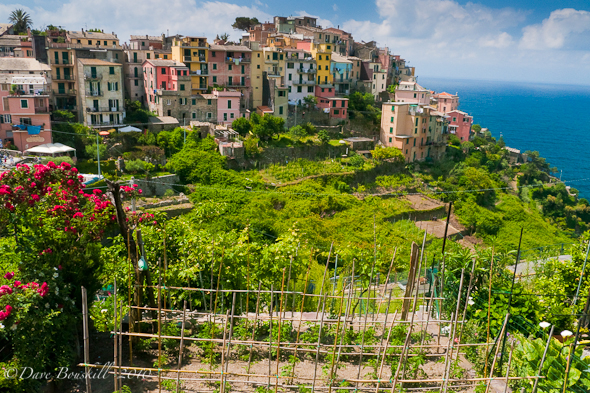 The bread was fresh with each meal and we would lap up our olive oil and pesto drenching our plates from our leftover pasta. We would drink their wine from the region followed rich coffee and decadent desserts. But we always went for gelato even after our dessert.
Even our campsite offered fresh bread in the morning. Who does that? Every night we would go down to the office and let them know that we would like fresh bread delivered in the morning which we would drink with our espresso and chocolate eclairs.
We only had a few days in Italy.
Our time in Europe is quickly coming to an end and we feel that we have only just started, but we cannot wait to come back and enjoy and explore this country and its food to the fullest in the near future.
For now it is dreams and memories of Bella Italia.
Read More
Cinque Terre Five Villages Hike
A Florence Bed and Breakfast – Apartment Stay