Having a hard time deciding where to stay in Venice? I get it. There are so many Venice neighborhoods (also called sestieri) to choose from it can be overwhelming. That is why I wrote this guide for the best hotels and neighborhoods in Venice to suit your budget.
Having lived in the city and, also being a frequent visitor, I can give you the low-down on some of the best places to stay in Venice, and insider tips on interesting things to see and do.
Where to Stay in Venice
Best Neighborhoods to Stay in Venice
Here, I'll give you lots of information about the five best neighborhoods to stay in Venice, so you can make the best plans.
If you want to skip directly to any of the neighborhoods of Venice, click on the links below.
When choosing where to stay in Venice, it is very important, to plan where you are in relation to the attractions you want to see.
It's also good to think about how to get to and from the airport and how you'll be getting around on your trip. If you want to read my tips, you can skip directly to "getting around Venice" now.
1. SAN MARCO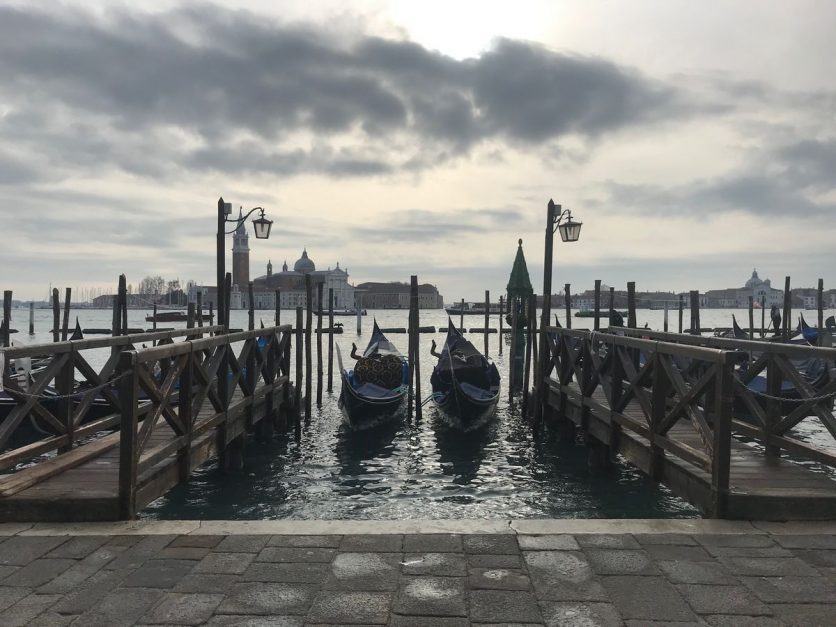 San Marco is probably the most famous and one of the best areas to stay in Venice.
When you think of Venice, the image that comes to mind is the iconic Saint Mark's Square, or the Bridge of Sighs with a gondola slowly sailing along it.
Making your base in the San Marco area is good for seeing the top tourist sights.
Staying there means you can easily enjoy the famous square late in the evening or early morning when it's much quieter and you can have it almost to yourself.
It also means you'll be very close to the popular attractions such as the Doge's Palace and St Mark's Basilica. For them opening in the morning, thus avoiding the long lines that are there usually there later in the day.
It has a lot of nice restaurants in it to dine at in the evenings but not late nightlife, so quietens down by around 10pm.
Where to Stay in San Marco
Best 5 Star Hotel in San Marco: Hotel Casanova
Just 71 m from Piazza San Marco and 100 m from Harry's Bar, Hotel Casanova is set in an 18th-century building in the center of Venice. It offers free WiFi throughout.
Check reviews and availability on TripAdvisor /Booking.com
Just a 2 minute walk from Saint Mark's Square, Gorizia A La Valigia offers a comfortable stay in Venice center. The air-conditioned rooms have either a modern or traditional Venetian design.
Check reviews and availability on TripAdvisor /Booking.com
Best Budget Hotel in San Marco: Hotel Caneva
Hotel Caneva is set between the Rialto Bridge and St. Mark's Square, a 5-minute walk from the Basilica. A great choice if you are interested in old-town exploration, culture, and ambiance.
Check reviews and availability on TripAdvisor /Booking.com
Elegant and comfortable apartment, located on the first floor of a historic building, it is a quiet and modern apartment that sleeps up to 4 people, ideal for a family.
Check availability on Air B&B
Things to see in San Marco
Piazza San Marco – Saint Mark's Square – In the heart of Venice is this magnificent square.
Saint Mark's Basilica – The basilica is one of the most stunning churches I've ever seen, with its mosaics, gold leaf and imposing statues.
Saint Mark's Basilica Museum – Upstairs from the main basilica is the small but interesting Saint Mark's Museum. Well worth the time and €5 entry fee.
The Bridge of Sighs – The famous bridge is supposedly the last place where convicts heading to Venice's jail have the sweet view of freedom, therefore sigh as they cross it.
Campanile – The Campanile is the tallest clock tower in Venice.
Doge's Palace – The most important building in Venetian history housed the Doge, who was Venice's religious and political leader.
Getting to San Marco
Vaporetto – From the international airport Marco Polo Airport (VCE) you can take a vaporetto directly to the stop at San Marco. These are run by Alilaguna vaporetto (water bus) company, and takes about 70 minutes, and costs €14 per person.
Bus – You could also take the airport bus to Piazzale Roma, which takes 20 minutes and costs €6. You'd then also need to take a vaporetto from there to Saint Mark's Square, which will take about 40 minutes more (plus waiting in between bus and water bus), and this costs €7.50 one way
SUGGESTED TOURS
We use GetYourGuide for City tours. They offer free cancellation with refund up to 24 hours before the tour starts with professional local guides and they take last minute bookings.
Dive into Venice's history with this 2-hour guided walking tour of Saint Mark's Square. Including skip the line tickets to Doge's Palace. book your ticket here
Saint Mark's Basilica can have very long lines, so purchase a skip the line ticket and take a tour with a local guide. Book here
2. SAN POLO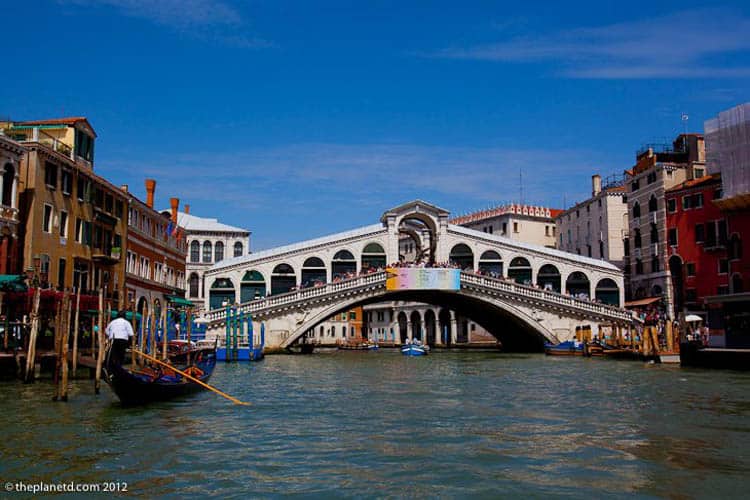 San Polo is Venice's smallest district, and one of the oldest neighborhoods in Venice. It was first settled in 800AD.
Located in central Venice, this area is well known for its vibrant nightlife and fresh fruit and vegetable markets.
This is a great area to make as your base in Venice as it contains many of the major attractions but is a little less crowded and expensive than San Marco.
San Polo also gets our vote for where to stay in Venice with family. There is something here for people of all ages.
By day, the main features are the bustling markets, art-filled churches, squares still used by local families and unique shops in its tiny streets.
By night, it is livelier than San Marco with many small cicchetti (Italian tapas) bars, trattoria, osteria and bars that are busy until around midnight.
Where to Stay in San Polo
Steps to the Grand Canal, modern hotel with great amenities. One of the best hotels in Venice if you are looking for that modern interior.
Check reviews and availability on TripAdvisor /Booking.com
Small but elegant boutique B&B in an excellent location just 5-10 minutes walk from every interest point.
Check reviews and availability on TripAdvisor /Booking.com
Best Budget Hotel in San Polo: San Polo Star
Quiet hotel, good location and amenities for budget accommodation
Check reviews and availability on TripAdvisor /Booking.com
Located on the third floor of an 18th-century building, it's the ideal place for those who want to experience a romantic getaway in Venice, or for those who choose Rialto as a strategic point for their holiday.
Check reviews and availability Air B&B
Things to see near San Polo
Rialto Bridge – Venice's most famous bridge is the most photographed bridge in Venice. It is full of stores selling Venetian crafts, Murano glass products, jewelry, and higher-end souvenirs.
Rialto Market – Starting in the 11th century as the city's principal fruit and vegetable market.
Campo San Polo – Despite its vicinity to the major tourist attractions, it retains a distinctly local feel. Bordering it is my favorite restaurant for pizza in Venice – Birreria La Corte.
Santa Maria Gloriosa dei Frari Church – This is San Polo's most loved church and it is crammed full of incredible religious art.
Getting to San Polo
Piazzale Roma bus terminal area and the Piazale Roma vaporetto stop are the most convenient for transport to and around the city and beyond. They are on lines 4, 6, and 7 for vaporetti.
Zattere is the best stop for the Jewish Ghetto area, with lines 2, 4, 5, 6, 10 and 18 serving this stop
3. CANNAREGIO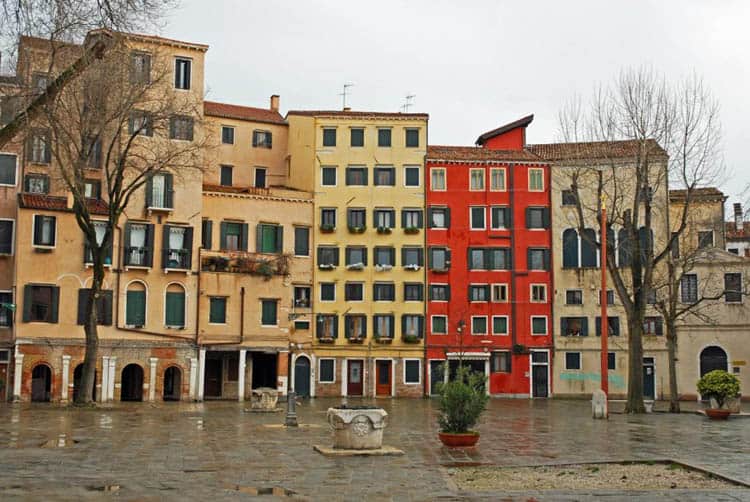 Cannaregio is the largest sestiere (neighborhood of Venice, both by size and population. It is chock full of history, tradition and many of Venice's most beautiful buildings.
It spans from San Marco to the Grand Canal and the Lagoon covering much of the northern part of the city.
Part of this area is located just a few minutes walk from the Piazzale Roma, so it has great transport links and is easy to get to and get around from.
The Fondamenta della Misericordia is a particularly good street to make a base with its proximity to Piazzale Rome and the airport buses on one end and heading towards San Polo and Rialto at the other.
Hotels have usually been cheaper in this neighborhood of Venice, but have been going up in price recently with several hotels getting refits as visitors realize more what a good spot for a base it is.
If you are looking for lower-priced Venice hotels this is a great place to start.
Where to Stay in Cannaregio
Modern and stylish 4-star boutique hotel tucked away from the hustle and bustle on the Cannaregio Canal.
Check reviews and availability on TripAdvisor /Booking.com
Newly renovated 4-star hotel in the heart of Cannaregio offering large rooms.
Check reviews and availability on TripAdvisor /Booking.com
Best Budget Hotel in Cannaregio: Hotel Atlantide
Good budget choice. Walking distance to popular Venice Attractions.
Check reviews and availability on TripAdvisor /Booking.com
This two-level luxurious apartment( 50mq) has just been restored elegant, bright, comfortable. Is characterized by two balconies that make it very bright.
Check reviews and availability on Air B&B
Things to see near Cannaregio
Ca D'Oro – Once one of the top addresses for parties in Venice, it is now a palazzo art gallery open to the public. Opening hours: Daily 8.15am-6.15pm.
Fondamenta della Misericordia – The long 'Foundation of Mercy' street has great transport links to the airport, Mestre and other towns out-with Venice.
Jewish Ghetto – A small Jewish community still lives there today and you can visit the five synagogues still there within the Ghetto's three sections.
Madonna dell'Orto Church – It contains artworks by Venetian Renaissance artist Tintoretto and has a stunning statue of the Madonna and Child. Opening hours: 10am-5pm Monday to Saturday, 12pm-5pm on Sunday.
Jewish Museum of Venice (Museo Ebaico di Venezia) – Locals started this museum to protect the area's history and showcase the textile manufacturing and goldsmith work done here. Opening hours: Daily 10am-7pm.
Cicchetti – Stop to try Italy's version of tapas – cicchetti – while in this area. My favorite spot is the "Hostaria Vecio Biavarol dal Puppa."
Getting to Cannaregio
Piazzale Roma bus terminal area and the Piazale Roma vaporetto stop are the most convenient for transport to and around the city and beyond. They are on lines 4, 6, and 7 for vaporetti.
Zattere is the best stop for the Jewish Ghetto area, with lines 2, 4, 5, 6, 10 and 18 serving this stop.
SUGGESTED TOURS
My tip: is to have a Venice guide book with you (my favorite is Rough Guides Pocket Venice, and read the section on the Grand Canal.
You can then self-guide your own tour and know what all the major sites and buildings are as you go around
Guided Tour: If you want a guided tour, Get Your Guide offers private walking tours to delve into the history of Venice. Book here. (full refund within 24 hours of cancellation.
Skip the line tickets to Doge's Palace with this Doge's Palace and Saint Marks' Square Tour on this locally-led guided tour.
Tour Saint Mark's with your skip the line tickets.
4. DORSODURO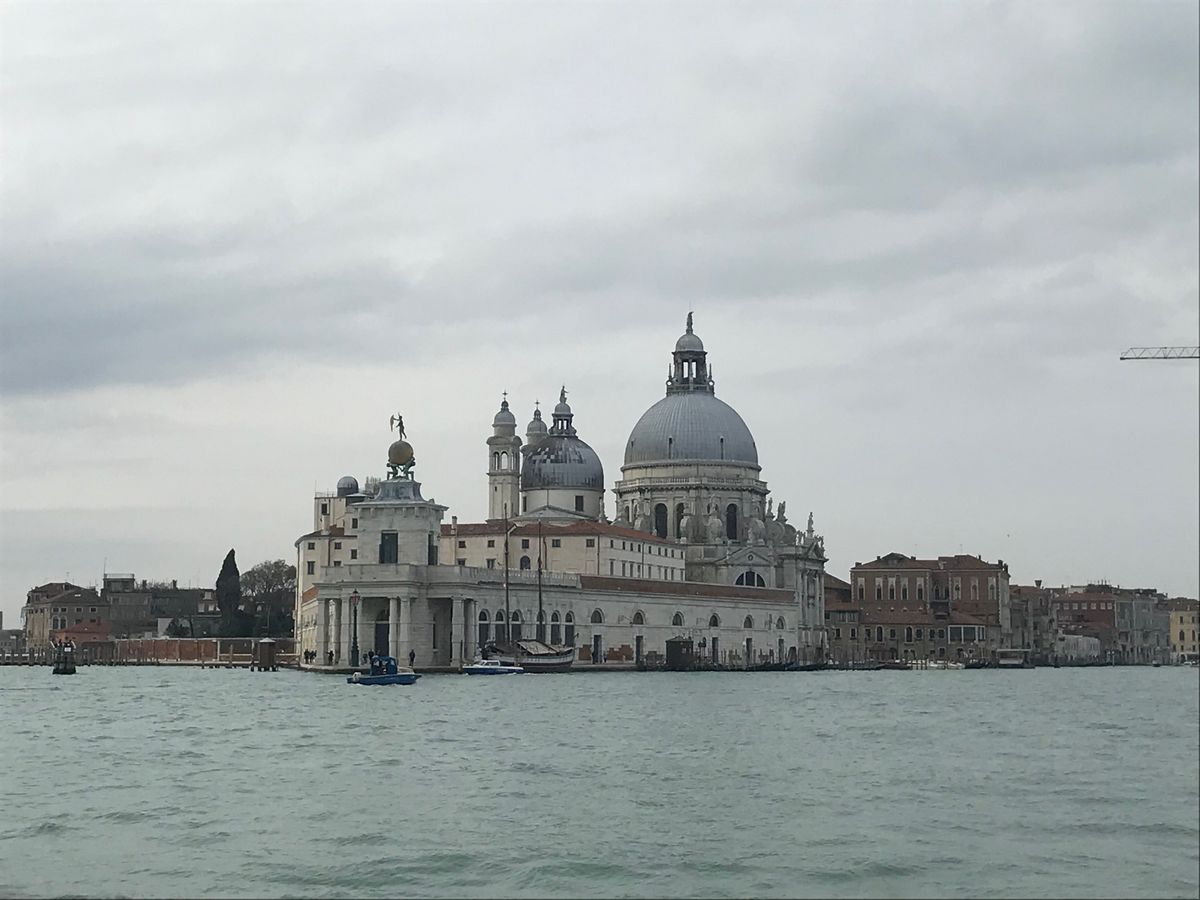 Dosoduro is the university campus area of Venice, so is where students study and live. This means the area is good for cheaper accommodation and good deals eating out, as well as having the liveliest nightlife in Venice.
This is where two of the best museums in Venice are located – Galleria L'Accademia and the Peggy Guggenheim Collection.
The lesser-known Dorsoduro is quieter than most areas, with fewer tourists and lower prices. This makes it a good place to stay in Venice.
Fewer tourists mean it's a more authentic part of the city but still not far away from the main sights. And it still has its share of attractions.
Make this your base if you want your Venice accommodation to be near great nightlife, galleries and places to dine out.
Where to Stay in Dorsoduro
Contemporary 4-star hotel right at the waterfront, with two vaporetto stops at its doors.
Check reviews and availability on TripAdvisor /Booking.com
Best Mid Range Hotel in Dorsoduro: Casa Accademia
Artsy location near Peggy Guggenheim Museum, churches. Rated one of the best values in Venice.
Check reviews and availability on TripAdvisor /Booking.com
For budget travelers interested in art museums and churches.
Check reviews and availability on TripAdvisor /Booking.com
The apartment is very bright and sunny with impressive views over the gardens, the Fondamenta, and the rio della Frescada, with views of the famous Church of the Frari and the famous San Rocco school.
Check availability and prices on Air B&B
Things to See near Dorsoduro
Galleria dell'Accademia – This gallery complex made up of three buildings that used to have religious purposes before being part of the museum.
Opening hours: Tues-Sun 8.15am-7.15pm, Mondays 8.15am-2pm.
Peggy Guggenheim Collection- European and American artists of the 20th century are the main show here, and The Peggy Guggenheim Collection is Venice's most important modern art gallery.
Opening hours: 10am-6pm daily except closed on Tuesdays.
Basilica di Santa Maria della Salute – This church was actually built by survivors of the plague to give thanks for being saved, as 80,000 Venetians perished with it. Opening hours: 9.30am-12pm, 3pm-5.30pm.
Campo Santa Margherita – This ancient square has been the main hub and meeting point of the area since the 14th century. T
Nightlife – Lining the Campo Santa Margherita is some of the best nightlife spots in the city. Check out Chet Bar for suave cocktails, Café Noir for boho charm and Malvasia all'Adriatico Mar for the wine fans.
If you get fed up of the casual student vibe, El Sbarlefo is a little more upmarket with good cicchetti and live music.
How to Get to Dorsodor
Bus – From Termini, bus H runs to Viale de Trastavere. From Piazza Venezia, take bus 780.
Tram – Tram 8 runs from Largo di Torre Argentina along the main drag of Viale di Trastavere.
SUGGESTED TOURS
Venice Street Food Tour – Nothing beats Italian food. Go to the markets, sample "cicchetti" (Venice tapas) and explore the Venice neighborhoods.
Museum Pass – This is the museum district, so be sure to have your museum pass handy!
Dorsoduro and San Polo Private Walking Tour – Explore this area with a local guide to find hidden gems.
All tours: free cancellation up to 24 hours in advance
5. MURANO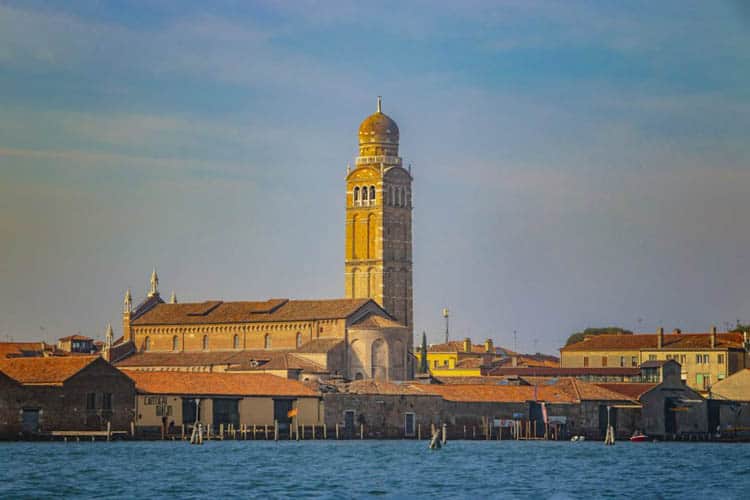 Murano is the most famous of the 118 islands of Venice.
It is famous for its glass factories where local artisans have been creating beautiful art for centuries.
Murano can be reached by vaporetto from the mainland easily, with the waterbuses heading over there every 15-20 minutes.
The vibe here is completely different from the mainland of Venice.
It is a lot quieter and more local style. If you're looking for lively nightlife, Murano is not the spot for you. If you're looking for peace and quiet, then it's perfect.
The main things to see and do here revolve around the industry of the famous Murano glass, and food.
The shoreline of Murano is lined with many small trattorias – family-run restaurants.
Evenings in Murano are best spent enjoying a leisurely dinner at one of these, savoring fresh local seafood and long conversations over a bottle of Veneto area wine.
Where to Stay in Murano
Best Luxury Hotel in Murano: Murano Suites
A romantic hilltop hideaway housed in an elegant villa. Located at Piazza Sant'Anselmo 2.
Check reviews and availability on TripAdvisor / Booking.com
Set in the heart of Murano island, Hyatt Centric Murano Venice is your convenient basecamp for exploring Venice.
Check reviews and availability on TripAdvisor / Booking.com
Best Budget Hotel in Murano: Al Soffiador
Clean budget hotel on Murano Island.
Check reviews and availability on TripAdvisor / Booking.com
Check availability and reviews on Air B&B
Things to do in Murano
Museo del Vetro – Check out Murano's renowned Museum of Glass to see exactly how the famous crafts are created.
Basilica di Santa Maria e San Donato – The mosaic style of this basilica that dates all the way back to the 600s is Murano's Duomo and most important church. It is dedicated to Saint Mary and Saint Donata.
Eat at a trattoria – Osteria al Duomo, Trattoria busa alla Torre, and Acquastanca are particularly known for this using fish caught in the lagoon.Trattoria Valmarana and Trattoria bar Serenella dal Coco have tasty and reasonably priced fixed menus.
Stroll the waterfront – Mainland Venice can often be too crowded for this simple pleasure, but Murano is perfect for it.
Shop – While Murano glass products are the main attraction for shoppers on the island, there is also a flourishing old trade-in lace items.
How to Get to Murano in Venice
Take the vaporetto over from the mainland to Murano, on line 3, 4 or 6.
Remember to check the first and last times of the waterbuses if you're heading back later in the evening as they often end by 10pm, and earlier in off-season
Murano Tours
Venice Island Hopping Tour – Take a private tour island hopping to Murano, Burano and Mazzorbo traveling by ferry with a private guide.
Private Half-Day Tour Murano & Burano – It's a dream to take a private boat in Venice, this tour takes you by private boat from your hotel to Murano and back. (shuttle boat between islands) With a private guide tour the islands, glass factory and get insight into daily life.
Murano Island Tour – This tour gives you a taste of Murano, Burano and Torcello stopping at each island for 45 minutes. Cruising to each by boat.
All tours: free cancellation up to 24 hours in advance
Best Money Saving Tip in Venice
The best way that you can save money and seeing all of the sites is to get yourself a Venice City Pass from Get Your Guide
You can get it for Your 24,48 or 72 Hour pass includes all of these and more:
Enjoy free rides on the city's water taxis and buses
Entrance to Doge's Palace, Correr Museum (Museo Correr), Venice National Archaeological Museu, Biblioteca Marciana.
Also, take advantage of entrance to 16 of the city's most beautiful churches.
Instant confirmation with printed or mobile vouchers accepted and free cancellation with up to 24 hours notice
For a more detailed outline see: the Venice City Pass Details here.
Getting Around Venice
Venice is tricky to get around, It is built on water and made up of 118 islands but taking a vaporetto (water bus) is the easiest and most convenient way to get from place to place.
Water taxi is the expensive option to get around Venice or vaporetto, which is a waterbus is much more affordable.
Single ticket: €7.50
If you're only one or two journeys on your stay in Venice, get single tickets when you need them.
24-hour ticket: €20
If you're planning on going on more than two vaporetto trips in 24 hours, this is the way to go for this.
This is particularly useful to get if you're planning on doing island hopping out to Murano, Burano or Isola de San Michele, or back to the Piazzale Roma with your luggage on the way to the airport bus there.
Remember is it a 24-hour ticket, not a day ticket, so you can use it until the same time the next day, so you can time accordingly to get the most out of it.
Walking around:
Venice is like a maze. Even if you've already been down a little side street, it doesn't mean you'll find it easily again.
Other Parts of Italy: If your trip to Italy takes you to other parts of the country or you are taking a day trip, one of the best ways to travel is by train.
The Santa Lucia train station is just a 20-minute walk from the Rialto Bridge or a 30-minute walk from St. Mark's Square.
My advice? Try to have WiFi service on your phone so you can ask Google Maps for advice when you can't find your hotel, or that pizza joint you really wanted to try.
Venice is a muse to many. She is a city that you can (and I have done) visit many times over.
While the big-hitters such as Saint Mark's Square and the Rialto Bridge are fantastic and always worth revisiting, there is a lot more to Venice in the side streets.
Plan your Venice Trip
Currency: Venice is on the Euro, being the capital city of Italy. €1 = $1.17 For up to date conversions get the XE Currency Converter App.
When to Visit: It is popular to visit year round, with spring (March-May) and autumn (September-November) providing the most pleasant temperatures of usually around 65-80 degrees Fahrenheit and infrequent rain.
The summer gets very sticky, reaching temperatures over 100 Fahrenheit, especially in August, which is when the locals flee for their holiday homes by the Spiaggia (beach).
Winter (December-February) sees cooler temperatures of usually between 45-65 degrees, and more rain, but also a lot fewer tourists to compete for the sights with.
What to Pack: For more advice on how to pack check out our Packing for Europe – Tips That Will Make Your Travel Life Easier post!
Eagle Creek Plug Adapter – This all in one adapter is all you need for Venice and other European and world travels.
Tours: For Venice city tours we use Get your Guide.
It's easy to book in advance and most tours have easy cancellation up to 24 hours in advance (check cancellation details before booking) and Get Your guide offers last minute booking too.
Each of the areas I mention here have their own merits for choosing them as your base, and as long as you have the time there, exploring and getting a little lost sometimes is part of the fun, so enjoy every part of it.
As American poet Joseph Brodsky said: "Venice is eternity itself."
If you enjoyed this neigborhood guide to Venice, save it to Pinterest for future travel planning.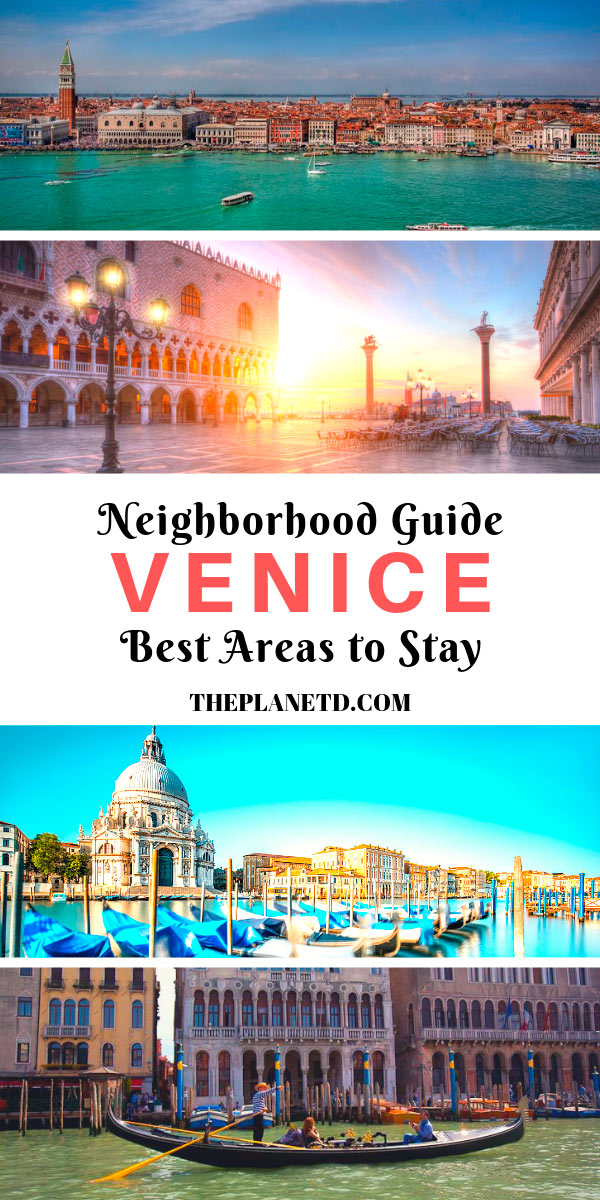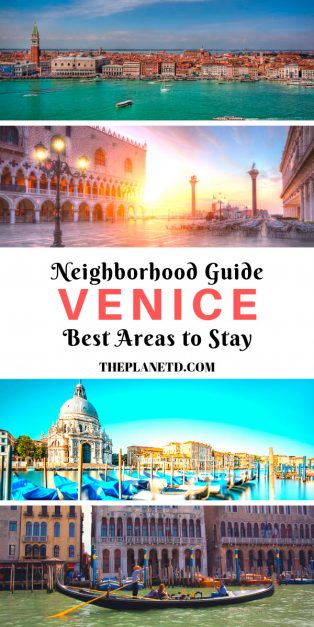 Read Next: