Haven't you always wanted to look good when you travel? When watching the Indiana Jones or The Mummy movies, I loved the way that everyone looked like they were having a grand adventure around the world. A safari is definitely a grand adventure, and when I go on one, I want to look the part. But dressing right isn't only for looks, there are practical reasons people carefully choose what to wear on safari. From keeping cool, to blending in, your khakis will be put to the test on the African plains and within the lodge.
What to Wear on Safari 
Watch the video here! How to Prepare for an African Safari
Safari Packing Tips
Wonder why everyone dresses in khakis when going on safari? Well, it's because you want to blend in with your environment. Especially if you're going on a walking safari. Chances are, if you book a multi-day safari, you will be walking at one point or another. We've even ridden horses on safari. The more you blend in with your surroundings the better chances you have of not disturbing the wildlife.
Going on Safari: Don't Miss Kenya's Incredible Lake Nakuru
When going on safari, it's important to protect your skin from the elements. We've faced immense heat while on safari in Africa and South East Asia. Although your first instinct may be to wear shorts and a T-shirt, you are better off wearing long sleeves and long pants that are lightweight and breathable.
Safaris don't just happen in Africa, check out our Greatest Arctic Safari, Walking with Polar Bears
Staying covered up not only protects you from the sun, it also keeps the bugs away. You have a better chance of not being bitten by mosquitoes if you are covered from head to toe.
Read: Best Travel Gear – Unique Ideas to help you pack smart
Light colours will also help keep the bugs at bay. They are attracted to dark colours (probably because they blend in with the dark) so keep with the beige, light green and khaki colours to scare off tsetse flies and mosquitoes.
Shirts
I prefer button down tops made of microfibre material. Flowing fabrics can be cooler in the stifling heat than bare skin. Having a collar will protect the back of your neck from the sun and long sleeves will keep your arms from burning.
For more packing tips check out How to Pack for European Travel
Pants
A lot of people don't like the look of convertible pants, but the zip off options are perfect for a safari. Many times on safari you'll be going out at the crack of dawn. Mornings can be quite cool in the jungle or on the Savanna so having the option to take layers off when the weather warms is important.
I start the morning in pants and then as the temperature rises, I can zip off the bottoms and turn my pants into instant shorts. Once again, make sure the safari pants are lightweight and breathable. You don't want anything like denim or heavy fabrics.
Shoes
Lightweight hiking shoes are a great option for safaris. Even when staying in the most luxurious lodges, you'll be in the middle of nature. We're fans of Keen or Merrell mid-ankle waterproof hiking boots. They're light, comfortable and have sturdy support. Make sure you break them in before you go. You don't want to be stuck with sore feet and blisters while trying to enjoy Africa.
Let's take a short break and watch our Big Five Safari in Kenya!
Want to know what to wear for travels and not just what to wear on safari? Check out our ultimate packing list. 
Hats
I'm a fan of wearing hats on safari. Even while inside a covered safari vehicle, a hat is needed. The sun seems to come in from all directions. A hat helps keep the sun off your face which, if you are like me, burns easily. It also keeps the sun out of your eyes so you can watch the wildlife more easily. When choosing a hat, get one that has a brim all the way round. This gives added shade for your neck, ears and nose.
Also read: 7 of the best mix and match clothing for women
Buff
We found a buff to be invaluable. Sometimes at dusk the bugs can be relentless. A buff can pull up over your neck and nose. Now that you are covered from head to toe you are ready for anything.
You can even go on Safari in Canada – Read our Algonquin Moose Safari
Safari Vest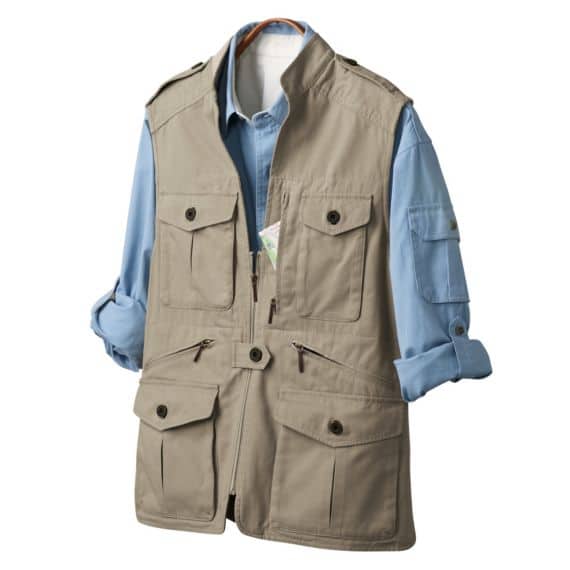 We don't normally wear a safari vest, but we do think they are a good idea. If you don't want to carry a large bag on safari, a vest is a great way to pack all your gear. Safari vests have several pockets where you can store extra batteries, cameras and even sunscreen and lip balm.
You may know what to wear on a regular safari, but what about a horse safari?
Sunglasses
The sun can be harsh on the African plains. Sunglasses are a must. I recommend bringing two pairs. We've had sunglasses break while on safari before and we were glad to have a back up pair.
Now that you know what to wear on safari, check out a Masai Mara Safari.
At the lodge
Don't worry about bringing formal clothing while on safari. Even the most luxurious of lodges don't expect you to dress up at night. Light neutral clothing is all you need. I would keep the same rules for dinner as I do for safari. Wear long pants and shirts to stay warm and keep the bugs away. It does cool off a lot in the evening on safari in Africa, so a sweater or extra layers is a good choice.
You can dress in smart casual wear, but don't worry about breaking out the Donna Karan or Stella McCartney. A nice pair of trousers and a stylish shirt will do the trick. I'm a fan of long skirts with sandals when on safari. It's flowing yet comfortable.
So there you have it. Hopefully when you go on your next wildlife safari, you'll not only look good but feel great! Follow these rules and you will be the smartest looking adventurer in the lodge.