So how does a person go from traveling in India on a budget of $7 guest houses and $3 meals to traveling Paris on a budget in the far more expensive country of France?  Believe it or not, it can be done!
Visit Paris on a Budget
Transportation
We took public transport to save money, but if you have a bit of a larger Paris Budget, you may want to book the Hop on Hop off Tour bus that stops at all the major sites and gets you around Paris quickly and easily.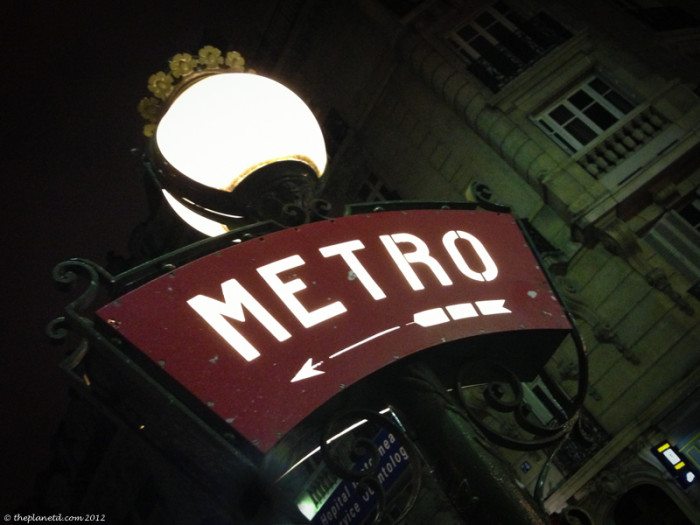 We were surprised to see just how much money we could save in Paris. It's one of those cities where you don't have to fork out a lot of cash to enjoy it. Simply walking around Paris is a treat and you don't have to spend a dime. However, I know you want to see the sites so here are best  Paris budget tips to make the most of your stay.
1. Don't eat at bistros or restaurants.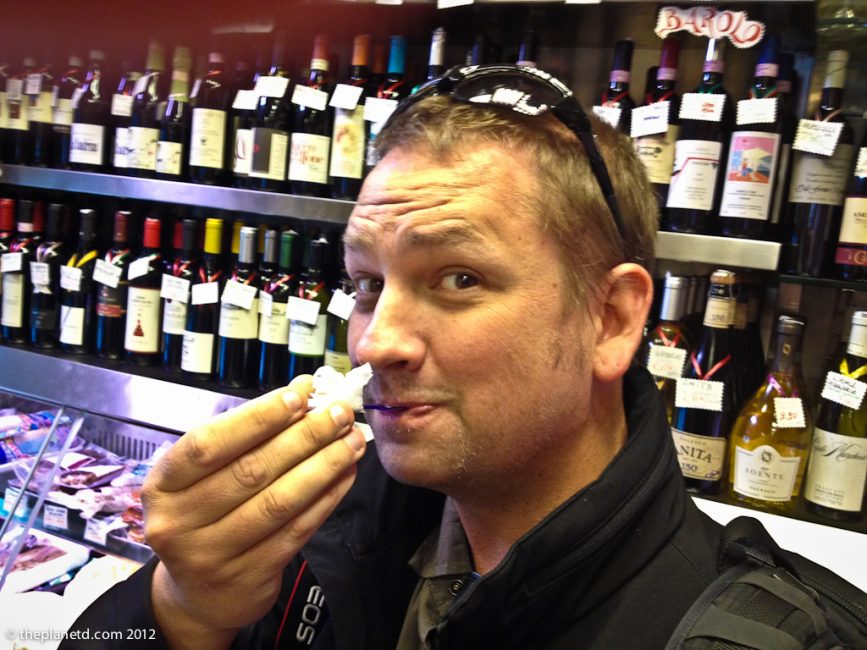 Paris has amazing restaurants, but they are expensive. Instead eat outside at a boulangerie or patisserie.  Make sure to sit outside as you can be charged extra to sit inside.  We ate excellent lunches for 6.50 Euros.  They included a large baguette sandwich, delicious dessert of our choice and a drink.
2. Buy Metro Tickets in Bulk
Buy a 10 pack metro ticket for 11.50 Euro.  The three day pass is too expensive at $30 Euros. You can mix walking and taking the metro or bus and only use 3 tickets in one day if you plan your route wisely.
3. Don't sit down for coffee at a restaurant
Drink it at the bar you will save quite a bit of money. Real estate is expensive in Paris and tables take up space. Sitting down to eat will cost you a surcharge. If you are watching your budget, stand at the bar to enjoy your beer or coffee. Besides, you will meet more people that way and experience Paris the way true Parisians experience Paris.
4. Stay at a hostel in the Montemartre area.
The hostels in Paris are quite nice.  We stayed in a hostel in this charming neighbourhood accessible by metro and bus for 35 Euro per person. We had a private bath, but you can get a cheaper room for 28 Euro if you share a bath.  The shared bath is quite also clean. The price of a hostel in Paris doesn't break the bank at all and leaves plenty of money to spare to enjoy the city of lights sites.
5. Book a hostel that has breakfast included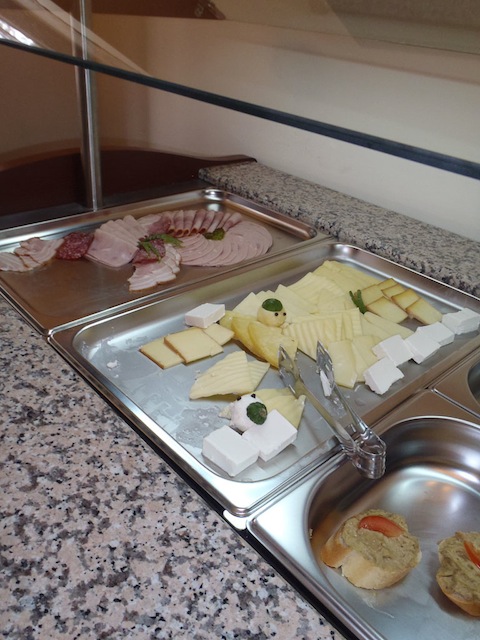 Our Hostel, The Perfect Hotel/Hostel included a breakfast of coffee, juice, bread and chocolate croissant.  We didn't have to spend any money until lunch. Food can be expensive in Paris, so the more you have included with your accommodations the better.
6. Shop at the many supermarkets around town and pack your lunch

Paris has many places to picnic and you can buy wonderful cheeses, meats, breads and fruit for a very reasonable price.  We never spend more than 10 Euro on lunch for the two of us and that included wine!  For a low budget, we ate like the rich enjoying good French wine with incredible scenery. The parks of Paris are beautiful.
Note: Keep your wine hidden and discreet. Like anywhere drinking in public areas is frowned upon.
7. When you do eat out for dinner, take advantage of the Menu Formule.
It is a fixed price menu for tourists in the Latin Quarter. This is a great way to save money and keep the budget down.  It includes an appetizer, main dish, dessert and one drink.  These meals range from 9 Euro to 15 Euro.  The Latin Quarter near Notre Dame,  Montemartre near Sacre Couer and La Rue Cler near the Eiffel Tower all have very reasonable fixed price meals.
8. Visit After Hours
After 4:15 pm on Thursdays, the Musee D'orsay slashes its prices to 5.50 Euro. We knew that all we were really interested in was the Impressionists exhibit, so 2 hours was more than enough time to take it in.  We even saw most of the other exhibits in that time as well.
9. The Louvre slashes its prices after 6:00pm on Wednesdays and Fridays to 11 Euro.
If all you want to see is the Mona Lisa and a few of its other famous pieces, this might be the time for you to go and save some cash. If you're going to the Louvre on regular hours, book in advance at skip the line for a reasonable self guided tour.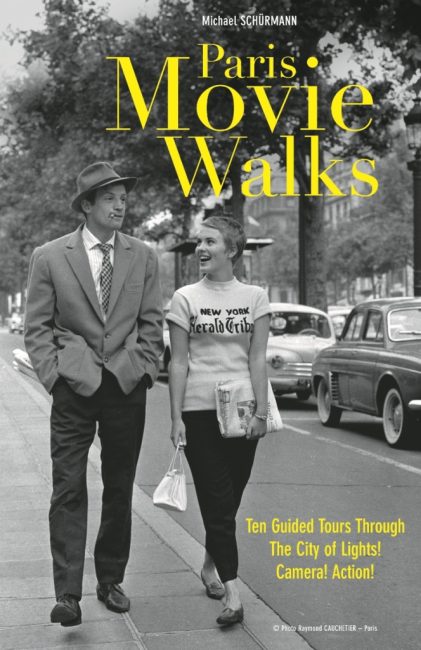 You can see the list in our previous post here.
11. Take the Air France shuttle from the airport instead of a taxi.
It takes you to Mont Parnasse for 16.50 Euros. We heard that the train is even cheaper, but you will have  to lug your luggage through the metro. If you don't mind doing that, take the train, it will save a lot of money.
12. All McDonalds have free wifi and good cheap coffee.
Don't want to splurge on an expensive dinner cruise? You can do a 1-Hour Paris Illuminations tour for just $21 with Get Your Guide and you skip the line!
13. You don't necessarily have pay to go in to every site to enjoy them.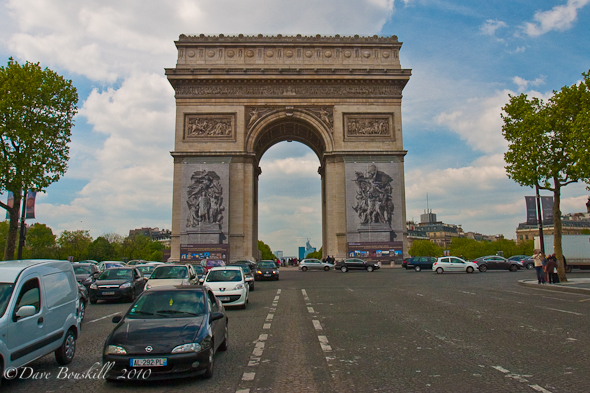 The Eiffel Tower is impressive enough to just view it from the many different vantage points in the city, The Arc Du Triomphe is free unless you go upstairs to view the city.  If you don't want to pay to go up these structures, head to Sacre Coeur for a great overhead view of Paris.  The Champs Elysees is an interesting site in its own right, walking down the street people watching and window-shopping is an event. The Louvre has beautiful gardens with works of art scattered throughout and so does the Jardin du Luxombourg.
Looking for something unique to do in Paris, visit the Catacombs. They're only 8€ to enter, but it's 45 minutes of one fascinating and eerie tour.
Paris has many places that you can go to for cheap and reasonable prices.  Many of Paris' top sites are even free. You don't have to break the budget traveling to this grand world city.  You can enjoy it and save your wallet at the same time.
For more tips on Visiting Paris on a Budget check out our other blog posts