One of the most popular and well known travel bloggers on the Internet is RTWDave of GoBackpacking. Dave was one of the first people we found when we first started blogging and we have always looked up to him for inspiration and information.
Who better to give advice about having success in Travel Blogging than one of the most successful guys in travel!
Have you dreamed of living the life of travel and writing about it through your blog? Travel Blog Success is an excellent way to help you get started and keep you on track in achieving your goals.
We have been checking out the Travel Blog Success website and we find it to be a very valuable recourse for both beginner and established bloggers.
You have your choice of signing up for two different levels. Basic or Premium.

We don't join many affiliate programs. As a matter a fact, the only one that we have kept on our blog is Nomadic Matt's Make Money with Your Travel Blog. We followed his advice step by step when starting out and we believe that this book is a key factor in our early success. We believe that others can benefit from buying his ebook, so we like to share it with our readers.
After going through the lessons on Travel Blog Success, we have decided that this is another product we would like to be involved in.
And Other top bloggers feel the same way!
"Before starting Travel Blog Success I had no idea how to make money with atravel blog. I was actually pretty scared of it. Now I am confident enough to not justapproach advertisers, but to negotiate with them deals that work in my favour. AndI have landed some pretty impressive press trips as well."
– Caz Makepeace, yTravelBlog.com

"I love having the opportunity to ask some of the top bloggers in the world specific
questions in a private, secure forum."
– Matt Long, Landlopers.com
I suggest to anyone starting out in Travel Blogging read Travel Blog Success. Most of us that have been around for a while wish that we did things differently. If we would have known then what we did now when we first started Travel Blogging, and if programs like Travel Blog Success were around, we would have been much farther along earlier on. Something as simple as choosing the right domain name and defining your goals can give a travel blog a great leg up.
Travel Blog Success is laid out in an easy to follow manner with different lessons and sections to help a blogger at any level.
With lessons broken up into categories like, Creating Content, Developing Traffic, Making Money and Growing Your Business, you will receive expert advice in every aspect of creating a successful Travel Blog.
Better yet, there is a forum where you can network and ask questions to delve deeper into working on your goals.
One thing that we particularly liked was the expert audio interviews with top bloggers in their niche such as Shannon from A Little Adrift on SEO (Search Engine Optimization) and Anil of FoXnomad about the technical side of Blogging.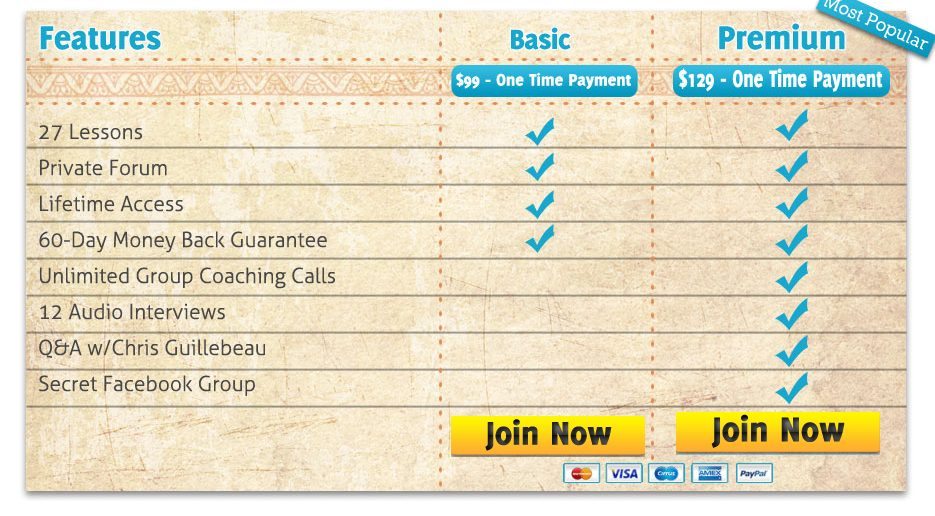 To get started with the program head over to  Travel Blog Success to find our more.
It's $99 to join the basic membership program but for the extra 30 bucks we recommend the Premium package. With that you get unlimited coaching calls, a secret facebook group and audio interviews.  If you want to sign up for the basic level, you do have the option to upgrade to premium at a later date by paying the difference.
And you don't have to worry because Dave offers a 60 day money back guarantee!
Travel Blog Success has been around since March 2010 and with it's 2011 relaunch, 12 new lessons were added and 7 new audio interviews were recorded.  All members have a lifetime access to the recourses at their level and a 60 Day money back guarantee.
After studying Travel Blog success, I was inspired to pull up my socks and try to work harder by taking Dave's advice. I was reminded of some points that I should be focusing on and I learned some very useful new tips and tricks. I am thrilled to be a member of Travel Blog Success and look forward to taking part in the discussions and forums  and listening to the next coaching call. If you sign up now you will make it in time for the June 22nd coaching call.  Hope to see you there!
So what are you waiting for?
Have you dreamed of living the life of travel and writing about it through your blog? Travel Blog Success is an excellent way to help you get started and keep you on track in achieving your goals.