We cannot say enough about how awesome the Travel Blog Exchange (TBEX) 12 was in Colorado this past weekend. The Travel Blog world is growing up baby!
We arrived in Denver on Thursday to take part in an early party for TBEX speakers. Starting off at our incredible downtown diggs, Hotel Teatro we had a quick nap before heading off to our first cocktail party at The Brown Palace where we enjoyed martinis, shrimp and finger foods before hopping into a pedicab to convoy to our next destination, the Kitchen where oysters were served along side fresh summer cocktails such as an icy cold cucumber infused vodka. It was then on to the Wynkoop Brewing Company for more beer and mingling.
The night ended early as most people were taking part in a road rally to Keystone the following morning and we were grateful for the most comfortable sleep we've had in years on the Teatro's comfy bed in our decadent corner suite room. Their pillows were the softest most glorious pillows we've ever laid our heads!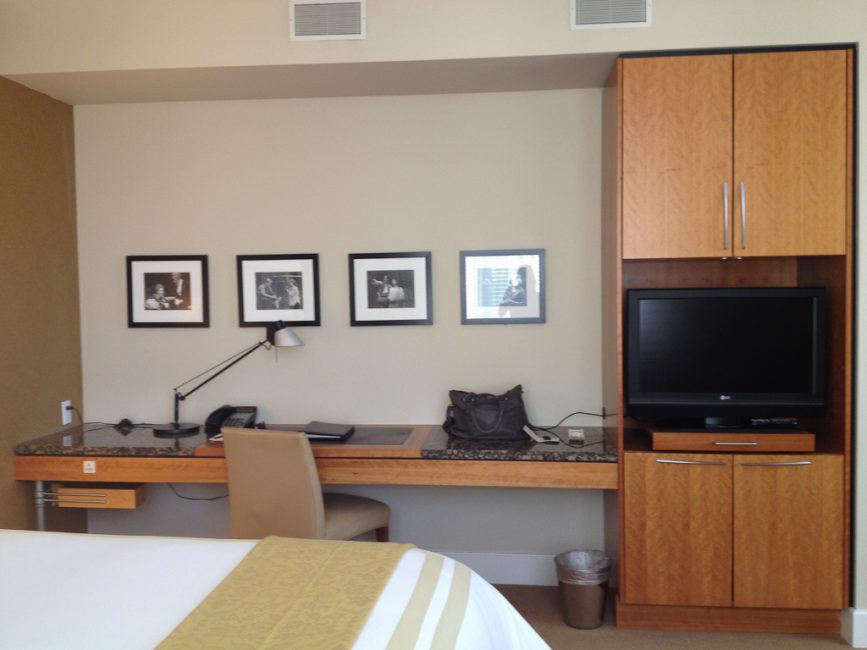 Travel Blog Conference
We opted out of the rally to make sure we were completely refreshed for our session on Saturday morning and instead spent the afternoon relaxing and catching up with old friends before the big welcome party put on by Vail Resorts. It was so great to see Beth of Vacation Gals and her peppy mom Rita!
Vail Pulled out all the Stops.
The opening night party took us to the top of the world! Well, okay not that high, but it was a long journey up the mountain. TBEXers caught a ride to the top of the Gondola to enjoy dinner and drinks at 11,444 Feet (nearly 4,000 metres). Sipping champaign and munching on chocolate chip cookies during the 20 minute ride to the top of the mountain, we bonded with Jaume and Gemma of Costa Brava Tourism who will be hosting TBEX 12 this coming September.
We may have been feeling the altitude, but our dizzy heads were soothed by a collection of the most spectacular desserts we've ever seen. As we stepped off the gondola, we were treated to a display of delectable sweets arranged in artistic perfection.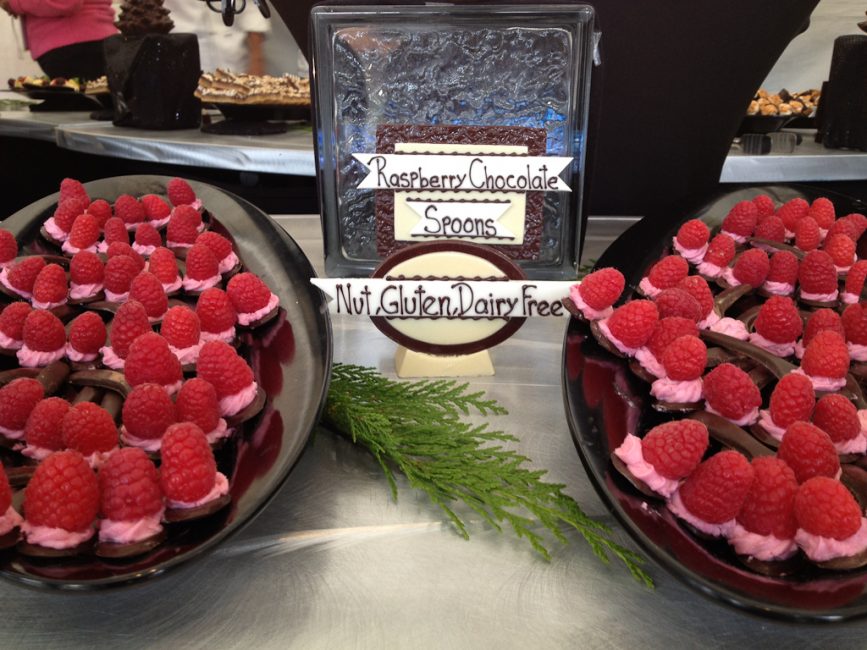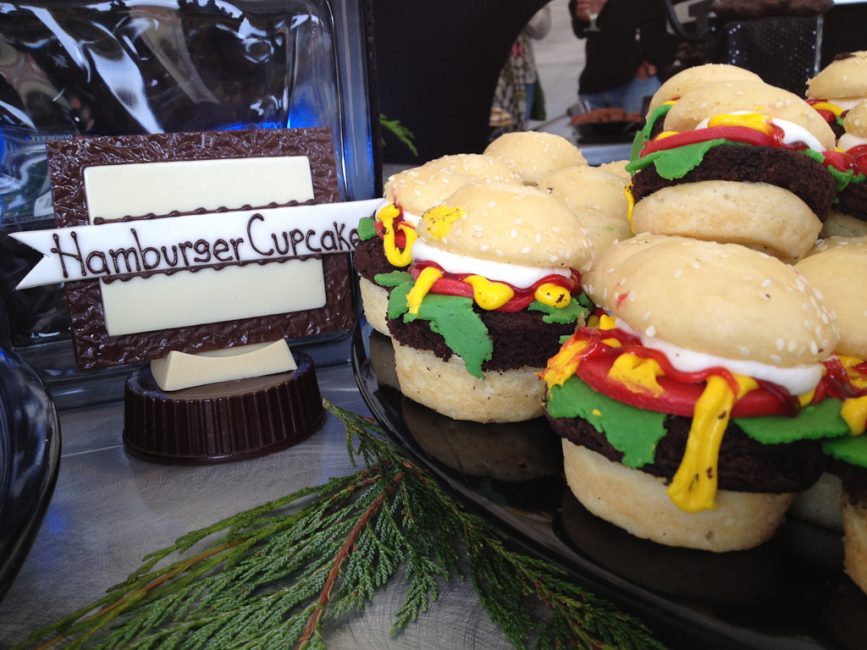 From chocolate fountains to sweet burgers and chocolate dessert spoons it was a sensation for the taste buds.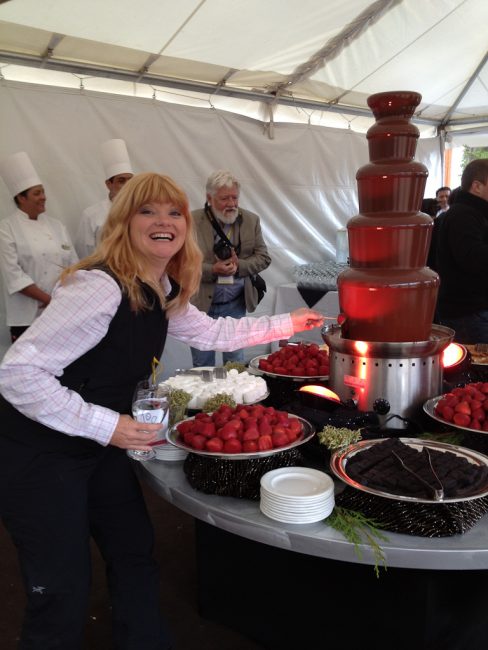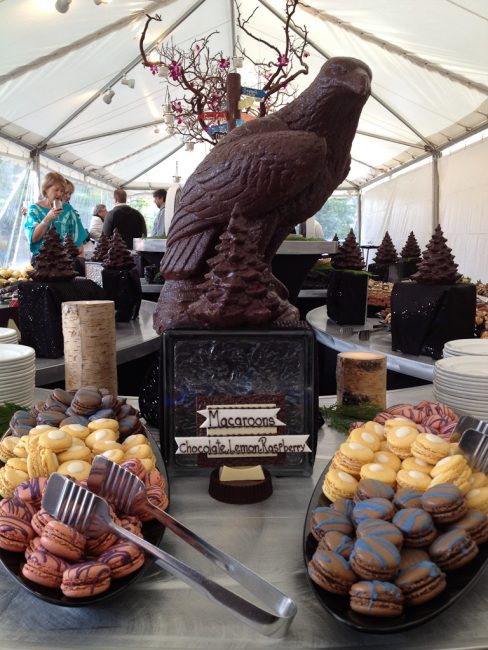 I was already full before we even stepped foot into the main dining area but we still managed to eat some more as trays of food were passed around and station upon station of tantalizing treats awaited our arrival. We met so many of our favourite travel bloggers and had a blast sitting on the patio sharing stories and laughing a lot.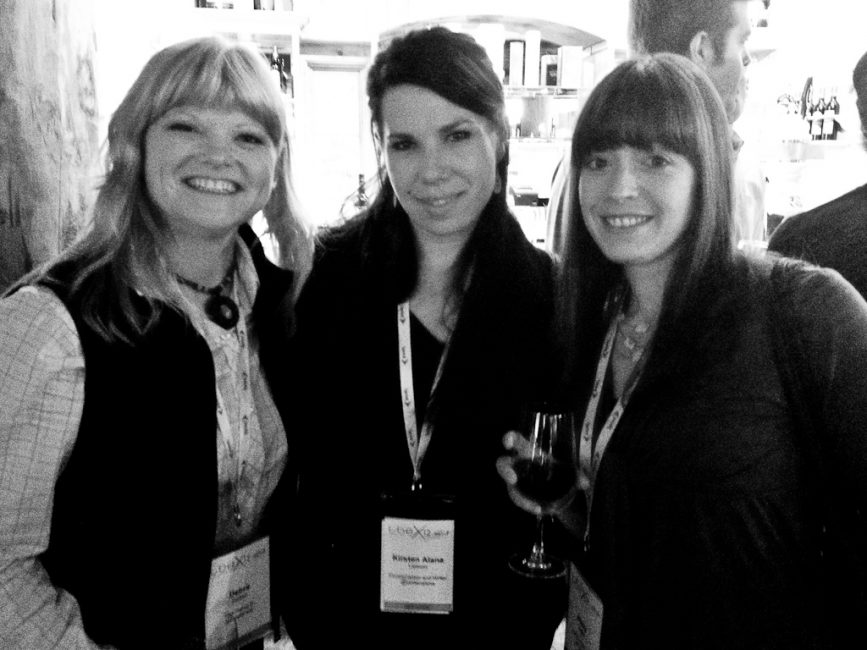 Travel Blog Exchange '12 Kicks Off
It was another early night though, because the show was about to begin first thing in the morning with an inspiring speech by CC Chapman. He gave exactly what a person looks for in a Key Note Speech. He was engaging, funny, inspiring and informative. We enjoyed every minute of it and were pumped for the next two days ahead.
It was then off to our session with Gary Arndt where we talked about Working with Brands. It was a packed house and it seemed to go over very well. People enjoyed the banter back and forth as we both have very different business models yet we both get the results we are looking for and we all had a great time on stage together.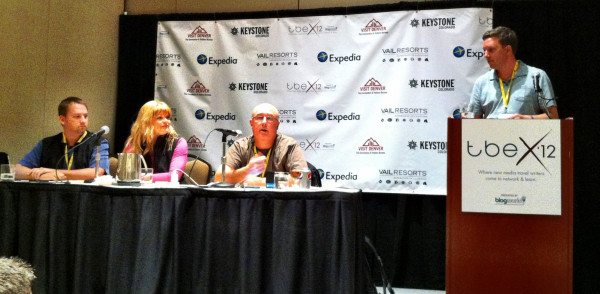 Passion
The theme of the day for us was Passion. Everyone was inspired and excited about the business and the corner it has turned. Companies are taking notice of Travel Bloggers and Travel Bloggers are taking themselves seriously. People were talking about pursuing their dreams and finding their passion and it was exciting for us to listen to the projects that our fellow bloggers have coming up!
The afternoon consisted of a networking session where we had the chance to chat with brands and pr companies while sipping wine and eating more delicious treats as well as more catching up with our favourite friends.
Parties
The biggest excitement for us came that night during the Expedia Summer Shindig at the stables. They pulled out all the stops with a mechanical bull, calf roping, line dancing, a country and western band and cowboy hats for everyone.
It was here that they announced their new Find Yours Campaign and our video was featured along side Trip Styler and Passports with Purpose. We Found our Harmony in Thailand and our Bliss in India.
Friends from Budget Travel Sac, Traveling Philosopher, Julia Dimon, Captain and Clark were also featured in the campaign as well. It was so exciting. Expedia is leading the way when it comes to working with travel bloggers in innovative ways and we are so proud to be a part of the team. We'll be heading out on our first trip with Expedia next month when we Run With the Bulls in Spain!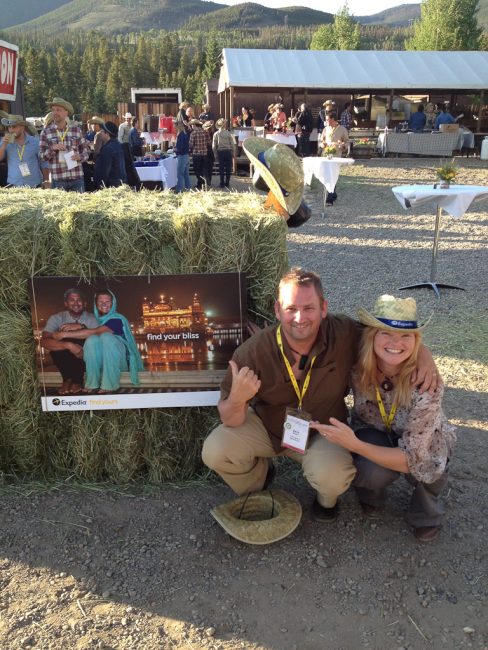 Exciting Events at Travel Blog Exchange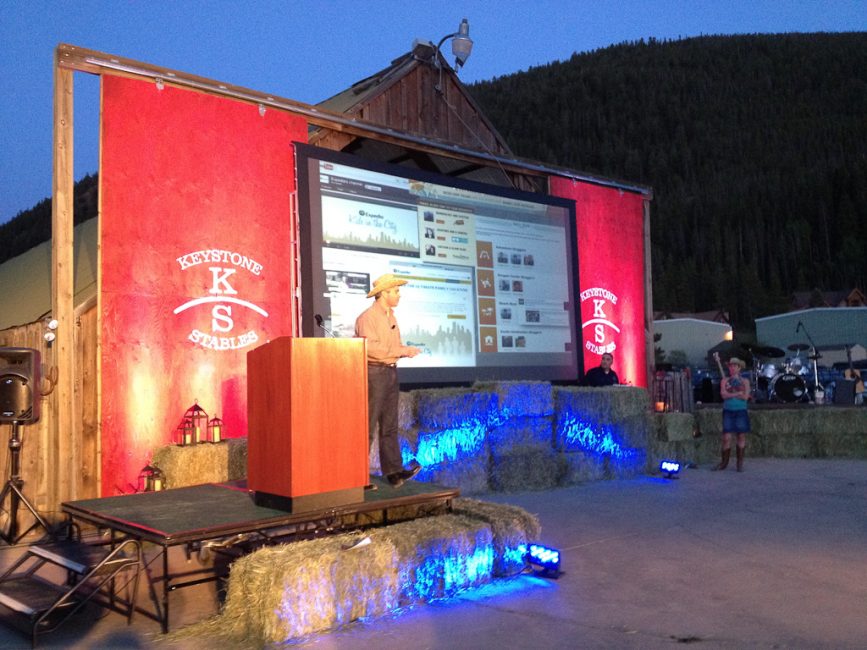 The next day went on with more sessions but we spent our morning in meetings with so many exciting people and businesses. The breakout sessions were a whirlwind and while it was confusing at times with the overwhelming number of tables and people, I think it is a great idea. Dave and I made the mistake of double booking ourselves and making appointments manually while not cross checking our presdo session appointments which made us miss a couple of people that we wanted to meet. I think with all the excitement in the room, we weren't missed as someone probably plopped down into an empty chair to take our place!
We attended two more sessions in the afternoon. I took notes during the Email Marketing with your Newsletter with Scott Carmichael, Natalie Bahadur and Johnny Jet while Dave attended our favourite travel host and friend Julia Dimon's session with Monica McCarthy, on How to be a Rock Star Host.
Closing Remarks and Keynote
It was time for TBEX to come to an end with the final Keynote by Christopher Baker who had an impressive resume from three decades of travel. I hope that we find his level of success one day and it is inspiring to see someone who has pursued his passion throughout his life and still enjoys his job each day to the fullest.
Passing the Torch
But the real emotion came when Kim Mance and Rick Calvert took the stage for closing remarks. It was a "passing of the torch moment," and I teared up when Kim and Rick both choked up while talking. Keeping things light, Kim remarked "I didn't even cry when my kids went to kindergarten." Yes, her baby; TBEX  has grown up and now it is left in the hands of the good people from Blog World. Kim is free to pursue her TV dreams (congratulations on the two upcoming travel shows!) and Rick, Patty, Mary Jo, Dave, Jim, Shane and Chris are ready and able to take the reigns.
TBEX Europe in Girona, Spain promises to be bigger and better and with the TBEX crew joining forces with the Costa Brava powerhouses, I can't wait to see what they come up with!
We feel TBEX '12 was a huge success. This event was filled with positive energy. People were networking and bouncing ideas off one another, information was being shared and it was open court for everyone to join in. There is an energy in the air and we all felt that we had been a part of history in the making. Travel Blogging has reached a new level and we are thrilled to be a part of it.