It's been the year of conferences for ThePlanetD so when ALT Hotels invited us to join them at  their We Do Less Event happening on November 1st, we said sure! They asked us to help get the word out there so they extended the free invitation to our readers. The event is open to the public and not only can you join the talks during the day, but stay for the cocktail party afterwards. Or if you are stuck and work and want to mingle with cool people, you can simply come on out to the airport for the 6:00 pm reception.
ALT Hotels We Do Less
WE DO LESS, a business philosophy dedicated to defining and focusing on "essentials." and there will be interactive talks with universally acclaimed designer Karim Rashid and business executive Hunter Tura of Bruce Mau Design.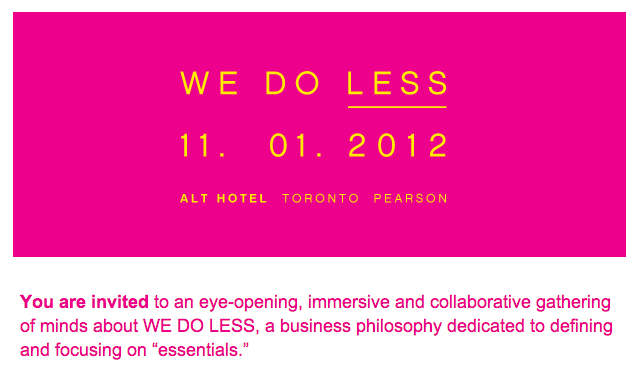 Sign up here
The Alt Hotels "We Do Less" concept focuses on a new movement that that celebrates a growing Canadian trend toward delivering more, in a manner that is intelligent, innovative, tasteful and pleasing to the senses. The event is focused on the Less is More trend – a philosophy dedicated to the essentials – what consumers are really looking for or the basic luxuries.
The day will be hosted by world traveller (and Montreal-based personality )Geneviève Borne and bv02's (Ottawa-based digital creative agency) Andrew Milne. We are looking forward to what they have to say. As a couple of people who like to speak in public, we take advantage of every opportunity to see other's at work too.
ALT Hotel at Toronto Pearson
Dave and I spend a lot of time at the airport and it's great to have another airport hotel join the mix. We have yet to stay at an ALT hotel and are looking forward to see what they have to offer, this is the First ALT Hotel outside of Quebec with more opening next year in Halifax and Winnipeg.
The modern 13-floor, 153-room hotel occupies a prime location adjacent to the airport terminals at the end of the LINK train line that runs every five minutes, 24 hours a day, seven days a week.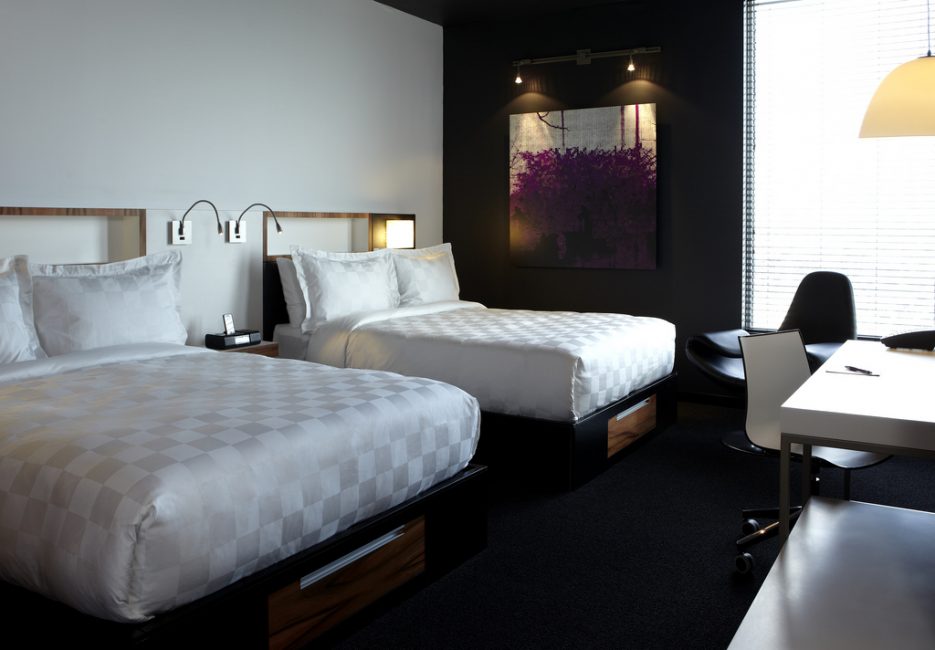 ALT Hotels are an innovative no-frills-chic hotel concept combining modern design and eco-friendly features at an affordable rate. With features like Complimentary WIFI and healthy food on the go it's something that we are looking for when we have a quick stop at the airport. They have a gym too!
ALTEXPO: A collective work of art
We're looking forward to seeing the lobby mural. ALT Hotels held a photo contest via Instagram in order to create a collective work of art designed specifically for the ALT Hotel Toronto Pearson. More than 80,000 images, inspired by a daily color theme, were submitted by participants from all over the world over a two-week period. The final installation featuring thousands of Instagram pictures also includes LCD screens that display the contest photos as well as new photos submitted by hotel guests in real time. What a fantastic idea! You know how much we love Instagram.  
So hopefully we'll see you at the reception! Sign up here and we'll see you on Thursday November 1.