Before we started our travel blog, we were broke and living in my parents' trailer.
We had returned from cycling the continent of Africa. A year earlier we made the decision to become an adventure couple for "everyman/woman" and knew that we needed to make a splash on the world stage.
So we signed up for the world's longest cycling race, from Cairo, Egypt to Cape Town, South Africa.
We took many twists and wrong turns, over nearly a decade, but it eventually led us here.
With each risk we took, new opportunities came our way.
And even though the journey to becoming travel bloggers took nearly 10 years, we wouldn't have had it any other way.
We now get paid to travel, and we want to show you that with a little perseverance and a lot of hard work, you really can achieve your dreams.
From TV to Travel Blog
When we left off yesterday's post, I stopped at the point where Dave and I came back from 7 months of travel in Asia.
We no longer had our jobs or connections in Toronto, but miraculously, things worked out.
As a matter a fact, better opportunities fell into our laps than the jobs we had before leaving. Dave had offers for several major motion pictures and I received a regular gig as an in-house Make Up artist for a major Canadian TV network.
Things were looking good. But we knew it was temporary because we knew that we wanted to travel.
For the next couple of years, we worked hard and focused on our film careers, but still took some trips to places like Peru, Europe and Mexico.
Wanderlust was still within us, but we needed a plan. We continued to try new adventures at like rock climbing mountain, biking, and snowboarding. But we were growing discouraged.
Work was starting to take over our lives and we felt restless.
Would we ever fulfill our dream of being professional travelers or were we doomed to work at jobs we didn't love trapped in a perpetual cycle of trying to stay one step ahead of our bills?
Read now: How to Get Paid to Travel How to Get Paid to Travel
2007
Near the end of 2006, we knew that it was now or never if we wanted to finally be full-time adventurers we would have to do something drastic.
We made a toast on Dec 31, 2006, to change our lives once and for all by this time next year.
2007 started off with high hopes. It was two weeks later that we saw an article on the Tour d'Afrique and we decided that was the adventure for us.
What better way to set us apart from other couples than to cycle 12,000 km from Cairo, Egypt to Cape Town, South Africa.
We signed up and told all our co-workers and bosses that by this time next year we'd be leaving our jobs and cycling Africa.
We had big dreams, this was it, we were never going back.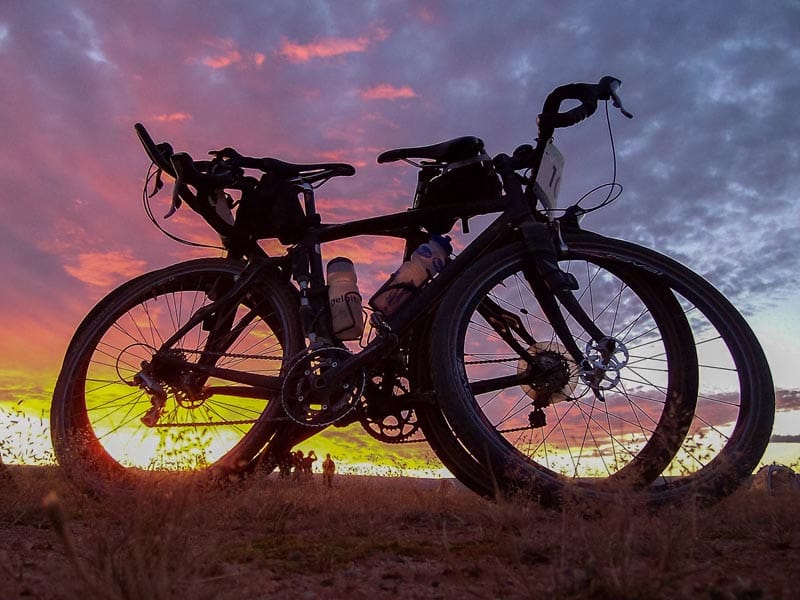 We hired a publicist to get us some TV and radio appearances and her connections got us a series of articles in the Toronto Star.
With the media exposure and the amazing "one of a kind idea" we had for a TV show once the race was over, we were sure we'd be on our way.
We cycled hard for four months and I managed to take the women's title and Dave won EFI.
We managed to do some interviews along the way, we visited a couple of projects on behalf of Plan Canada and we even wrote articles for the Toronto Star.
We had more media exposure than we ever had in our lives. We were positive we'd have a TV show once we got back to Canada.
Read: How to Start a Travel Blog
Things Looked Bleak
When we returned, we stayed with our families for as we figured out our future.
We went to meetings with our publicist and production companies to sell our idea.
We did some media appearances and interviews and felt very optimistic about the future. After a month or so though we saw that it was going to be a very long process and we were broke.
All the money we saved for the Tour d'Afrique the year before was gone and we came home with zero dollars in our savings account.
Reality Sets in: Going back to Work
Rather than dip into our retirement fund, we realized that we would have to go back to work.
This time, things looked bleak. We didn't have money for first and last months rent (unless we dipped into a borrowing account or credit cards) and we didn't want to stay in Toronto for long anyway.
We still hadn't given up on our dream yet. But, both of us had officially been replaced in our film jobs.
The business in Toronto was pretty slow at the time so we couldn't even take daily calls.
We weren't quite sure what we were going to do for money.
The Trailer and New Jobs

Luckily my parents had a 5th wheel trailer that they used to take to Texas for the winter.
They didn't need it so offered to let us park it at a trailer park just outside of Toronto so we'd have cheap accommodation while we got ourselves back on track. We set up shop in Milton Ontario and put the word out that we were home.
We then started researching adventures, adventurers, photographers, writers.
We researched anything that had to do with travel and decided that even though our TV show didn't work out, we were going to find another way to make our travel careers possible.
Take the easier route than we did: Read How to Start a Travel Blog
Make Sacrifices to Achieve Greatness
Even when things seem terrifying the rewards always outweigh the risks.
Previous experience had shown us that if you stay focused, things have a way of working out. We were willing to make sacrifices to make things work.
We weren't embarrassed that we were living in a trailer and we were willing to do any job that came our way.
Dave was once the head of lighting on big feature films, now he was willing to do whatever was needed to rebuild our bank account.
Nobody had work for him on a big movie, but he did hear of a production lighting house owned by the lead singer of Triumph.
It wasn't glamorous, but the money was good and we didn't have a lot of expenses anyway, so it helped rebuild our savings.
YTV was done with me after leaving twice already, but out of the blue, I got a call from a person I worked with for only a few days several years ago on the movie Chicago.
We hit it off then and she just landed a gig doing makeup for the TV series Urban Legends. She had to leave early to do another movie and wanted to know if I could replace her.
Oh Yeah, I was getting paid at least three times the money YTV was paying and it was a fun and easy gig that would take me through the summer.
Soon Dave started getting calls again for movies. He was willing to rough it for a bit and then was rewarded with three movies back to back.
Boondock Saints, Scott Pilgrim vs the World, and Defendor with Woody Harrelson.
A New Plan
We started to see our bank accounts replenish and we started a new plan.
Clearly, our idea of hosting a TV series wasn't going to pan out at the rate we were going.
We had our publicist continue to work on our behalf to try to sell our idea and we had a production company signed. All we needed was a distributor.
When we received a $10,000 bill from our publicist. We decided that it was time to let her go.
We negotiated paying her only half since most of the invoice consisted of lunches and business meetings. We told her, "I think you could have done a lot of that business by phone."
She agreed that it was a bit much for two regular folks like us, so she agreed to let us only pay half.
We do credit a lot of our initial success on having a publicist, but there was no way we could continue.
Time to look into focusing on raising our profile and brand
Since TV wasn't an option at this point we started looking into other ways to make travel work.
We started this blog for the TDA as a way to keep followers of the race informed of our progress through the continent. So we decided to pursue travel blogging.
If we were ever going to get a TV show, we were going to have to raise our profile.
For the next year, we worked full time at our jobs in TV and spent every spare moment we had working on our blog.
It paid off because soon our readership grew and we decided that we had enough readers and followers to maybe make a living online.
By living very frugally for that year, we put money away again to travel. We didn't do anything that would cut into our budget.
We ate at home, our activities included going for bike rides or visiting friends and family. The rest of the time was spent learning as much as we could about the business of travel blogging.
The Planet D – The Travel Blog Begins
By October 2009 we left for India with a dream of making money off of The Planet D. We didn't have as much money to last this time though.
We really could only make it through about 4 months of travel before we'd either have to start using credit or start making money. We hoped to start making money.
During our travels, we worked hard at social media, photography and blogging and our readership grew.
But we still weren't making any money. It wasn't until 3 months in when we were getting worried that we sold an ad on our blog.
A company wanted to buy 4 text links for a year for something ridiculously low like $40 a month. However, it was money that was needed and they were going to pay us up front for the year for all four posts.
That was $1980.00. That amount of money goes a long way in India and we were thrilled. We made a sale and we saw the light at the end of the tunnel.
We lasted a few more months in Asia, but we had to come home one last time.
5th Time's a Charm
If you read yesterday's post and then today's you'll see that this is our 5th time coming home after a long trip. Only this time, we had no intention of starting all over again.
We were going to keep the momentum going and continue to work on our travel blog and refuse to put down any roots.
We did some house sitting for friends, stayed with family, and managed to book a few press trips.
Money was tight and we were stressed out, so when Dave got a call to do a 3 week TV pilot late summer 2010, he took it.
Funny enough, the movie business was booming and everyone was working. His pilot was so small, nobody wanted to work with him because they could do feature films instead.
Since I was still a member of the same Union as a make-up artist, I was eligible to work for Dave in the lighting department. So the final film Dave ever worked on in Toronto, had me working for him.
We went out with a bang together.
Saving Money to Pursue our Passion
The money was good and with the two of us working like mad, we had double the money coming in.
A friend let us stay at her house while she spent a few weeks up North and everything worked out.
I remember having lunch with JourneyWoman at the time and we told her we were working on a film.
She said, "never feel bad about having to take work, you do what you need to do."
And we took that to heart. That TV show helped us build another little nest egg to get us through the year.
We also had a good discussion with her about how we can start to make a living out of travel blogging. Back then, nobody really knew how, and everyone was trying to figure it all out. Can you believe that was only 2010?
Figuring out the Business by Trial and Error
At this time, companies were starting to offer travel in return for blog posts so we were able to go back to Asia with our flights paid for by a third party.
We then hustled our butt's off to get some more sponsored trips so that we didn't have to spend too much money and we made it through the next year making money by selling ads.
In truth, we were really just getting by because we didn't have to pay for our travel and we had some savings. It definitely wasn't a comfortable way to live. But it was exciting.
Soon we started learning how to make money with our travel blog and how to start building campaigns.
But from the time we started our blog for the Tour d'Afrique in 2008 to early 2011, we had no idea how to make a living from travel.
All we knew was that we wanted to make a living and that if we sacrificed enough and kept trying new and different things, we would make it work.
And we did!
We now make more money that we did in the film business and we now are living our dream of working together, travelling together, and being together.
We really do pinch ourselves each day. I cannot believe the journey. We had been dreaming of this moment since 2002.
We made our first pay cheque in 2010 and started to make a decent living in 2011. Since then, our business has grown beyond our wildest dreams.
Dreams do come true
Dreams don't come easy and many risks were taken. We started over again and again. We went from having money to having no money again and again.
We went from high paying jobs to low paying jobs. I went back to waitressing and Dave worked in warehouses.
We went from living in a big beautiful house to living in a trailer and sleeping on friends couches. We never once questioned what we were doing, it was all part of the plan and we knew that sacrifices would have to be made.
When I look back, it was an amazing journey and a really fun ride. I wouldn't change a thing.
And you know what? The fun is just starting!
---
Read Next:
Enjoy Part 1 of this post Take Risks, It Leads to Great Things.
Read: Our Journey, From a Dream to Professional Travel Blogging
How to Become a Professional Travel Blogger – 12 Steps to Financial Freedom