The City of Lights may be an expensive international city, but there are plenty of ways to visit Paris on a budget. After all, millions of people live in Paris and not all of them are worth rich and famous. We found that the best way to travel to Paris on a budget is to live like a local.
Living Local in Paris
The latest foray to Paris was our fourth visit. This was the first time we stayed in an apartment and we loved it. We had the chance to do all the romantic things that we've dreamed of doing in the past like making a meal at home, buying fine wine at the grocery store for a fraction of the price of a restaurant and for the first time we weren't staying in a shoebox. We had two stories all to ourselves at an apartment in Montmartre. We ate where the locals ate because we were away from all the touristy stuff, we shopped like a local at the supermarket and we even went to the laundromat to dry our down jackets in their heavy duty driers after washing them in our apartment. Living as a local made our stay in Paris feel like a movie, the only thing that was missing was a Vespa. We even had our own patisserie around the corner to have our morning coffee and sweets. Yes, we truly felt Parisian.
Paris is considered the most romantic city in the world. See where else we suggest you visit for romance. 
Budget Tips for Paris
We've written in the past about how to save money in Paris and we've done a round up of all the free things to do in Paris, but really, nobody can ever get enough money saving tips, so this time, we thought we'd put it all together. Paris is surprisingly very affordable and there are many amazing things that you can do on a budget. I highly doubt that the regular population is breaking their bank accounts when they go out and neither should you. Here is a list of all the free things to do in Paris and all the budget tips we can think of in Paris.
Paris for Free
If you are under 25 years of age and an EU Citizen, you get into all museums for free!
The first Sunday of each month offers up many free entries to museums and attractions.
Visit Churches – You can enter Notre Dame and the Basillica Sacre Coeur for free.
The best free view of Paris is on the steps of Sacre Coeur. You can go here, have some wine and overlook the beautiful city. I love seeing the locals drink beer and wine while just hanging out on these steps.
Got to the Gardens – the Jardin du Luxombourg and the gardens of the Louvre are completely free to visit and filled with fountains, sculptures and statues. Both of these places are a great place for a picnic and the locals do it all the time.
The Cemeteries are a work of art and many famous souls are laid to rest here. Cimetiere Pere La Chaise is the most famous with residents like Jim Morrison and Oscar Wilde and the Montmartre Cemetery houses Alexander Dumas and Edgar Degas.
Note: Make sure to check out the Catacombs of Paris to compliment your Cemetery tour. A very creepy and interesting experience. 
Listen to classical music at the Conservatoire National Supérieur de Musique et de Danse. They offersover 300 student concerts a year, most of which are free. Radio France  also offers 180 free concerts year, mostly orchestral and chamber music, in the Museum of Fine Arts, where tickets are handed out 30 minutes beforehand.
Go to a McCafé and use their free Wifi to check your email and take advantage of the free toilets
Speaking of toilets, Paris has great public toilets that are free. Just stand outside and wait for a person to come out. The door will close behind them and while it is closed the bathroom will have a complete hose down, sanitizing it for the next person to enter. When the light is green, you're good to go.
Free City Tours – Different Companies offer Free City tours meeting in Montmartre and the Latin Quarter. These are an excellent way to get oriented and to meet new people and make new friends!
Go on a pub crawl – In Montmartre you can join a free pub crawl of the bars in the area.  A great way to go where the locals g
Go to the Pompidou Modern Art Gallery and take the escalators to the rooftop bar without paying for admission to see Paris
Take in the Splendour of the city and walk along the Seine or the quiet canals and witness all the magnificent monuments like the Eiffel Tower and the Arc du Triomphe. You can get up close and personal to their outer grounds. We've been to the top of both and are just as impressed with seeing them from below as we were from above.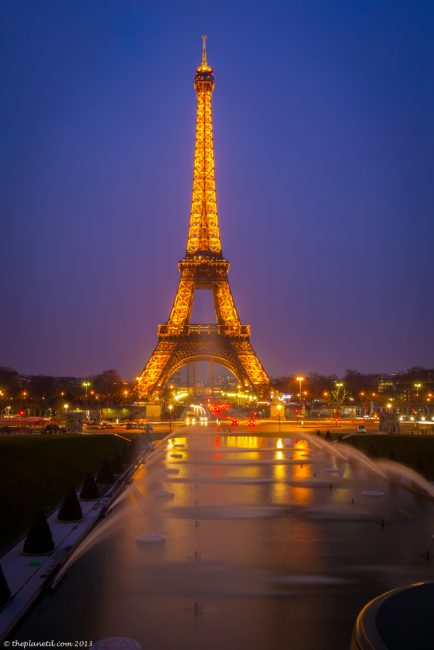 Paris on a Budget
Use the Metro. Paris has an extensive Metro system and it is very reasonable, day passes begin at €6.40. You can ride from attraction to attraction all day long.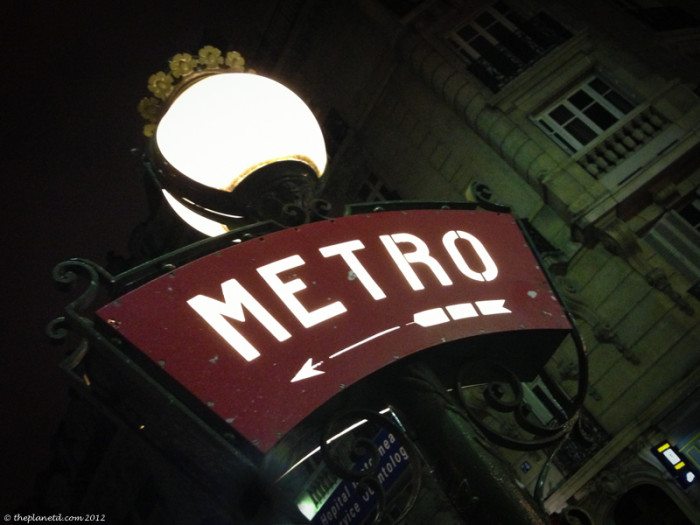 Get a Paris Pass. We've never used one of these before, but a three day Paris Pass is awesome. We got to skip the line for places like Louvre and Going up the Arc du Triomphe. This package allows you to have all your transportation (including Metro and red bus) and museum and attraction entries all in one easy to follow package. We were fans and it was fun to hop on the red bus for a bit to see the city from a different perspective.
Get Your Guide gave us a Paris Pass to try, and we received no money from them to endorse this. (Although if you click on the link now we'll make a buck or two) but we really recommend it. We used a City Pass in NYC too and think they are great additions to your city planning when traveling.
Creative Eating – Paris is a picnic city. Head to the Carrefour (local supermarket) and buy some meats, cheese with fresh baguette with a bottle of wine for a picnic on the banks of the Seine, at the Canals, in one of the many gardens or on the steps of anywhere. We see people eating outside all the time.
Go to the supermarket for super prepared meals. In Paris they have some ready to eat meals to die for.
Or when you do eat out, choose to eat outside at a boulangerie or patisserie.  Make sure to sit outside as you can be charged extra to sit inside.  We ate excellent lunches for 6.50 Euros.
For a dinner out, take advantage of the Menu Formule. These tourist menus offer three course meals with a glass of wine for under €20
Look for discounted days and evenings at museums. After 4:15 pm on Thursdays, the Musee D'orsay slashes it's prices.
And finally, take your time. There is no need to see everything. Part of the charm of visiting Paris is sitting in cafés sipping coffee or wine and watching the people. Strolling through the streets, ducking into open doorways, discovering hidden alleys, that is the magic of Paris. It's funny, Parisians always say that Paris is small, but we find it to be massive. We could walk for days and always discover something new.
And that is how you truly feel like a local, walk through the streets and
For more on Paris travel check out