–So you've finished your around the world trip, you had amazing stories to write about every day while you were away.
Now you are home, settling back into the daily routine and you don't have any new content to put into your blog.
Tips to Keep Your Blog Running When Not Travelling
Does this mean that you can't keep your beloved travel blog going? After all your hard work, is this the end? Will people stop coming to your blog and it will eventually fall into cyberspace oblivion?
Not True At All
Many travel blogs are written by people that don't travel full time.  Dave and I returned from our long-term travels almost a month ago and we have managed to put up a post every day of the week.
We thought that it was going to be difficult to keep up with our travel blog while traveling. We even wrote a post at the Travel Writers Exchange giving people advice on how to blog from the road.
Little did we know that coming home for a couple of months was going to be more difficult than traveling.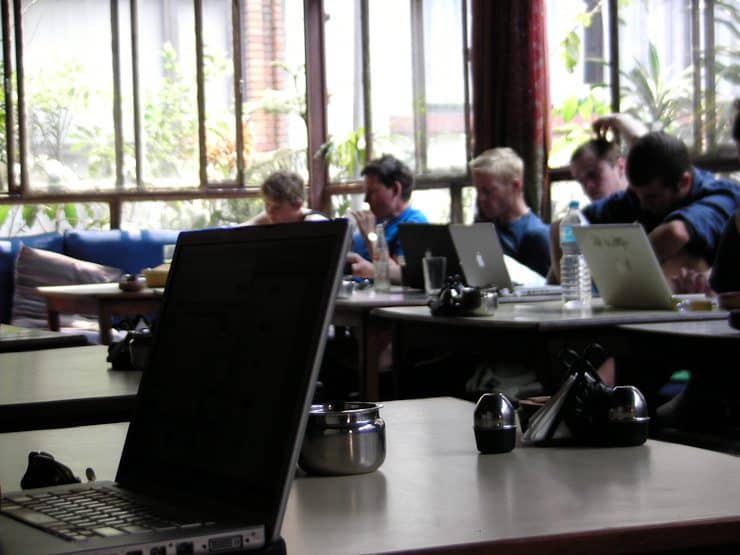 But we have adapted and have come up with some ideas that will actually allow us to keep content coming until we leave again next month.
It takes a little more imagination to keep a travel blog interesting when you are in  your home town, but with these tips you can keep visitors coming back and build a bond with your readers while you are planning your next great adventure around the world.
1. Top Ten Lists
You are now an expert
on many countries and cities.  Put out a round up of all the top things to do in each place that you visited during your world travels.
Sure you wrote about your day to day experiences while you were there, but did you compile a list of your favorite places to eat or favorite temples and attractions? You will find that you have days of new content and new photographs to choose from.
2. Blog Carnivals
Invite other Bloggers that you respect and admire to submit a link to their favourite posts.  Choose a theme like people they've met, inspirational moments while traveling or best wildlife spotting areas.
Compile all the links into one post, write a little introduction to each article that was submitted and give a link to the blog for people to read the entire article.
It is an excellent way to build friends in the community and drive traffic your way while you help others by sending readers their way.  Or do your own round up of what caught your eye on the Internet.
That can world beautifully to inspire and give your readers some new sites to check out.
3. Guest Posts
Invite friends to write a guest post on your blog. It can be refreshing to have a different writer contribute to your website.  Just because you aren't traveling at the moment it doesn't mean that you can't provide valuable information to your readers.
Other travelers are a great resource to write about places that you haven't been to yet. You will be inspired to go to a new country and your readers will enjoy more finding out about a different place.
4. Fantasy Posts
I have seen some of these posts work well on other peoples blogs. The Q Family Adventures has done this well in the past.  We have even written about our dream adventures in Canada for Sharing Travel Experiences.
Write a post about a city or country that you are yearning to go to or are planning on going to in the near future.
Do the research for your readers and find out what the main attractions are that you want to see there.
You can write a very informative post on a new destination while learning something for yourself.
5. Advice Pieces
People are always browsing the internet for advice. You are now an expert on long term travel and you can write excellent articles on what you learned from your time galvanting around the world.
Did you make mistakes with your packing? Did you become an expert at bartering?
Do you now know how to find the perfect hotel or guest house in any city in the world? Share your expertise with your readers, proved valuable tips and they will keep coming back for more.
6. Interviews
There are some fascinating people in the travel world and most are very friendly and approachable.
Send off an email to your favourite traveler and ask them if they would mind answering some interview questions.
You can either interview live for a podcast or you can do a magazine style interview. Send them your questions, they will answer them and send it all back.
Voila, you will learn a ton about your favorite travelers and your readers will be inspired.
It also makes your blog look very professional that you are actually interviewing people that stand out in the community.
7. Book Reviews
What books did you read during your travels. Everyone loves reading a good book that takes place in the destination they are about to travel to.
There are thousands of books about travel and you could come up with a regular day where you suggest your favorite book to your readers. We've have even had publishers contact us to review books for them.
8. Go to events in your own town
It may not seem very exciting to you because you have lived in your home town all your life, but your home is a travel destination to everyone else.
Write about a festival or event in your area. Be a tourist in your own town. You will be amazed what interesting places are right there in your own backyard.
9. Edit your videos
I am sure that most of you have a ton of video from your travels where you put up a minute or two of footage on your blog. Take this time to edit a proper 3 minute video about your time in a place.
Video is extremely popular on the Internet and you could appeal to an entirely new audience.
We are working on updating our videos before we head back on the road and are looking forward to expanding our video page.
10. Hold a contest
Even if you don't have corporate sponsors, you probably have some fun little trinkets from your travels that you could give away. Or you could use your own money to give a way a gift certificate or small prize.
People don't really care about the prize as much as the fun of entering a contest.  This is an excellent way to generate interest and excitement about your blog.
We have a fun contest going on right now, head over for to our Ultimate Playlist Contest for your own inspiration.
Read More
All the Benefits of TripIt Pro That You Did Not Know
Why Paralysis Made Me Want to Travel to Every Country in the World
You Might Also Enjoy