We had always heard that kiteboarding was scary or that kiteboarding was dangerous. It seemed that whenever we brought it up in conversation, everyone had an opinion on how difficult it was.
We love adding adventure into our travels, and kitesurfing seemed like the ultimate water adventure for us to try. When Maui tourism asked us what type of activities we'd like to do on our Hawaiian adventure, kiteboarding was definitely at the top of our list.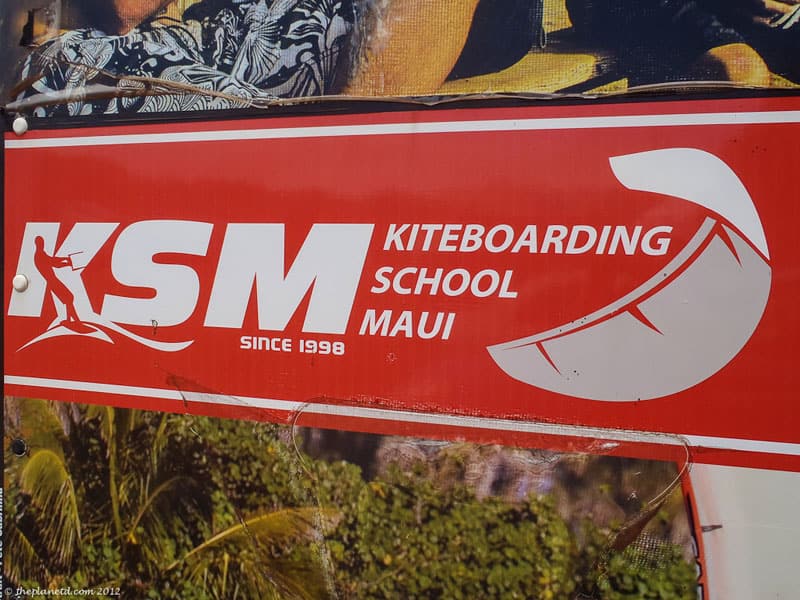 Kiteboarding Maui
Dave and I awoke early as usual from our deep slumber at the pleasant Paia Inn. We acted excited about giving kite boarding a try, but neither of us told each other how nervous we were about getting on the board. We found that out only after our lesson ended.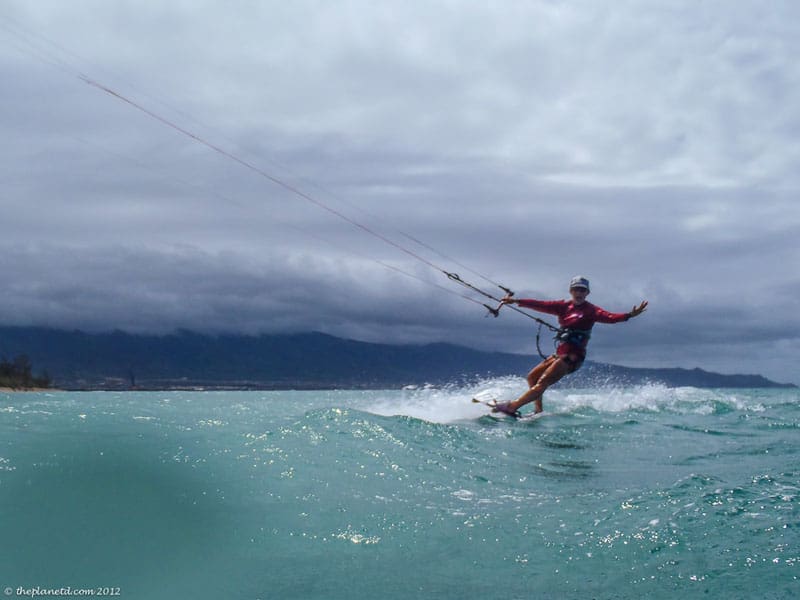 We've watched Kite Boarding from afar as uber fit guys leap and flip in the air and show off their wicked skills on choppy waters and believed all the warnings that we heard. "You need to have a lot of upper body strength," "Kites are very difficult to control" and "Kite Boarding is only for big strong men."
These are the myths we've heard about kiteboarding in the past and it intimidated the two of us. What if we get swept out to sea or fly so high in the air that we get slammed into the ocean and break our necks?
It's all nonsense. Kiteboarding is fun, safe and pretty easy to get the hang of.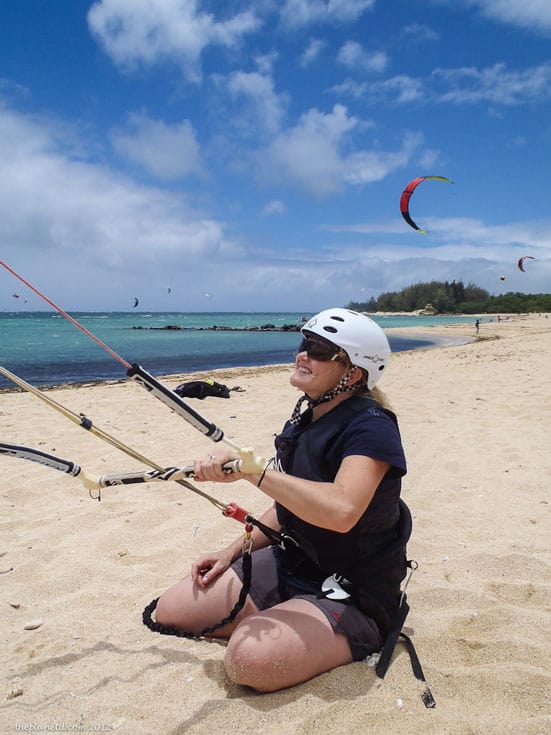 Adventure Travel at Its Finest – Kiteboarding School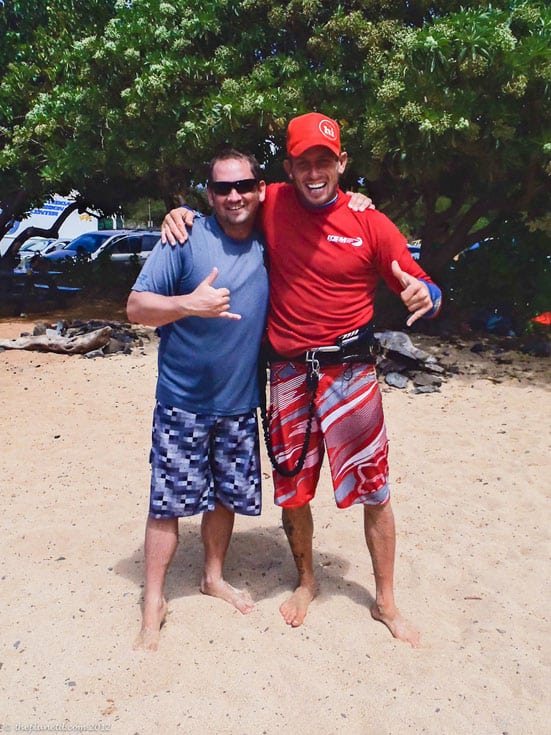 We met our guides Natasha and Tim at "Kite Beach" in Kahului and within a heartbeat, we were suited up in our life vest, waist harness and helmets. I carried the surf board, while Natasha carried the kite and we set off to the next sandy bay for our land instruction.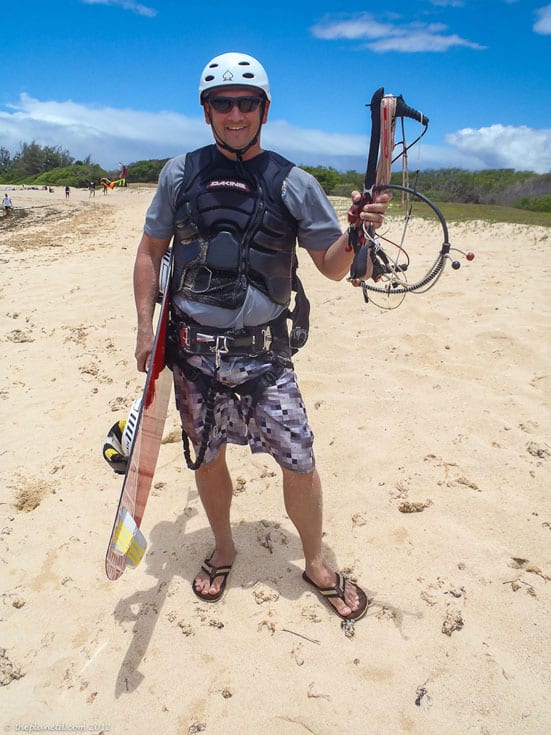 Our three-hour lesson started off with us learning about how to set up the kite, how to read the wind and how to move the kite on dry land. But the first thing you have to do is blow it up. Who knew? The C-shaped Kite has to be pumped up, and Natasha told me to keep pumping until it was as hard as a basketball.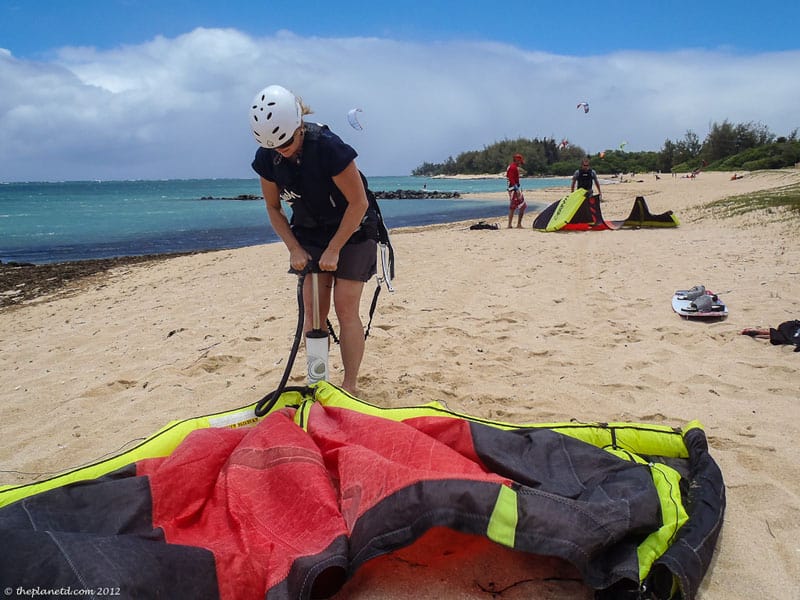 After the kite is inflated, you have to set it up in the proper direction of the wind. The inflated part of the kite should be facing the wind so that it easily sweeps over the kite without catching the material and blowing it away. Now you can get your lines ready.
There are long lines holding the kite to your body and it is important that you detangle them before you get started. The line lengths vary depending on the wind. When there is a lot of wind, you use a shorter line, when there is less wind, you lengthen the lines. And the red line is always on the left. Now you know.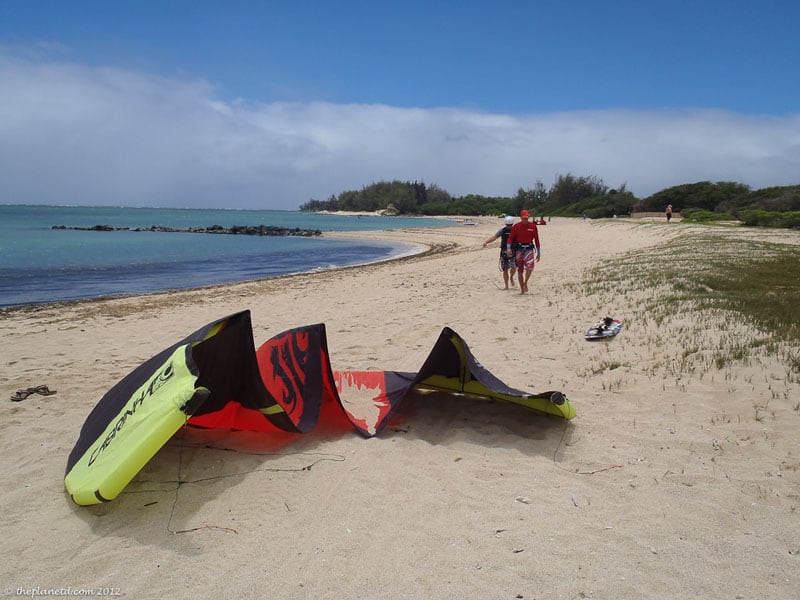 We then, sat on the sand and practiced controlling the kite and lifting it from the ground to a 3 O'Clock, 6 O'Clock and 12 O'Clock position. Once we could control the kite and hold it in place for at least 30 seconds, it was on to the other side.
I couldn't believe how subtle the movements need to be to control a kite. Most people feel that they need to tug and pull with fierce power, but it is as simple as bending a wrist and pulling in the line one little inch at a time. As soon as I found the sweet spot, I had it under control.
Kiteboarding in the Sea
Dave really rocked the kite boarding on land. Tim was so impressed with his skill that he decided to head over to the other bay where all the boarders were playing for the day to start body drags in the water. Since we were learning together, Natasha decided that I was ready too, so we followed along and got in the water a lot sooner than expected.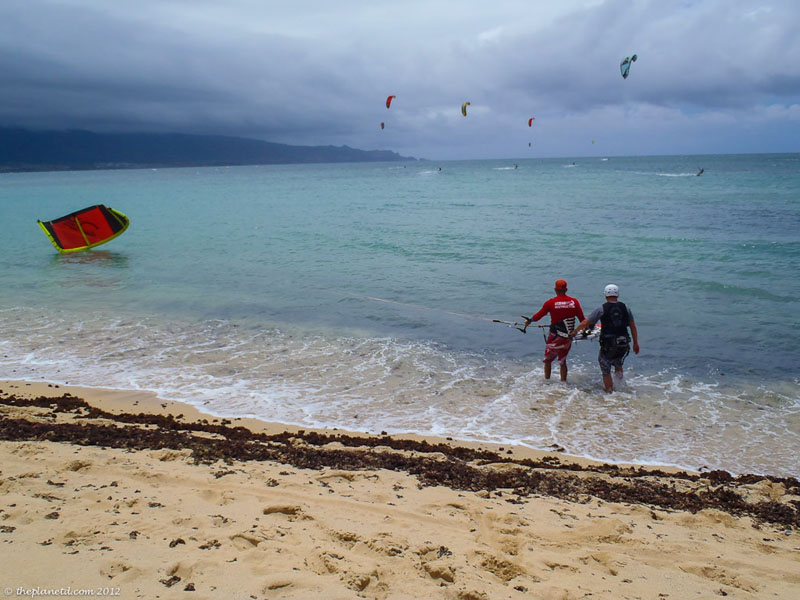 Body dragging is when you float in the water, lay on your side and let the kite drag you through the surf. It's the perfect way to get yourself back on your board should you fall and lose it in the water so it is a very important skill to master.
You never swim towards your board when kiteboarding. You simply tack your way back and forth up using your arm as a rudder and keeping your body straight. It's truly amazing how much control you can have and how simple it all really is.
The Human Lure
Dave and I grabbed onto the back of Tim and Natasha's life vests as they dragged us out to deeper water. I had to laugh a little bit. Here I was, laying in the water with my arm pointing straight ahead to act as a rudder as I was being dragged by a kite and another person through the Pacific Ocean.
As Tim described it, body dragging is pretty much like being a human lure. It's better not to think about that, there are some mighty big fish in the ocean.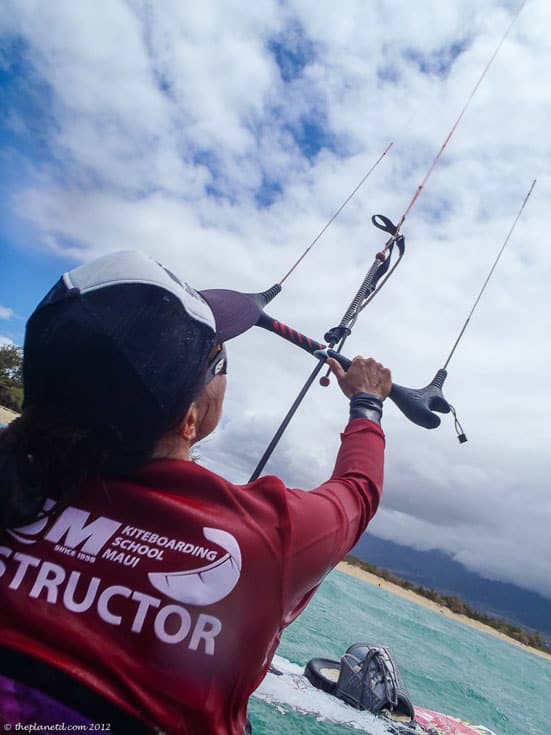 Why weren't we scared? Because kiteboarding is fun!
I didn't even think I'd be getting in the water today and here I was already holding onto a board while lifting and lowering a giant kite that I was attached to. I was having so much fun, I forgot to think about how worried I was just a few hours earlier.

Natasha and Tim of Kiteboarding School Maui are true professionals and they made us feel comfortable and confident in the water. There really isn't anything to be afraid of. If you feel that you are losing control all you have to do is let go of the bar and the kite will fall into the water.
It's super easy to lift back up as well. You just have to untwist the lines by turning your handlebar over and then the kite will catch the wind itself and regain its shape.
Once it catches the wind, you just have to subtly flick your wrist to start pulling it up. Keeping the kite at either 2 O'Clock or 10 O'Clock positions, you just ride the wind and enjoy the ride.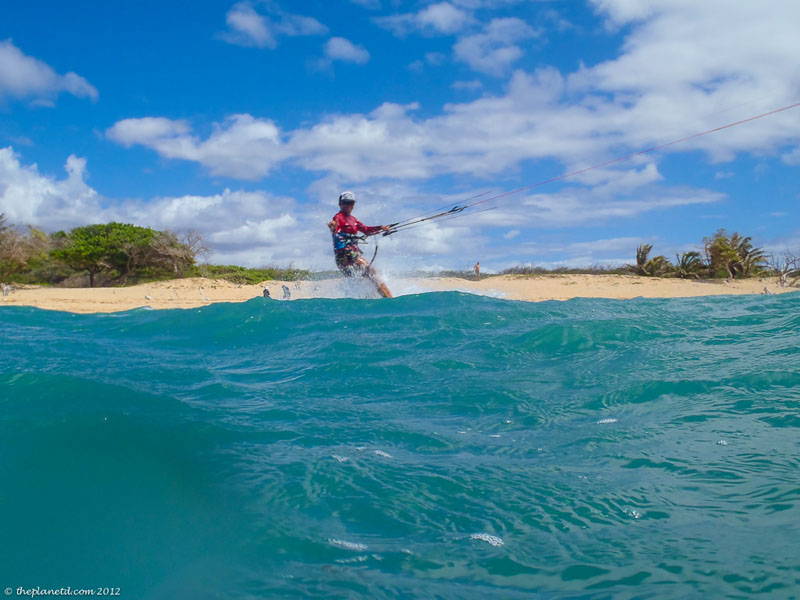 Once we felt that we had good kite control, both Tim and Natasha let us put on the board and feel what it's like to hang onto the kite while having your feet strapped into the board.
We didn't have enough time to stand up and go for a ride as you need three solid days before you have enough skill to be able to go it alone, but today was enough of a taste to help us decide that we've found our next sport.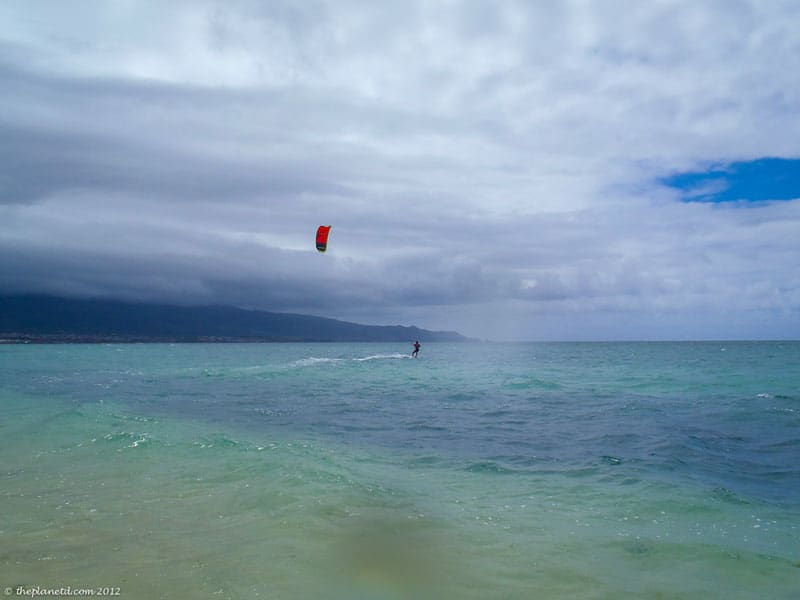 Both of us came away from kiteboarding on a high. Our adrenaline was pumping and we came out of the water with big grins on our faces. We can't wait to go back to Spain or South East Asia later this year and take up some serious kiteboarding. We'll definitely be joining in a week long course somewhere during our travels around the world.
For more information on Kiteboarding in Maui, check out Kiteboarding School Maui for prices and details.
---
Read More
The Best Way to See Maui – Helicopter Tour of Maui
The Road to Hana and Beyond – Maui's Great Coastal Drive
SaveSave