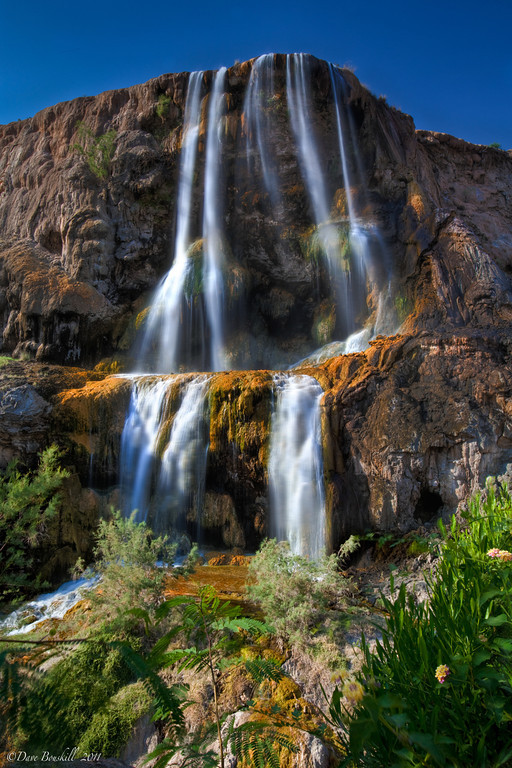 We were looking forward to spending the night at Evason Ma'in Hot Springs Hotel in Jordan. We had heard that it was a wonderful experience sitting under its thermal waterfall letting the stress of life melt away.  Unfortunately for us, the hot pool at our hotel was out of order and we couldn't enjoy sitting under the hot waterfall pouring over the ridge of the cliff towering overhead.
The Ma'In Hot Springs Waterfall, Jordan
It would have been nice. Instead they told us that we could catch a bus and go to the other springs down the road and pay 20 JD each to sit in that waterfall. (Almost $60 USD) We hear there is a public pool as well that charges 15JD per person.
No thank you.
We didn't have anything else scheduled at to do and it was a little too cold to sit by the swimming pool. Access to the path below was cut off and we never did see the thermal pool so we spent the night watching TV. I am not sure if it is an excellent destination or not as we felt stuck sitting in the middle of the desert with nowhere to go and nothing to do.
I think that if their hot spring is out of order, they should offer complimentary trips to the surrounding springs.
We enjoyed their buffet breakfast though. It was delicious.
Want to see someone that had an amazing time at Ma'in Hot Springs, visit Go See Write's A Slice of Relaxation Heaven in Jordan. 
Read More
10 Exciting Things to Do in Jordan That Will Make You Want to Pack Your Bags Now
Jerash – Welcome to the Ancient Roman City of Jordan
An Unexpected Adventure – Slumber Party in a 2,000 Year Old Cave