Border Crossings had been a bit of a worry on the Mongol Rally. Up until our Russian entry we didn't have the proper paperwork for our car.
As some of you may know, our V5 (proof of ownership) for our car didn't arrive in the mail. Allways rentals, a campervan rental company in New Zealand sponsored our car in England and because neither of us lived in the country, we had difficulty getting the paperwork sorted out.
For reasons beyond their control, the seller of the car didn't send in the transfer of ownership to the DVLA (licensing office) in England.
Now that's how you cross a border
We arrived to London a week early to get the problems sorted out, but only managed to get a temporary V5.
As we passed through borders, guards commented that this was not the proper documents and that we could not pass. We had to do a lot of fast talking and slow waiting to eventually have them allow us through, so when we got to Kiev and had our London contact email us our actual official V5 documents, we knew that life was going to be easier.
Or so we thought….
The Russian Border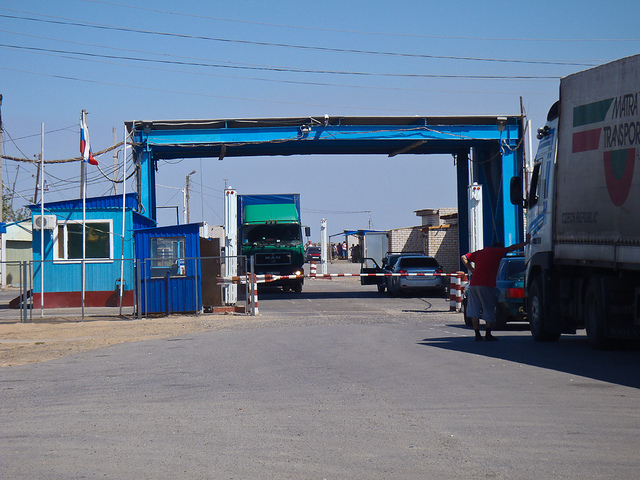 We arrived extra early to pass through the border hoping that morning would be a better time for us to go through.
Leaving the Ukraine was painless if not time consuming and the moment of truth came when we had to enter Russia.
Dave is the owner of the car, so he has to do all the dirty work. He goes up to the window with papers in hand as the officers look everything over.
The usual questions are asked.
"Bouskill, Dave" – Yes,
"Vehicle Passport" he says in a stern voice. –Dave hands them over
We assume that vehicle passport means ownership so we hand them our V5 and our insurance papers.
"These copy, need original!"
Dave repeats over and over with each question and demand. This is all I have and offers up nothing more.
"Wait 5 Minutes" the guard says.
Waiting
Dave comes back to the car where Sherry Rick and I are waiting.
We are doing everything that one normally cannot do at a border crossing. We're snapping photographs, we're sending twitter and facebook updates from our iPhones, we're cleaning out the garbage from our car and throwing it in their trash cans and we're standing outside stretching and relaxing. Nobody seems to take notice.
After about 10 minutes, the guard yells "Dave!"
Dave walks over and goes through the same ceremony,
"These documents copy, we need original."
Dave repeats his mantra "This is all I have"
The guard is perplexed as to what to do next. Normally people offer up something more and talk themselves into paying a bribe or a fine.
He barks, come back 5 minutes.
5 Minutes
Dave returns to the car and waits the standard 5 minutes. 5 minutes seems to be the favourite saying of border guards even thought they can make you wait up to a half an hour in that 5 minute span of time.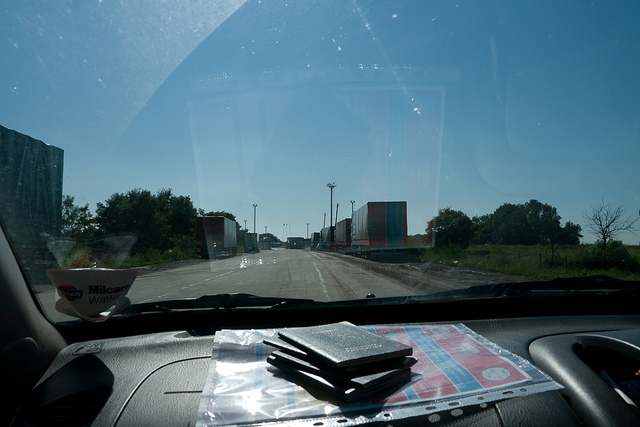 Soon, he calls for Dave again. The guard steps out the door and barks "Dave!"
Dave walks back and is asked one last time.
"These documents copy, we need original."
Dave repeats his mantra "This is all I have"
They add a twist to the questioning this time…
"Where are original documents?"
In London, Dave replies.
The guard looks at him, thinks for a moment and then says."Understand, Good Luck"
Then the ordeal is over, just like that. He hands Dave back the papers and his passport and we pass through to Russia.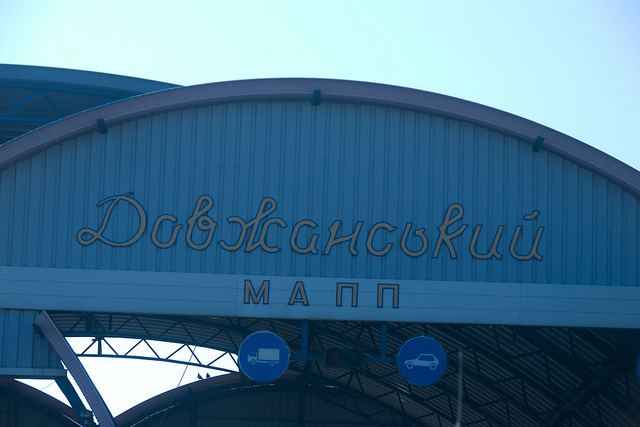 We have entered with ease and no bribes were paid. We then celebrate the fact that we made it through the Ukraine without paying a single bribe or being stopped once by the police. It's a country notoriously known for it's police corruption and we were prepared to pay our way out of more than one police check point. We made it through unscathed however, and we hope that this is a sign of things to come for the rest of the rally.
Smooth sailing is just the way we like it!
Read More
How to Cross a Ukrainian Border, Part Deux
You Might Also Enjoy