Camping. We love it.
Have we ever told you that? Sherry and Rick had told us that they didn't do much camping before the Mongol Rally and didn't know what to expect, but I think we have made converts out of them.
Outdoor Living on the Mongol Rally
There is nothing more freeing than being able to drive all day and then when the sun goes down be able to pull off the road, find a flat piece of ground and set up camp for the night.
Kazakhstan has been the perfect place to do that!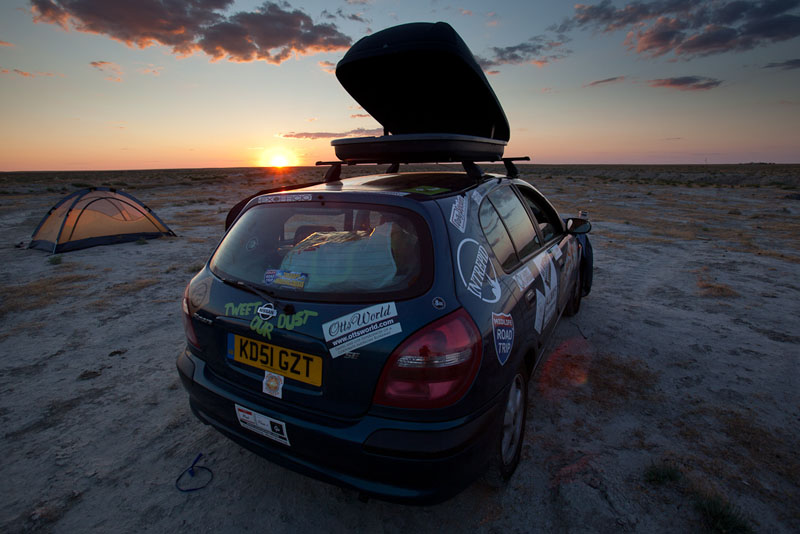 When the sun starts to set, we begin looking for a good place to lay our heads for the night. Many times we will see dirt tracks leading from the road out into the middle of fields. We pick a good one that doesn't look too bumpy and turn our car in that direction.
We Feel Very Safe in Kazakhstan.
Even though we feel quite safe camping out in Kazakhstan, we like to be away from the highway (err, two lane road filled with potholes) so that we can hear a car approaching in the middle of the night just in case some rowdy people decide to sneak up on us.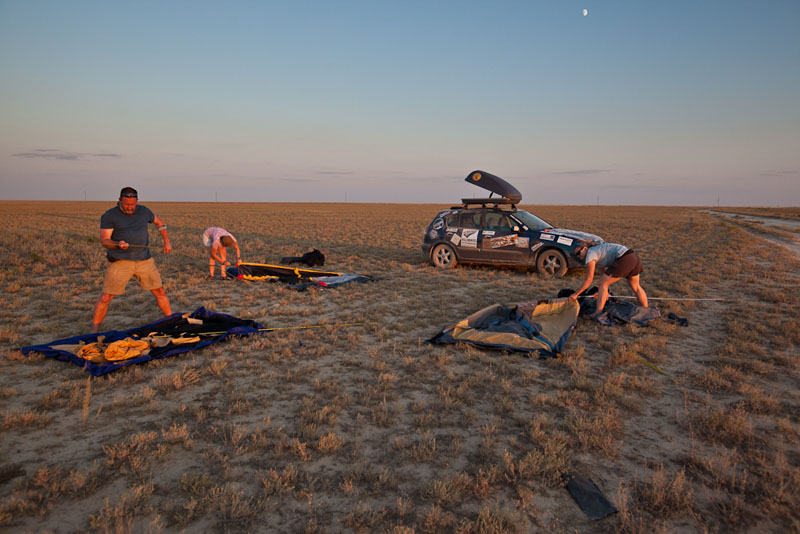 Meeting Locals
One night we saw a ridge in the distance and decided to stop for the night at the top of it. We pulled off the road and drove into the long grass for the tracks of previous trucks with hope that we didn't fall into a big hole or hit any giant rocks.
We were feeling pretty secluded up on our perch looking down on the road in the distance. We even noticed a lone rider galloping back to his village for the night. It was a stunning scene.
It was about a half hour later that we noticed him again. Our tents were set up and the water was boiling that we saw the rider had circled back behind us. He stood atop the hill looking down for sometime and then after studying us for a bit, he approached in silence.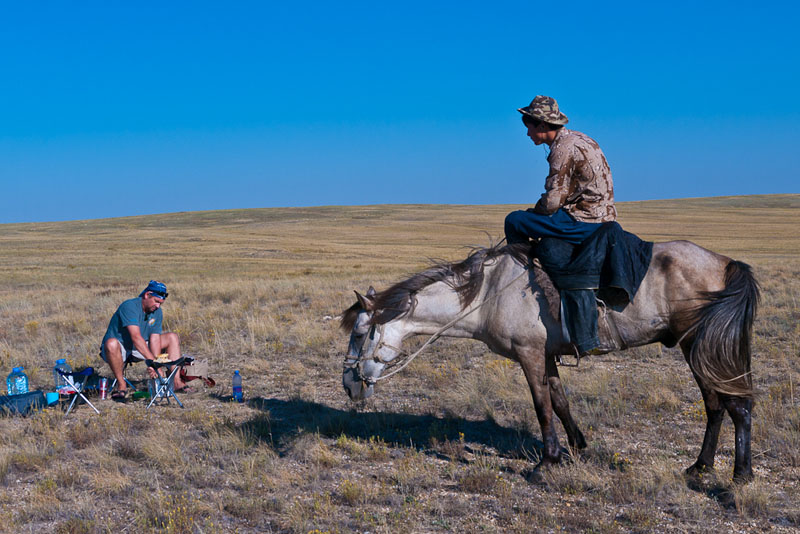 We had a wonderful interaction with him as he watched us cook our meals and secure our tents. We found out that his name is Beket and he herds cows as well as hunts for rabbits.
You can read more about Beket at Kazakhstan Farmer at Sunset.
We realized after Beket's visit that anyone could sneak up on us in the middle of the night. Beket didn't make a sound and his horse and dog behind him moved through the long grass in silence. If we were asleep, we would never know if anyone visited camp.
Never fear though, we have nothing but good things to say about the Kazakhstani people and feel that it is probably one of the safest countries to camp in the world. Most people are welcoming and have a great curiosity to us being here. They love having tourists visit their country and we find it to be one of our favourite countries for meeting and interacting with the people. We will be back to spend more time here for sure!
But that's another story…
Back to the Camp
As soon as we find a place to camp that we are all comfortable with, we get to work setting up the our tents. We have three tents and yes, it all fits into the car, which is surprising after our first packing job in England.
Time for Cooking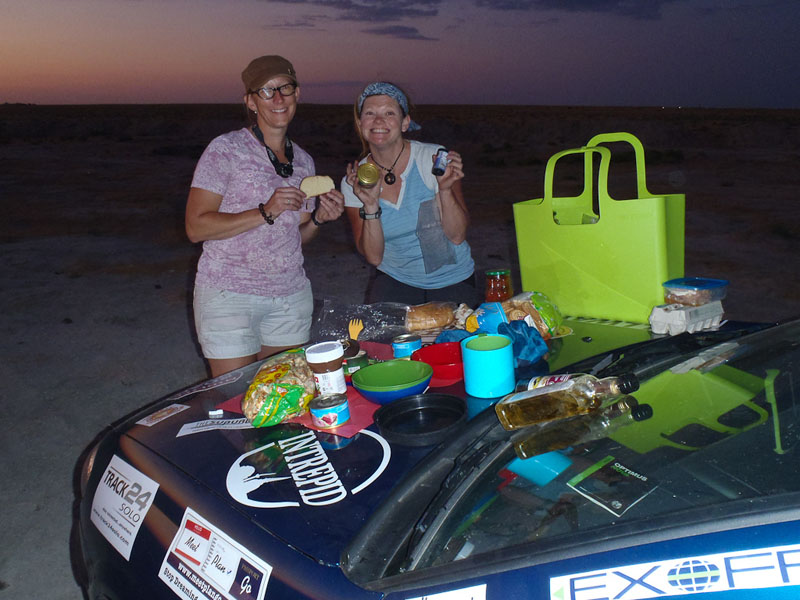 We have been carrying a soft cooler and shopping bag filled with goodies. Each night we eat either pasta, noodle soup with mushrooms, fresh garlic and tomatoes and hot sauce provided by Rick Griffin. We have been carrying around olive oil and balsamic vinegar and enjoying our fresh bread dipped in it all for our appetizer. It's very refined.
For cooking, we carry a small multifuel stove that burns gasoline or diesel as well as kerosene and white gas. We haven't had luck finding kerosene or white gas, but the diesel has worked like a charm.
With camping pots, sporks and bowls in hand, we eat like kings.
Before each camp, we stop in a village to look for beer. Nothing makes camping more fun than beer and we can always find a cold one somewhere in the village with a little bit of work.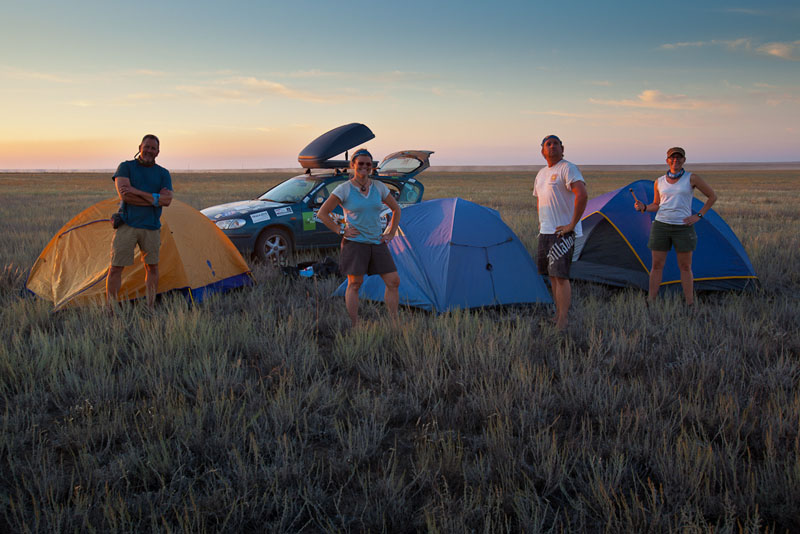 Finding the Market
It does take some work finding the market. There aren't any signs flashing "Supermarket" the buildings in villages don't look like markets at all! They simply look like houses. So you have to get out of your car and mime drinking and eating for them to understand what you are looking for.
We stock up on eggs for breakfast, bread, water and beer and we are good to go!
After dinner, we use our CampSuds (biodegradable detergent) to clean up and then it is straight to bed. We always have grand illusions of staying up late and talking about the day, but we are all exhausted after just one beer.
The sun comes up early and it gets hot in the desert fast, so we eat a quick breakfast, complete with coffee or tea, pack up the car and are back on the road by 9:00 am.
Ah, livin' like vagabonds on the Mongol Rally, there is nothing like it!
Read More
Mongolia Pictures from the Russian Border to the Gobi Desert