Is Blue Lagoon in Iceland worth it? We found out on the final day of our self drive tour around the Ring Road.
How to Enjoy Iceland's Blue Lagoon
We didn't fly out of the country until 5:30 pm and we had yet to visit the Blue Lagoon in Iceland.
Luckily the Blue Lagoon is located between Reykjavik and the airport.
Since our car rental return was at the airport, we checked out of our hotel early and set off to experience the hot thermal baths of Iceland's most famous attraction.
You'll find that most people visit the Blue Lagoon either once they arrive in Iceland or on their way home.
Blue Lagoon Iceland Tips
Our self drive Iceland Travel tour doe not include a stop at the Blue Lagoon of Iceland. And they are wise not to include it.
It's easy to get to the Blue Lagoon from the airport and most people either pop over from the city, or pop in while traveling to and from their flight.
We saw more than one person on our plane that we bumped in to in the pool.
Iceland Travel leaves it up to you if you want to visit this crowded tourist trap.
We decided that since this could be our one and only visit to Iceland, we had to go see what all the fuss was about.
Arriving at the Blue Lagoon
When we arrived at the Blue Lagoon in Iceland, we had to deal with a long line.
People walked down the line asking if anyone had a coupon, and those who did, were escorted to the front of the queue while the rest of us looked on with sad puppy dog eyes.
(I gotta find out what that coupon is all about) To add insult to injury, the bus tours that came in after us were rushed through the turnstile as well.
Get the latest Lonely Planet Travel Guide to Iceland
Blue Lagoon Packages
While we waited, we had to make a difficult choice. Which Blue Lagoon package do we take?
We wanted to enjoy ourselves, but it was extremely expensive for a dip in a big hot tub.
The cheapest Blue Lagoon package was €35. That gets you in and that's about it.
We finally decided to compromise and take the middle priced package at €65 per person.
This gave us a robe, a towel, a face mask and 1 free drink. We didn't even get to keep the slippers!
Once we finally entered the spa, we went out separate ways to our changing rooms to slip in to our bathing suits and lock our stuff in the provided lockers.
We made sure to have a shower and slather our hair with conditioner.
The minerals are strong in the Blue Lagoon.
The minerals make your hair brittle, so it was suggested that those with long hair especially, make sure to put the conditioner from the provided dispenser in and leave it in.
Have a Short time in Iceland? Buy the guide – 72 Hours in Reykjavik  on Amazon
About The Blue Lagoon Iceland
Iceland gets much of it's power from geothermal energy.
It's a volcanic country that is very busy still developing below, so there is a lot of heat going on under the surface.
The Blue Lagoon is located near a geothermal power station called Svartsengi.
The water comes from waste from a nearby power plant.
A new batch of super heated water filled with minerals like sulphur and silica flows in to the lagoon every two days.
And boy, can you ever smell the sulphur.
It's a strong stench that you have to get used to.
The water in the Blue Lagoon Iceland is a beautiful milky electric blue colour like nothing we have ever seen.
We were surprised with the size of the natural pool. It is immense.
There are little nooks and crannies that you can explore or sit in carved out shallow pools surrounded by a waterfall, steam room, sauna, quiet sitting area with a pool bar in the centre of it all.
Back to our Blue Lagoon Experience
We met up outside and walked out in to the cold. I was happy for my robe but when I saw the sea of other robes hanging on the hooks, I wasn't sure
I'd get the right one back when I was done.
Dave and I hung our robes together and stuffed them in the back then got in the hot water as quickly as possible.
---
Blue Lagoon Packages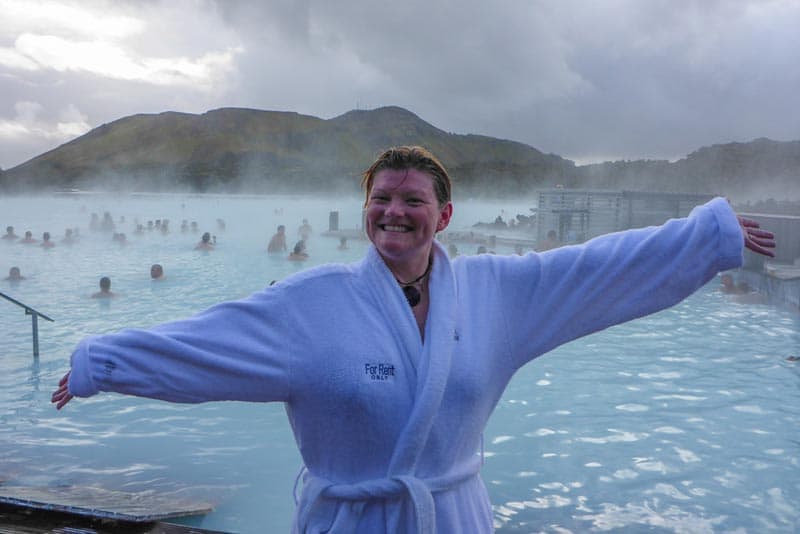 Everyone who enters the Blue Lagoon in Iceland wears different electronic bracelets depending on what your package includes.
Our €65 package gave us a free free drink and free face mask.
We only had about two hours in the water before we had to leave for the airport, went straight to the pool bar.
The bartender swiped our bracelets and gave us our mud masks and glass of beer. (In a plastic glass for safety of course)
After covering our faces with the healing mud, we took our beers and went to a walk around the giant lagoon as we let the minerals harden on our skin.
The water changes temperature in different areas of the pool. Whenever we found an exceptionally warm spot, we'd stop and enjoy the moment.
You don't have to pay for a Mud Mask
When we went over to the far side of the pool, we saw people scooping out white minerals and smoothing it on their own face and realized that we had just been 'had.'
We probably spent an extra €10 for our 'included mud mask' and here we could do it ourselves for free!
That's a big strike against buying the more expensive package.
Things to do at the Blue Lagoon Iceland
Once we finished our beer, we washed off our faces and went over to the steam room.
Oh how I love a steam room. I could sit in them for hours. But not at the Blue Lagoon.
The steam room had too strong of a sulphur stench for me and we lasted about 5 minutes.
It wasn't inviting nor beautiful and we just wanted out.
The sauna was nice, yet small.
There are hundreds of people in the lagoon at once and both the steam room and sauna only hold 8 people at a time.
After more people piled in, we felt uncomfortable and left.
Hot Waterfall 
We really wanted to try out the hot waterfall and let it massage our aching shoulders from our 12 days of driving, but the line was long and by the time we stood underneath we had lost interest.
We tried the cold mist shower for fun and then got back in the pool to walk around before calling it a day.
When we first arrived, I was sad that we didn't have longer at the Blue Lagoon, but by the time our couple of hours were up, I was happy to leave.
We tried sitting in the quiet room for a bit, but there weren't many chairs and we had to stand and wait for one to become free.
Finally a chair opened up, but it was only one. So I told Dave to sit back and relax. I'd go ahead and have a shower and take my time blow drying my hair.
I grabbed my robe and off I went.
My Iceland Blue Lagoon experience was over and Dave's was nearly done.
Leaving the Blue Lagoon
We were about 20 minutes ahead of schedule so I felt confident that we'd make it to the airport in time to return our car.
But to my surprise there was a queue to get out of the Blue Lagoon!
As the minutes ticked down, I felt the panic set in. 10 minutes, 15 minutes went by as we stood in line.
Finally we reached the front of the line.
They scanned our bracelets and told us we were free to go.
Would we go back to the Blue Lagoon again?
No way! Am I glad we went? Hell Yes!
Not going to the Blue Lagoon in Iceland is like not going up the Eiffel Tower in Paris. You have to see it once.
It may not live up to your expectations, but it's something that needs to be seen.
Important Tips for Visiting the Iceland Blue Lagoon
Go Early: Afternoons seem like the busy time and the time for tour buses to arrive.
Don't bother paying for the robe/face mask/drink package – It was a waste. You don't need the robe.  Once you take it off at the beginning of the day, you don't wear it again until you leave.
Bring your own towel – There is a charge for towels, but you can bring your own. Bring two towels. One to dry off after your Blue Lagoon experience.They won't let you back in if you are dripping wet. The second towel is to dry off after you shower.
Drinks: If you want drinks you can use your wrist band to run a tab. Then pay for them when you leave. But is drinking alcohol in a hot tub a good idea? It's expensive and we really didn't need it.
Water: Bring a bottle of water. For a country that boasts so much about its clean water they're pretty stingy. You'd think they'd offer free water fountains or coolers for their guests.
Don't fall for the coupon scam. We thought our €65 entrance fee because they gave us a coupon for a mud mask. It ended up being a €5 discount for products in the shop that sell for a fortune.
Give yourself a lot of time at the Blue Lagoon. We thought we had plenty of time but it went quickly. We arrived after lunch thinking 3 hours would be plenty, but we didn't count on a queue to get in and a queue to leave.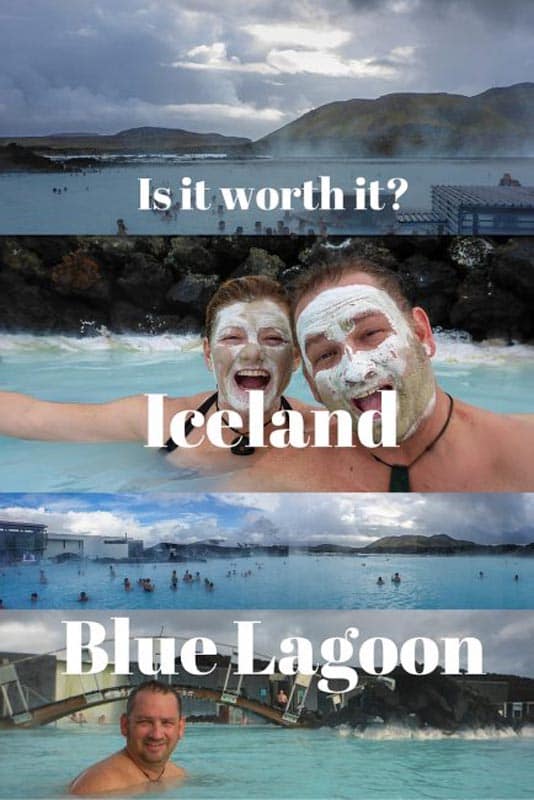 Our tour through Iceland was courtesy of Iceland Travel. The Iceland Odyssey and the Wonders of the West self drive tour around the ring road gives the traveler freedom to explore on their own while staying in comfort at hotels and B&B's.
Read Next:
Spa Etiquette – From Stripping to Tipping
The Icelandic Horse-Pure Beauty
The Best Road Trips in the World
Spa Etiquette – From Stripping to Tipping
You Might Also Enjoy