Petra, Jordan wasn't voted one of the New 7 Wonders of the world for nothing!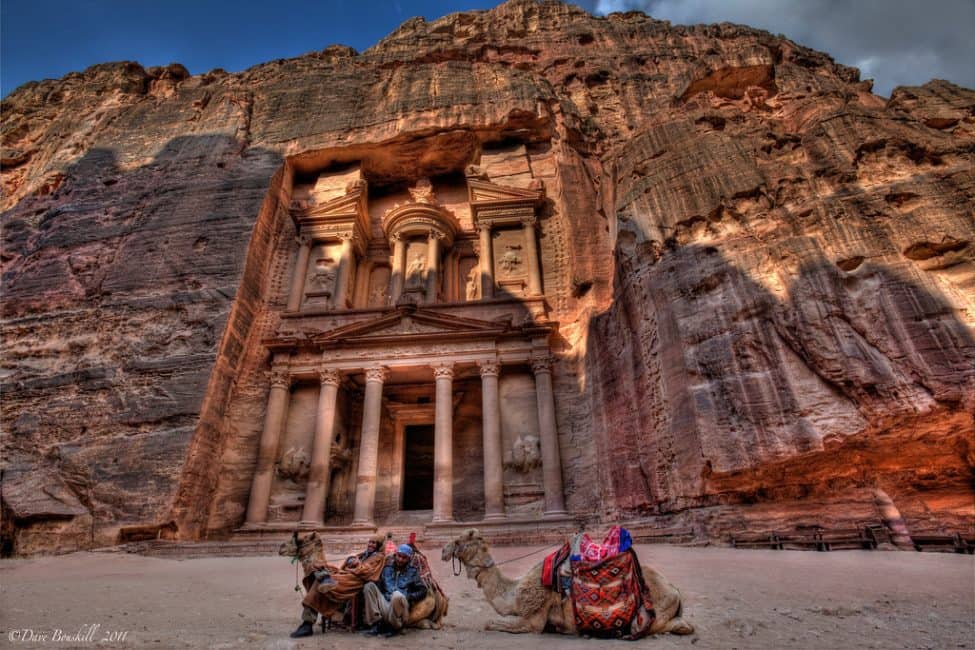 Petra is one of those places that really lives up to the hype. We saw it for the first time in the dark when we visited Petra Jordan by Night. While the actual performance of traditional music was less than stellar, the walk through the candle lit Siq to view the legendary Treasury building was awe inspiring.  The Siq is a narrow gorge winding its way towards the ruins for over 1 km. With cliffs reaching up to 80 metres, it is absolutely one of the most phenomenal gorges on earth.
A Visit to Petra, Jordan in Photos
We awoke bright and early to beat the crowds. Our tour of Petra Jordan was led by an officer from Petra, Jordan Development Authority. He was hired to stay with us while we took photos of Petra. Lucky us! We retraced our route from the night before to Petra's most famous monument.
Later that day, we were told that a horse ride was included in our entrance fee. It would have taken us from the visitors centre to the entrance of the siq. I wish we had known, that would have been cool. But something tells me we wouldn't be riding as fast as that guy above!
As it turned out, we needed the extra time to walk anyway because we arrived at the Treasury too early. We had to wait for the sun to make its way over the high cliffs.
It wasn't long until the sun peaked over the walls lighting the treasury with its golden rays. The crowd was sparse at this time of the day. Since we had the officer from Petra assigned to us from the Jordan Tourism Board and our guide Ali working together to keep the area clear for photographs, Dave managed to snap photos of Petra that people only dream of getting.
Petra Jordan's History
We spent quite a while at the Treasury. While Dave explored with the Petra, Jordan Official, I sat with Ali (our personal guide who rocked by the way) as he told me the history of Petra.
Check out more of Jordan's history at Jerash, The Roman City of the Middle East
Little is known about Petra Jordan and its history. It was built by the Nabataeans over 2000 years ago where it was an important stop on the Silk Route to China and India. Petra was a flurry of activity with camel caravans stopping frequently en route to the Far East. It remained under Nabataean rule until 100 AD when the Romans invaded. It was some time during the 12 century that it was finally abandoned and left to the local people.
Surprisingly, Petra was forgotten by the Western world for centuries. It wasn't until 1812 that it was "rediscovered" by Swiss explorer Johann Ludwig Burckhardt.
In 1989, Hollywood chose Petra as a film location for Indiana Jones and the Last Crusade. Most recently we have seen Petra featured in Transformers II. But we're trying to forget that that movie ever happened.
Ali told me that much of what we know about Petra is speculation. The Treasury was named so because it was believed to have treasures hidden inside. They say, the Bedouins used to shoot at the facade because they thought that Pharaoh put his gold and treasures there. The official from Petra  told Dave that even his father used to shoot at it. You can still see the bullet holes on its facade today.
People of Petra
One of the most popular people in the entire complex is a dashing man who sits in front of the Treasury. He's a local Bedouin who lives in the nearby caves.
He is pestered all day long by tourists wanting a photo with him or his camels. Looking at him, I can understand why. He is the epitome of what a person thinks of when traveling to an exotic place like Jordan. His striking eyes peer playfully from behind his keffiyeh (traditional headscarf) as he sits in his long robes beside his decorated camel. Who wouldn't want a photo of him?
As we chat with him we find out that he has already been featured in several magazines. He jokes that he will allow us to take a photograph without signing a release because we are nice. But he'll look us up online because he has Wifi in his cave!
We never did get his name, but we won't forget the fusion of ancient and modern life colliding. Looking at him, you see a man from centuries past. But talking to him you get a man in tune with the rhythm of today. His earbuds connected to his iPod are hidden under his headscarf, he speaks with quick wit and references pop culture. He's a living contradiction.
We can't decide if he is teasing us and actually lives in a cave or if he goes home each night to an apartment with big screen TV and modern conveniences. The cave wouldn't surprise us because we learn that many people still live in the surrounding ruins and that the families who work in Petra are granted permission to stay there there.
Correction: After it was brought to our attention by Darren of RTW travels that people don't live in the caves anymore, we did some further investigation and found out that people are not allowed to live in the caves anymore and have been moved to a nearby village by the Jordanian government.
The walk to the Royal Tombs involves scrambling up rocks, ducking through caves and getting lost in passageways. This route takes us to the top of a stone mountain overlooking the complex.  It is here that we see the paths to both the high sacrifice and the Monastery. We can also look down on the Petra Theatre. This 3000 seat amphitheatre looks to be Roman architecture but was actually build by the Nabateans in the 1st century.
There are countless monuments and it is hard to believe that much of Petra was destroyed during a massive earthquake hundreds of years ago. Imagine what this great city looked like in its prime?
Monastery or HIgh Sacrifice?
Since we only had one day at Petra, we had to choose between the high sacrifice and the Monastery. We chose the Monastery which some say is more impressive than the Treasury.
This 45 minute climb get's the blood pumping and our guide Ali was not enjoying our fast pace. While we explored the area on our own, Ali took a well deserved rest to enjoy an icy lemon mint. If we were wise we would have hired a donkey for all of us to scramble our way up the stone path.
We paused to view the Monastery before walking higher to gain a better vantage point. Following the trail we came upon a sign stating The View of the End of the World. I've always wondered what the end of the world looked like, so we marched on.
It may not have been the end of the world, but I can see how the Nabataeans believed it to be. There seemed to be nothing beyond the borders of Petra. One would think that people would see no reason to leave the safety of this secluded city that was once the crown jewel of the Middle East.
Gazing towards the horizon I could almost imagine a camel caravan descending upon the city. Petra would be a welcoming sight after a long journey through the arid landscape and as I stood atop the mountain, I had visions of the generations who came before me. What did they think as they stood in this exact location gazing over the desert while admiring the beauty of the monastery below.
We would like to give a hearty thank you to our guide Ali from the Jordan Tourism Board for checking our facts and keeping us well informed about everything in Jordan, including Petra!
For more information on Travel to Jordan visit our Jordan Travel Guide