One thing we love about travel is the people that we meet.  Locals and fellow travelers alike are what makes travel so interesting and exciting.  It was while sitting in a campsite near Nice, France that we met Kelleigh and Andy who told us about a great campsite in Haute Provence that just so happened to be the entrance to a Via Ferrata.
Tackling A Via Ferrata in Haute Provence
What is a Via Ferrata you ask?
A Via Ferrata is one of those walks that you have seen so many times on photos on the internet.  The photos where people call this hike the most dangerous hike in the world or the craziest trail in the world.
We always wondered what these people were thinking of walking along cliffs until we realized that they were simply doing a Via Ferrata.  A Via Ferrata is a lot like rock climbing but you don't have to have any technical skill or training.  If you know how to attach a carabiner to a steel cable and climb a ladder you can do a Via Ferrata.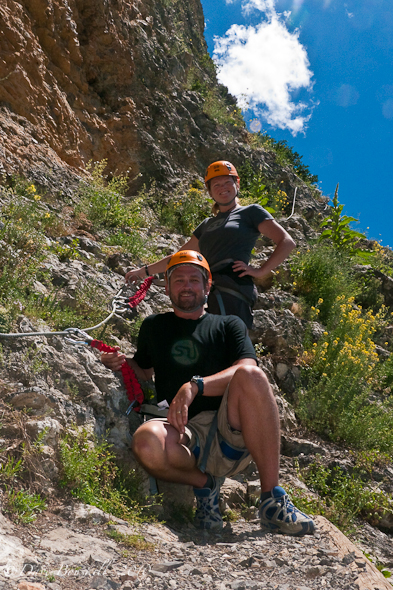 Originally used to military squads in WWI across mountains, Via Ferratas are now used by hikers and climbers to connect routes and go up scrambles with relative safety and security.  But I think that it is used today more by people to go out and have a thrill dangling off the side of a cliff for a day while getting the instant satisfactions of tackling a route.
Popular in France, Spain, and Italy

If you have never tried rock climbing before we strongly suggest hiring a guide.  Via Ferratas are safe, but they are extremely high and if you are not used to dangling off of a cliff you may want to have a professional around.
If you have climbed before…
Dave and I used to rock climb a lot so all we had to do was go to the front desk at our campsite and rent the equipment. Our Campsite had everything that we needed to tackle a via ferrata and it had signs leading us directly from our campsite to the entrance of the trail.
Camp du Bourg
Located in Digne Les Bains in Haute Provence France, Camp du Bourg is a friendly and quiet place to stay.  It may not have the swimming pools and hot tubs of other places that we stayed at it in France but it was exactly what we were looking for.
The sites were grassy and comfortable for picnics, it had a bar-b-que area and it even had tennis courts. From the looks of it, Camp Du Bourg is the main place in town for people to practice and play. For 3€ you can get yourself a wifi hookup for 24 hours as well.
We rented our harnesses and helmets for 12 € and listened to the friendly owner and his wife explain how to find the Via Ferrata trail.  The trail is free so we had an adrenaline filled adventure for a meer 24 €! There is a sign pointing in the direction at the campsite but it is an hour trek up and over a mountain to get to the start.
We found our way easily by following the yellow markers and eventually made it to the start of our first Via Ferrata.
It was intimidating.
We didn't realize that we would be starting so high up already.  We were already halfway up a mountain in the Alps and now we faced a sheer rock face going higher up to a cave and a Nepali bridge.
You are clipped in at all times.
What else could we do? We had walked all this way and had rented all this gear we had to just hold our breath and climb.   Once we started it was incredibly easy and we felt perfectly safe.  A steel cable lines the entire way as you walk along ladders, ledges and wires.
The harness is supplied with 3 clips.  Two are clipped in at all times, when you come to an obstacle in the route, you unclip each carabiner one at at time.  You make sure to unhook one and hook it onto the next cable before unhooking the other and hooking it onto the next cable.
It is a very simple system. You are never at a point where you aren't secured to the rockface.
The third hook is for relaxing and sitting back.  But you always make sure to have the other 2 connected to the cables at all times.  This cannot be stressed enough.
The bridges were terrifying but luckily we had just finished trekking in Nepal and were used to walking over gorges.  We weren't prepared to take photos of each other from that high up however and never managed to take that crazy photo that you see of people walking along planks and wires high in the air.
We were too worried about taking the camera out and dropping it at that height.  We are determined to find another Via Ferrata in our travels and get that shot, but for now we are happy to be able to try one.
A Via Ferrata is excellent fun and if you have ever had the urge to climb like Dean Potter but want to be sure to be able to live to tell about it a Via Ferrata is definitely for you.
I know that we will be in search of another it is a thrill ride for the weekend warrior. For more on our via ferrata in France, check out Dave and Deb StumbleUpon a Via Ferrata
For some more climbing fun, check out our video of us lead climbing in Thailand

Read More
Living in France – How to Make Friends With the Locals (Even the French)
Why We Love McDonalds in France
You Might Also Enjoy