Girona has the best cycling in the world. Don't believe me? Just ask the experts. At any given time, 50 professional racers are training in Girona.
And when we say professional, we mean the cream of the crop. Girona has been dubbed, The Best Training destination for cyclists in Europe and cycling champions agree! If it's good enough for them, it's good enough for us, so we went cycling touring with BikeCat to see what all the excitement was about.
It definitely lived up to the hype and now we're even bigger fans of the sport than we were before probably because we met and saw so many amazing cyclists.
Cycle Touring Girona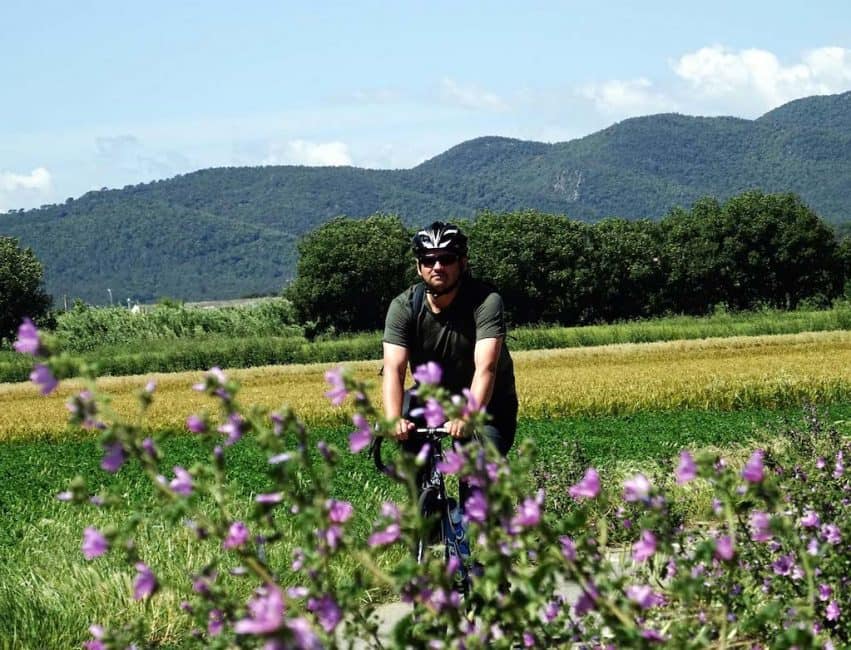 While having dinner at the centrally located Hotel Carlemany – we met the Dutch National Champion Sebastian Langeveld who was gearing up for the season in Girona and racing superstar and author of Racing through the Dark,
David Millar who now calls Girona home. Lance Armstrong used to spend months training in Girona during his long winning streak with the Tour de France, and when driving through the beautiful Catalunian countryside, you'll spot teams training for everything from the Tour de France to one of the other big races that happen regularly around Europe.
Everybody cycles in Girona. From teenagers to retirees, you'll see lines of cyclists riding £5000+ bikes clad in bright and expensive gear peddling down the country roads.
Girona stretches from the Pyrenees to the Costa Brava Coast, it has quiet roads, steep climbs, and leisurely routes through breathtaking scenery.
Cycling tours can put together everything from gastronomy and wine trips to epic climbs through the mountains. Whatever you want, it's got it!
Dave and Deb's Cycle Girona
As Dave and I explored the Catalan province of Girona by car, we were fascinated by the sheer volume of cyclists on the road. From professionals to amateurs and former racers, everyone cycles in Girona.
We wanted in on it. It was while speaking at a bicycling conference in Girona that we met Jaume of Bike Cat which is the most established bike shop in town located right at the top next to the cathedral.
He designs custom tours for individuals and groups from 1 day trips to week-long tours.
Based on your skill level and ability, you can do anything you want.
The back roads are nearly deserted, there are lodgings along the routes where you can stay in your choice of luxury or basic accommodation and the food is to die for.
If you are into cycling, you must book a bike tour around Girona for the best experience on two wheels.
Imagine cycling through the Spanish countryside all day as you stop too look at medieval villages, sip espresso or explore the land of Dali.
After an epic day of cycling, you can choose from one of the many Michelin Star restaurants scattered throughout the region, or you can kick off your trip at the best restaurant in the world!
Yes, Girona's El Cellar de can Rocca is rated #1 rated restaurant on earth.
We can go on and on about cycling in Girona but a picture is worth a thousand words and if you book a cycling tour with Bike Cat, you'll receive plenty of photographs of your time in the Catalan region.
Owner Jaume is a skilled photographer. We've had many guides tell us that they'll take photos for us, but nobody has taken such creative and beautiful shots as Jaume.
He captured the day perfectly. Looking through these photographs you'll get a sense of the pure bliss we felt riding through the province. Our tour took us through several medieval villages and quiet country roads.
We loved Jaume's photos so much, we wanted to show them off, so enjoy this photo story of our time cycling in Girona. All photos were taken by Jaume…Enjoy!
18 photos that will show you why you must go on a cycle tour in Girona
See: 3 On The Move Tours in Spain
Read: Sisters to Smith Rock, Oregon's Scenic Bikeway Tour
BikeCat offers top of the line bikes for rental. We actually rode Team Garmin bikes valued at more than €6000. Riding had never been so pleasant. Check out his Cycle Touring page for tour options.
Our 45km cycling route took us through several medieval villages in the region. This was the perfect balance to get a taste of the culture and history as well as what it feels like to cycle in Girona and why it is so popular.
Bike Cat offers custom tours for individuals and groups from 1 day to multiday trips. Many of Jaume's clients are groups from the US and Canada that come back again and again for challenging trips. There are so many different routes in the region, you'll never tire of exploring. He's been leading cycling tours around Girona for a decade and knows the region like the back of his hand.
Bike Cat rents everything you need right down to water bottles and jerseys.
Dave and I had no cycling clothes with us and looked like a couple of goofballs, but BikeCat supplied us with clipless pedals and once we were on the saddle, we felt like part of the club. Nobody judged our ragtag look, we were just there to cycle.
A cycling tour gives you the opportunity to enjoy the ride rather than worrying about where the next turn is or where you should have lunch. Nobody knows the culture, the people, where to stay and what to eat more than a local, so hire a local guide when you go cycling, you'll have a richer experience than just trying to wing it on your own.
Our trip to Girona was sponsored by Visit Costa Brava
You Might Also Enjoy