Can you believe we've never been snowboarding in Lake Louise? It's one of the premier ski destinations in North America.
It is part of the World Cup Circuit and it was used during the Calgary Olympics. Lake Louise has world-class ski hills and there is nothing cooler than going down a run that top skiers and snowboarders have graced with their presence.
Located in Banff National Park Lake the Lake Louise Ski area is one of the most unique ski hills to visit in the Canadian Rockies.
It's not every day that you get to ski in the middle of a national park. It also boasts some of the best conditions and longest ski season in North America.
Where to Stay when you Snowboard Lake Louise
We have stayed all over Banff National Park from the Town of Banff, to Canmore and Lake Louise.
If you are going to focus on skiing though, we suggest starting near the village of Lake Louise.
We stayed at Deer Lodge in Lake Louise.
It is a traditional log structure that was originally built as a teahouse.
It's close to the ski hill and it's located on Lake Louise directly beside the Fairmont Chateau Lake Louise.
Much of the original log cabin is still in place with a grand timber sitting room surrounding giant fireplaces and there are even pianos scattered throughout the building.
It's a rustic mountain cabin that you can lose yourself as you relax and look out at the Victoria Glacier.
Originally built as a tea house at the turn of the 20th century, it has now been updated and upgraded to create a luxurious modern experience with the feel of a rustic ski chalet.
Apres Ski Lake Louise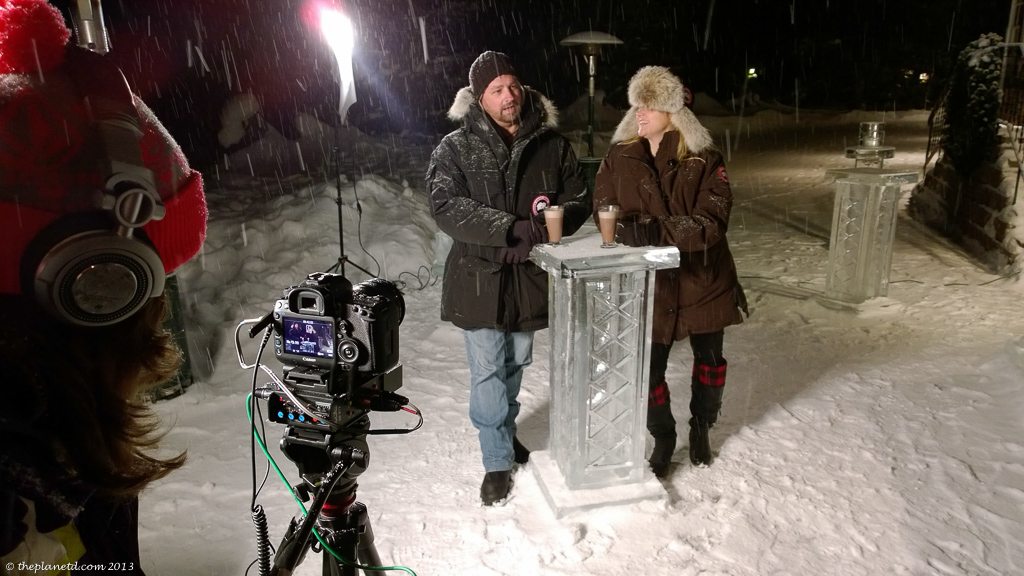 Deer lodge is a great place for apres ski after your day on the slopes at Lake Louise.
We had an amazing dinner in their Caribou Lodge sampling the Rocky Mountain Cuisine.
After our dinner, we retired to the bar for a nightcap.
But this isn't your ordinary average bar. An outdoor Ice Bar awaits complete with tables, stools, and a serving area completely made of ice.
It's a work of art! With our parkas securely fastened, we enjoyed a hot drink.
As we cozied up to one another and said: "Pinch Me, we're finally in Lake Louise snowboarding and doing it in style!"
Looking for a place to stay in Banff and Lake Louise? Check out our guide to Banff Hotels
Hitting the Slopes of Lake Louise Ski Hills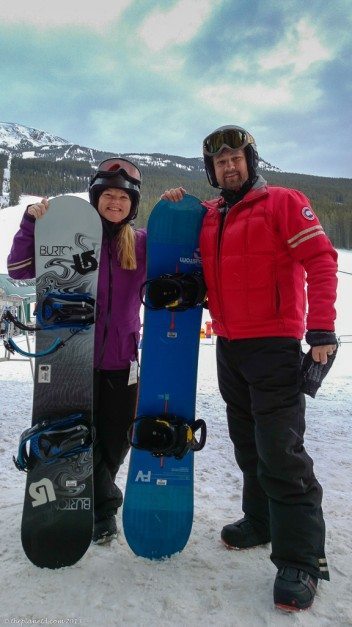 The morning started at 8:30 am when the hill opened.
Lake Louise Ski Resort is only a few minutes away from Deer Lodge so we were one of the first up the hill.
Not that it mattered, Lake Louise doesn't seem to see the crazy crowds of other ski resorts in the Rockies.
We didn't have to wait for a chair all day!
Guided Tours of Ski Resort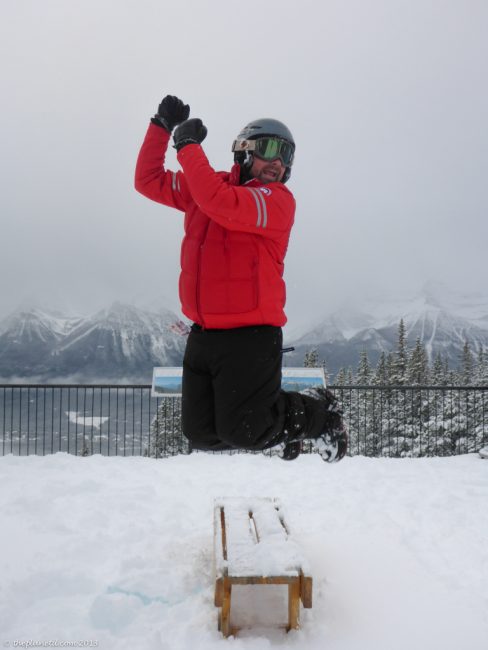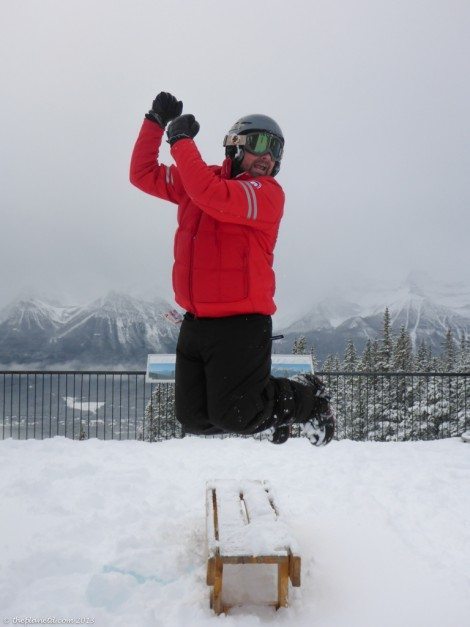 Lake Louise offers free guided mountain tours that offer advice on the best runs, list, and places to suit your skill level.
We highly recommend taking a tour to get your bearings as Lake Louise is a huge resort and this will help you make the most of your time.
Metting point: Keep an eye out for the guides known as "ski friends" wearing a yellow jacket. You meet at the lower deck of the main base area when looking at the mountain.
Tours are offered daily at 10 am and 1:15 pm.
It's a good idea to get there 15 minutes early to get a space.
Read: A Spectacular Helicopter Tour with Exclusive Snowshoeing in the Rockies
Amazing Conditions
We had an amazing day being shown around the hill. There is a variety of terrain to choose from to suit any skill level and desire.
With forest paths, massive bowls, back country, to easy gentle slopes and long cruising runs.
Everyone will be satisfied skiing or snowboarding Lake Louise. There is a reason that it is the top ski resort in Canada.
Our guides took us to all the places that were free and clear and offering up the best views.
Lake Louise has some of the best conditions in Canada with the longest season and consistent weather. Cold, Cold and more cold.
Snowboarding in Powder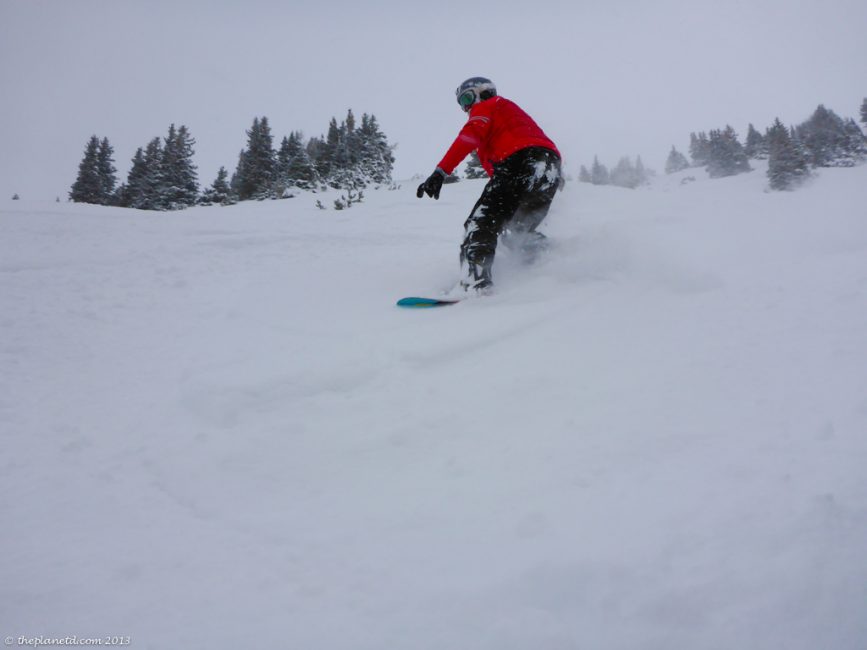 During our two days on the hill, we even had the chance to tackle some powder.
Since 30 cm fell while we followed some professional guides to trails that are known for powder on the backside of the mountain so that we'd get the chance to play in the snow.
Dave and I aren't the best at snowboarding in powder, we're more used to the ice of Ontario, but we always have fun trying to figure it out.
Note: Never go into the backcountry alone and be sure to use professional guides if you don't have experience.
We've learned that the trick to snowboarding powder is, you can go fast and hard and not have to worry about falling.
When you crash in powder it's like landing on a pillow.
Once we let go of the fact that yes, it's ok to fall without hurting our butts, it makes for a very fun adventure.
So Many Ski Areas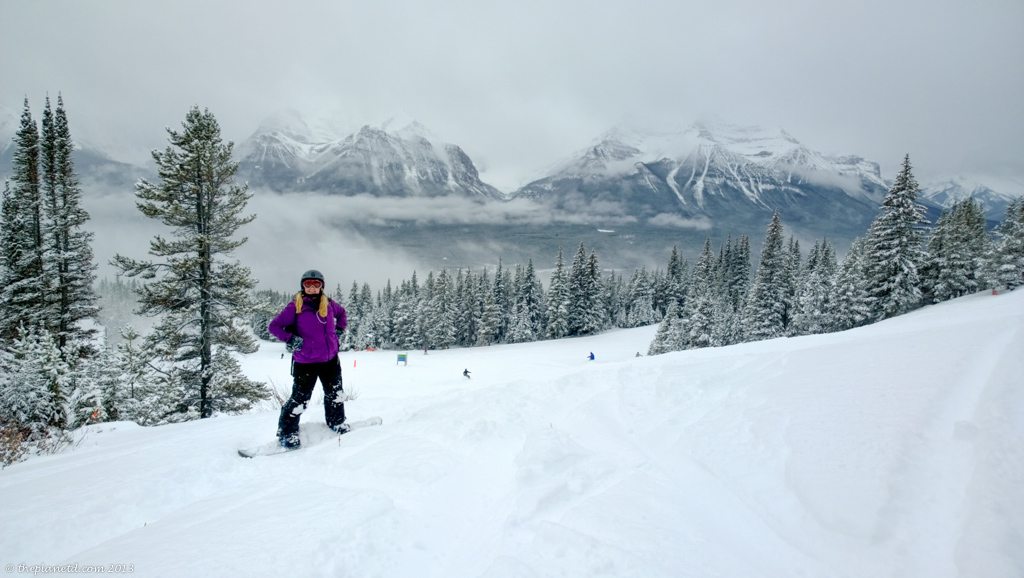 With so many ski areas to choose from, we recommend hiring a guide for the day. Lake Louise offers daily lessons as well.
Being one of the largest ski resorts in North America, it can be overwhelming deciding where to ski. If you only have a day or two, a guide will help you make the most of it.
Read: Snowmobile Quebec: 1000 km From Wandake to Cree Nation
Apres Ski at Lake Louise Chalet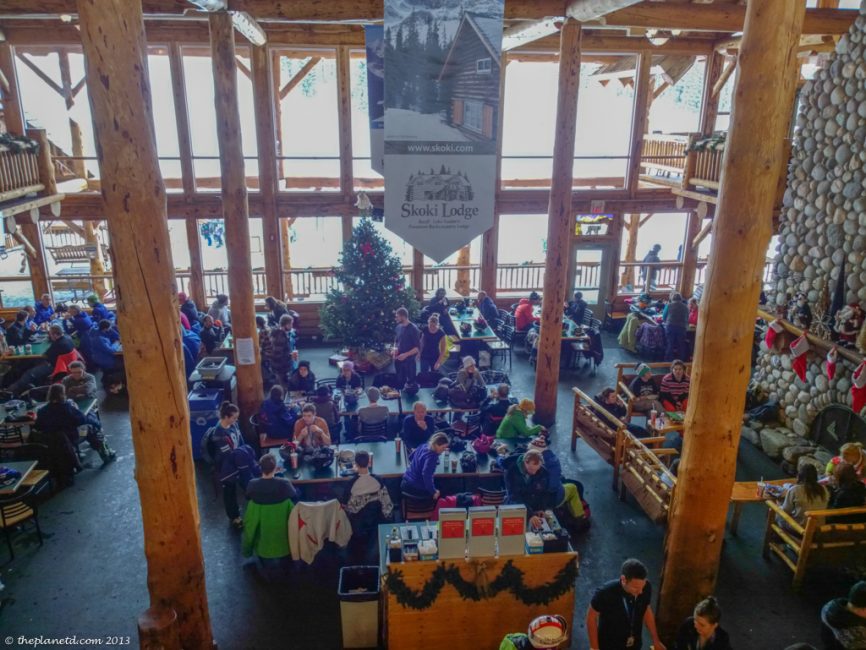 We ended off the days as so many skiers and snowboarders do, at the bar located in the Lake Louise Chalet for Aprés Ski.
It's so much fun to re-live the fun moments of the day over a beer with new friends and fellow ski lovers.
They have a great selection of food, and we went for a very untraditional meal of sushi at this chalet.
There's a lot to talk about too! Lake Louise is one of the largest ski destinations in North America. With 4200 skiable areas it takes months to ski it all!
Read: Snowboarding in Mont Tremblant and Snowboard Whistler
Fast Facts about Snowboarding Lake Louise
You can purchase lift tickets on the day at the front side of the mountain in the chalet.
There are single day to multi-day lift tickets and they offer season passes. For more information on Ski and Snowboarding in Lake Louise, visit Ski Louise.
Lake Louise Ski Resort is located in Banff National Park minutes from Lake Louise Village.
It is 30 minutes from the town of Banff.
There are three great skiing places in Banff, Sunshine Village, Norquay, and Lake Louise. We've snowboarders in them all.
Read Next: 10 of the Most Unforgettable Things to do in Banff