Moorea Island is lesser known than Tahiti and Bora Bora for a romantic escape in French Polynesia, but this lesser known luxurious island is one you need to put on your radar.
Moorea Island 
After just a 40 minute ferry ride from Papeete, Tahiti you'll arrive on Moorea. This island has quite a dramatic landscape, from the rugged mountainous centre, through to the flat white sand beaches and lagoon that surrounds the island.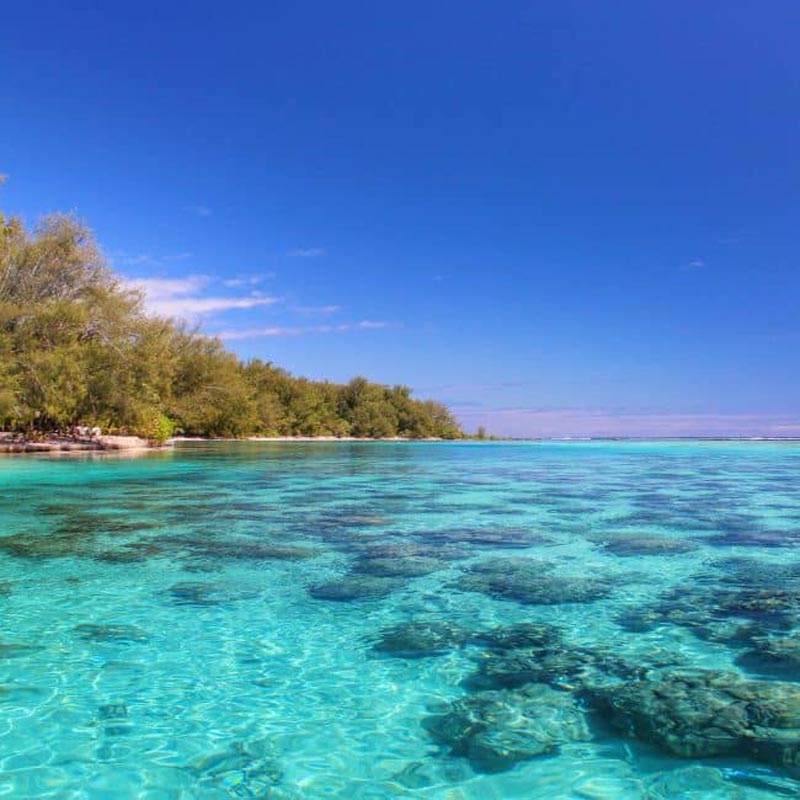 Whether you're looking for a short break or longer relaxing getaway, here are our top six things to do on Moorea.
1. Discover the underwater world on a Lagoon Adventure
This adventure is a brilliant introduction to Moorea Island and definitely one to experience early on in your visit to the island. The tour runs at a relaxed pace, and includes the perfect mix of snorkelling, and authentic island meal and swimming with the local reef sharks and stingrays in the lagoon.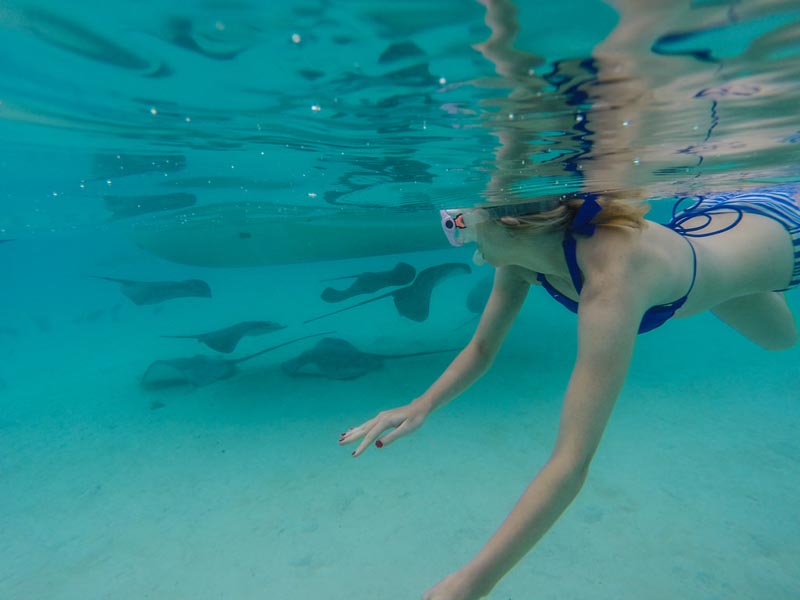 The water is right up there with some of the clearest in the world, allowing for pristine snorkelling conditions. There are so many different types of coral to discover, and the sea life is unreal. There are so many brightly coloured fish, friendly stingrays and curious reef sharks.
The local skippers that run these trips are wonderful people and with their humorous, laid back, island pace, they add a great dimension of authentic Tahitian culture to the experience.
Aside from underwater encounters, another highlight is the inclusion of a traditional Tahitian lunch located on a small island nearby. Lunch is a delicious sampling of freshly prepared 'Poisson Cru' – a local treat made from tuna and finished off with a delicious combination of coconut and lime juice.
2. Tick off another bucket list item and stay in an Overwater Bungalow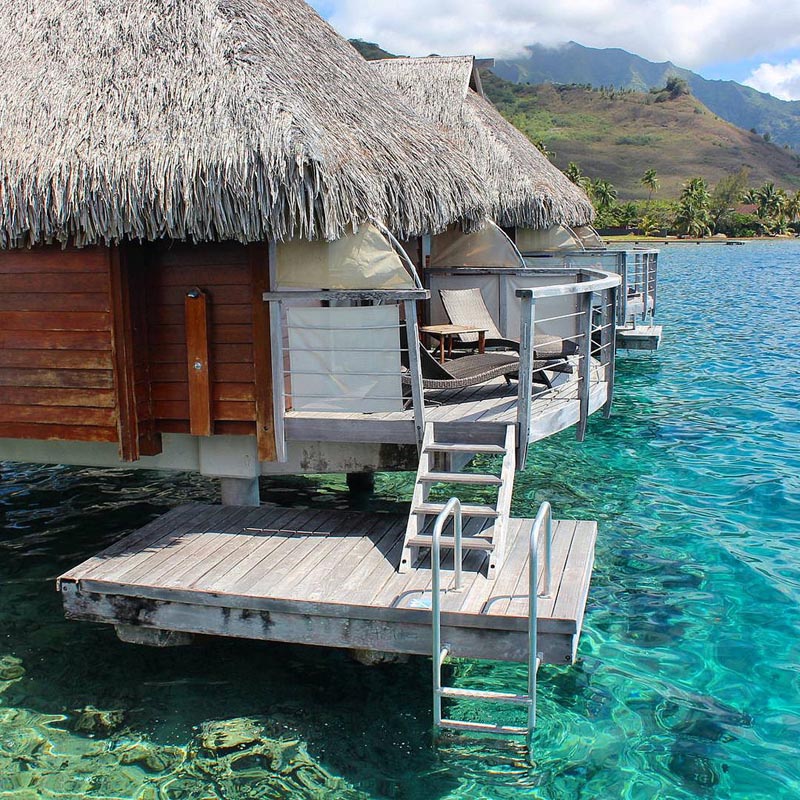 Stop dreaming about this one – and just do it – because it is within reach, and will more than exceed your expectations. It may come with a price tag slightly heftier than a normal hotel room, but it's one of those 'once-in-a-lifetime' spoils, and is so worth it.
Like the idea of travel to Moorea and French Polynesia?
Check out our Fiji Travel Guide, another beautiful South Pacific Island. 
There's nothing quite more invigorating and unique as waking up and starting the day by plunging into the lagoon, that is quite literally at the foot of your bed.
Whether you choose to lay about on the sun lounges on the deck, sipping an ice cold drink and getting stuck into that long awaited holiday novel a bungalow stay is a must.
You can throw on some snorkeling gear provided by the resort to go and explore the kaleidoscope of coral and colourful fish below. Whatever you do you must include a stay in an overwater bungalow on your visit to Moorea.
Love Island destinations? You'll Love the Exuma Cays in the Bahamas
3.  Explore the outer lagoon of Moorea on a stand-up paddleboard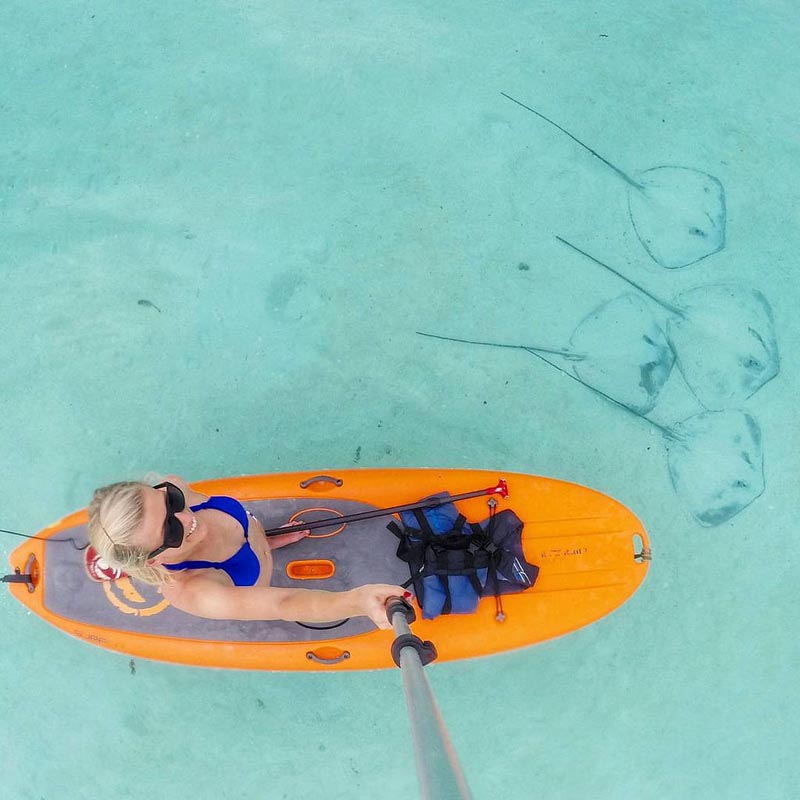 Paddleboards and kayaks are widely available within most resorts, however you are limited to use them only within the nearby surrounds.
Take a Paddleboard Tour
So while it may not strike you as an obvious choice, getting out with a small tour operator to explore the lagoon more extensively is certain to exceed any expectations you may have.
Not only does the experience of a local guide come in handy, but they know every inch of the lagoon that's worth exploring as well as the best times to go to avoid the crowds and what signs to look out for with the weather and sea conditions.
An early morning trip includes the opportunity about half-way in the tour to stop in at the area where the reef sharks and rays tend to hang about. There you'll get to throw on some snorkeling gear and spend a bit of time in absolute awe of these wonderfully social and somewhat harmless creatures.
Sharks are incredible creatures, enjoy our best shark encounters from around the world. 
Finishing up the tour takes you through a canal that runs along some of the upmarket homes that scatter the shoreline with the fresh fragrance of flowering trees hanging over the banks and wild mango trees begging to be picked.
All in all this is a fantastic trip and a great way to experience the lagoon.
4. Whale Watching with a twist
French Polynesia is one of the few places in the world where Humpback Whales migrate to give birth to their young, giving you the unique opportunity to see mother and calf swimming side-by-side.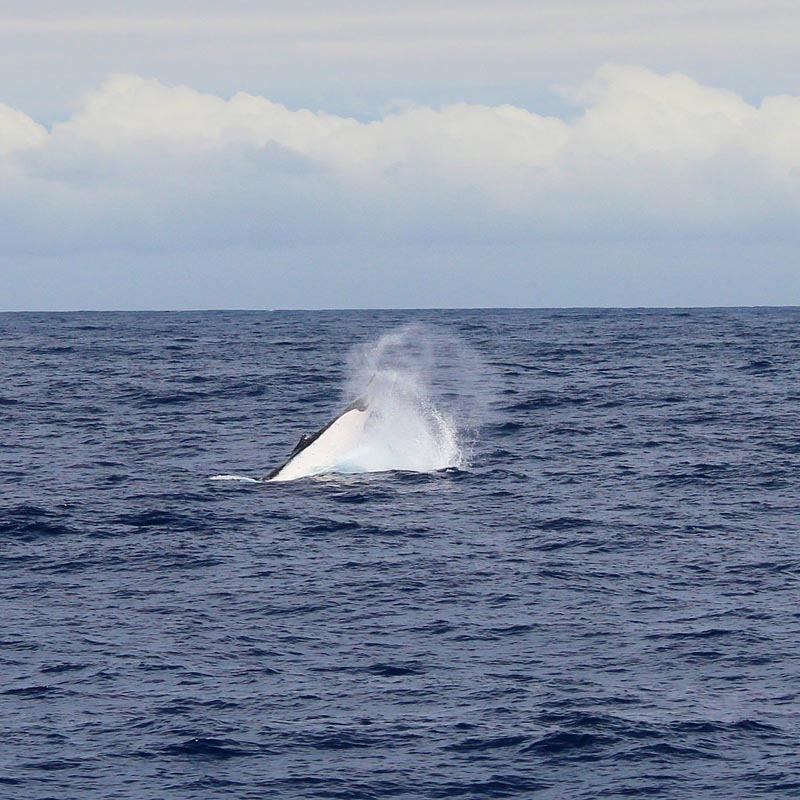 Whale watching trips generally run morning or afternoon and the chance of Humpback sightings is incredibly high, but not completely guaranteed. The search for these amazing creatures occurs just beyond the lagoon, where the reef drops off to much larger depths.
Local operators offer an intimate experience by running their trips in small boats, giving you a greater perspective of these 12 metre+ giants, as they swim just feet away.
Swim with the Whales
When the moment arrives and whales are spotted, the true excitement begins. The highly experienced local operators will assess the mood of the whales and if it poses no risk to the whales and passengers, you'll be lucky enough to dive into the water and experience one of the most incredible ocean encounters imaginable – swimming with Humpbacks Whales.
Depending on the day, these whales may either be floating about near the surface, in a state of bliss and calm – or they may pace through the waters quite quickly in a behaviour similar to dolphins.
As fast as they appear, they can be gone in a matter of seconds, diving down into the depths below for anywhere up to 15-30 minutes.
This experience is so moving, even if conditions aren't suitable to swim with the Humpbacks, the opportunity to see them in such large numbers in itself, is something that will forever be ingrained in your memory.
Read about another amazing whale experience at : Swimming with Whale Sharks the largest fish in the sea
5. Escape the resorts and buzz around the island in an open-top roadster
Try something a little different to hiring a car or scooter and check out the open-top roadsters available for hire on Moorea. You'll be able to circle the 62km perimeter of the island, feeling the wind in your hair and looking out to the ocean right by your side.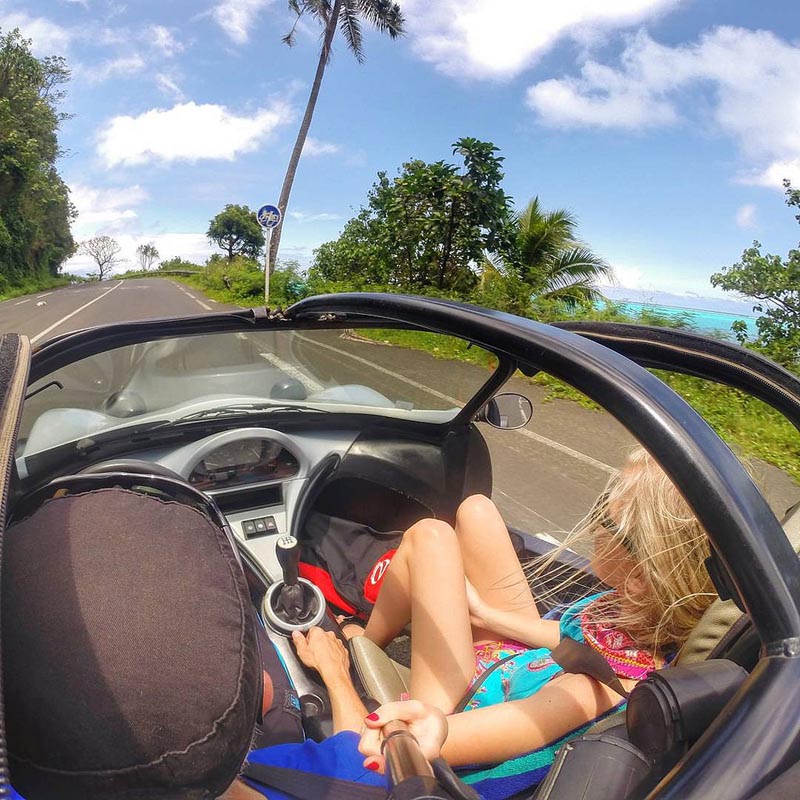 We recommend heading in an anti-clockwise direction, as it keeps the water on your right making for a wonderfully scenic drive.
There are plenty of amazing places to stop off at along the journey – fresh fruit stalls, scenic lookouts and breathtaking beaches. Sites like Opunohu Bay, Belvedere Lookout, Cooks Bay and Temae Beach, the perfect spot to park up and go for a swim. 
6. A perfect end to a day on Moorea
Once you're done with your day's activities it's a great idea to choose a good spot to slow down, relax and witness how a day draws to a perfect end.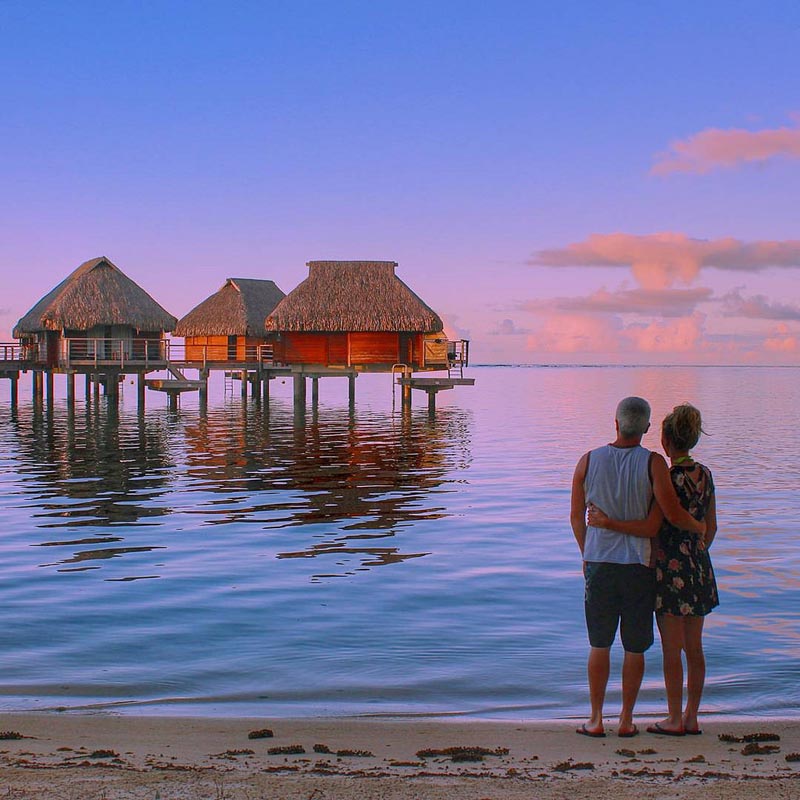 The winds tend to pick up in the afternoon, and the warm morning air rolls onto the hills where it cools and transforms into a blanket of cloud. Typically, those afternoon winds die down to a near perfect stillness just as the sun makes its way over the horizon.
It's those moments that make your stay in Moorea truly unforgettable, so be sure to find a quiet beach, an empty jetty or secluded bay to experience the perfect end to a day on Moorea.
Do you love Moorea, how about sharing your dream island getaway. Do you have any other recommendations?
 The Adventure is Calling


Derek & Emma, a South African / Australian couple currently live in the adventure capital of the world – Queenstown, New Zealand.
They constantly seek new adventures to share on their blog www.theadventureiscalling.com, which has a strong focus on unique types of accommodation, adrenaline-inducing activities and natural wildlife encounters.
Both are inspired by exploring dramatic landscapes, and photography is the glue that pulls it all together, always seeking to uniquely capture the moment in a way they hope will inspire others.
Follow their inspiring journey on Facebook, Instagram, Twitter, Pinterest and Google+
Read More:
Dream Trip Travel: Destination Fiji
29 Romantic Getaways on 6 Continents
You Might Also Enjoy