We've had fantasies of driving a motorcycle through a country since watching the Motorcycle Diaries in 2004. I know, how cliché. But it's true.
Who didn't watch that movie and want to buy a bike and travel through South America? Or hey, even become a freedom fighter.
Motorcycle Adventure, Out of School and Hitting the Road
We may not be driving a full-size motorbike here in Chiang Rai, but spending four days on a 125 cc scooter driving through winding mountain roads and traffic has definitely reignited that yearning to drive a motorcycle through a continent.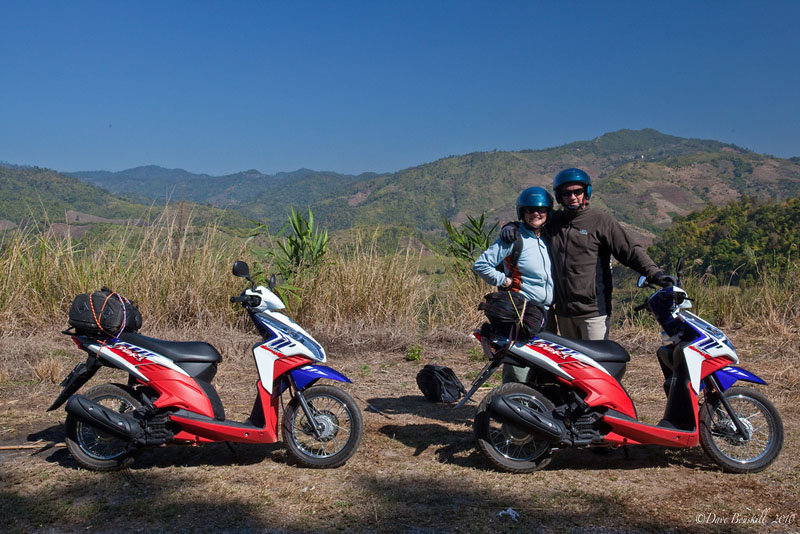 After our motorcycle school with Smiling Albino, we set off for the northern Thai town of Mae Salok.
The first 30 km were quite a thrill as we drove on the main highway that runs through Thailand from Malaysia to the Myanmar border.
Speeding along while following Scott our fearless leader we wove through the traffic of fellow motorcycles, transport trucks and buses.  We managed just fine but were relieved when we turned onto the quieter and less traveled road to Mae Salok.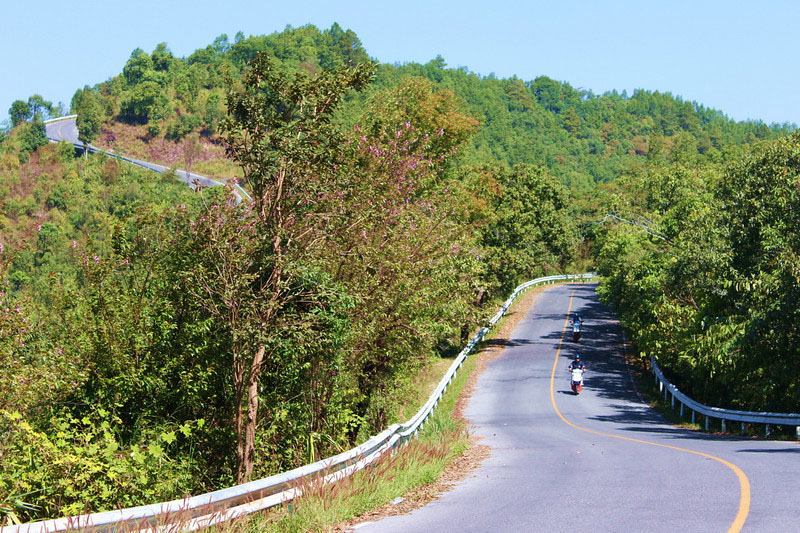 Beautiful Countryside
The countryside was a beautiful blend of rolling hills and green jungle.
There wasn't another tourist in sight and we had the entire road to ourselves.  I felt a big grin on my face for the entire ride.
I could have driven all day and was happy to hear that we had at least another hour of riding when we stopped for a coke at a local shop.
Boat Ride
It was midday when we reached the Mae Kok River where we caught a longtail boat to the Huai Khum Village Resort. This is about as remote as it gets when staying in a lodge in Thailand.
We drove three hours outside of Chiang Rai to Mae Selok village and then took a 2 km boat ride to this secluded resort on the river. Here you will see hill tribes and villagers going on with their lives without the influence of tourists.
Children play in the water as they have for centuries, men fish with handmade nets and longtail boat captains navigate the river with great skill and ease.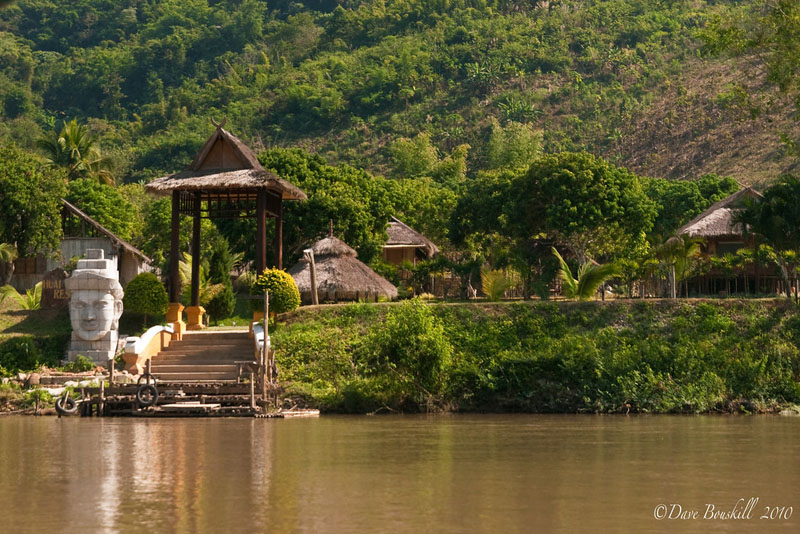 We had a quick meal before setting out for a relaxing kayak down the river.  The water was low, very low.
Our captain said that he thinks this river will be unrunnable this year for the first time ever.
That is a sad and scary thought. The river is the lifeblood of the people and a major waterway will cut of travels between Chiang Rai and Thaton which passes through Mae Selok.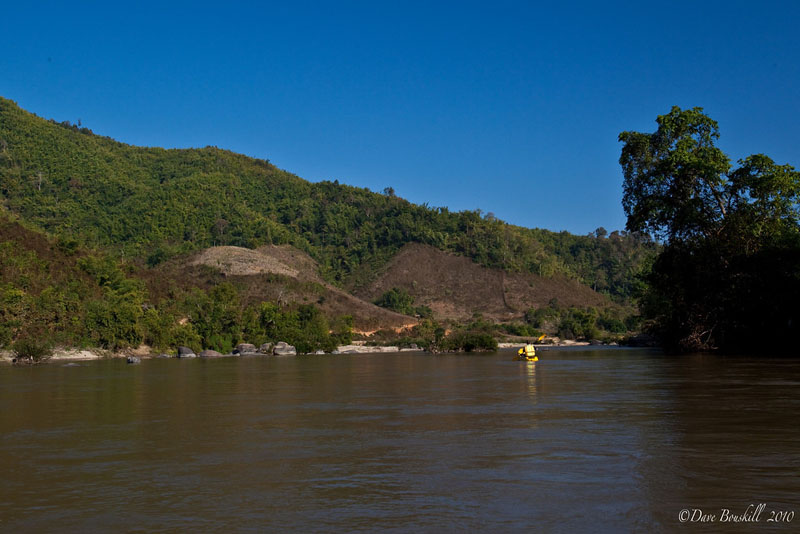 We followed our captain down the river. Without him, we would have been stuck on rocks and grounded on shallow water.  At one point a group of kids jumped into the water and grabbed onto our boat looking for a ride.
It was at this time that I wished we had a waterproof camera. I was too worried about tipping over and wrecking our camera to really enjoy the moment with the kids.
Waving to Locals
However, everyone was very welcoming waving at us from the shores and saying hello as we passed. It was a pleasant and relaxing afternoon.  And what was the best perk?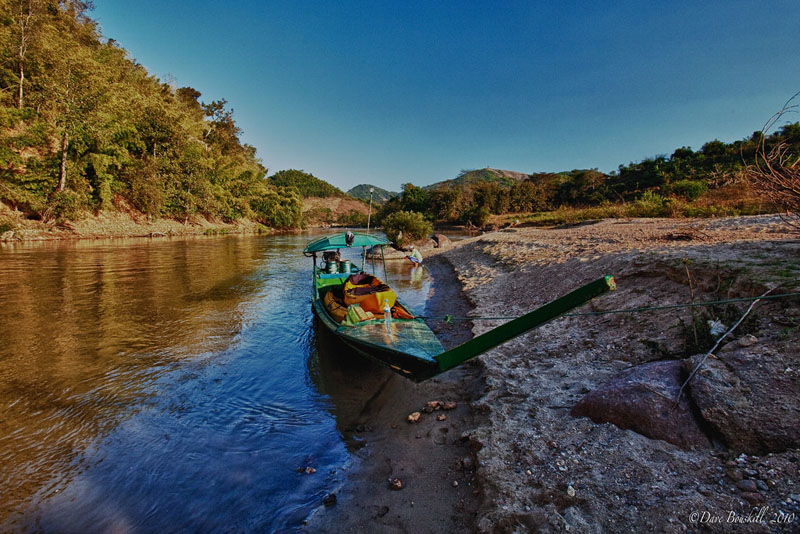 It really was the ultimate couch potato paddling adventure.
Making our way with the current, we barely had to work to propel ourselves forward. Once we were 10 km or so down river, we pulled over behind our longtail boat and loaded our kayaks on board.
Heaven forbid we paddle upriver, there is beer to be had and food to be eaten.
Scott brought along a couple of Singha Beers for us to enjoy while our captain drove us back up river to the resort.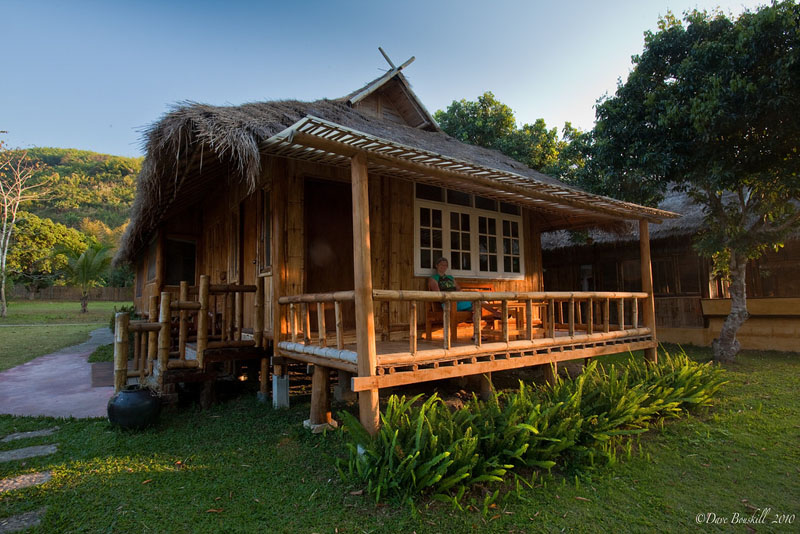 Rustic Cabin
With a couple of hours to spare before dinner, we settled into our rustic cabin complete with two bedrooms, two sitting areas, screened in front porch and a deck to watch the sunset.
We didn't use the oversized pool, but we couldn't understand why this place didn't have anyone staying in it.
Huai Khum Village is the perfect setting for a person looking to unplug and escape the pressures of life.  It is a place to find the true Thailand.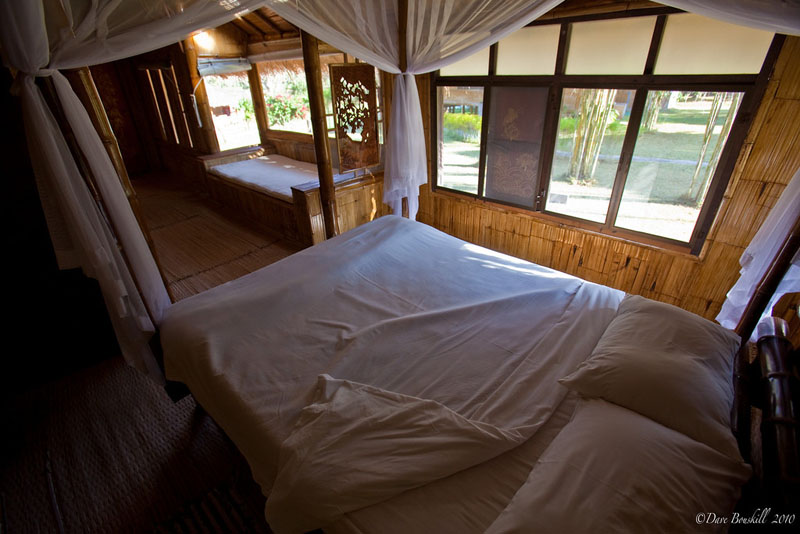 People say they want to go off the beaten path, but here is a resort completely off the tourist trail and nobody is here. And we mean nobody.  It is a giant and beautifully landscaped property that invites a person to completely relax.
There is no cell phone or internet signal, no horns honking or people trying to sell you something.
You can hike, bike and paddle or go and explore the nearby villages.  It is directly on the Mae Kok River on the Chiang Rai, Thaton Route.  People should stop and spend a night or two in complete seclusion and give it a try.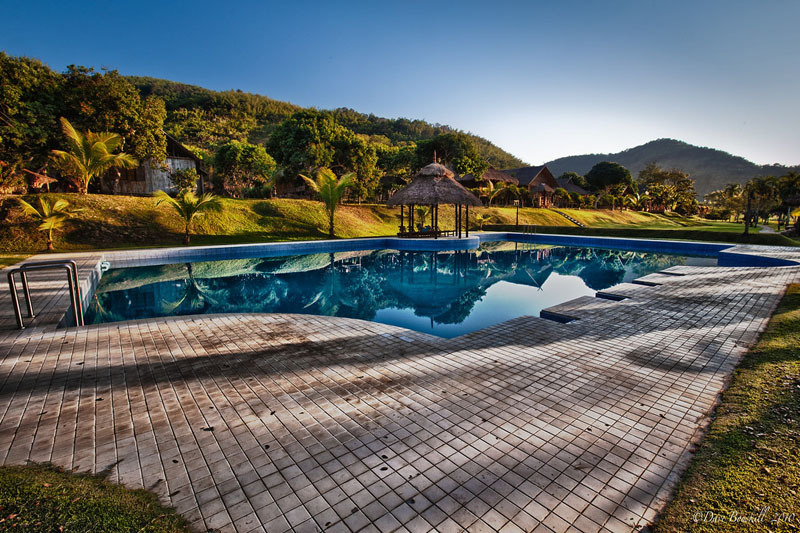 We enjoyed it and would love to come back to spend a few days losing ourselves in a good book by the pool or lounging on a day bed in our luxury cabin.  But that will have to wait.
We have more riding to do and in the morning we are moving on to the Myanmar Border. We're in opium country and Thailand's old wild west of the drug trade day.
Read More
Kumarakom Houseboat Tour – Entering a Time Warp in the Backwaters
Top Things to do in Chiang Mai, Thailand
Five Unique Things to Do in Thailand
You Might Also Enjoy