We have always wanted to go kayaking in Nova Scotia.
While the main "wow" destination for kayaking in Nova Scotia is on the Bay of Fundy there are plenty of outfitters all around Nova Scotia that offer unforgettable kayaking experiences.
There are the top places to go kayaking in Nova Scotia that we personally tried ourselves.
Kayaking Nova Scotia
After signing our waivers, suiting up with PFD's (a fancy name for a life jacket), and paddles, we had a quick refresher lesson on the dock.
Dave and I have done a lot of kayaking including taking a whitewater kayaking course, so this was just a time for us to sit back and take photos and videos, but it's important for the guides to know what each person's skill level is before starting.
The water was so calm today, our guide Krista decided we didn't need to wear skirts in the kayak. The weather was balmy and the sun was shining. It was going to be a good day on the sea!
Check out Sea Kayak Antarctica: The Adventure of a Lifetime
The tides are just as exciting and the scenery is equally outstanding. And better yet, because we're in the land of lobster fishing, you can book a lobster boil as your reward for putting out all that effort on the water.
We made our way to East Coast Outfitters on Lower Prospect Point. This is one of the most convenient locations for anyone wanting to Kayak in Nova Scotia as it's only 30 minutes from both Halifax and Peggy's Cove.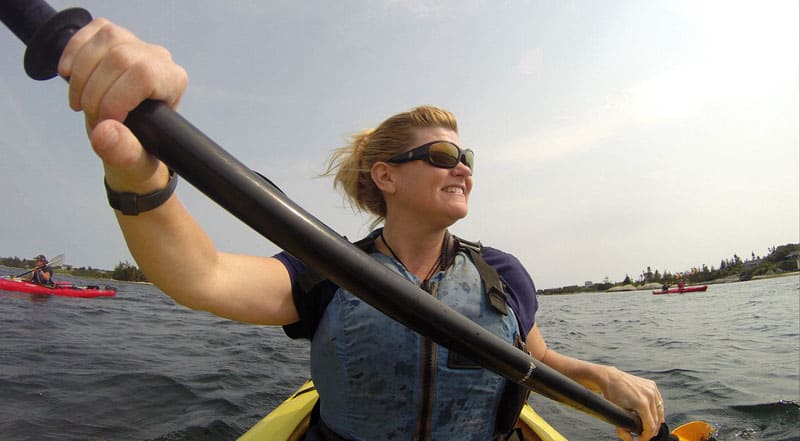 The excellent thing about paddling the East Coast of Nova Scotia is that you are not kayaking along open seas. I know people have visions of scary open ocean waves and rough seas, but Kayaking at Prospect Point is all about exploring protected bays and secluded beaches. This was a relaxing and beautiful afternoon of Kayaking in Nova Scotia.
Read: Peggy's Cove The Famous Landmark by Land and Sea
The beginning of our trip took us to the other side of a large bay where we began our exploration of the coast. Dave and I couldn't get over how much the coastline looked like the North Coast of Lake Superior. The high cliff rocks plunge into the water creating an interesting pattern of wild beauty.
Enjoy our Video of Kayaking in Nova Scotia
Subscribe to our Youtube channel for weekly videos!
We paddled through narrow channels and shallow coves exploring the clear waters of the sea. When Kayaking in Nova Scotia, you must be aware of the high tides. The sea rises and falls more here than anywhere on earth and if you don't know what you are doing, you could get into trouble.
We talked with Krista about this and she stated that she's been paddling for a decade and a guide for 6 years and she even hires a kayaking guide when exploring new waters. The sea can be unpredictable, and it is good to go out with the skill and knowledge of a well-trained guide when deciding to explore a coast.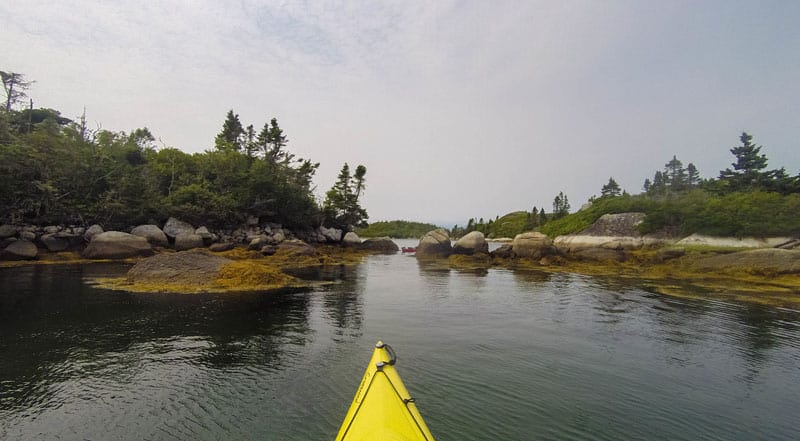 Krista knew the tides well and could decide easily whether or not we had time to explore a little inlet. There was one time we all followed each other like little ducks in a row through a narrow and shallow channel so that we could see a beautiful little cove. We only had enough time for a quick tour around as the tide was dropping fast, but had we been on our own, we would never have known to go in there.
Read about Sea Kayaking in Baja Mexico, a Spectacular 10 Day Journey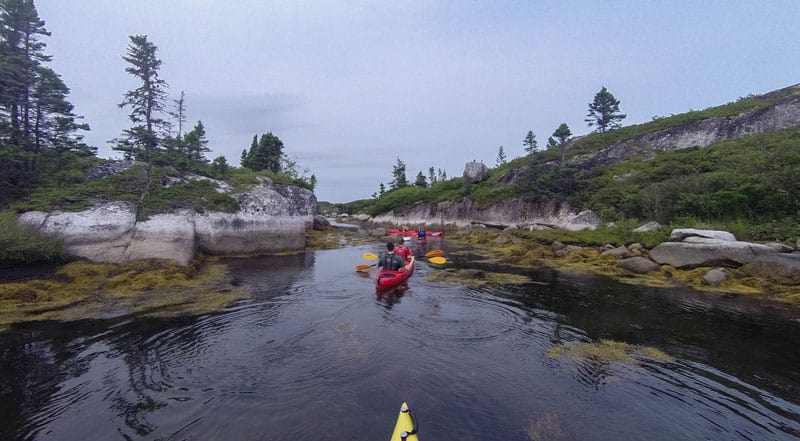 Kayaking Lower Prospect
The kayaking at Lower Prospect was the perfect blend of easy paddling mixed with a bit of open water. Krista said that she always likes to take people out to the sea and do some challenging crossings to introduce them to a bit of adventure. If people paddled smooth water, they wouldn't have respect for the power of the ocean. This way they can feel the sea's strength in a controlled environment.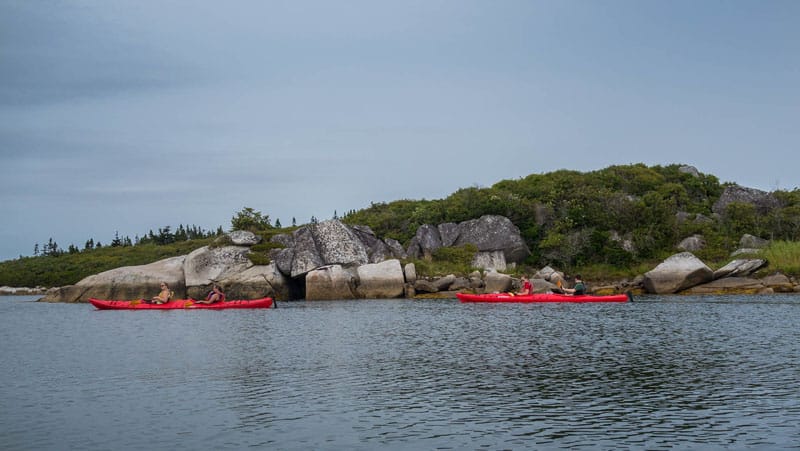 After a couple of hours of exploring, we made a long crossing towards a white sandy beach where we paused for some snacks and drinks. The wind had come up and weather was starting to come in, but it was still a gorgeous view of the Nova Scotia Coast.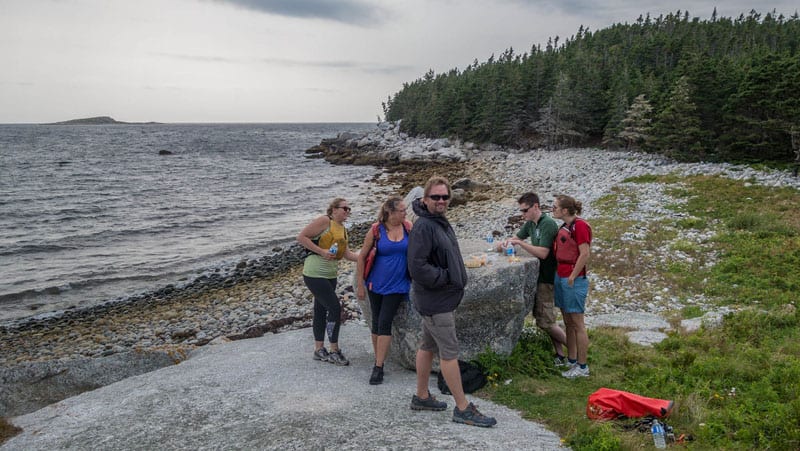 After our bellies were filled, we set out for one last look at what Mother Nature had to offer and paddled to the open sea. We sat quietly and let the large swells let us rise and fall in our kayaks. We were told to feel the difference of ocean paddling and paddling in the bay. I sat and marvelled at how people could have the courage to cross the Atlantic Ocean in small vessels.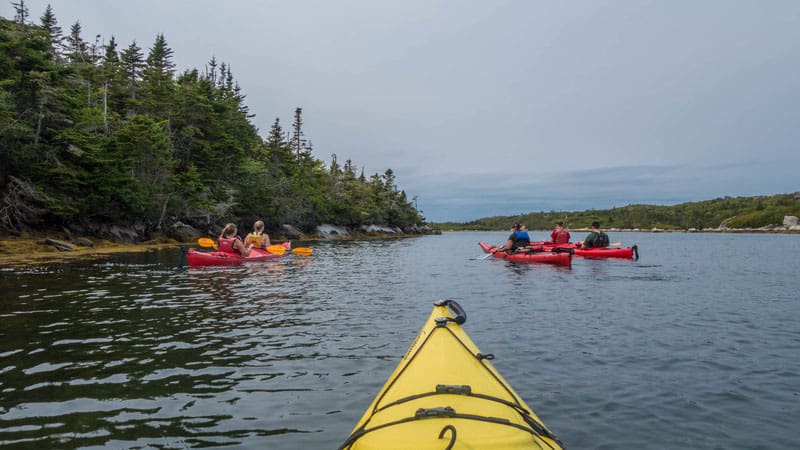 After four hours on the water, we were back at East Coast Outfitters lodge where a lobster feast was waiting for us on the wharf. The air was warm and the sun was turning the sky to a beautiful hue of pinks and reds as it set over the bay.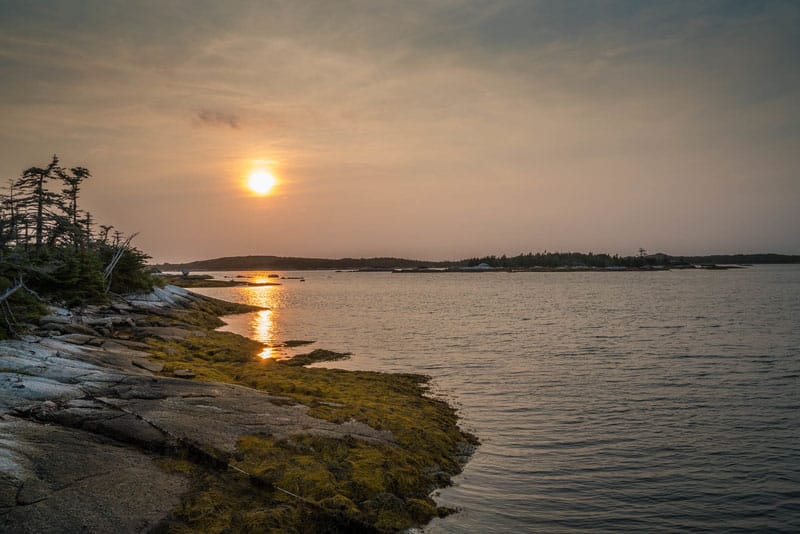 Lobster Boil
We munched on muscles as they prepared the lobster boil explaining that they key to cooking good lobster is to use sea water. If you don't have sea water, create the right blend of salt and water in your pot at home.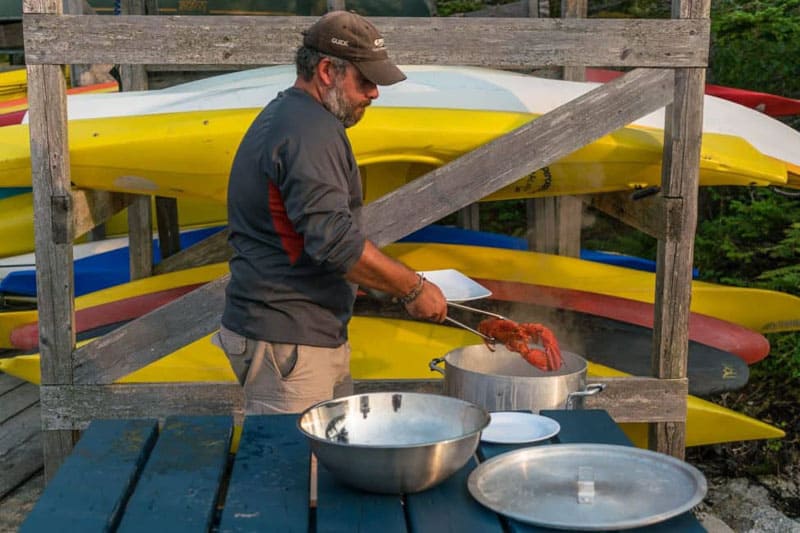 Adam showed us how to properly eat a lobster. If you don't know, it can be a tedious process. You start by taking all the limbs off, then twisting the tail away. That's where the best meat is. Well, the tail and the claws. You then use scissors to cut into the stomach so that you can crack it open. And Voila! You've got yourself a lobster dinner.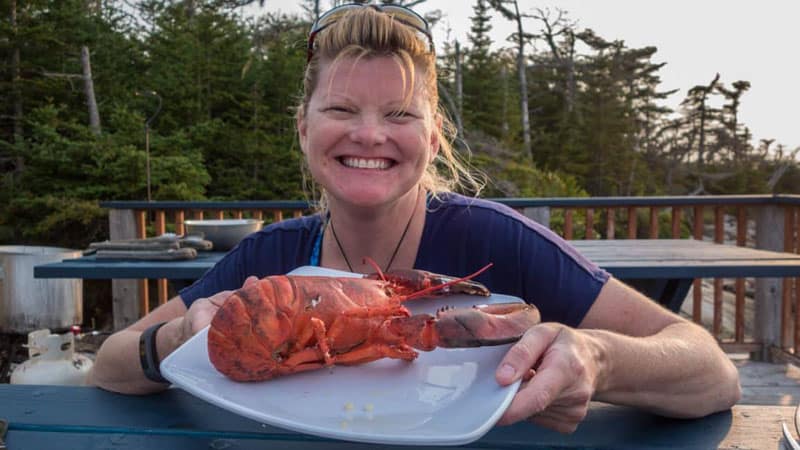 I loved how environmentally conscious they were of gathering our cobs of corn and leftover salad for composting, but explaining that all the seafood shells and leftovers should go back into the water. It's food for the fish and back where it belongs. Lobster fishing is a large part of the culture and economy in Nova Scotia, if there is one time in your life you are going to give lobster a go, it should be here.
They have lobster dishes in every style, from Lobster Poutine, to Lobster Mac and Cheese, Lobster chowder and fresh boiled lobster. After a long day of paddling, it's a great cultural experience.
For more information on Kayaking in Nova Scotia visit East Coast Outfitters. A four-hour, half day tour costs $75 per person. Add the Lobster feast to your excursion including muscles, ca cheese plate, fresh salads and sparkling water for $45 per person.

Our trip to Nova Scotia was in partnership with Nova Scotia Tourism. Visit Nova Scotia for more information on travel to the Province.
---
Read Next:
11 Not To Be Missed Stops on the Cabot Trail
Welcome to The Skyline Trail -The Most Scenic Hike on an Epic Drive