When you think about the traditional way of saving money, living abroad in another country for a year and then traveling the world for six months isn't the common route. However, that's exactly what we did, and it was the best decision ever.
How Living Abroad saved us money
Three years ago, my girlfriend and I were both working steady corporate jobs in our mid-twenties.
We had the promise of eventually getting promotions, more money, and even had a plan to save enough money to make a down payment for a home in Southern California.
The problem was we both had a strong case of wanderlust. With only 1-2 weeks of vacation a year, it meant we either had to choose to spend a lot of money on short trips, or not travel and save for our future home.
Basically, we were living the "American Dream."
The one where you work hard for a company and buy a home to live in with the goal that one day you can retire with the dream of seeing the world.
Combined we made nearly $80,000 a year and we weren't able to travel or save enough money to put a down payment on a home for five more years.
ANSWERING THE CALL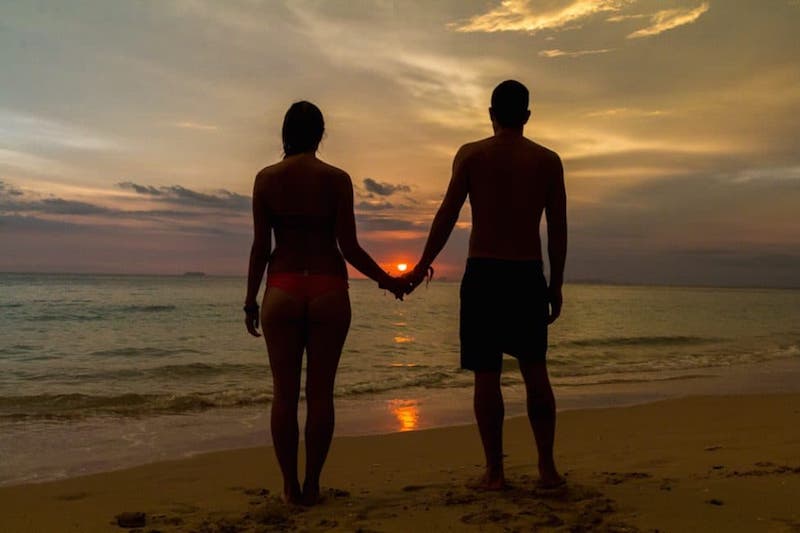 We were both perfectly happy renting an apartment next to the ocean in Laguna Beach with our comfortable jobs.
But my dream was to travel, and I didn't want to do it at the expense of saving for my future.
Five years ago I backpacked through S.E. Asia for six months and learned about job opportunities abroad.
Before Megan and I had even met I had applied for a job in South Korea. I ended up getting rejected, falling in love with Megan and discovering that after she did a semester abroad in college we both shared a passion for travel.
The more we shared our travel stories the more the lure of travel tugged at us like a siren call. Until one day, I received a phone call explaining the job offer was back on the table. If I still wanted to go I would start in two months.
MOVING TO A FOREIGN COUNTRY
The most difficult part of any journey is taking the first step. I sold my car, got rid of almost everything I owned, and stopped paying rent all at once. It was terrifying.
I was very nervous about living and working abroad. At the time I got the job offer, Megan had just begun working at a new job with higher pay.
I was going to Korea alone and it would be the ultimate test on our new relationship.
I spent the first couple of weeks learning how to read and write in Hangul, dealing with extreme culture shock, getting lost daily, and being completely outside of my comfort zone.
At first, it was overwhelming. But after a while it became profoundly liberating. There is a childlike wonder that you regain after having brand new experiences every day.
FALLING INTO PLACE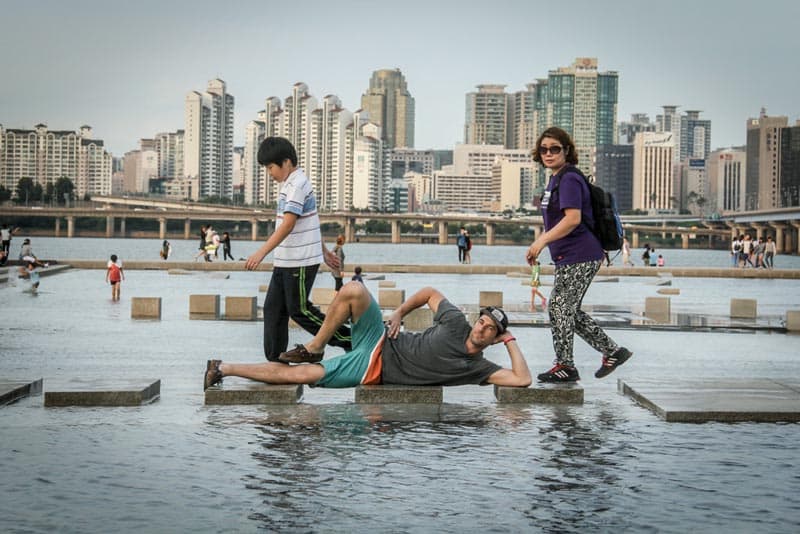 A strange thing happened in South Korea. Even though I made only $2,800, which is just $300 more than I made in California, my lifestyle significantly improved.
Because I was no longer tied down to rent, car payments, and the fact that the cost of living in Seoul is significantly less expensive than in Orange County my dollar went a lot further.
I would only be living in Korea for one year, so I never felt compelled to buy anything I couldn't carry in my backpack. Instead of buying things, I only spent money on experiences.
I started to embrace a more minimalist lifestyle. In addition, I only worked 24 hours a week.
Providing ample time to work on personal hobbies, freeing up time to learn, read, and most importantly travel the country while still being able to save half of my paycheck every month!
SAVE MONEY FOR TRAVEL – DOUBLING DOWN
My comfort zone was expanding and I was having the time of my life. Megan, on the other hand, was working for a boss who was sucking the life out of her.
Feeling uninspired at her new job, Megan decided to quit and make a change. Like me, she sold everything and came to Korea.
She boarded that plane and we spent the first month reunited like kids in a candy shop.
Eventually, burning through the $4,200 I saved living alone in Korea for three months.
That all changed when she got a job making the exact same amount of money ($2,800/month) but having no additional bills to our monthly expenses.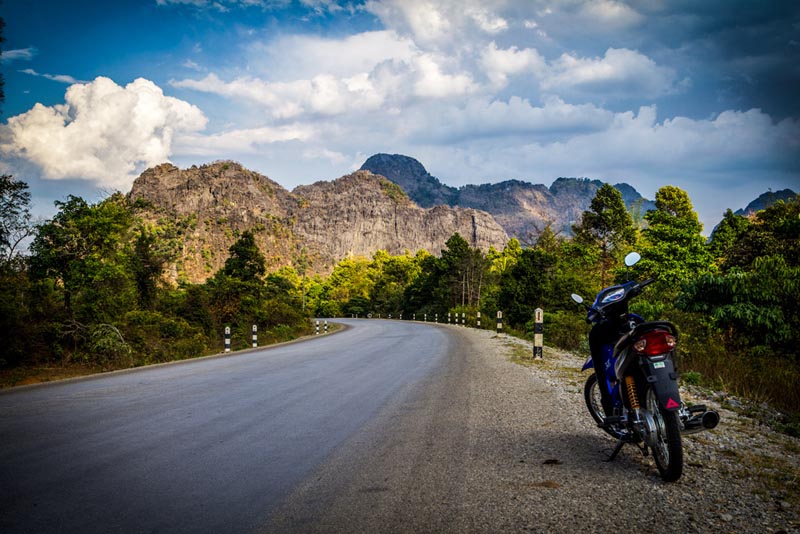 I extended my contract to end the same day as hers.
For the next year, her paycheck went straight into a savings account that we rarely touched.
In the end, we managed to save around $32,000 in just a year, while still traveling to all corners of the country on the weekend.
By making less in a foreign country, we were able to leverage our money to live a much more gratifying life.
We saved even more money than when we had a combined income of $80,000.
We are now currently reaping the rewards of one year of work by taking six months off to travel without a job and only spend $10,000 of our savings before we do it all again.
Spending Less, but Living More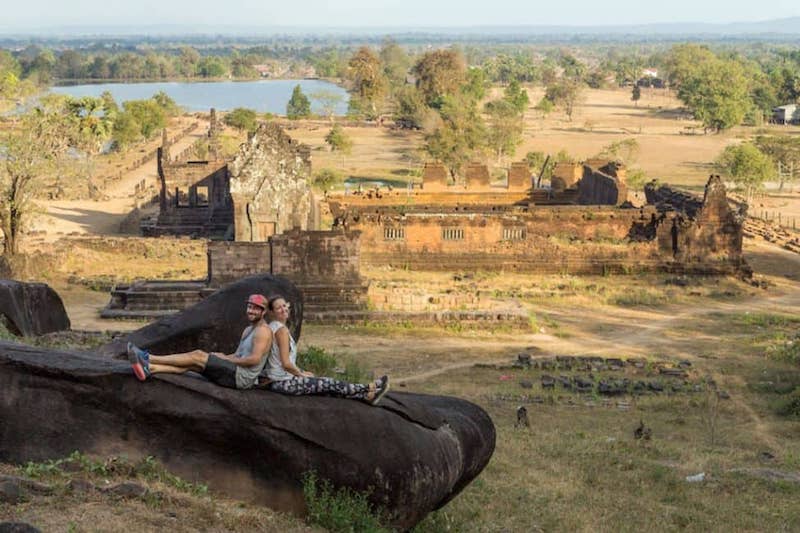 THE ROAD AHEAD
You wouldn't think that traveling to a foreign country would have helped me save money, but it did.
When I moved to South Korea and began working, I didn't start magically making more money. I stopped spending money on things I didn't need. Instead, I spent more fulfilling my dreams of travel while leveraging the less expensive cost of living in a different country.
I can only imagine where I would still be if I hadn't left for Korea over two years ago.
I'd most likely still be dreaming of traveling when I retire, completely oblivious to the abundant opportunities that exist for people who love to travel and want to save money.
My goal with this article is to show you that every day there are more and more opportunities out there for people to go out there and pursue their dreams right now.
I truly believe that all you need is the desire to make it happen and to go out there and take it. I'd like to say goodbye and safe travels with a quote that I found really helpful and inspiring when faced with tough decisions.
"If you want something you have never had, you must be willing to do something you have never done."
To find out more how you can get a job working in Korea, read Scott's follow up post Is it Easy to Get a Job in South Korea?
Read More
How to Start a Travel Blog in 10 Easy Steps
10 Travel Differences after 10 years of Travel