Cuba expert Claudia Tevani shares the best things to do in Havana Cuba.
Since publishing this article, we have been to Havana ourselves. So Dave and I have updated our Havana travel tips and recommendations to the list to give you even more information and advice!
This Havana guide takes the best of two different trips to help you plan the best trip possible.
Things to do in Havana, Cuba
 Updated March 2019
Cuba is an amazing country. It has topped many a travelers' bucket list, and for good reasons.
It is one of those places that grows on you: for as different, difficult and at times simply frustrating I found it, I could not help falling completely in love with it.
One place I would surely like to go back to would be Havana."
Here are the top things to do in Havana, Cuba
To skip to any excursion or section just click on the links below. You can also close the table of contents tab. 
Cuba Resources & Information
Ready to fly to Cuba? Check out Cheap Flights here.
Cuba uses the Cuban Peso, ATMs are available to withdraw money. 1 Cuban Peso = 1 USD. Be sure to select CUC (not CAC) CUC is the tourist Cuban Peso. The other is for locals only.
Bring US cash with you in small bills to be able to change at your hotel upon arrival.
Are you a U.S. Citizen?  Make sure to check with your Airline about Visa costs as they are different for each carrier. Typically they range from $50 to $110. Learn more about the legality of traveling to Cuba as an American by visiting the Treasury Department's Cuba FAQ.
Make sure you have travel insurance. We never travel without it and in Cuba, you may be asked to show it when landing at immigration. We recommend World Nomads for short term trips. If you are looking for something more long-term check out Allianz Travel. Read more about the value of Travel Insurance here.
Looking to plan your trip? We recommend checking out Lonely Planet Cuba
Don't forget that the water in Cuba is not drinkable. We recommend bringing along the Lifestraw Go Waterbottle. We bring this with us everywhere.
Internet: It is available through the ETECSA telecom company and you can buy prepaid cards for around $2-3 per hour.
Havana Neighborhoods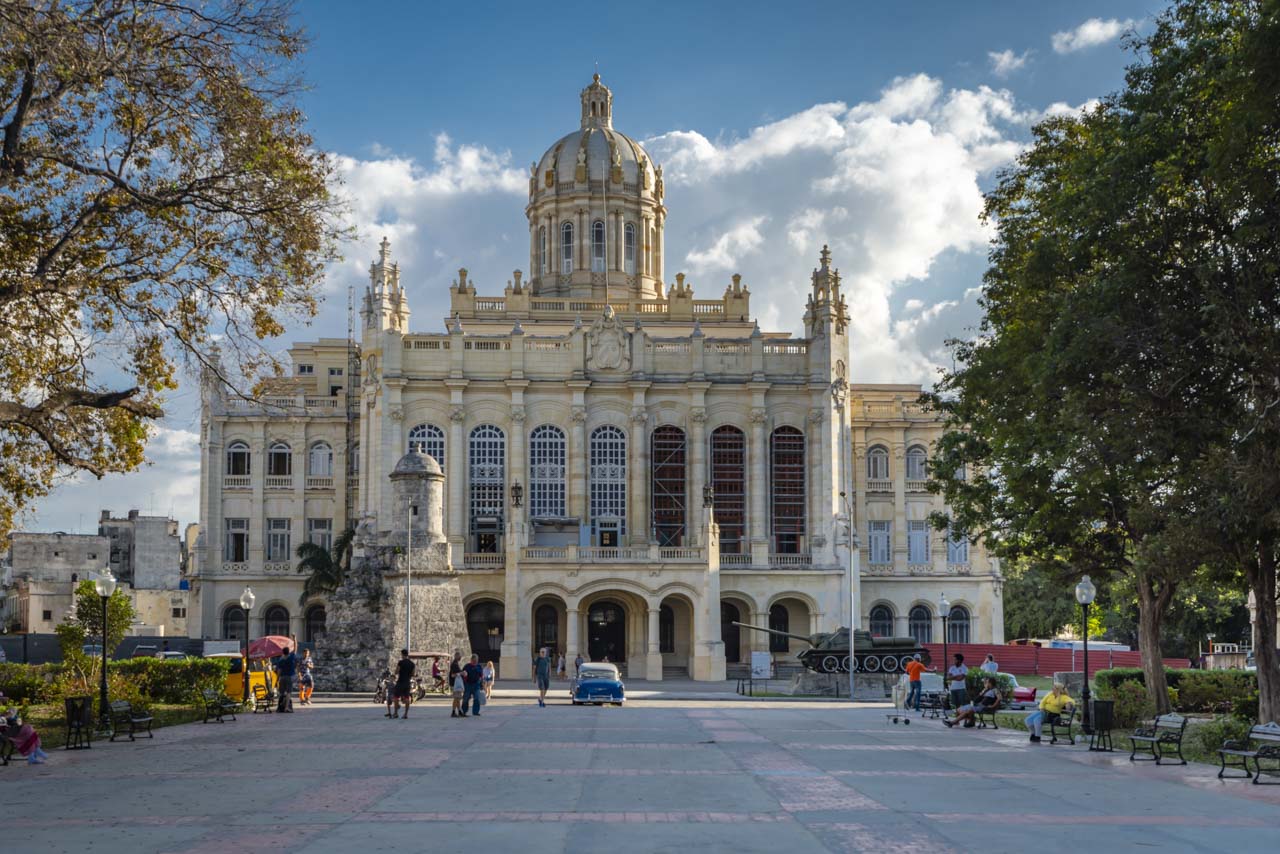 Havana is broken down into four main neighborhoods. When visiting Havana, you'll really only have to orient yourself with Old Havana, Vedado, and Centro.
You'll probably be spending most of your time in Old Havana and Centro.
Old Havana - A UNESCO World Heritage Site filled with public Squares, cobblestone walking streets, and many restaurants and bars.
Paseo del Prado  - The walking street running from the waterfront (Malecon) to Central Park. It is the dividing line between Old Havana and Central Havana.
Centro - Perfect for capturing those classic car photographs in front of crumbling
Vedado - This is the residential neighborhood that houses expats and has a much more upscale feel to it than Centro.
Miramar - Residential neighborhood filled with embassies and mansions.
Malécon - Five Mile Long waterfront Promenade stretching from Old Havana to Vedado.
Central Park - Where all the action happens. Here you can book classic car tours and pedicabs. The Square is surrounded by high-end hotels.
Check for Cheap Flights to Havana with Skyscanner
Havana Tours
On your first day in Havana, we recommend booking a tour. Tours are a good way to get the layout of a city and to see the highlights.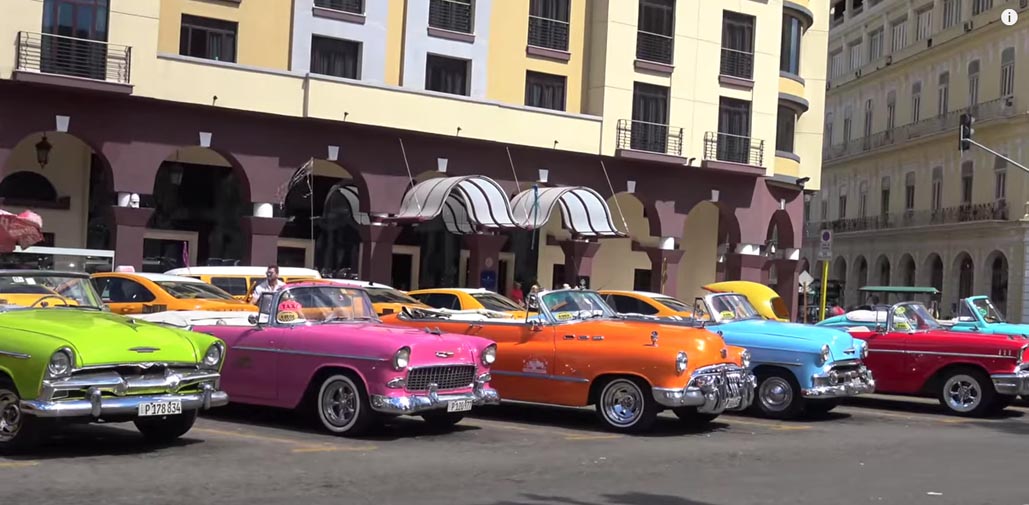 1. Walking Tour
Our walking tour of the Old City with CubaTur was excellent and helped us understand the history and energy of Havana.
Our tour took us around the UNESCO World Heritage-designated Old Town where we explored the squares, the famous cafes, and churches.
No motorized vehicles are allowed in this area and it is beautifully restored with cobblestone streets weaving through colonial buildings.
This tour will show you all the Old Havana points of interest so you can return in the coming days to explore further.
2. Take a Classic Car Tour
Book a classic car tour to see a large chunk of Havana attractions. These impeccable classic cars are the best way to see Havana.
Havana is known for its classic cars. Being isolated from the world due to the American Embargo, the time has stood still since the 1950s when America left and left its old cars to the locals.
We drove along the five-mile waterfront known as the Malécon through the residential district of Vedado to the embassy area of Miramar. This is where the rich and diplomats live and the architecture is beautiful.
A drive through the forest made for a beautiful drive before heading back through the main road of Old Havana through Central Park and the Capital Buildings.
We went with Cubatur and had fantastic guides to take us from our hotel at the Iberostar Grand Packard all around the city.
Book your own 2-Hour Classic American Car Tour when visiting Havana.
Suggested Havana Tours
It helps to begin exploring a city with a walking or driving tour. It's a great way to get your bearings Get Your Guide is a company we have used for city tours around the world and it is easy to book last minute tours or cancel up to 24 hours in advance.
Private Half Day Tour of Havana - Book a private walking tour, up to 6 people for your own introduction to Old Havana.
Havana City Tour - A more affordable option is to join a group and take a city tour of Havana as you check out all the sights.
Vinales Valley - This 5-hour guided tour takes you out of Havana to visit a local tobacco factory, plantations, and a cruise the Cueva del Indio by boat.
Classic American Car Tour Havana is known for it's classic cars, so see it in style driving around in an old beauty with a cocktail in hand!
Hemingway in Havana

3. El Floridita for Hemingway Daiquiri
Hemingway frequented El Floridita so often, there is a statue of him sitting at the end of the bar with his namesake on the bar.
Walking from Parque Central towards Old Havana, you'll easily spot El Floridita. It's packed with tourists visiting on day trips, but head out later at night and you'll be able to go in with less of a crowd.
Ernest Hemingway frequented El Floridita where the daiquiri was invented. He has a cocktail named after him called the Papa Doble which is a daiquiri without sugar and double the rum
4. La Bodeguita del Medio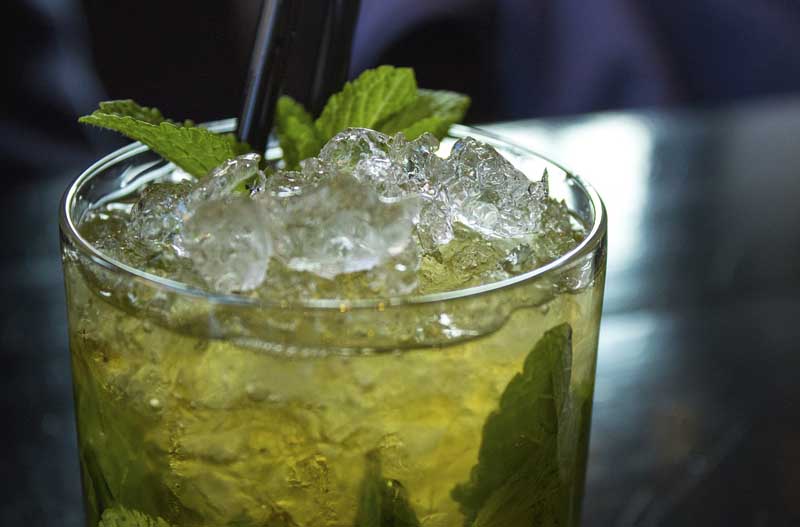 Another Hemingway Bar is La Bodeguita.
There is a note from Hemingway where he apparently wrote "My Mojito in La Bodeguita, My Daiquiri in El Floridita"
There are many spots in Havana Vieja (Old Havana) to have cocktails and I am sure Hemingway frequented many.
Claudia stated, "It is almost impossible to let a day pass in Cuba without having a mojito."
Cocktails in Havana
Mojitos were invented in Cuba and are one of the island's oldest cocktails. That's old considering Havana is about to celebrate its 500th anniversary!
The recipe consists of white rum, (a lot of it in Havana cocktails), sugar (traditionally sugar cane), lime juice, soda water, and mint.
5. Mojito Mojito
We recommend the restaurant Mojito Mojito, we were told its claim to fame is that the Mojito was invented there!
We had lunch in here with an excellent band entertaining us. The food was good, and the atmosphere was great. It was much bigger than most of the bars we went into in Havana.
We had one of their mojitos and they were good, but not nearly as delicious as our favorite bar in Old Havana, Van Van.
6. Los Van Van
We loved the bar Los Van Van and it seemed that everyone else did too! We wemt there two nights in a row and ended up seeing a lot of people from the night before.
The Mojitos were delicious and strong. (and yet there was no hangover) and the live music was outstanding and entertaining.
The had the entire bar up dancing.
Los Van Van is located in Old Havana.
Old Havana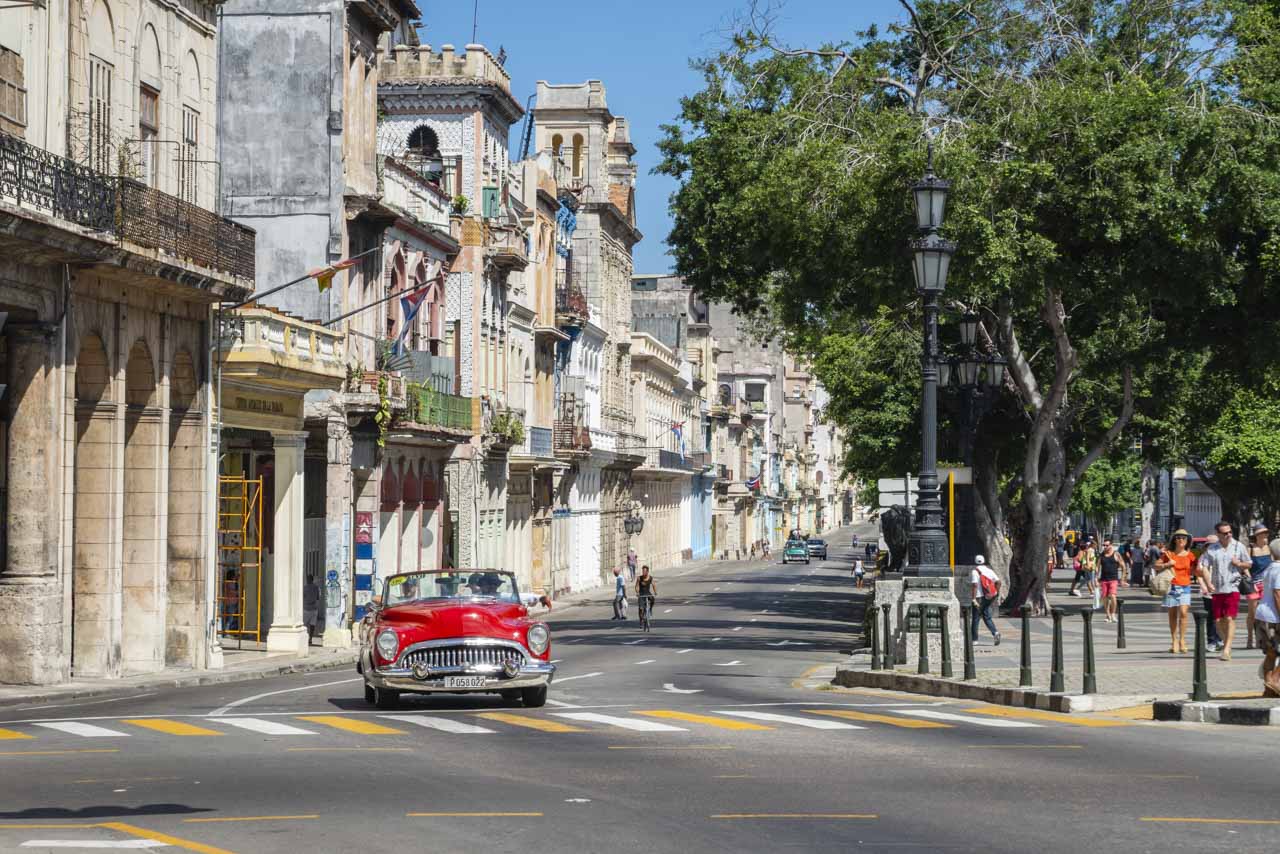 The Old City of Havana is filled with plazas and squares. Old Havana is a UNESCO World Heritage Site and it is worth spending a day exploring each of the plazas.
Since no automobiles are allowed, it is a lovely way to stroll the streets in peace and quiet to browse the colonial architecture and Spanish history.
Get lost and see if you can. find all the plazas of Old Havana: you will feel like you are walking through a Spanish City rather than being somewhere in the Caribbean
Plazas of Old Havana
7. Plaza Vieja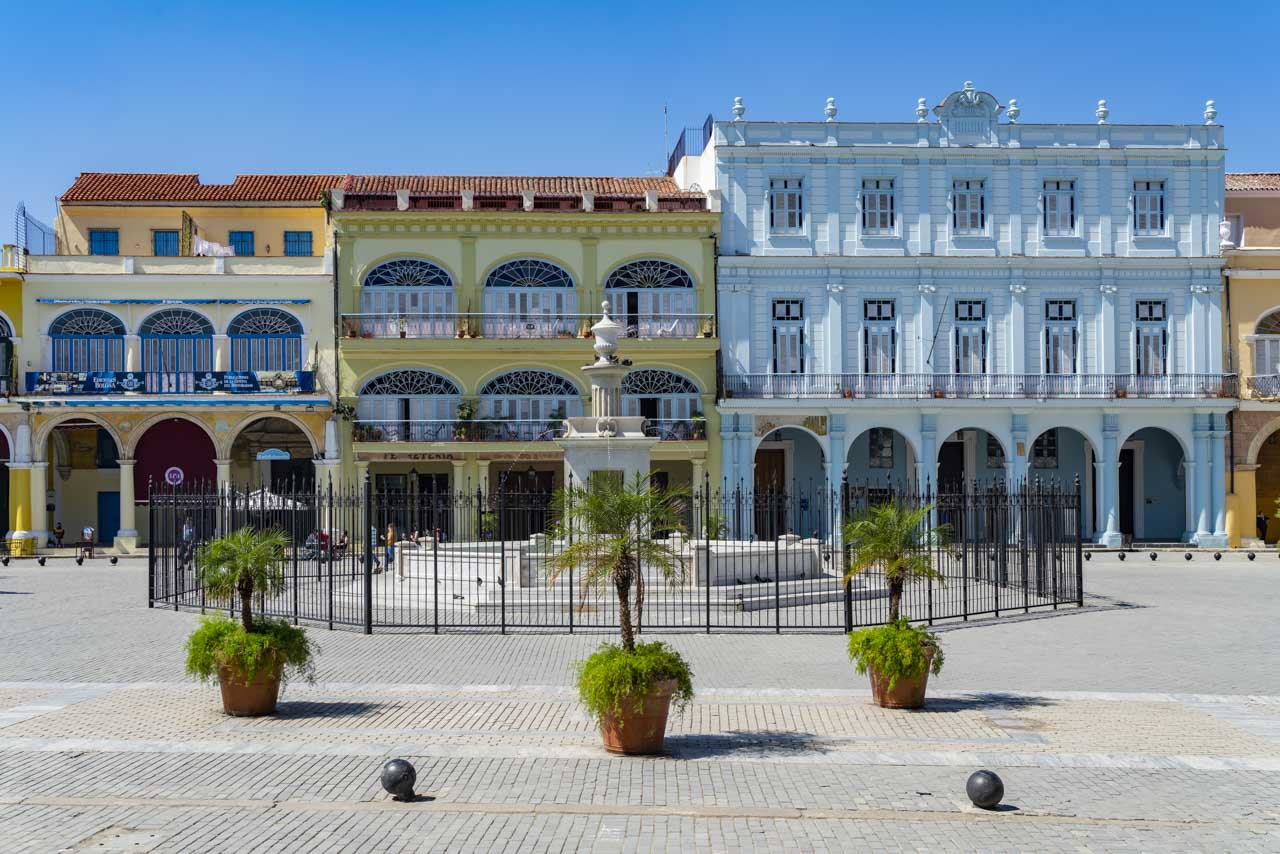 Our favorite Square in Havana, Plaza Vieja is a historic square dating back to the 16th century.
Colorful colonial buildings surround the square that is alive with bustling activity.
This is a great place for a frozen lemonade or cocktail to take a break from sightseeing.
8. Plaza de Armas
This is the oldest square in Havana has a lovely garden and a picturesque line of royal palms surrounding the white statue ofCarlos Manuel de Céspedes. He was the initiator of the Cuban independence movement.
The booksellers market is located here and the City Museum is located at the Plaza de Armas.
We snuck a peek inside the plaza to see the statue of Christopher Columbus surrounded by a two-story Baroque building.
When walking along the Plaza de Armas, be sure to look down when walking here, the cobblestone street is actually made of wood.
It is said that the wooden walkway kept carriages quiet so the governor would not be disturbed.
9. Plaza La Catedral de San Cristobal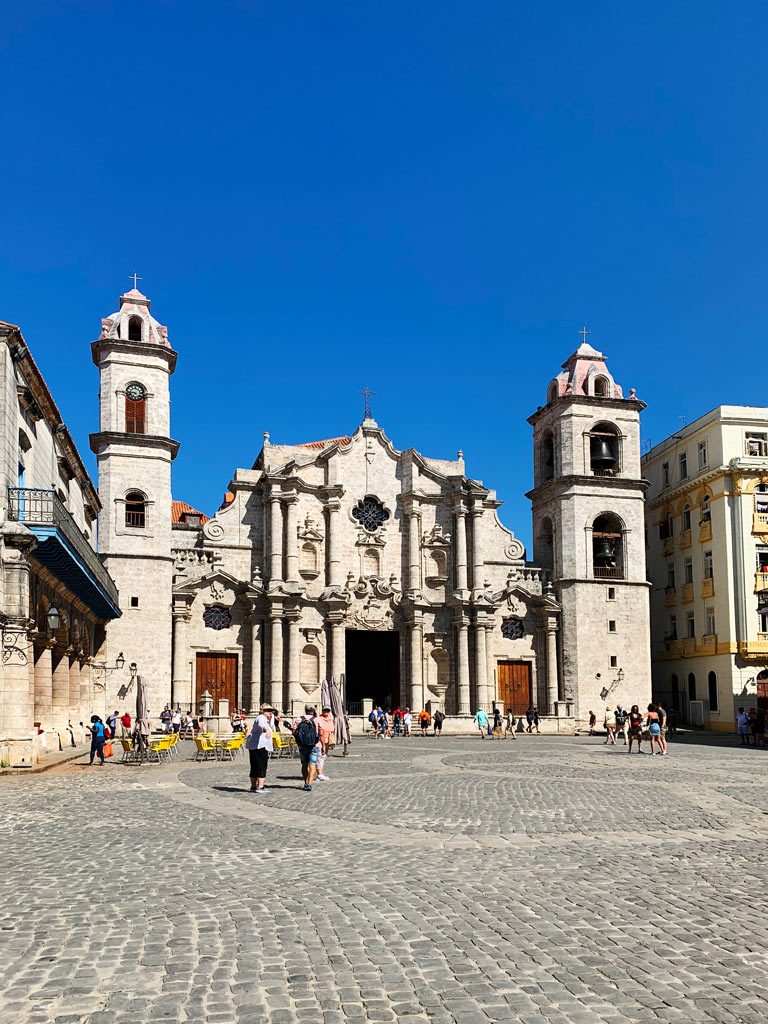 The Catedral de San Cristobal stands at the head of this photogenic square. Stone buildings and a line of porticoes surround the square.
Be sure to look inside this classic cathedral. The entire atmosphere will make you feel as if you have been transported to a city in Spain.
10. Plaza de San Francisco
Plaza San Francisco is yet another beautiful square to wander through in Havana. Located at the Havana Harbour, it is one of the first plazas in Havana welcoming ships arriving from Spain to trade in the West Indies.
It's a busy place filled with cruise ship passengers making their way to shore during the day.
It houses an 18th-century basilica, the old Havana stock exchange, an imposing tower, and many cafés, this is a must visit when exploring Havana.
Best Sunset Views In Havana
11. Iberostar Grand Packard 6th Floor
The Iberostar is one of Havana's newest and most luxurious hotels with the best sunset view in the city.
Have a cocktail on the 6th-floor bar overlooking the infinity pool.
Here you'll have a gorgeous view of the sun going down over the Malecon, El Morrow, and the Castillo de San Salvador de la Punta.
12. El Christo
Havana has the second largest Christ the Redeemer Statue after Rio, and this is an excellent spot for a city view of Havana. Take a ferry across or hire a taxi particular to see the sun go down.
It's not far from El Morro, so you can stop here and then make your way to the fort for the nightly canon.
13. El Morro
El Morro offers beautiful views of Havana and if you stick around after sunset (or at sunset in the summer months) the traditional canon ceremony takes place at 9 pm.
14. Castillo de San Salvador de la Punta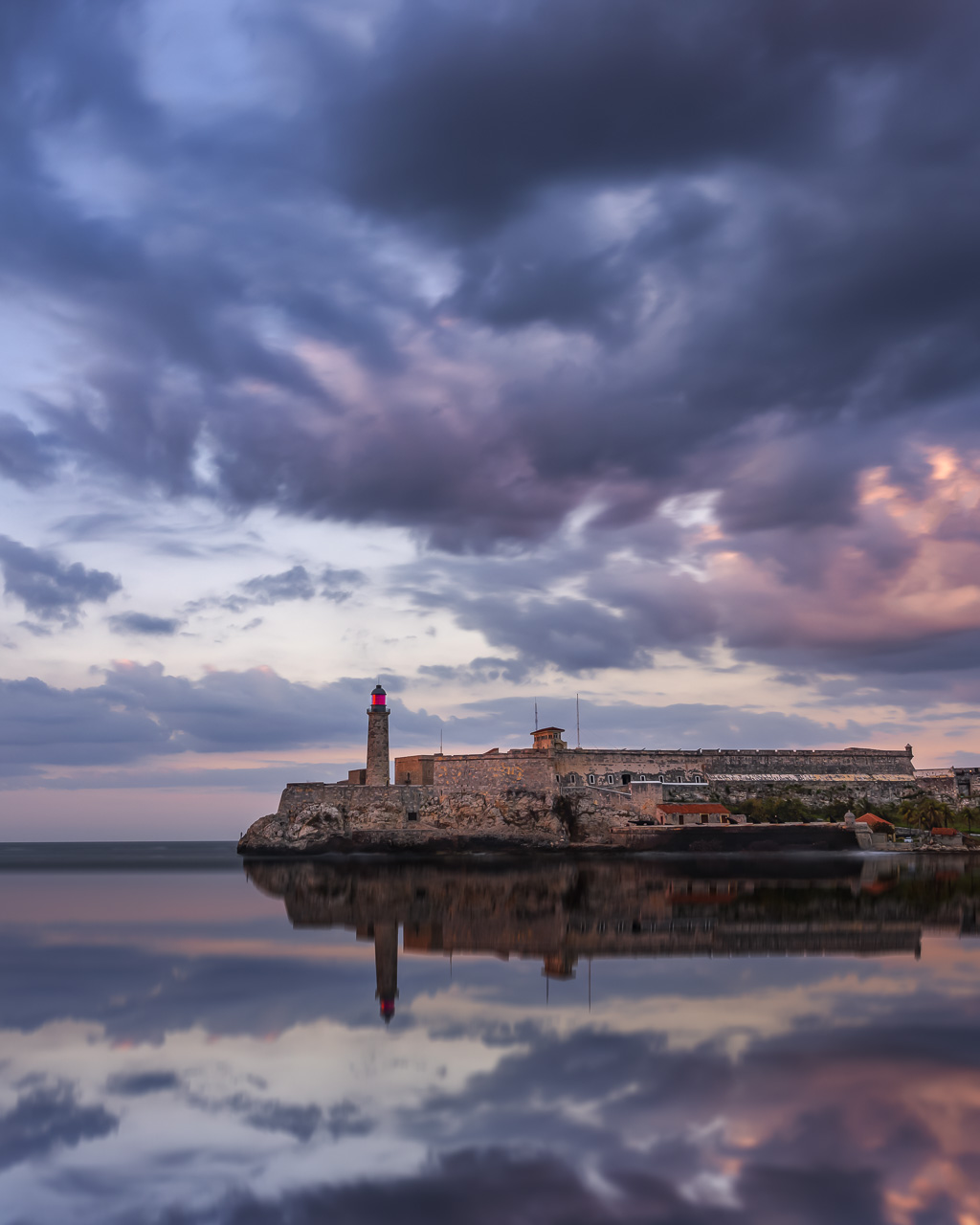 El Malecon spans the waterfront, but the best place is at the Castillo de San Salvador de la Punta. This old fortress dating back to 1590, juts out from the coastline offering full views of the waterfront of Havana.
It's a lovely place to visit any time of the day to see Havana's history and historic monuments.
15. Malecon
If you do choose to watch sunset elsewhere on the Malecon, anywhere will do. It's a lovely place to spend the evening.
Malecón and 23rd Street is the most popular spot in Vedado and many a local will be hanging out here.
16. La Guarida
There is a rooftop patio at La Guarida. Walk up the stairs from the restaurant for another rooftop view of old Havana.
We didn't make it in time for sunset, but even the evening views were lovely from here. And we loved our Pina Colada to end the day.
Best Dinner in Havana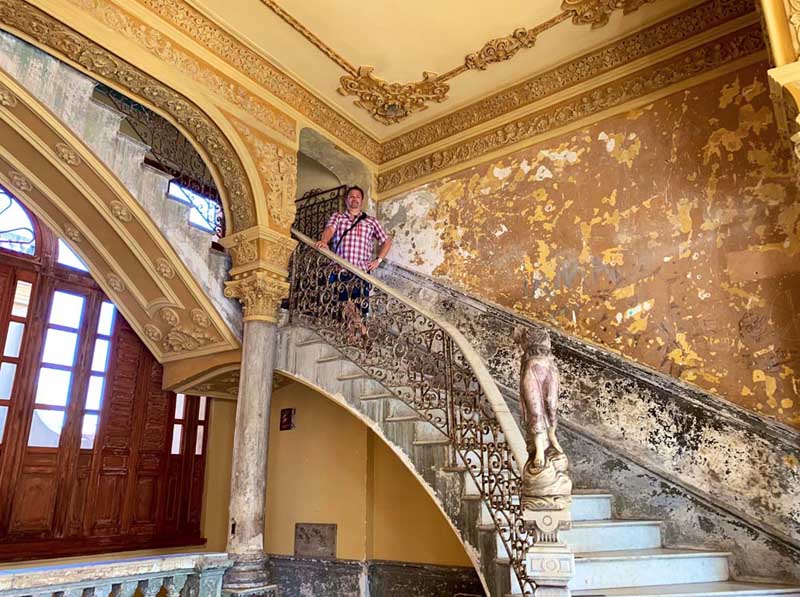 17. La Guarida
La Guarida in Centro Havana is also a popular spot for sunset. It is one of the most expensive restaurants in the city with meals costing around $40 per person.
Made famous by the Academy Award-nominated movie Fresa Y Chocolate.
It's not easy to find as it is on the third floor of an old mansion. If you don't know where you are going, one would walk right past it.
The setting is beautiful and its terrace is one of the most sought after spots for sunset in Havana. Many a movie star has frequented La Guarida and they have the photos on the walls to prove it!
When you are there, have one of their Pina Coladas, they claim to have the best in the city, and we can attest, they are tasty!
Best Walks Havana
18. El Malecon
El Malecon spans 5 miles (8km) all the way from Old Havana to Rio Almendares where the chic neighborhood of Miramar begins. You can walk the entire way!
During sunset, it is very busy with locals going to relax after a day at work.
One side is ocean and the other passes along Centro, Vedado along the way showcasing beautiful (sometimes very decadent) buildings on one side – such as the Hotel Nacional.
All of these make it a perfect place to relax.
Note from Claudia: "I also recommend a brief detour from El Malecon to go to the Callejón de Hamel, to look at some interesting street art and enjoy the Afro-Cuban culture."
19. Paseo Del Prado
This walking street stretches from the Malecon to Parque Centro and is a relaxing shaded walk.
At night many locals will be hanging out dancing, listening to music or playing sports.
It's a street filled with energy and makes for a pleasant stroll.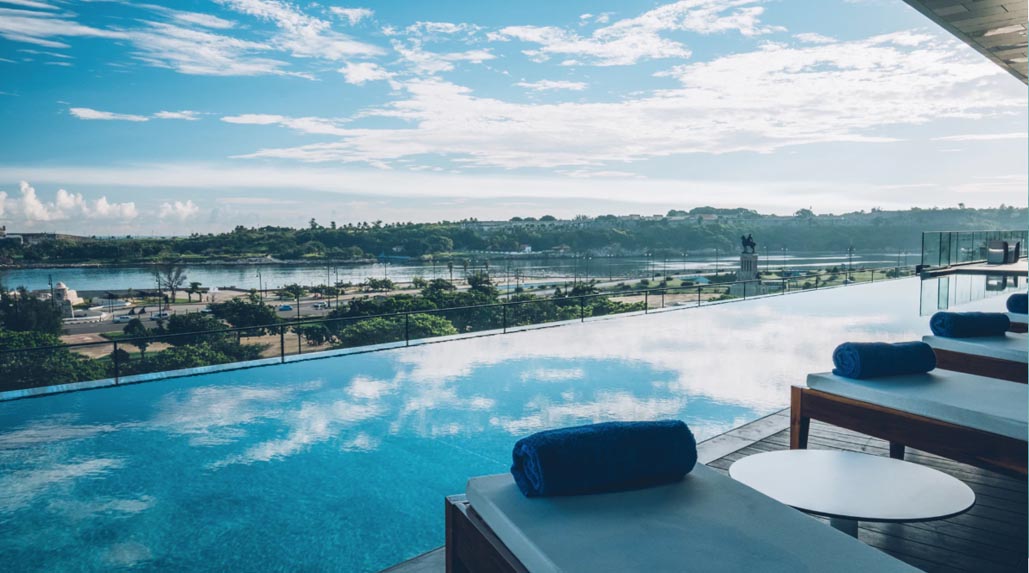 The 5-star hotel overlooking Malecon between Old and Centro Havana
Check out reviews and rates on Havana Trip Advisor
Cuba has long catered to Canadians as an affordable all-inclusive destination. That is quickly changing as more luxury hotels are being built. American and European tourists are starting to travel to Cuba and more people are choosing to travel independently instead of on a package tour.
Luxury Hotels
We have heard that from many people that Cuba has 5-star prices with a 3-star experience. Plus, hotels are expensive in Havana in comparison to other Caribbean cities.
The newest addition to Havana hotels is the Iberostar Grand Packard and it is modern with a chic design. The Iberostar surpasses the three-star experience, but it is not quite up to European or American standards as far as five-star service and amenities.
There are many luxury hotels being built in Cuba and the Iberostar brand alone has 30 hotels across Cuba. As more tourists visit the country, the service will only improve.
Budget Travel in Cuba
If you are traveling on a budget, it is easy to book private accommodations around Havana. These are known as Casas Particulares.
For budget travelers, these are a great option. We met many people who were staying in a private casa and loved their experience.
They were spending anywhere from $20 - $40 per night. You can see the hostels that are open to tourists by looking for the umbrella/anchor above the door.
TripAdvisor has many options for booking vacation rentals in Havana.
Airbnb is a popular booking site for Havana and this is a great choice because the money goes into the local Cubans pockets.
CubaAccommodation.com is another popular booking site.
Architecture
20. The architecture of Centro Havana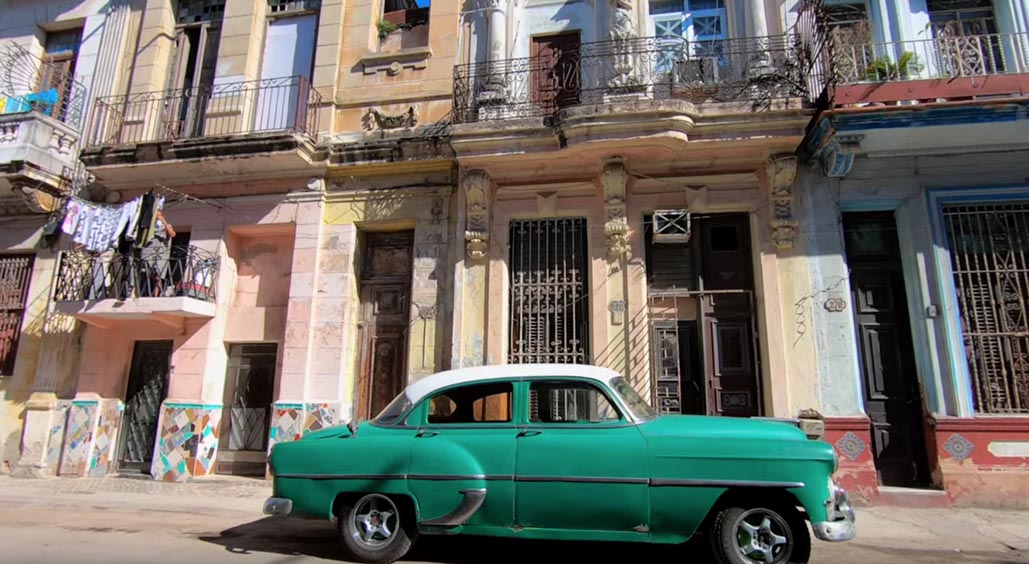 Our hotel was located right beside Centro Havana and we loved wandering the streets for amazing photography moments.
The buildings are literally crumbling before our eyes, but as tourism picks up, you can see many are under construction and I have a feeling in 10 years it will be an entirely different place.
We took a pedicab through Centro Havana to cover distance quickly, but the joy of walking through here is getting lost in the streets.
It is safe and people are friendly. We even walked home at 3 am one evening and the streets were alive with people walking late into the night while nobody bothered us at all.
Havana History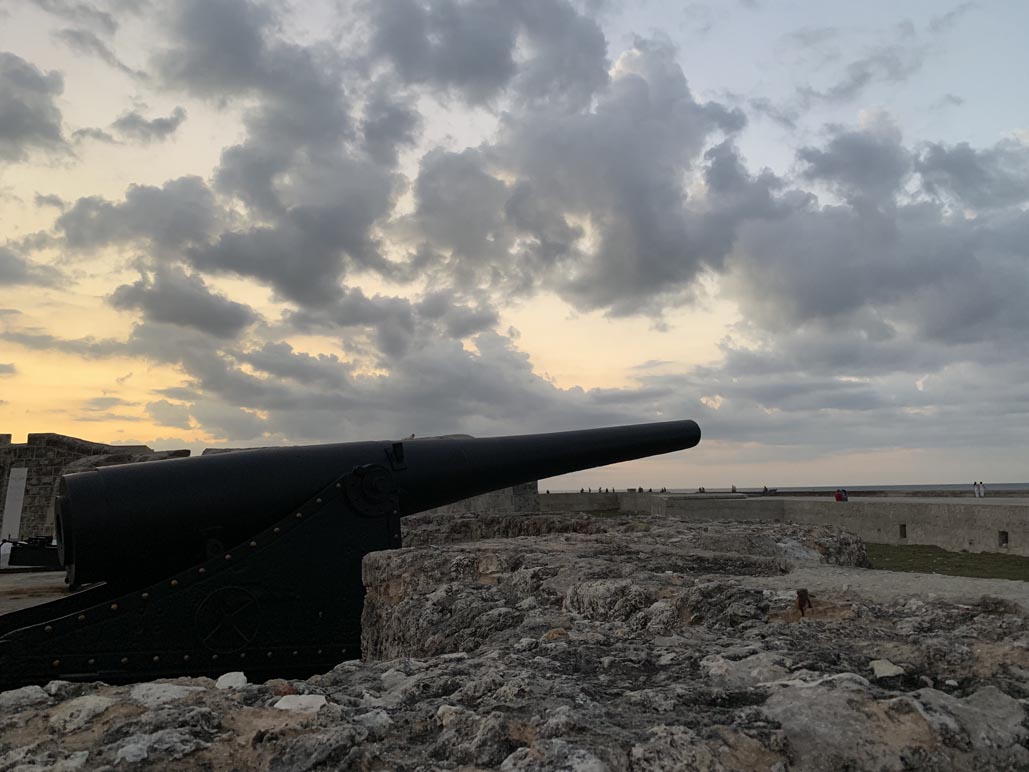 21. el Cañonazo de las Nueve
Every night, at 9 pm sharp (may as well be the only thing that is punctual in the country) in the fortress of La Cabaña, the ceremony of "el cañonazo de las nueve" takes place.  La Cabana dates back to 1774 rising 200 ft (60m) beside El Morro
Soldiers dressed in the traditional costumes of the 18th century shoot the cannons to warn that it is time to close the city gates.
This has been done for centuries, to protect Havana from its enemies.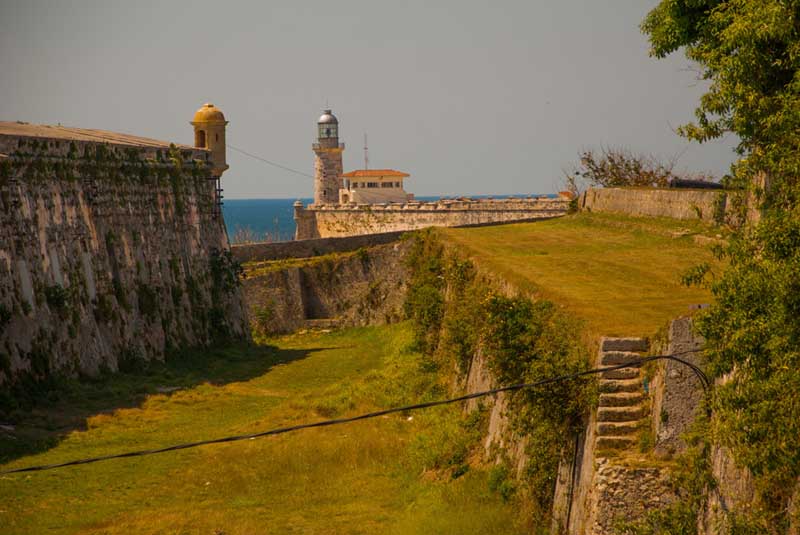 Havana used to be surrounded by a city wall (much of it can still be seen today) and at 9 pm the canon was shot to warn people that the gates would be closing. If you didn't get in on time, you'd be locked out for the night!
I truly enjoyed it. The view of Havana by night from La Cabaña is amazing, the ceremony is engaging, there are a lot of museums and exhibits inside the fortress and the entrance ticket includes a drink!
Definitely one of the most fun things to do in Havana.
22. Visit the Morro

El Morro is the castle dating back to 1589. It's Havan's most prominent landmark and can be seen from the Malecon.
Located across the bay, it offers some great views of the Havana skyline.
El Morro was initially built to protect Havana from pirates, in later years it was used to protect Cuba during the Spanish American War.
You can tour the fort and explore the many guard boxes and tunnels.
23. Revolution Square
When visiting Havana, you must stop at Revolution Square to see the monument to the people and the facades of the Ministry of Interior and Che Guevara.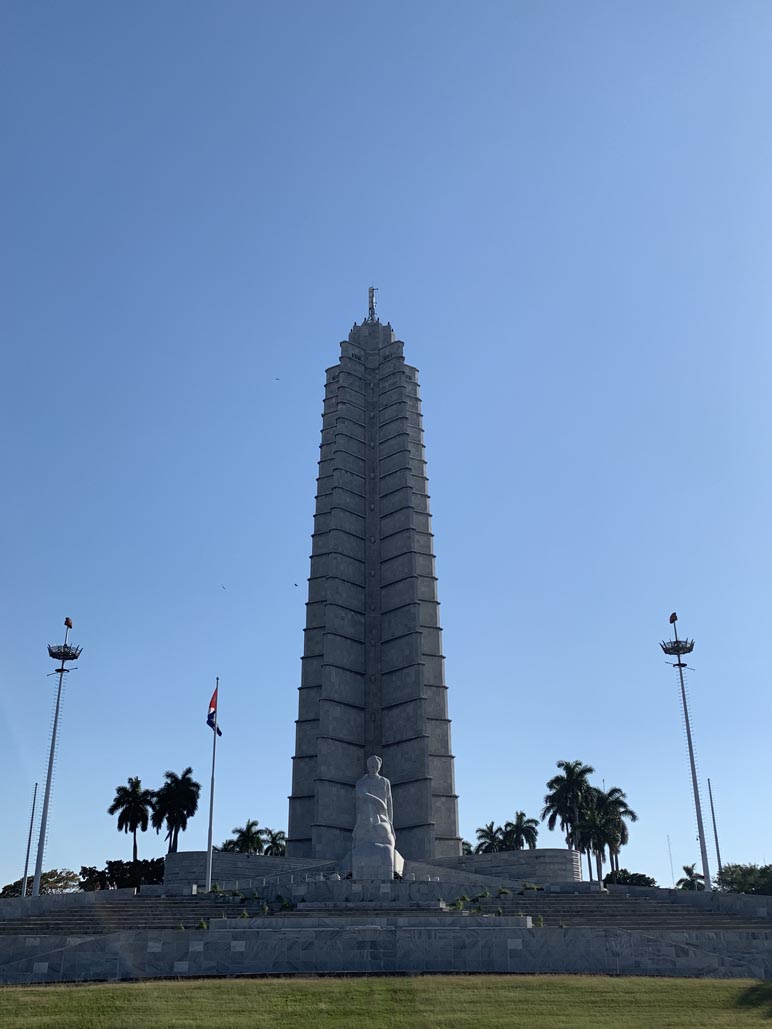 It was here that Fidel Castro made many of his long-winded speeches to the people. We were told that thousands of people would sit for up to three hours in the heat listening to what he had to say.
Pope Francis celebrated mass from here in 2015.
Museum
35. Museo Nacional de Bellas Artes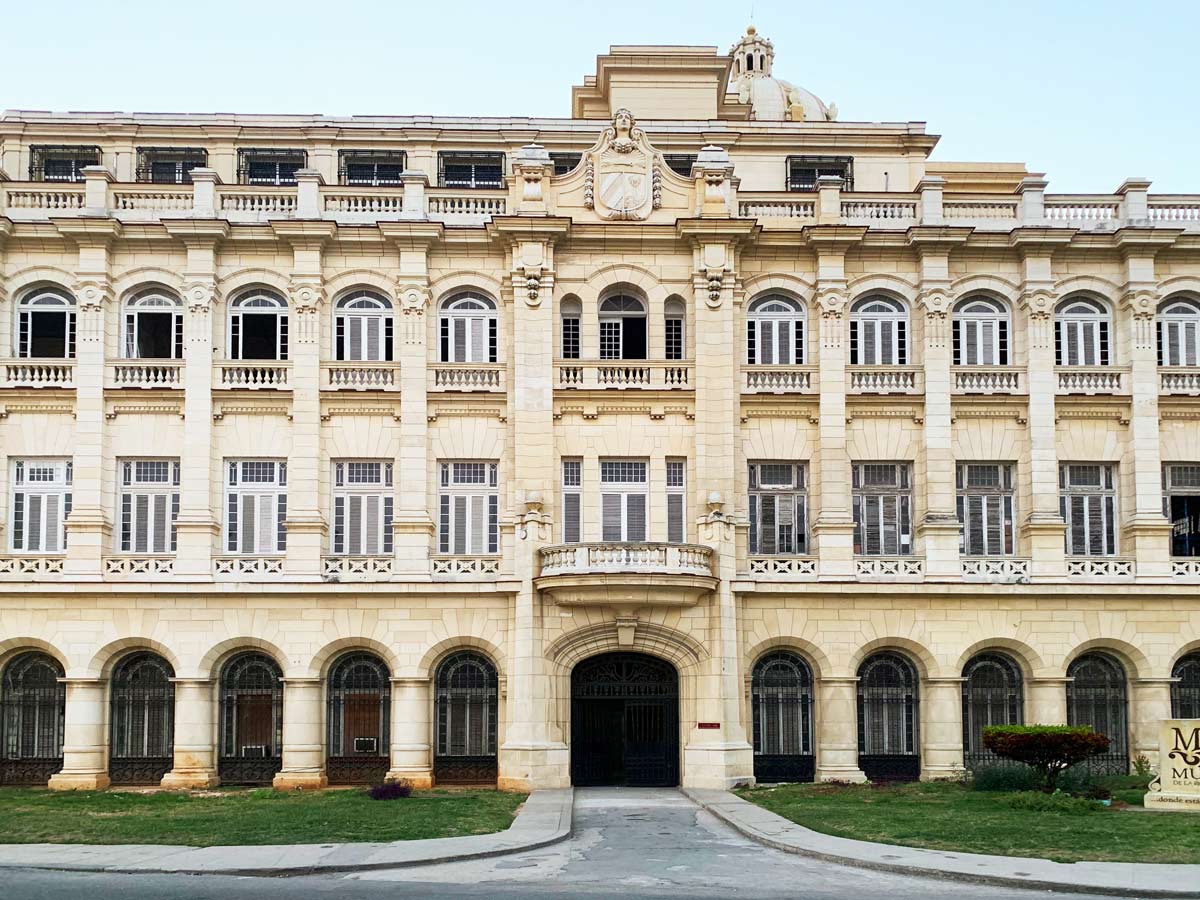 Arguably one of the finest art gallery in the Caribbean, this is a must visit for art lovers.
I love art, and I spent a good afternoon browsing through the collection of this incredible museum that hosts international art from 500 AD onwards.
The museum is now divided into two buildings, one is dedicated to Cuban art and another dedicated to art from around the world.
36. Revolution Museum

If you want to learn more about the Cuban Revolution in the 1950s, this is the place to go.
Located in Old Havana, it is housed in the old Presidential Palace.
37. Bonus Tip: Try Guarapo
I find the heat exhausting and at times I need a good dose of sugar to recharge my batteries.
Nothing beats guarapo for this: it is pure sugarcane juice, freshly squeezed.
I don't like the particularly sweet taste, so I added some lime and it was perfect!
Getting Around Havana
When staying in the Old City or at the Iberostar, you really don't need a lot of transportation, we could walk anywhere.
But if we were going to a bar or restaurant that was a little out of the way, we took taxi particular. And you really must do this!
Taxi Particular
Not all taxi particulars are created equal. Some of those vintage cars are kept perfect and shiny. Others are simply old and rusty. But all of them are incredibly large.
Taxi particular (privately owned taxi) rides are shared taxi rides. Meaning that when I got in one, other people also got in.
If they are going in the same direction, you'll have company.  It's a good way to meet some locals!
The old classic cars are the pride of the drivers and for just $5 or $6, they will take you to where you need to be. (within a reasonable distance)
Pedi Cabs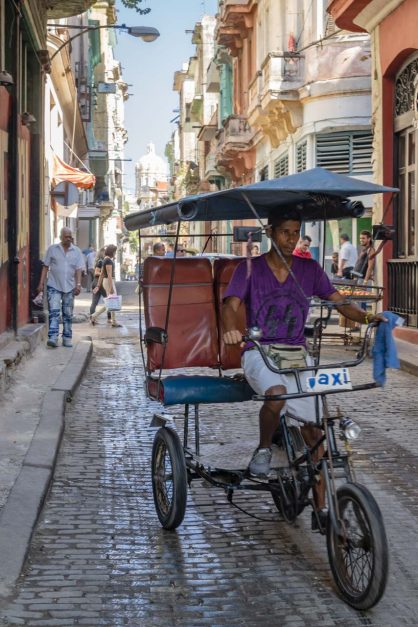 We also hired pedicabs that were a lovely way to see the back streets. They charge about $6 (6 Cuban pesos) as well.
Co-co taxi - Yellow three-wheeler taxis similar to a tuk-tuk of Thailand (but they look more modern)
Ferries - You can catch a ferry across the bay to see the forts and monuments to Casablanca Pier.
Enjoy What to Visit in Havana? Why not pin this to Pinterest for future reference.
Have you ever been to Havana? What were the best things you did there?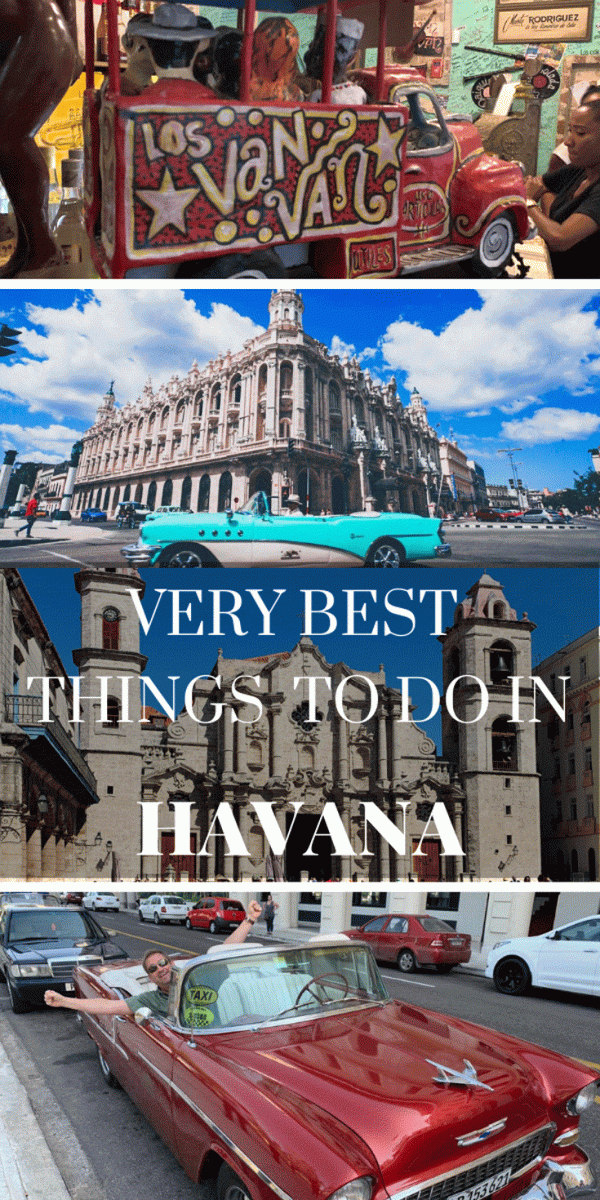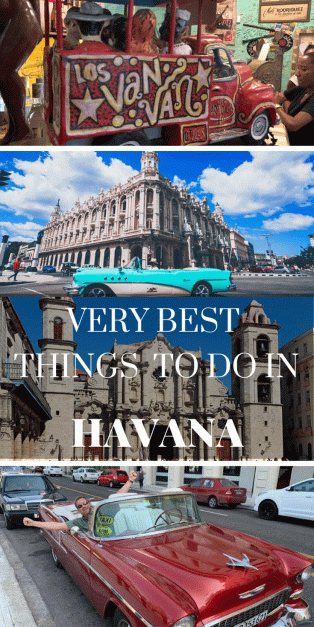 Do you have other suggestions of things to do in Havana that I may have missed?
Guest Contributor Bio:
My Adventures Across the World
Claudia Tavani is from Cagliari (Sardinia) and is obsessed with travelling.
A former human rights lawyer and academic, after devoting her life to the protection of cultural identity, in November 2013 Claudia decided to give in to her biggest passion and started travelling around Latin America, and she has hardly stopped since.
Blogging came as a natural consequence, for Claudia wanted to let her family and friends be updated with her adventures.
You Might Also Enjoy