It was time for a trek to get the old legs back in shape and what better place to start than in Ella in Sri Lanka's highlands. It is the perfect place for a little adventure travel as you can hike the hills for days on end.
Hiking

Ella Rock Guide
Trails lead you through tea plantations and dense forest paths. We decided to check out Ella Rock, the highest peak in the area offering great panoramic views.
It is the longest and most rigorous climb in Ella, so be prepared for a bit of a grind.
The Trail
Starting with a leisurely walk along the railway tracks. A train went by during our walk, but luckily the trains move slowly in Sri Lanka and we had ample warning to move out of the way.
During that time we were reenacting a scene out of Stand By Me, we ran into a group of guys from Colombo, Sri Lanka that were out for the weekend showing their friend from the UK a good time.
They were on their way to the beach, but for some reason made a side trip to Ella and we lucked out being able to climb with them. Another couple from Calgary was on the trail as well so we all climbed together.
One of the few Canadians we have met on our Travels
The path isn't very well marked and we all took a few wrong turns. It helped to have the native Sri Lankan guys around that could speak Sinhalese. People yelled at us as we walked by and we never would have known that they were telling us we were going on the wrong direction.
Finally a man came along and offered to be our guide. I am glad that we took him because it would have been really difficult to find our way.
Harder than it Looked
It was a steep climb and the day was hot and humid. Our young friends set a fast pace and our leisurely stroll was turning into quite the workout.
We had this idea in our minds that we were going out for afternoon stroll. The path led through shrubs, bushes, tea terraces and forests.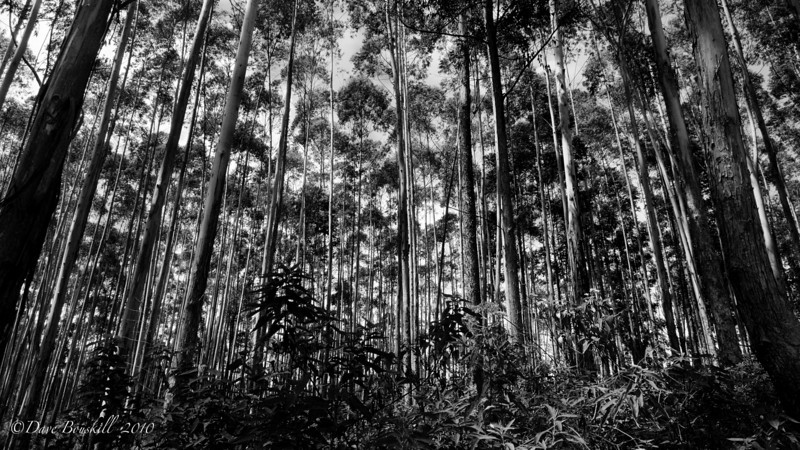 It had rained the day before so we brought a pack filled with gear and had our long trekking pants on. Today however the sun was shining and we were drenched with sweat.
Our New Friends
The guys from Sri Lanka were having a blast shouting at us that someone had fallen, or that there was a snake on the path. They said there were leeches and spiders, but of course we never saw a thing.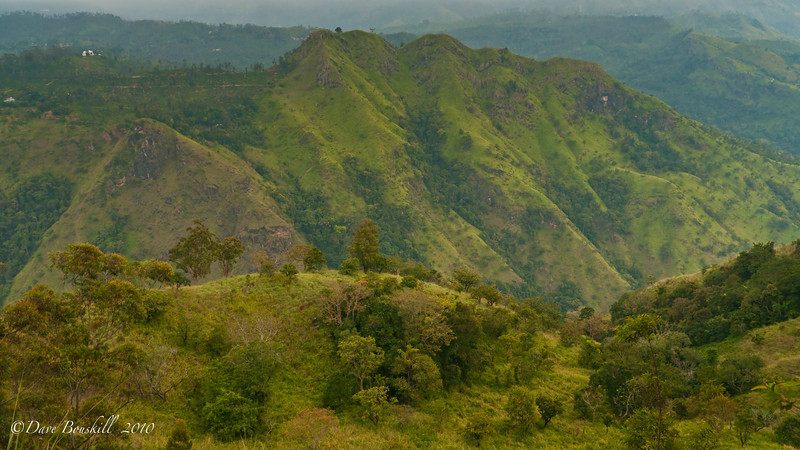 The climb takes you up to the high Ella Rock overlooking the valley. It is a beautiful view and after the summit, you can take a leisurely walk to a small temple that overlooks yet another beautiful view.
The walk down was an easy task. I was prepared for it to be difficult as you know how the saying goes…"Going down is the hardest part."
But it wasn't!
We chatted with the guys and found out that one is a 3D animator that was very excited to hear that Dave worked in the movies. Who knows, if the PlanetD takes off in the future, maybe we will be able to employ him for some of our videos.
We tipped our guide 200 Rs a little less than $2.
Just a note, if you want to find the route yourself, be sure not to accept the help of locals. They will expect a tip.
We knew it and didn't mind. Between the 8 of us I think he did pretty well, I don't know what the others gave him, but 2 bucks to show us the way was a bargain for us.
Dave said that there probably used to be signs, but how would the locals make any money if the trail was well marked?
We ended our walk just as the rain came down and it was back to our Guesthouse to relax and of course, have some tea.
We are in Sri Lanka's Tea country after all and it is delicious and maybe just a little addictive.
Read More
Scuba Diving in Maldives – A Beginner's Journey from Trepidation to a Life's Lesson
Rock Climbing in Railay, the Final Day