Hikkaduwa Sri Lanka is a beach lovers paradise.
White sands and blue seas attract people from all over the world to its shores on the Indian ocean.
For surfers, it is the perfect spot to try your hand at the board. Mellow, sandy breaks make it a pleasure for novice surfer to practice their turns on the surfboard.
The town has a surfing town vibe. Beginners and experts alike make their way to Hikkaduwa at one point or another during their travels through Sri Lanka. While the waves may not be the awe inspiring ones of Bali or Hawaii, they are certainly an attraction for surfers.
The Hang Out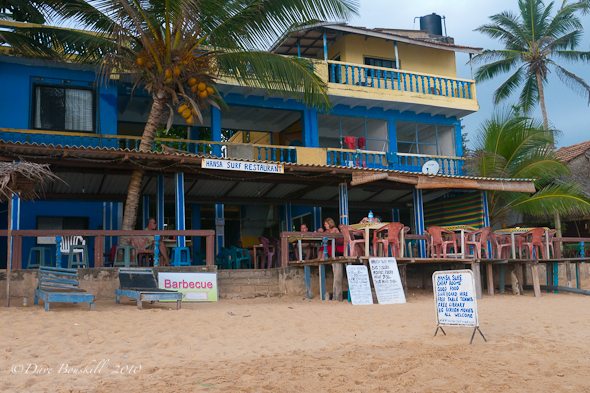 The Hansa Surf Hotel is packed with sun-bleached blonde and tanned beach bums watching nightly surfer movies. The hardcore surfers hang out here swapping stories, while the wannabes stop by to eavesdrop on their conversations.
We try to blend into the middle of the road crowd. We have done this surfing thing before, so we are not quite newbies, but we are certainly not able to brag about actually catching a wave and barreling our way through a pipe.
You can keep an eye out for some talent on the coral break just to the North of the shop and chuckle at the pasty white tourists trying their hands to the South. We are part of the latter group I must admit, but we are slowly becoming less white and more of a reddish brown.
The Lesson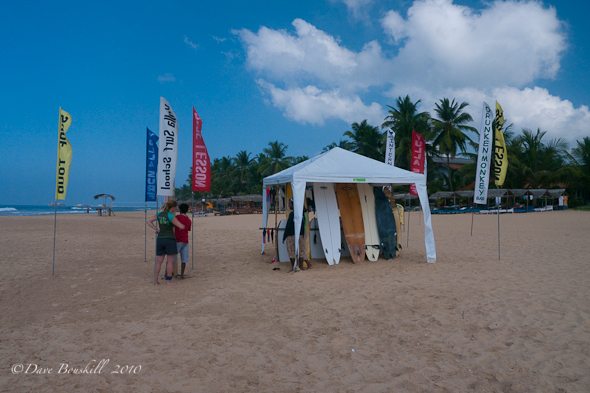 Dave and I had a blast working on our turns with The Funky Monkey guys. They have a tent set up right on the beach and offer lessons for 2,000 Rs for an hour. It is worth it to take a lesson at first to learn when to stand on the board. They will push you into the wave and tell you when to stand.
You barely have to think. Just lay down face first on the board and wait for them to propel you into the surf.
We had attempted surfing in Bali before, so it was a bit easier for us to stand on our board. We were both standing on the first try and spent the rest of the hour staying on the board for longer periods of time.
We were definitely getting the hang of this surfing thing and have seriously considered extending our visa to stay longer on the beach!
Now if only we could learn how to turn.
They told us we need a few more lessons and we will be pretty good. At $40 bucks a day that pretty much eats into our budget, but it is tempting to learn from the pros and eventually become the king and queen of the beach.
With a little practice, people will soon be swooning over our talent and surrounding us for autographs just like Kelly Slater.
Or we could just go on with the rest of our adventures.
We have to go around the island for a couple of weeks to see some amazing sites, but we are planning on returning to Hikkaduwa to work at becoming one of those bleached blonde experts that we see in the surf shop.
It is great fun learning to surf in Sri Lanka. The water is shallow, so you can touch bottom the entire time you are out at sea. It is far less effort than the giant waves of Kuta Beach Bali.
Having surfed both Bali and Sri Lanka's easy waves, we recommend learning to surf here instead.
Will experts be satisfied?
If you are an expert, I don't think that Hikkaduwa is the place for you. There are other areas on the island with better breaks such as Arugam Bay. But from what we have learned, there aren't the great world class waves of Australia here in Sri Lanka.
But we don't care, for Dave and Deb, Hikkaduwa is just about the perfect place for a surfing adventure we can think of. Friendly people, beautiful beaches and fine seafood. What more could we ask for?
Read More
Leopard Spotting at Yala National Park, Sri Lanka
12 Awesome Things to do in Sri Lanka
Carabao Island – Why it is Not Just a Boracay Island Side Trip
You Might Also Enjoy