We arrived late at night to Christchurch, New Zealand not sure what to expect.  Usually, when going through immigration, the foreign passport holder line is packed with people. Tonight this was not the case.
The Aftermath and Aftershocks in Christchurch
Our half empty flight from Melbourne contained Native New Zealanders coming home to see their loved ones, emergency workers coming in to help with the relief efforts and us.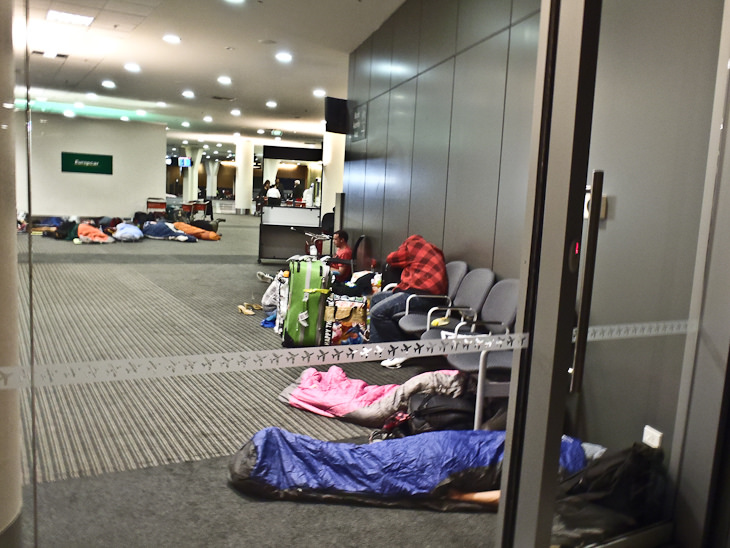 Stepping out of the arrivals area, we were surprised to see several groups of people camped out in the terminal waiting for flights to leave the country.  We didn't realize that people were still trying to leave town this long after the earthquake struck.
Our taxi driver told us that he read as many as 4000 people per day were leaving Christchurch.  We wondered how bad things must be if people are sleeping on the floor of the airport trying to flee the country.
City Centre
Driving into the city centre was an eerie feeling. Much of Christchurch is without power and as we looked out our window we could see the destruction of the devastating earthquake that struck just a few days earlier.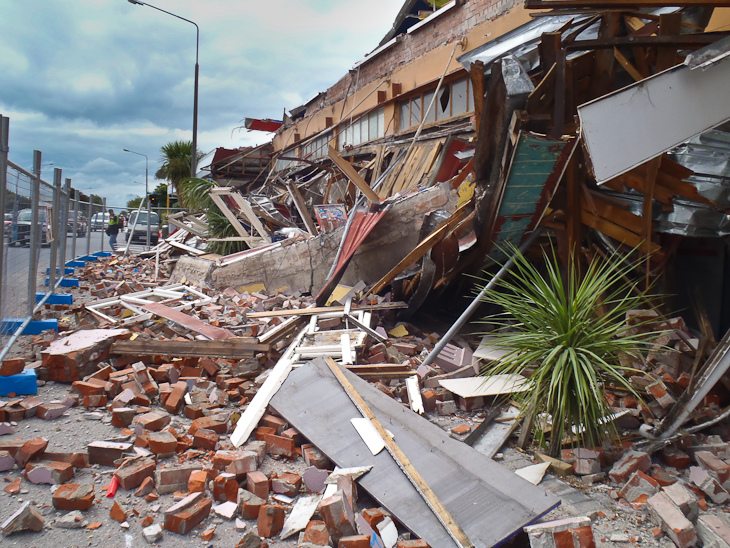 Buildings are crumbled, roads are buckled and military forces guard the main emergency area that is off limits to anyone trying to enter.  We drove over what appeared to be a large speed bump, but then realized that it was a crack in the road that came apart during the deadly quake.
Christchurch is in a state of emergency.
As our driver stated, it looks like a war zone. Yellow emergency tape is strung across intersections with tanks and police standing guard to make sure nobody enters.  A curfew is in place and residents living within the area are not allowed out of their homes after dark.
As of 2 days ago when we left Bangkok, the death toll was 75 people with nearly 300 missing.  Today there are 113 of 223 missing. And emergency efforts are still in full force.  Large boxes arrived on the plane with us with stickers on them stating "For Christchurch Emergency Efforts."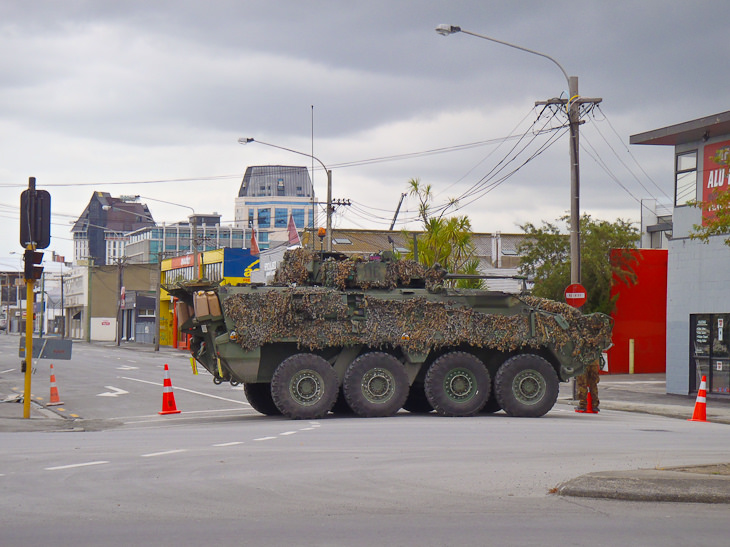 We aren't the type to run towards natural disasters or emergency zones.
Our trip to Christchurch was planned before the earthquake happened. We tried to make alternative plans to fly in at a later date or to a different part of the country, but almost everyone else was trying to do the same thing and we were forced to continue on with our plans.
In three days we will be continuing on from here to start our tour of the North and South Islands but for now, we are in the middle of a city trying to recover from a terrible tragedy.
Christchurch has hundreds of search and rescue specialists coming into the country and they have a very organized rescue operation in place.   We have not come with grand delusions of helping.  Emergency workers are in the destruction zone doing their job and if anyone tries to enter the area, they will be arrested.
People without skill can end up doing more harm than good.  No we are simply here because it was on our travel plans to come here.
Epicenter
Our original hotel was located right in the epicenter of the disaster zone that is off limits to everyone. Originally we read that it was being used to house emergency workers, but now we think that it must be evacuated as it is right next to The Grand Chancellor Hotel that is about to collapse.
We had to make alternative arrangements for another place to stay and found a hostel that is still open just beyond the no entry zone.  The Old Country House on Gloucester Street is open and has power.  We are so close to the emergency zone that our taxi driver had to find an alternative route to take us in as the road leading to it is sectioned off and guarded by military.
Aftershocks
He stated that the aftershocks are what is the most unsettling and it was only a few minutes after entering our room that we felt our first tremor.  We have never been in an earthquake before and this aftershock seemed quite large to us. Our room shook for a few seconds and we looked at each other and realized what just happened.
We were awakened two more times throughout the night by some milder aftershocks but soon the jet lag took it's toll and we fell to sleep undisturbed for the rest of the night.
It is going to be a difficult time for the people of Christchurch.  Tourism is a large part of their economy and people are always scared off by a natural disaster.  Now that it has been struck twice in the same place, we wonder how long it will be before tourists make their way back and how many residents will seek out a new home.
It is now morning and we hear laughter in the hallway.  Today, we are going to venture out and have a look at the city, hook up our iPhone so our families can connect with us if they are worried and we are going to see if we can get in touch with some friends that live here.
Read More
Solo Female Travel: Essential Safety Tips
42 Amazing Ancient Ruins of the World
Incredible Greenland – The Final Frontier for Adventure Travel
You Might Also Enjoy