I had first heard of Bali in the movie South Pacific when I was a kid. I love Musicals. I went to school for Music Theater and performed as a singer on a Cruise Ship, in a review in Japan and Miami and have performed in shows across Canada.  It seems that wherever we travel to, I always have a song about the city or country in my mind during the entire time that we are there.
Bali, A "Beginners" Surfers Paradise
Bali was no exception and I had Bali Ha'i, Some Enchanted Evening and Cockeyed Optimist playing over and over in my head for weeks.
I never thought that I would actually make it to Bali, it was always a dreamland to me. A place of perfection that I had seen in technicolor on a Sunday afternoon.  Yet here we were and not only that, we were fulfilling a life long dream of Dave's.
I thought of songs when it came to Bali and Dave thought of Surfing.  Who was the original adventurer in this relationship?
When we made it to Kuda Beach, Dave had one thing and one thing only on his mind. Learn how to surf.  We walked down to the beach from our hotel on Poppies Gang II and started scouting out guys that could teach us.  No big hotels or organized tours for us.
We wanted a local surfer showing us the ropes.  We met Ronald. A soft spoken young man from Sumatra that had started a small business with a few surf boards lined up on the beach.  It turns out that the local surfing instructors weren't local at all. But he gave us a great deal and told us that he would teach us until we were standing and comfortable.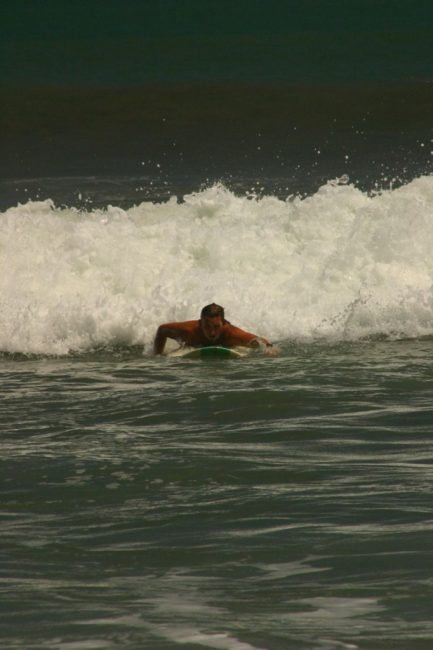 That is a much better deal than going through a hotel. They have a set time frame and you are learning in a group environment, so you are not guaranteed to stand.  With Ronald, it was Dave and I alone in the surf with him pushing us a long, helping us up and showing us what to do.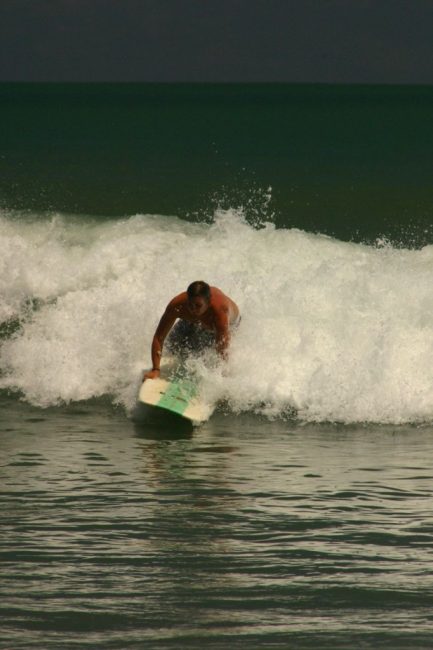 If anyone out there has never surfed before, let me be the first to tell you..It is hard!!! It is exhausting too.  Paddling out looks so easy on TV, but trying to break through the surf is one of the most difficult things I have ever done in water.  The waves are crashing overhead and you try to dive under them only to be swept back to shore.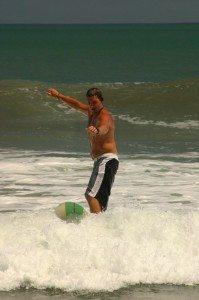 We swallowed a couple of liters of water to say the least, but with Ronald's patience and skills we both managed to stand on our boards. We were out all morning until well into lunch.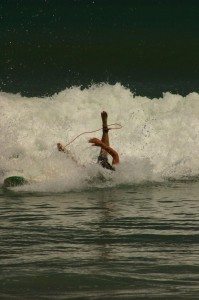 Tip: Wear a t-shirt or board shirt when surfing.  It helps to prevent sunburn, but more importantly chafing from the board.
Ronald stood out in the surf with us and watched the waves come in.  He had the eye to know which one was going to crest at the right time and would yell at us to paddle.  He was close by and just at the exact right moment, we gave us the old heave ho that helped with our momentum to be able to stand up.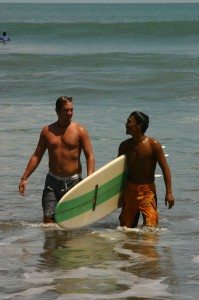 I have no idea how people can ride a wave. We managed to stand up and it was one of the most exciting feelings in the world, but there was no way we could do much more than stand and balance.   It didn't matter though, I was imagining that I was Kelly Slater riding a inside a giant tube until I unceremoniously fell off the board close to shore.
After our exhausting morning, we went back to our bungalow and crashed for a couple of hours. Thank God for ceiling fans because it was hot.  I just love the accommodations in Bali.  Every room is a separate bungalow with ornate stone work and big wooden doors. We always chose to stay in one of these rather than a hotel room.  Every place provided excellent hospitality and some even had tea waiting at our room each afternoon!
The next day Dave was ready to go again.  Since it was his dream adventure more than mine, I wanted to get some shots and video of him in action to remember for the rest of his life. If you want to see Dave Surf, he is about 1 minute and a half into the video. Fast Forward to check him out!
Here is an important tip for anyone visiting Kuta Beach.  Do not hang out on the beach. You will be pestered by touts to no end.  I was in the middle of video taping and I had people standing right in front of me trying to sell me chess boards, braid my hair and give me a manicure. I had one lady go so far as to grab my hand and put nail polish on it and then start asking for money.
I now understand why so many hotels have pools.  It is really the only safe haven for tourists.   We tried to bring our sarongs down to the beach one day to catch some rays and we never had a moments peace. We finally had to pack up and go back to our hotel to lay by the pool.
However, make sure to get down to the beach at sunset. It is absolutely beautiful and that is the time that you will see some great surfers riding the waves.  It is an incredible time.  Local kids are playing football, people are surfing and boogie boarding, swimming and walking.  The beach is filled with people and as long as you keep moving, you won't be bothered too much.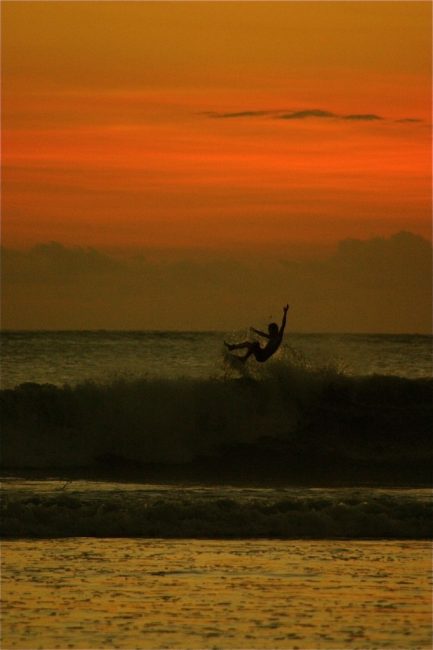 Kuta Beach is also great for shopping.  We replenished our entire wardrobe at the stalls that line Poppies Gang I and II.  If you like beach and surf wear, this is the place to shop.  Barter hard like anywhere in South East Asia and you can get some great deals.  If you don't like bartering, check out this previous post on how to bargain when traveling. Dave and I have a blast shopping when we travel, because we make it a lot of fun.
So, there you have it.  Another Life List Adventure is checked off the list and Dave and I were off to Ubud to try our hand a completely different adventure.  Climbing a Volcano. But that is another story.
You Might Also Enjoy