There has been a lot of talk about the new StumbleUpon these days. We've been big StumbleUpon supporters since starting our blog and we've been exploring the new look and getting to know it better. This isn't an article about how to use StumbleUpon, if you would like to learn more, you can read our post, How to Use StumbleUpon. This post is about exploring and explaining the New StumbleUpon.
Number 1 Social Media Referrer
StumbleUpon is still the number social media referrer to our website and what we love about it compared to other social media sites like Twitter or Facebook is that it generates views for months after a post has been submitted. Once one of our posts gets into the StumbleUpon system, it stays there and keeps sending consistent traffic our way.
Traffic Spikes
The first thing that we have noticed since StumbleUpon changed their algorythm is that those crazy spikes in traffic have stopped. This is a bit of a blow to the ego because in the past we have had spikes out of the blue where a post suddenly gets 10,000 views in a day.
However upon further inspection, we have seen that we get a steady number of referralls from StumbleUpon each day, but it is more consistent. Instead of one large spike of traffic and then nothing, we consistently see a couple of thousand visitors each day spread out over several different posts and the good news is that they are staying longer.
People have complained that SumbleUpon traffic isn't quality traffic because there is a high bounce rate. We have said again and again that if you are consistent with StumbleUpon, you will eventually see traffic start to even out and that has happened to us. We can't know for sure, but we suspect that the new algorithm is sending our posts to a more targeted audience that is more likely to be interested in our content.
How StumbleUpon Works
The more you use SU, the more it understands your likes. It takes a while for the program to understand your tastes, but if you are consistent and a regular user, it will send you content that you are interested in.
Thumbs Down

When we first started using StumbleUpon 3-years ago, we weren't afraid to give a post a thumbs down. This doesn't mean that StumbleUpon is going to penalize said article, it means that it is not going to send you those types of posts anymore. It has worked for us. And when we get things in our stumble stream that really come out of left field, we let them know it. We give it a thumbs down and move on.
The 500 followers rule
The people that follow you are now called connections. You can see them all in one spot on your profile and the feature that I love is how you can see who was recently active. We find it important to connect and stumble with people who are active on StumbleUpon. I may even go through their profiles to see what they've been looking at recently.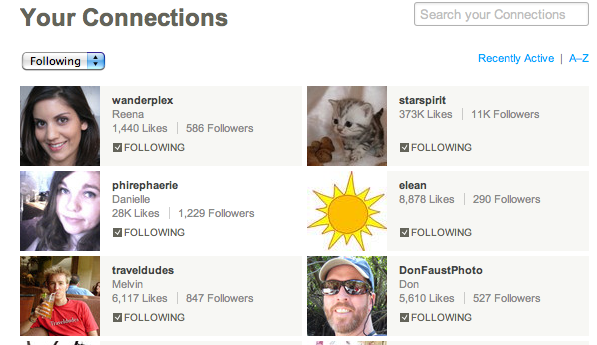 The rule of following 500 people is still there. We asked the people of StumbleUpon about this and they said that it is their way of keeping spam down. Really, how can one person follow more than 500 people and give them the time they deserve. We have a difficult time with this rule as we are people that like to reciprocate goodwill. When someone follows us, we like to follow them back. We do it with twitter and are following a whopping 25,000 people which is ridiculous. We can't possibly know what all 25,000 people are doing. Following that many people is useless to us except for the fact that we are the type of people that like to reciprocate and "be nice"
With StumbleUpon, we don't have a choice and it makes our lives a lot easier. If we don't have the same taste as one of the people we follow, we unfollow them to make room for a stumbler that we connect with. Since the new StumbleUpon started, we've been going through accounts that aren't active and unfollowing them so that we can follow back the new and active people. Is that the right thing to do? For us it is. We want to interact with the people that follow our stumbles and be able to see their stumbles too.
Differences from Old to New StumbleUpon:
Design.
The New StumbleUpon has an updated look that is very much in line with today's internet users. It's visual and full of pictures. When I open my account, the home page displays my interests a colourful array of photographs, enticing me to go ahead and click on one of them. Be it travel, movies, photography or sports, boxes of photographs are waiting to remind me of the interests that I selected. It is good to see the categories that I selected of interest, I've never looked at this since I originally signed up and have since updated what I am interested in reading about. With the New StumbleUpon, my interests are displayed each time I log into my account.
Explore an Interest
On the home page you can now explore an interest. When I type a search into the window, StumbleUpon gives me a choice of categories to select and start stumbling through. When I searched for the Academy Awards, I was also lured to check out more in the British Academy Awards as well. The search "Academy Award" gives me all kinds of different options to choose from.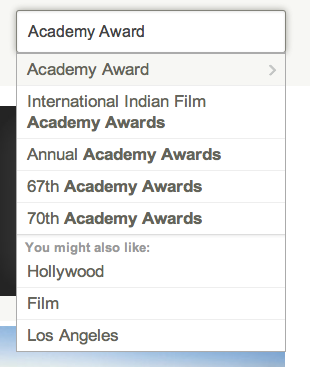 Shares:
When you follow someone, you automatically accept their shares. In the old StumbleUpon, when you followed someone you had the choice to accept shares or not. Now when you follow someone, you automatically accept their shares. This makes sense to me, why follow someone if you don't want to accept shares from them. For those of you who don't know, accepting shares means that people who you follow can send you links to articles for you to check out and hopefully give a thumbs up.
Profile:
Additions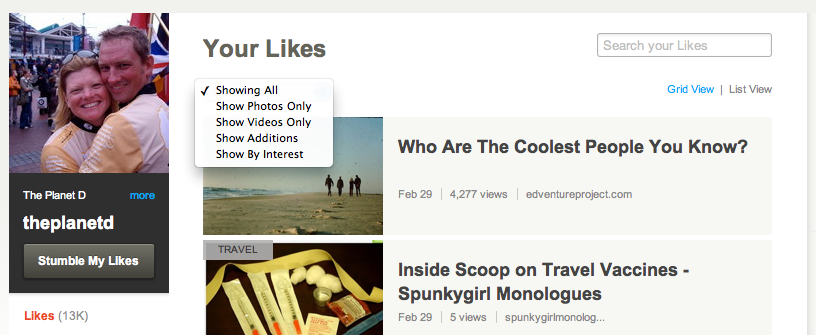 When you used to look at your profile, you would have the opportunity to see your likes and your discoveries. Now when you click on the drop down menu at the top of your profile, you will see a drop down menu giving you the choice of all, photos, videos, interests and additions. Additions are what used to be called your discoveries. With a search box allowing you to search your likes and breaking it down into categories, you'll be able to revisit those posts that you gave a thumbs up to all those months ago much easier.
Search Box
There is also a search box in the top right hand corner that allows you to search your likes by a specific key word or phrase. So StumbleUpon has been working to make searching easier.
Channels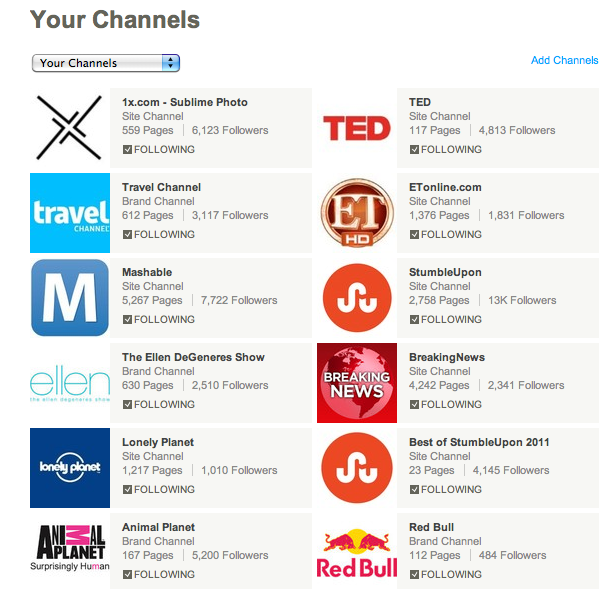 Channels is a new feature that allows you to see content from a particular brand, person or website that you already know. You can click on that particular channel and follow their stuff. As usual, StumbleUpon only sends you channels that it thinks you will like and if you want to follow someone or thing in particular you can simply click on browse all channels and start exploring.
StumbleUpon is very different from other social media sites and that is a good thing. It will never be about searching for something specific the fun of it is stumbling through posts and never knowing what you are going to get. I look at StumbleUpon as being inspired and surprised each time I log on. As I read somewhere and unfortunately I can't remember where so huge apologies "It gives you a roulette wheel of content sent to you in an organized manner" What does that mean? Well, StumbleUpon works at getting to know you. Once it figures out your likes and dislikes, it will still keep sending you random content, but all that content will be targeted to your likes.
I am still trying to wrap my head around what all the uproar and fuss is about on other blogs. It's still the same StumbleUpon, it's just better looking.
People have been arguing that they use StumbleUpon only to generate traffic and since traffic has fallen they aren't going to use it anymore. Some people have said that they are leaving SU and working on other social media sites. Like any application when a new algorythm is introduced, it takes time to settle in. Give it time and you will see results not only come back, but come back consistently.