Countries like Belize, Guatemala and Costa Rica are considered the top destinations in Central America. However, I am convinced that Nicaragua well deserves to be visited and is indeed highly underrated. And I have 9 fabulous things to do in Nicaragua that will make you want to put it at the top of your destinations.
I was not expecting much of this small country of which I knew nothing about, but I was positively impressed by it to the point that after my first visit in December 2013, I went again in 2014 and in 2015. Needless to say, I fell in love with it, so much so that I always recommend a visit to anybody that is travelling to Central America.
Reasons to visit Nicaragua
Nicaragua is known for its surfing, but if you are looking for other things to do, these 9  reasons to visit Nicaragua will entice you to put it at the top of your travel list in 2015.
It has gorgeous colonial cities
Granada is the perfect example of a colonial city: cobbled street, bright colours, magnificent churches, airy squares and great museums, this city on the shores of Lake Nicaragua, located at just one hour from the capital Managua is the country's biggest tourist attraction. León, two hours north of Granada (and one hour from Managua) may not be as well kept, and in fact is rather decadent and crumbling, but this decadence makes it even more gorgeous: the most intensely political city in the country is packed with young people, interesting museums and great art galleries and beautiful churches.
It is a volcano paradise perfect for adventures
Nicaragua is known as the land of lakes and volcanoes. There are 19 volcanoes in the country and most of them are active. Anywhere I went in Nicaragua, at least a volcano was in sight. Nicaragua offers some of the best volcano hikes in the continent (but it is better to hire a guide as the vegetation on some of them is so thick that it is easy to get lost). The tiny Isla de Ometepe (which can be reached by ferry from either Granada or San Jorge, 6 km east of Rivas) has its own two volcanoes – Maderas and Concepción. Nicaragua is also where volcano boarding, an adventure sport that involves sliding off the top of a volcano, was invented. Just in case one wants to try something new.
It has its own Caribbean hideout
Aside from the gorgeous beaches of the Pacific which are a paradise for surfers such as those around San Juan del Sur, Nicaragua has its very own Caribbean hideout in the form of the Corn Islands. At only 70 km from the Caribbean coast of Nicaragua, Little Corn and Great Corn are remote. Getting there may be a bit complicated – it involves travelling to Bluefields, on the Caribbean coast of Nicaragua, and then either flying or taking a boat to Great Corn Island and then another boat to the tiny Little Corn Island. But it is well worth the effort: picture pristine beaches, white sand, no cars at all, gorgeous seafood, snorkelling and diving.
It has great wildlife
Various kinds of monkeys, sloths, jaguars and ocelots all live in Nicaragua, where it also possible to spot numerous species of birds such as the great green macaw, the motmot and the toucan. Furthermore, sea turtles also nest on the coast of Nicaragua. The best part is that all one has to do is laze on a hammock at an isolated hostel to be able to spot this amazing wildlife.
The food is really good
Food in Nicaragua is not as varied as it is in Mexico, but this small Central America country has some great fruit and interesting dishes, such as vigoron (which is a dish served on banana leaves which is made of a cabbage salad, boiled yucca and pork scratchings) and quesillos (which are corn tortillas filled with thin slices of mild cheese and a salad of pickled onions and tomatoes, all wrapped together and over which abundant cream is poured).
People are really kind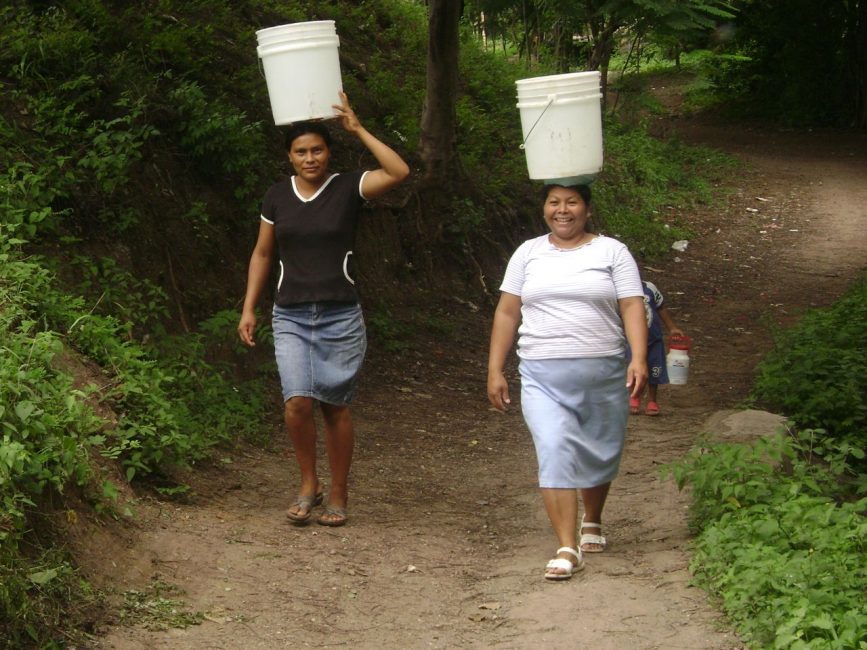 Nicaraguans are kind and welcoming and they are always willing to give a hand not only to each other but also to travelers. Poverty hasn't toughened the heart of these people, who don't try to take advantage of travellers but rather show pride for their own country. Where else in the world can you bump into a Christmas party to seek shelter from rain and be actually welcomed to join the celebrations?
It is dirt cheap
Compared to Costa Rica, Nicaragua is much cheaper. 5 dollars will land a backpacker a bed in a dorm, and 3 dollars will buy a large meal in a local eatery. A litre of beer costs 1.30 dollars. A real splurge meal will cost no more than 15 dollars. Transportation is also very cheap.
There are chicken buses
The crowded, old buses that have been driven down from North America are the most common means of transportation in Nicaragua. They are uncomfortable and on the slow side, but they are very cheap, they go everywhere and they are great to get a picture of the local life.
It is not crowded with tourists
Nicaragua is never crowded with tourists, not even in its peak season (December through March). I'd dare say that this is destined to change though, for more and more people are getting to know this amazing country.
Author Bio:
Claudia is from Cagliari (Sardinia) and is obsessed with travelling. A former human rights lawyer and academic, after devoting her life to the protection of cultural identity, in November 2013 Claudia decided to give in to her biggest passion and started travelling around Latin America, and she has hardly stopped since. Blogging came as a natural consequence, for Claudia wanted to let her family and friends be updated with her adventures.
Follow her travel blog at My Adventures Across the World
Social Media: Facebook and Twitter: @Claudioula