If you weren't out holiday shopping yesterday and happened to catch our latest blog post about this coming week, you may already know that we're giving away a photo a day until Friday. Our Kenya trip to Africa has been a rousing success and we have come face to face with all the Big 5 animals of the Masai Mara – including this guy, The African Cape Buffalo.
For the next 6 days, we'll be putting up a photo of each of the Big 5 animals plus a cheetah for you to download each day. At the end of the week, we'll be giving one lucky winner a print of their choice. All you have to do to enter to win the print is to scroll down to the bottom of the post and follow the tasks in the widget below.
But let's talk about the Cape Buffalo for a moment…
The Cape Buffalo is one of the easiest of the Big 5 to spot after the elephant. When you go on safari, you will probably see several of these on your first day. While it's nearly impossible to catch a glimpse of a lion, leopard or rhino, the elephant and buffalo can be seen from miles away. Don't let the fact that they're common fool you though, they are fascinating. The cape buffalo is one of the most dangerous and least understood animals on the Savanna. They are a danger to humans killing over 200 people per year. They have no relation to the water buffalo of Asia or to any domestic cattle. These guys are impossible to tame and they are ferocious.
Our truck came within meters of the Cape Buffalo and I will admit that when you look them in the eye, than can be very intimidating. However, as I look at this photo, they are just so darn cute! Look at that face and those huge wide eyes. It's hard to believe they are one of the fiercest animals on the plains of Africa. I don't think I'd be saying the same thing if I met one on foot, but while peering out through the roof of our safari van, we felt safe and sound and free to snap photos and videos for as long as we wanted. So from our time snapping away, enjoy this free download of your very own, and first of the Big 5 photos.
The African Cape Buffalo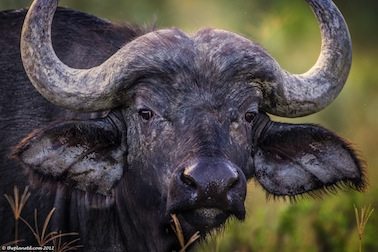 Download your Free Wallpaper Here.
We were sent to Kenya with Expedia.com to search for the Big 5. Expedia held a poll on their Facebook page and the fans spoke, they wanted to see ThePlanetD on Safari. Stay tuned for more #ExpediaThePlanetD in Kenya and follow along on Twitter.
Special Thanks to our guide Makau of Journeys International for his patience and expertise in finding wildlife and putting up with our long photo shoots of each animal,