"What are you planning on doing in Jaipur?" our hotel manager asks us. "Not much." We say. "Can you point us to a mall?"
Travel Fatigue, Have You Ever Had it?
We are two months into our trip in India and travel fatigue has already kicked in. It has been a non stop adventure since arriving.
We have been on backwater cruises, taken yoga courses, have attended numerous festivals, rock climbed and been on safari to name a few. But right now all we want to do is rest.
We don't want to see the Pink City, we don't want to see the Monkey Temple or Amber Fort. We just want a mall.
We want to barricade ourselves in our hotel away from the noise and the hawkers. We want to give our minds a rest.
It is exhausting fending off hawkers everyday. It is exhausting answering the same questions day in day out.
Where are you going?
Where are you from?
Have you seen the temple?
What is your name?
One photo please?
One Rupee please?
First time to India?
We usually try to be polite. We try to answer their questions with a smile. And we make a point of not ignoring people when they say hello.
Sometimes it is a little difficult.
Once one person leaves, another person comes along to ask us the same set of questions all over again. It has become progressively worse in Rajasthan.
It isn't so bad when it is someone that legitimately wants to say hello or practice English, but mostly it is a person wanting to be our guide or a rickshaw driver that will ask the questions and then go in for the sales pitch once he thinks that he's got us hooked.
Creature Comforts
When we finally made it to the mall it was a little bit of heaven. We walked around its sanitized aisles in air conditioning. We didn't smell exhaust fumes or urine and we didn't have shop keepers yelling at us to come inside. We were allowed to just be.
We found a McDonalds. We went inside and had a McVeggie Meal, we read the paper and we enjoyed the familiar taste of their famous fries.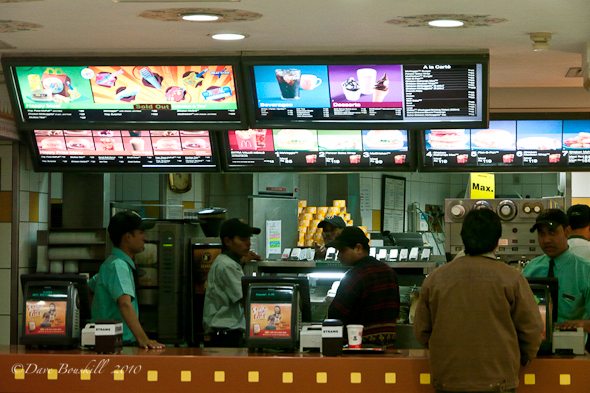 We then went to Baskin Robins and had ice cream. I had been trying to get some ice cream for days. Every time I went somewhere where it was on the menu and ordered it, I always got the reply that they were out, finished.
We stuffed ourselves and promptly felt sick. It is not wise to gorge yourself on western fast food when you haven't had it for awhile.
We have been in Jaipur for four days and we haven't seen one tourist site.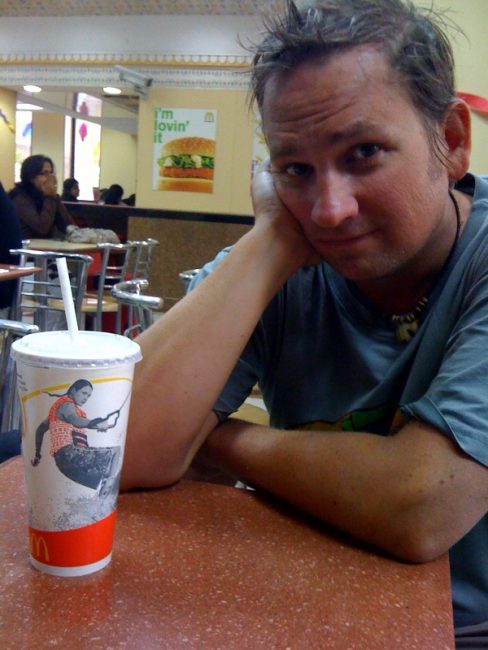 Instead we have watched Sherlock Holmes and Twilight, we have sipped lattes at the Barista and we have had our dinner at Pizza Hut. It was so nice to have a simple salad.
We didn't seem to be alone in our need for the familiar. We saw many travel weary faces sitting in McDonalds and Pizza Hut. People read books and wrote in their journals.
Some people had their heads in their hands.
Is Jaipur the stop where everyone just runs out of steam in their travels? It certainly seems like it to me.
We can't bring ourselves to do anything. I am sure that the forts and palaces are beautiful and I am sure that years down the road we will say that we should have gotten ourselves out of bed to take a look at them, but I don't think that we will make it to much while we are here.
We leave for Agra in two days to see the Taj Mahal.
The adventure is about to resume whether we want it to or not.
Have you suffered from travelers fatigue on your journeys?

Have you missed out on a famous site because you were just not in the mood to leave the hotel or the coffee shop?

We would love to hear some of your experiences and how you got yourself back on track and in the mood to travel again.
Read More
Holi Festival in India 2019: The World's Most Colorful Celebration