TBEX Toronto was a rousing success. 1300 travel bloggers from around the world gathered at the convention centre to celebrate the wonderful world of travel blogging. We caught up with friends old and new, made some travel plans for the coming year and learned a thing or two as well.
TBEX Keynote Presentation
The weekend was outstanding and it started off with lunch with Johnny Jet.
He and his beautiful wife Natalie were kind enough to host a travel bloggers day at the hotel.
GM Mickael Damelincourt and Social Media Co-ordinator Erica Fox were fantastic, I could totally see myself hanging out with them both.
It was then off to the SATW's gathering at Wayne Gretzky's.
We've recently become members of the SATW but somehow they didn't seem to know that fact and kept saying to us, "you'll have to join" "We'd love to have you as members" Thanks so much guys, we're glad you like us and we're already proud and happy members.
Speaker's Dinner
It was a short stay at "The Great One's" restaurant because we whizzed off to The Four Seasons for the speaker's dinner.
Wow, the new Four Seasons is gorgeous and it was so awesome to catch up with Halla Rafati, the Director of PR at the Four Seasons who we met in Jordan. She is now working in Toronto and we're looking forward to doing dinner with her again soon because not only is she an elegant lady, she's a fun gal to hang out with!
The opening night party was short and sweet for Dave and I as we had two presentations the next day so we sadly missed most of the festivities.
Saturday morning started with the Expedia panel where I took the stage with Sarah, Anne of Hip Travel Mama and Jesse from NFFTY
We talked about our past year working with Expedia and the amazing new Expedia Viewfinder project that launched last week. Sarah made the announcement that they will be taking freelancer pitches from bloggers starting in July, so that's great news for everyone.
Dave and I then disappeared for a couple of hours and hid in the main Keynote conference hall to practice our presentation on stage. Mike of BlogWorld was the best. He let us do a dry run with lights and mics while practicing with the controller to make sure we were comfortable on stage.
He asked us what music we wanted for our introduction and immediately we asked for Europe's the Final Countdown. We love Arrested Development and we never get enough of GOB Bluth's character. Whenever he does his magic show, he blasts The Final Countdown, and we thought that would definitely get us in the mood.
After a Rob Ford joke (Sorry, but how can you ignore the fact that our Toronto Mayor may or may not be smoking crack?) and a swipe at our losing hockey team (the Leaf's haven't won the Cup since 1967) we got down to business.
Our presentation was about the Evolution of Travel Blogging. Everyone seems to forget that travel bloggers weren't making any sort of living a couple of years ago. People had to work really hard to come up with creative ways to make a living and to be recognized in the travel industry. So much has changed in such a short amount of time and it was the hard work of the veteran travel bloggers who have opened the doors for everyone.
Photo courtesy of Expert Vagabond
The goal of our presentation was to remind everyone that we are in a business that is just starting out and it's time to be creative. Because Travel Blogging is in its infancy, there is room for people to create their own projects, come up with new ideas and follow the lead of people like iAmbassador. Let's all be inspired by the great things that are going on and find ways to join the success.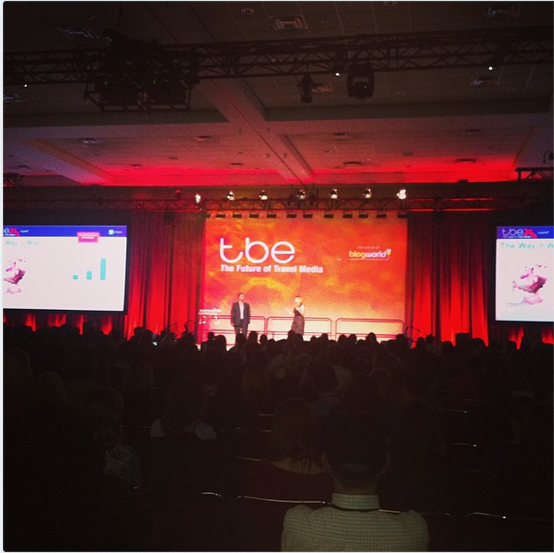 Companies like Expedia, American Express Canada and HouseTrip are leading the way.
Destinations like Blogville in Emilia Romagna in Italy and Lanai in Hawaii are doing innovative campaigns and bloggers like Keith and Melvin are taking initiative to try new things…and finding success.
More companies are going to follow their lead and see that bloggers do have value and that is going to open up a lot more opportunity for more bloggers to find.
TBEX Wrap Up
By the time the weekend was over, we were energized. Even though this TBEX was gigantic, it felt like old times. I
saw people excited about travel and blogging again. I saw people collaborating and exchanging ideas.
I saw people with big smiles on their faces and I saw new faces who were both overwhelmed yet psyched to get started and take action. We had bloggers tell us that they were feeling a little stale before this weekend, but now feel a spark again and are ready to make some changes and make things happen.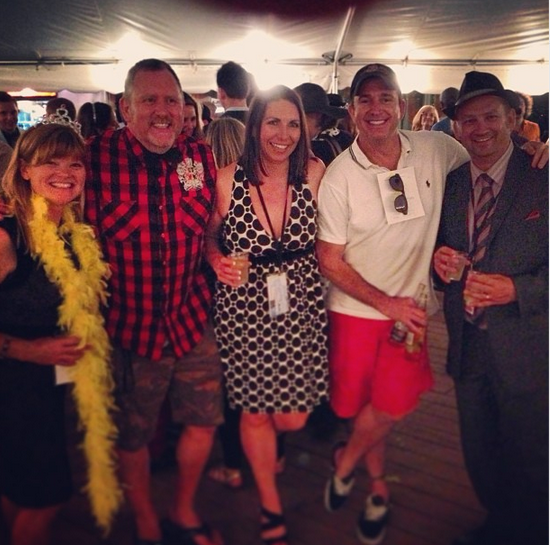 We had the chance to hang out with our Toronto friends who have come to feel like family, our Expedia Viewfinder gang who have also come to feel like family and it was a mini Princess Cruises reunion too.
We've seen Rick, Beth and JD a few times since #FollowMeAtSea and whenever we see each other again, it's like no time has ever passed.
Wow, that's all we needed to hear to know that Dave Cyncin, Rick Calvert and Mary Jo Manzanares did their jobs well. If a conference can motivate the new and re-inspire people who've been in the business for a while…well they can pat themselves on the back.
We love that we've been able to grow with our friends and all enjoy our success together. Most people that we started out with in this travel blogging world have all had tremendous success. Who would have thought that a few short years ago, we'd all be where we are today? I can't wait to see what the next wave of travel bloggers come up with. We've come a long way baby and now the sky is the limit.
Now, we're heading off to see Iron Man or Star Trek before we catch the train outta Toronto later today. Time to chill out and relax and enjoy the moment. It was the ultimate high all weekend long and now as I type and reflect early in the morning I'm grateful for everything. What we and our community has accomplished in a short amount of time is astounding. How far we've all come and how much farther we are going to go.
See memories of TBEX Past for more TBEX fun.
You Might Also Enjoy