Santorini is known for it's sprawling whitewashed villages clinging to the high sea cliffs overlooking the Aegean Sea. But there are so many places to visit in Santorini that it will surprise you with just how much you can do on this gorgeous Greek island.
While many people will say that Santorini is too touristy and crowded, we are going to share all the reasons to visit Santorini and make it your first stop on your Greek Islands tour.
Reasons to Visit Santorini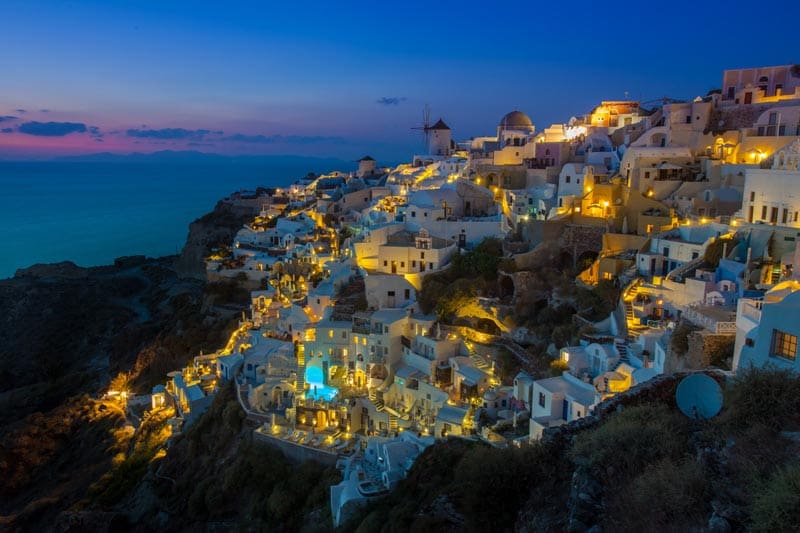 We gave ourselves eight glorious days on the island of Santorini and let me tell you, this is the way to do it.
Skip the cruise ships that pop in for a three-hour tour, and instead book an entire week on the sexiest stop in the Greek Isles. It's just a short half-hour flight from Athens yet a world away.
1. Santorini was Made for Couples Travel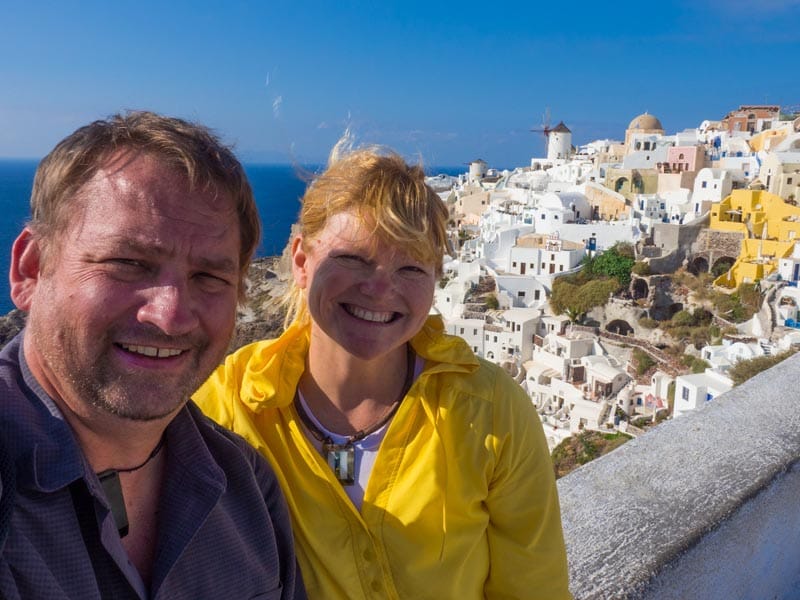 Why is Santorini the perfect romantic getaway? Santorini was made for couples.
I don't think Dave and I have ever been to a more romantic destination than Santorini, Greece.
It's a fairytale island that will take your breath away the minute you take your first peek out over cliffs from the picturesque towns of Oia, Imerovigli, or Thera.
We have never witnessed such a picture-perfect setting. Azure blue domed rooftops and whitewashed buildings create rolling waves dancing along the high cliffs.
There is nothing more romantic than sitting by the infinity pool watching the sunset as the water plunges seamlessly into the massive caldera below created by a volcanic eruption 3600 years ago.
Santorini fits the bill with beaches, international travel and being a very exotic location.
2. Romantic Rooms with a View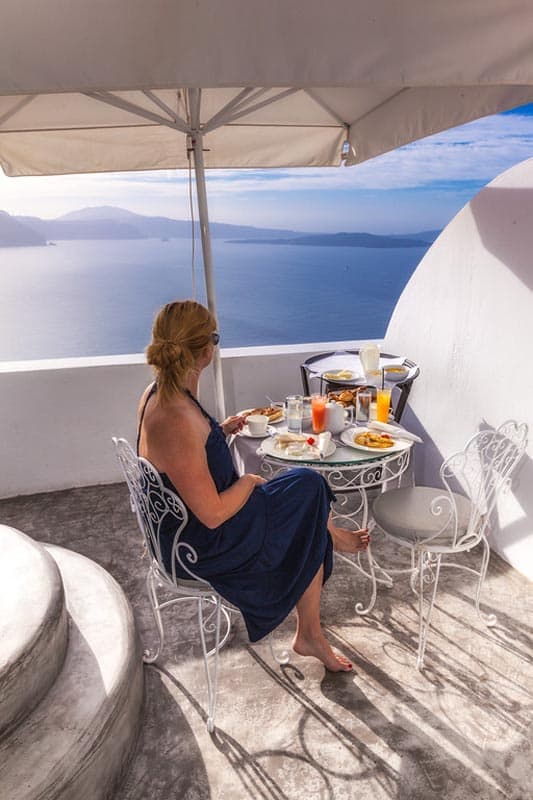 Have you ever had breakfast brought to your room where you eat it on your balcony overlooking the incredible views of the Aegean Sea? In Santorini it's common.
Each evening we ordered our breakfasts of assorted breads and cheeses, Greek yogurt and honey, fresh farm eggs, and rich roasted coffee.
It was delivered to our room and displayed on our balcony for our preferred time and then we were left in silence to stare into each others eyes reminiscing of the evening before.
Our days started off with pure perfection and luxury.
Long leisurely mornings watching the sunrise, lounging in our robes and rejoicing in the luxurious duvets and beds of the cave and boutique hotels. Our rooms were so luxurious we didn't want to leave.
Often times we didn't leave. Some days we'd stay in bed sleeping late before having a late brunch. We'd then saunter to the infinity pool plunging over a cliff where we'd sleep under the shade.
We then took our time planning each day to the fullest. We had a full seven days on the island so we never had to rush. With our rental car at hand (that only £150 for the entire week!), we set out to explore this beautiful island one day at a time.
3. Perfect Sunsets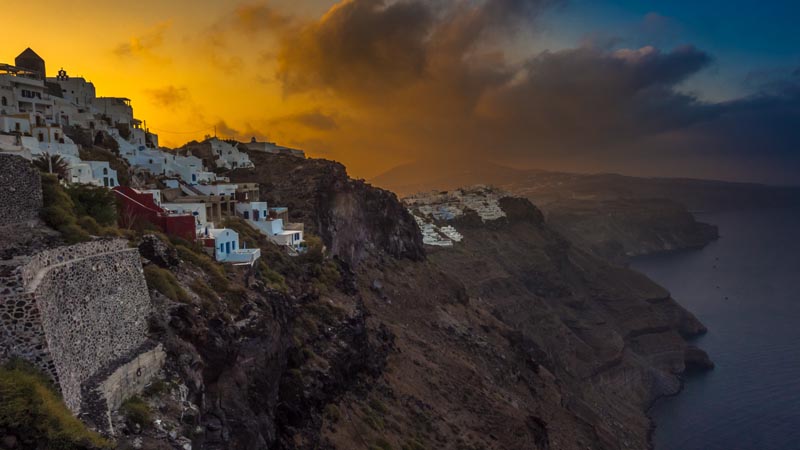 Pool at Andronis Luxury Suites in Oia
4. Stunning Beaches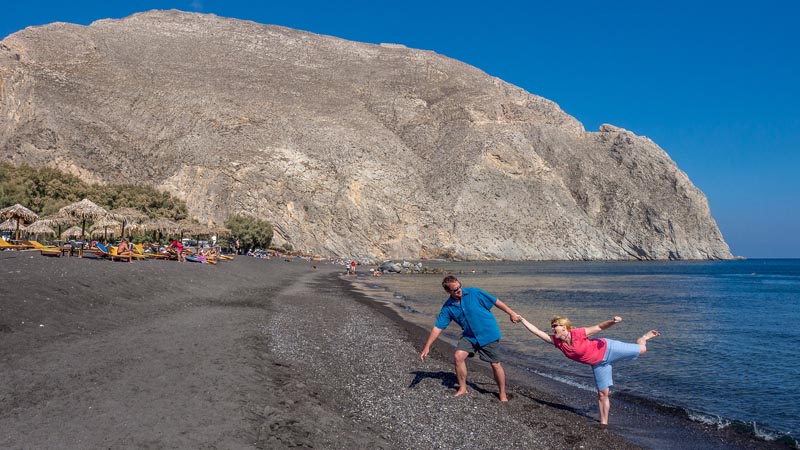 Sometimes we'd go to Black Beach and sit under an umbrella sipping cappuccinos.
Other days we'd go for long walks on the sand or explore the rugged terrain of Red Beach.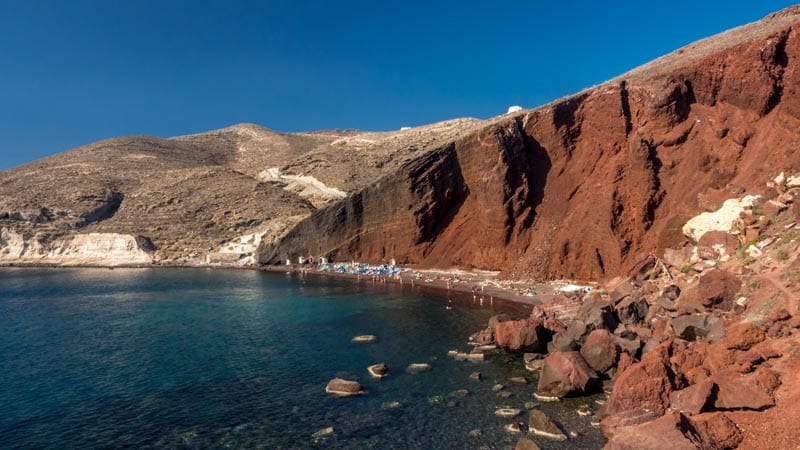 Famous Blue Domes of Santorini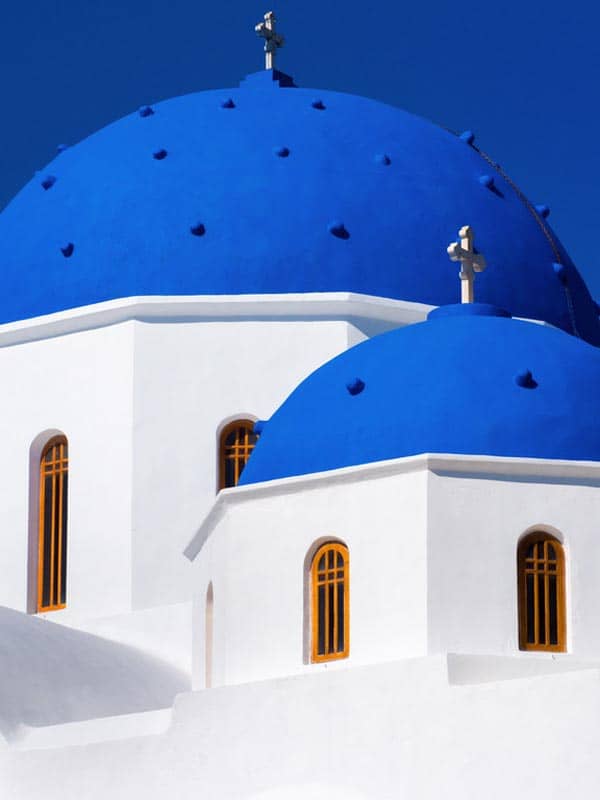 Dinner Overlooking the Caldera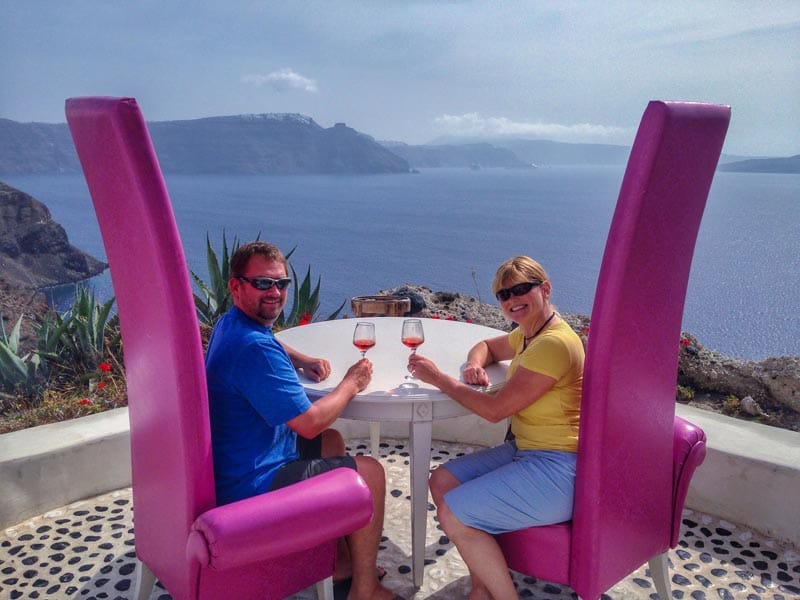 We loved splurging and blowing the diets on delicious Greek Cuisine. It was an adventure choosing each restaurant with the billion dollar views.
Even Greek cuisine is sexy. Savoury dishes with a base of creamy cheese and yogurts, layered filo pastries, and decadent fish and meat dishes.
Every night we'd order something different from saganaki to souvlaki. Even the names of their food is sexy!
Glorious Sunset Sailing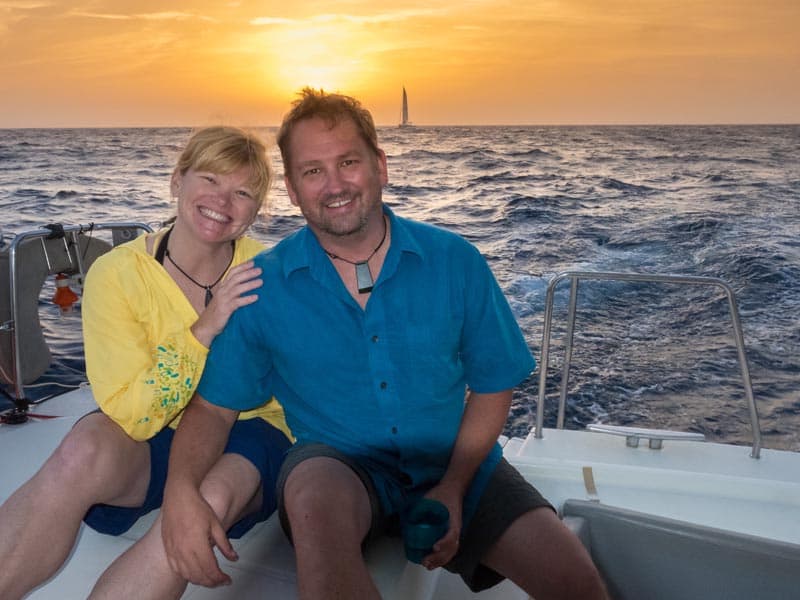 We took a sunset sailboat tour to explore the caldera. After a quick ride to the pier, we took our seat at the front of the catamaran, sitting arm in arm as we sailed along the coast gasping in awe of the giant cliffs dotted with sprawling white villages.
Ancient History
We explored ancient ruins and smaller quiet villages.
Cave Hotels
In the town of Megalohori we had our own cave hotel villa with private pool. Here we had the chance to shop for local cuisine and wine.
We then locked ourselves in our private getaway.
Nobody could bother us and we had our own Greek snacks and drinks at hand as we lazed in the sun free from anyone else intruding on our secluded getaway.
Suggested hotel – Suites of the Gods
Shop 'til You Drop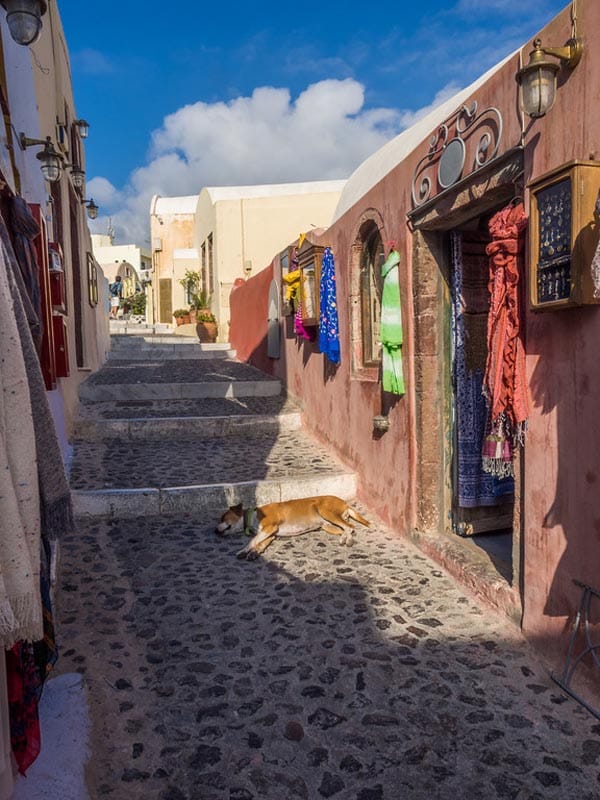 When the crowds from the cruise ships left Santorini in the afternoon, we'd walk along the pedestrian paths browsing artists' shops and fine jewellery boutiques.
There is no shortage of luxury brand names. Being a port stop on the Meditterannean Cruise circuit, there are plenty of duty free shops to find exactly what you need.
Iconic Landmarks of Santorini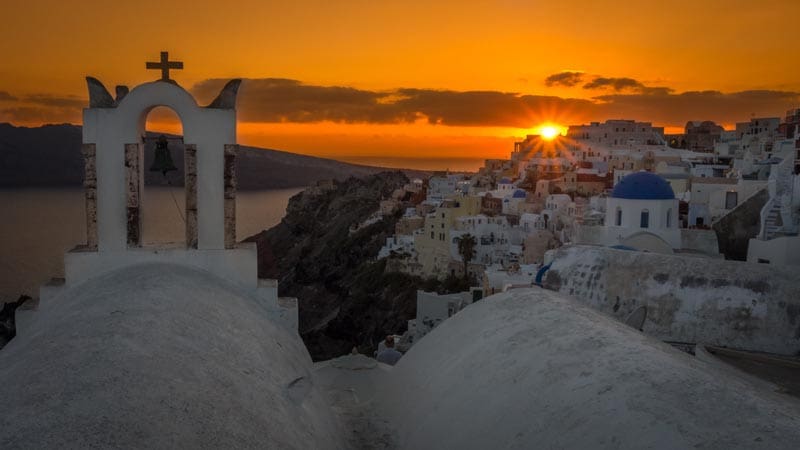 We snapped photos of the iconic photography spots like the three blue domes of Oia and the three bells of Fira.
We joined the masses watching sunset one night, but mostly sat on our own private balconies watching the sun go down over Greece's most romantic destination. Sipping wine and eating olives, what could possibly be more romantic?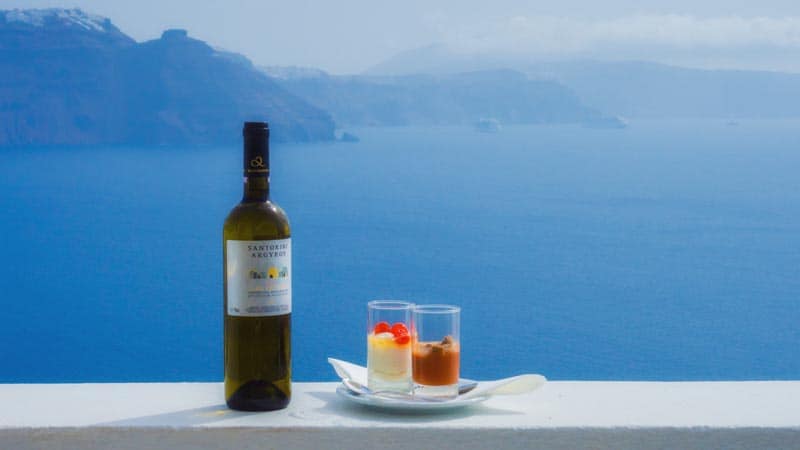 And we ended the night's skinny dipping in our private soaking tub outside our private balcony. We didn't have to worry about seeing another person. The days were ours and we were free to be alone as much as we like. We were free to celebrate our love and life and free to enjoy and relish ever sensual moment of our luxurious accommodation, the sultry sunsets and sensual spas. Santorini is sexy.
It's seductive and alluring. If you are thinking of proposing, celebrating, or simply rejoicing in your love for one another. Santorini is the place to be. We don't call it sizzling Santorini for nothing.
If you love Instagram as we do! Head on over and @ThePlanetD a follow.
Read More: