As my husband and I share a beer with a couple from England in the superbly preserved Malaysian city of Penang, I learn that we happen to have stumbled into the country at the most exciting time of the year.
It is the end of January and in a weeks time Thaipusam, a sacred Hindu Festival, will be in full swing all over the land!
We make plans to meet in Kuala Lumpur where the largest congregation of people will converge for a three-day festival at the Batu Caves.
Shocking Asia, Malaysia's Thaipusam
According to the papers, 1.5 million people will be attending the Thaipusam pilgrimage this year and we are in the heart of the action. Staying at a guesthouse in Chinatown, we are only two blocks from the start of the procession where worshippers pay tribute to the Lord Muluga.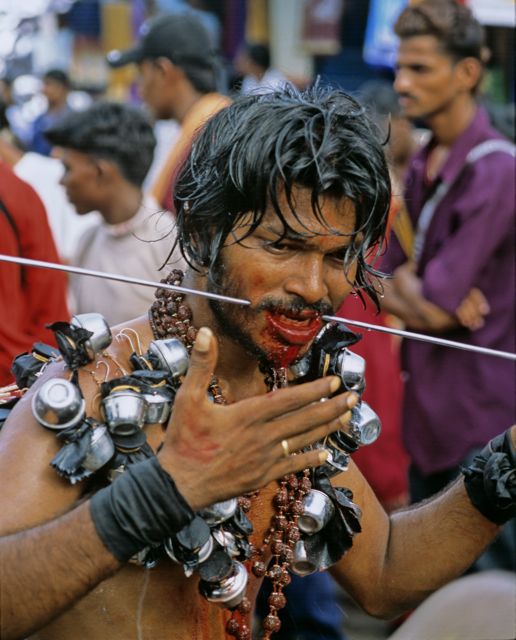 At midnight, devotees will begin the 13km walk from downtown Kuala Lumpur to the base of the Caves following his Golden Chariot.  It is here that they will be put into a trance and begin their journey up the 272 steps to the entrance of this vast chamber.
People take part in Thaipusam for different reasons.  Some to give thanks for a miracle which has happened in their lives, others to ask for a wish to be granted or to rid themselves of their sins by carrying burdens and piercing their bodies.  However, this is not your ordinary everyday piercing. 
These devoted people have a Priest drive spikes through their cheeks and tongues or insert hooks into their backs and chests on which they hang various fruit or milk pots to add to the discomfort.  Some people carry Kevadi's; giant cumbersome alters made of steal decorated with vibrant ribbons and peacock feathers, while others simply carry a pot full of coconut milk upon their heads to take to the cave as an offering.  A feat in itself due to the heat and number of people they have to push through.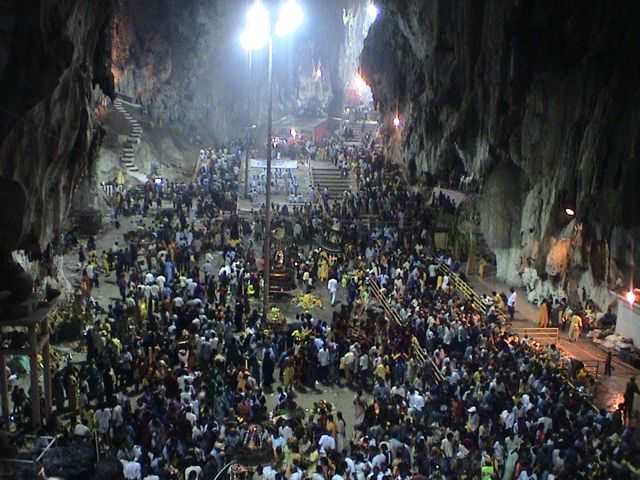 Batu Caves
We arrive at the Batu Caves 24 hours after the procession begins in the middle of the night by local bus. Drums are beating and people are chanting "Vel Vel" as the overwhelming crowd pushes forward towards the cave high in a cliff overhead. 
It feels like a dream as you sway in the intense heat among the squeeze of people.  I work my way out of the procession to the safety of a drainage pipe over looking the masses for as far as the eye can see watching in awe as people pass.  Their wide eyes seeing through me as I snap my camera.
Sometimes devotees will break into a wild dance or let out a primal scream. Others are more playful and dance to the music putting beetle nut on the foreheads of onlookers.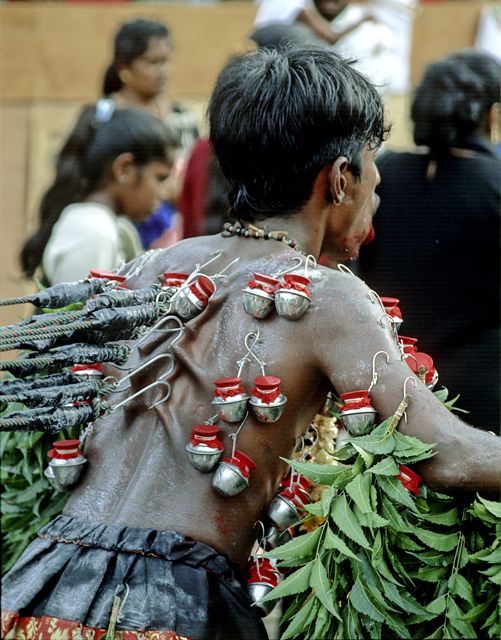 Preparation
They seem to be connected to something ancient and powerful feeling no pain and experiencing little fatigue due weeks of meditation, a strict diet and then finally a fast to help them prepare for this important event.
We are so enthralled with Thaipusam that we take the bus back to the caves the following morning.  Exhausted from the night before and working on only 2 hours of sleep, we haul ourselves out of bed to experience for a second time this once in a lifetime opportunity
The daylight hours take away a bit of the eeriness and we feel a little braver under the bright sky.  Hooks and spikes are bigger, kevadi's are more ornate, and the worshippers are as committed as ever.
We have managed to join the procession this time walking up the steep flight of stairs with thousands of other people to enter the caves.  The sun is overwhelming and it is a relief to reach the cool darkness.
It is here that we are treated to an intimate view of people coming out of their trances, having their hooks and piercing removed and to watch some mischievous monkeys fight for bananas.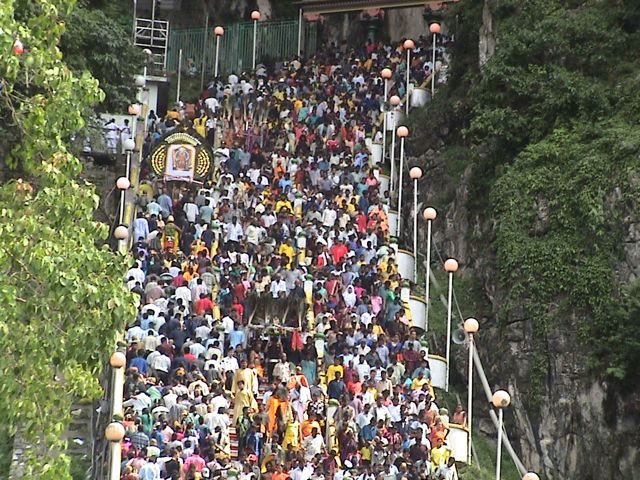 Reactions
In a roped off area, each person reacts differently to the effects of their difficult task.  Some people faint once they have finished their pilgrimage and are surrounded by loved ones who massage feeling back into their arms and legs as they lie on the rocky floor.  Some bleed as their hooks are extracted from their backs and chests, but most of the time, not a drop of blood is spilled. 
It is said that their deep trance and strict preparations, stop the flow.  Priests carefully take out the spikes and hooks, stuffing the wounds with ash and disinfecting them with lime.  It looks painful, but they seem oblivious.
The cave is quiet and calm, a contrast to the enormous energy and excitement of outside.  Their ordeal is over and burdens are lifted.  It seems almost anticlimactic to watch people talking casually, laughing with each other or walking calmly around the cave, taking in the sights.
The festival has come to an end and the only thing left is the long procession back to Kuala Lumpur where the Golden Chariot will return to it's home at the Sri Mahamariamman Temple.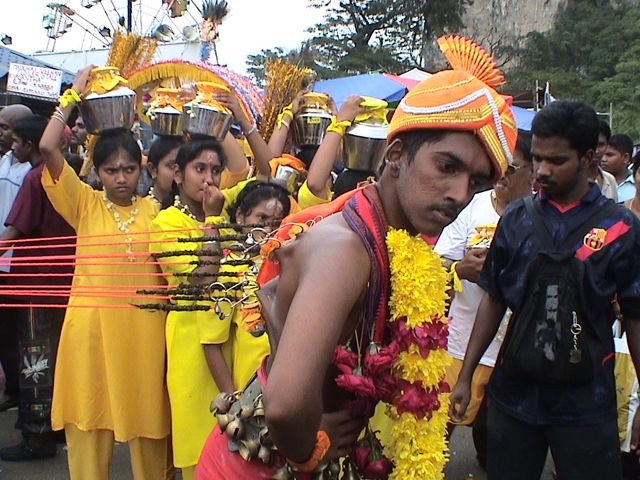 Back to Normal Life
People will resume their lives as bankers or students, fathers and sisters feeling cleansed of their sins, released of their burdens and grateful for the opportunity to thank their Lord for a wish that he has granted.
We take the bus back to Kuala Lumpur and arrive in Chinatown for the final festivities of Chinese New Year.  Dragon and lion dances are taking place in the street, and once again, I find myself in a sea of people.  Only this time, the mood is completely different. 
People are laughing and cheering as the talented acrobats perform overhead.  Children are boosted onto shoulders for a better view and lively drums are being played with enthusiasm.
It is an exciting time of year to be in Malaysia experiencing its rich culture to the fullest. Thaipusam happens yearly in Malaysia at the end of January or beginning of February throughout the country.  Check Malaysia tourism at www.malaysiatoursism.com for more information.
Chinese New Year takes place near the end of January.
You can fly to Kuala Lumpur from Toronto via Malaysia Airlines for $1200 for a return flight.
Read More
Thaipusam: The Second Time Around
Tea Time in Cameron Highlands Malaysia
An Unexpected Adventure – Slumber Party in a 2,000 Year Old Cave
You Might Also Enjoy