It's our final day of rock climbing in Railay, Thailand. It was 11 years ago that we fell in love with Krabi and our interest in travel was sparked.
It was also a time that we first became interested in rock climbing, a sport that we pursued for a few years and loved, but stopped when we decided to cycle Africa.
Now we are back where it all began and we are excited to be back on the wall experiencing the thrill of climbing again. What a blast we have had with Hot Rocks Climbing School.
Rock Climbing Railay in Thailand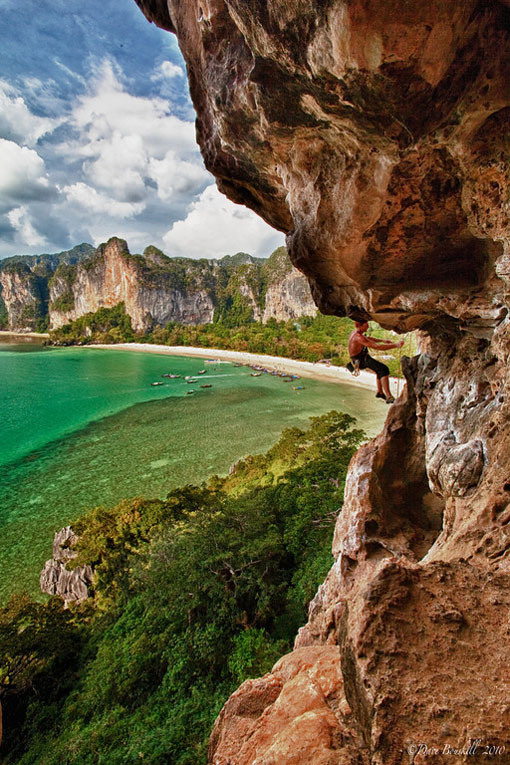 We have had 3 glorious days in Southern Thailand and it is sad to see the end coming.  We are ready to come back and spend a month exploring routes ourselves one day soon. Now that we have had our refresher course on lead climbing we feel confident to do so.
The Final Day
The day started out on a relaxing note.  We decided that we didn't want to do the multipitch route that normally happens on day three of the lead climbing course. Since we had already done it is 2004, we thought that we would just spend the day tackling different lead climbing routes.  So there was no hurry to get down to business.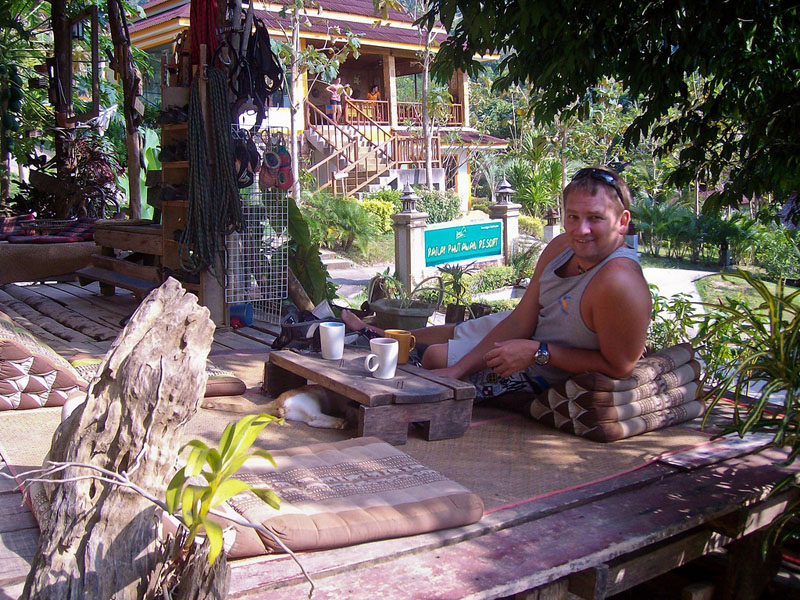 Diamond Cave
Instead, we made our way to Diamond Cave and while we waited for the crowded routes to clear out we enjoyed a latte.
There is a fabulous cafe right beside the crag where coffee is ground by hand and milk is frothed the old-fashioned way.  We pulled up a cushion and sat on the deck watching people climb while we enjoyed the creamiest coffee we have had in all of Thailand.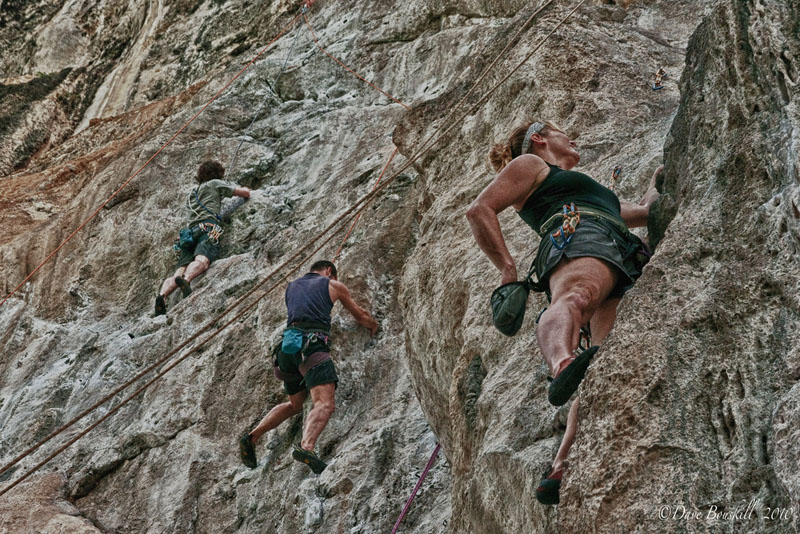 Once we were thoroughly pumped with caffeine, it was time to get down to business.  I couldn't believe how comfortable we were climbing. I used to be a little high strung as a climber and scrambled up as fast as I could. These days I felt more relaxed and at home on the rock. I took the climbing slow, figuring out each move before pushing on.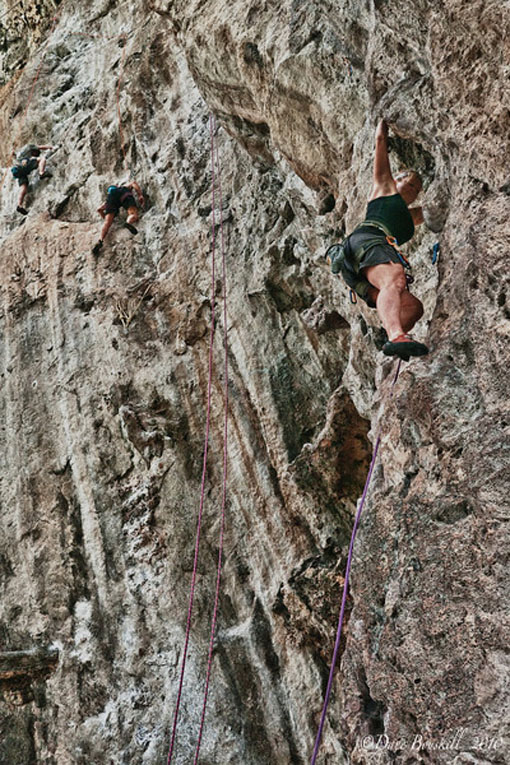 Back in Canada, when I was climbing a lot, I started to develop nerves whenever I was leading. Here in Thailand I was soaking it all in and enjoying the view.
Feeling at Ease
I really think it was Toto's instruction.  He showed us little tricks and tips that made everything easier.  His relaxed attitude made us both feel calm and after spending 3 days with him we felt confident again.  Maybe it also had to do a little bit with age.
The past couple of years while travelling I have found that we have both mellowed out about the little things and have started to enjoy the moment. All the extra worries and "stuff" that used to go through our brains doesn't happen anymore.
Now if I didn't feel confident with a move, I would down climb a bit, take a break and look for an alternate solution, or rest up enough to be able to do it.  In the past I would barrel through without thinking.
When you are lead climbing, you can easily fall up to 10 meters. If you fall above your last clip, your protection is below you so you are not only going to fall down to the last place that you clipped in, you are also going to fall further down the length of the rope that isn't attached to anything. This used to freak me out.   Today however both Dave and I were calm and cool.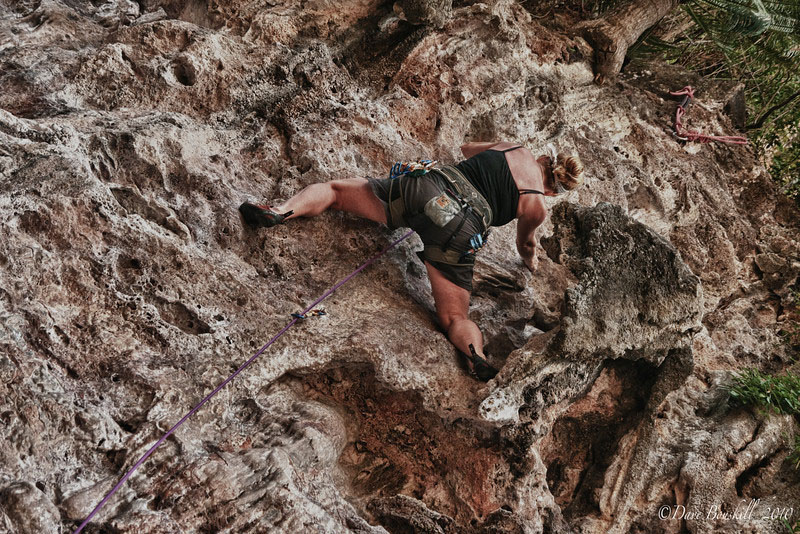 Rock climbing used to be my sport more than Dave's. It is the one thing that I can do better than him. He wasn't really thrilled about having to do a climbing course, he was ready to get back into it and enjoyed every minute.
He seemed to be better at climbing now than when we used to climb 3 times a week at the gym and once a week outdoors.
We were both surprised with how relaxed we were whenever we had to set up our top anchor.  It was methodical and smooth and controlled and most of all fun.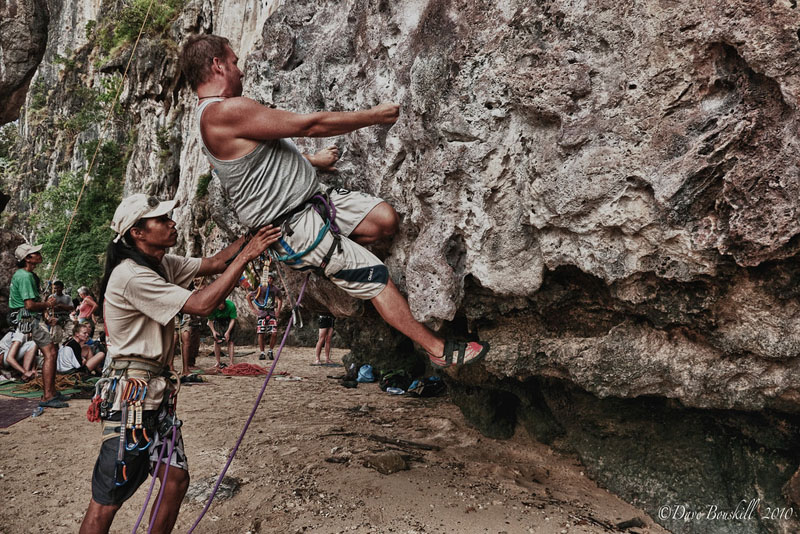 Swollen Ankle
We only had enough time for a couple more climbs when I noticed my ankle had swollen up to the size of a golf ball.  We had no idea what happened. It didn't hurt and I didn't remember banging it on anything so we came the conclusion that a spider or something bit me.  Just to be on the safe side, we went to the clinic which is just around the corner on the beach.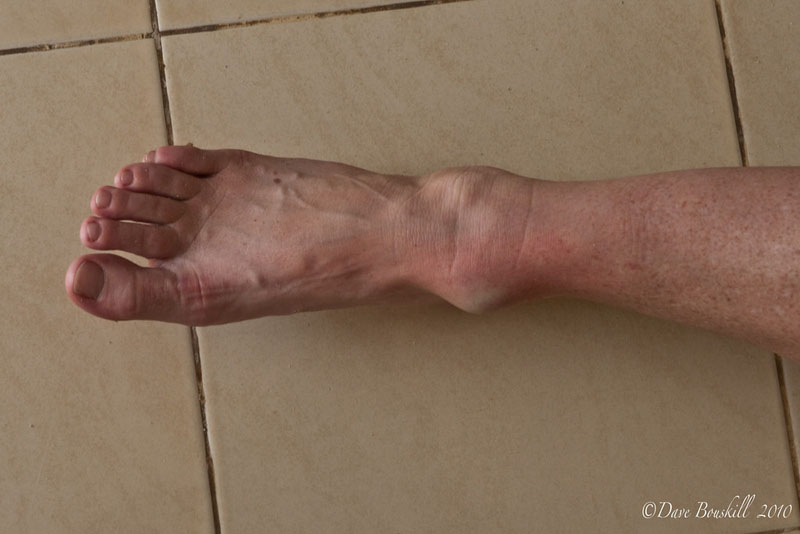 They didn't seem too concerned and Toto had already run to get me some ice to bring down the swelling.  It looked far worse than it felt and besides worrying that something poisonous bit me, I felt fine.
Dave was more worried than anyone because he saw my small cut turn into a serious infection of severe cellulitus in Africa, so he didn't want to take any chances.   I didn't want him to miss out on any more climbing so after being reassured by the pharmacy and the locals that there aren't any deadly bug bites in Thailand, we decided that we would stick around and let Dave do a few more climbs.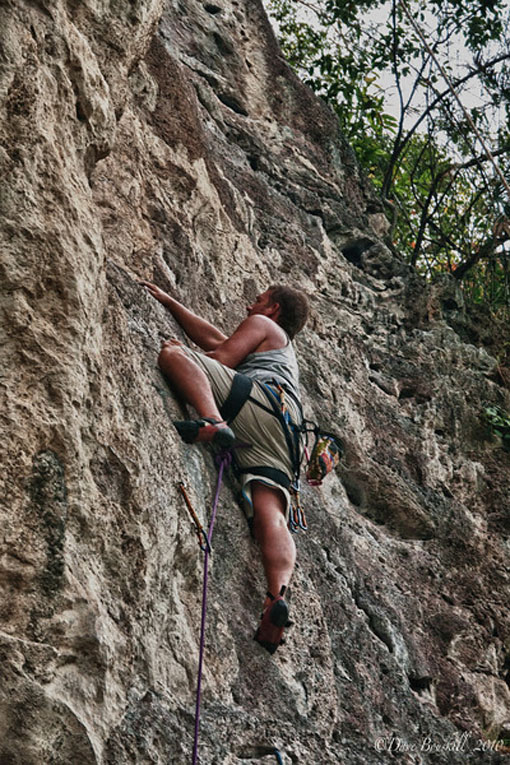 While I iced my foot, I felt a little left out.  I noticed two little marks that looked like a bite so, being me, I had to give it a squeeze.  Sure enough stuff came out and the swelling went down a little bit.  Just enough for me to get back on the wall.  I had to try the Little Monkey Wall. It's a cool climb with a bit of an overhang.  That used to be my specialty when I climbed a lot and just had to try it on lead.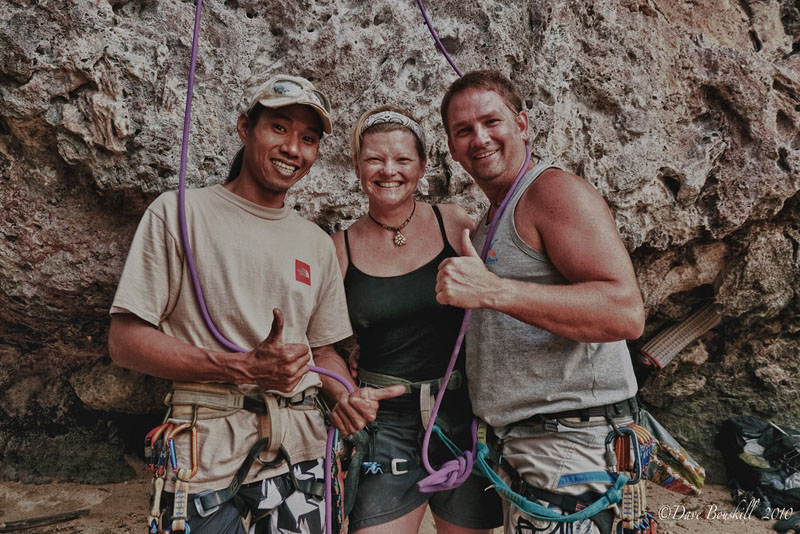 So we both tackled it and conquered it just in time for the day to end.
We had an incredible time climbing with Hot Rocks in Railay. Dave had never climbed better in his life and I remembered just how much I love the sport.
We decided that when we return home, we are going to get our gear out of storage and start up again, it is a fantastic hobby that can be pursued at any age or time of life.
Read More
Thailand Travel Tips – Things to Know Before You Go
Climbing Adventures in Thailand, Day Two