Nat and George of a Hot Minute share all the reasons you should travel to Bolivia right now!
Cities at insane altitudes. Bitterly cold nights. No hablo Español! Welcome to Bolivia!
Incredible landscapes. Death-defying day trips. An immersion into a new culture.
For me, visiting Bolivia was one of my favourite experiences in South America but in equal measure one of my best friends rated it as his worst.
10 Reasons You Should Travel to Bolivia
I feel Bolivia has a bad reputation and some negative press.
I'm here to change that and give my two cents on why you should absolutely visit all of Bolivia!
1. The Salt Flats or Salar de Uyuni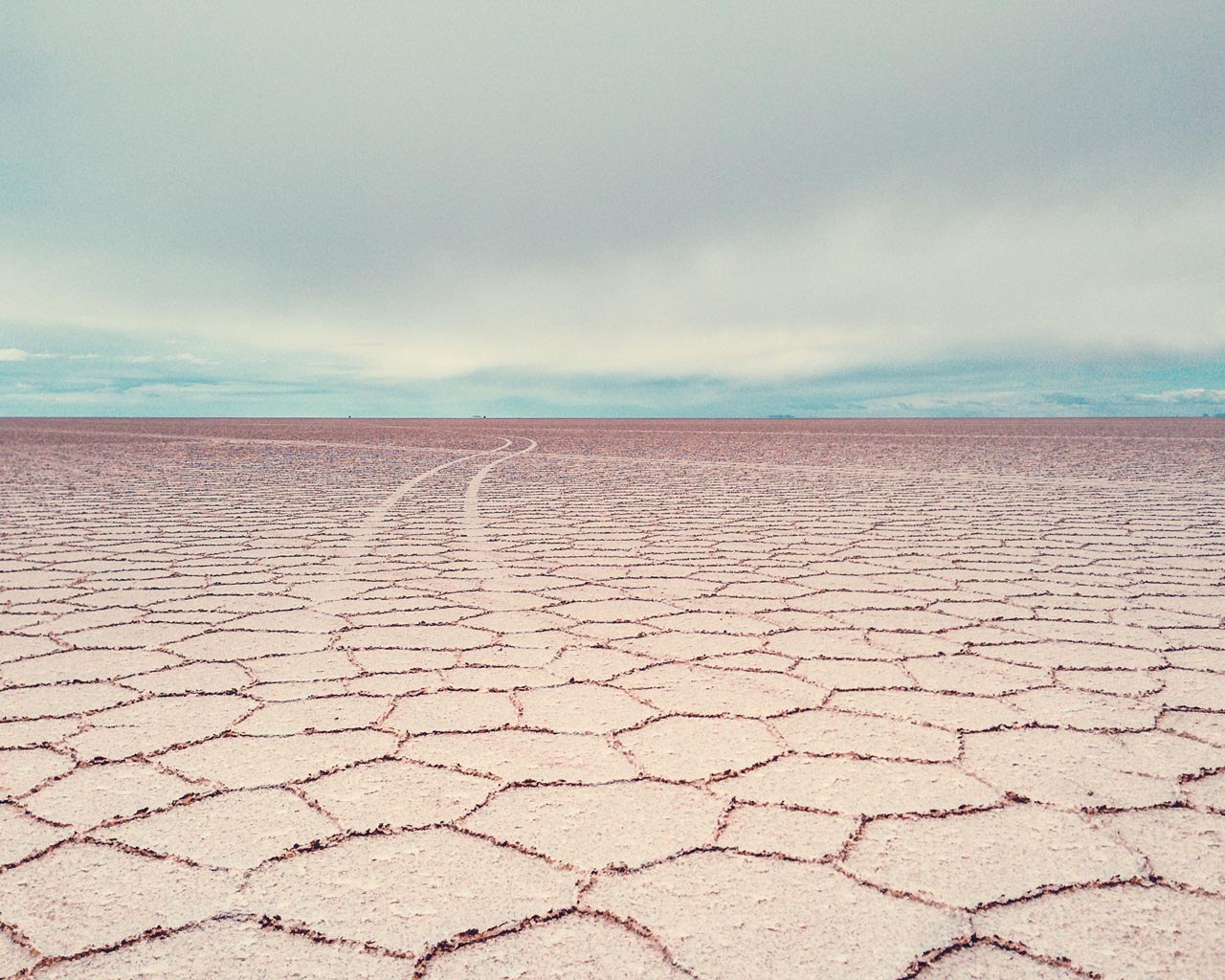 Undoubtedly the most famous spot in Bolivia is the Salt Flats or Salar de Uyuni.
Stunningly beautiful and almost incomprehensibly big (the largest in the world!) the salt flats cover a massive 10,582km²!
Although seemingly a desolate landscape this area of Bolivia is a versatile asset for the backpacker.
With entry points and exit points dotted all around the lake and trip lengths ranging from 1 day to 3+ days this experience allows access to/from Bolivia, Chilé and Argentina!
Visiting Salar de Uyuni
Salar de Uyuni is located in Southwest Bolivia on the Andean Plateau. The salt flats stretch 4050 square miles.
Salar de Uyuni is at an altitude of nearly 4000 meters. At altitude the air is thin, the days are hot and nights are cold nights.
Most Tours start at Uyuni Bolivia and can easily be booked in La Paz or booked directly in Uyuni at one of the travel agencies.
There are flights and overnight buses from La Paz to Uyuni.
Tours to Salar Du Uyani Can be Booked Through Get Your Guide
See all the Tours offered by Get Your Guide including Luxury Private Tours from La Paz to Affordable Group Tours starting in Uyuni: Salar de Uyuni Tours
2. Death Road, La Paz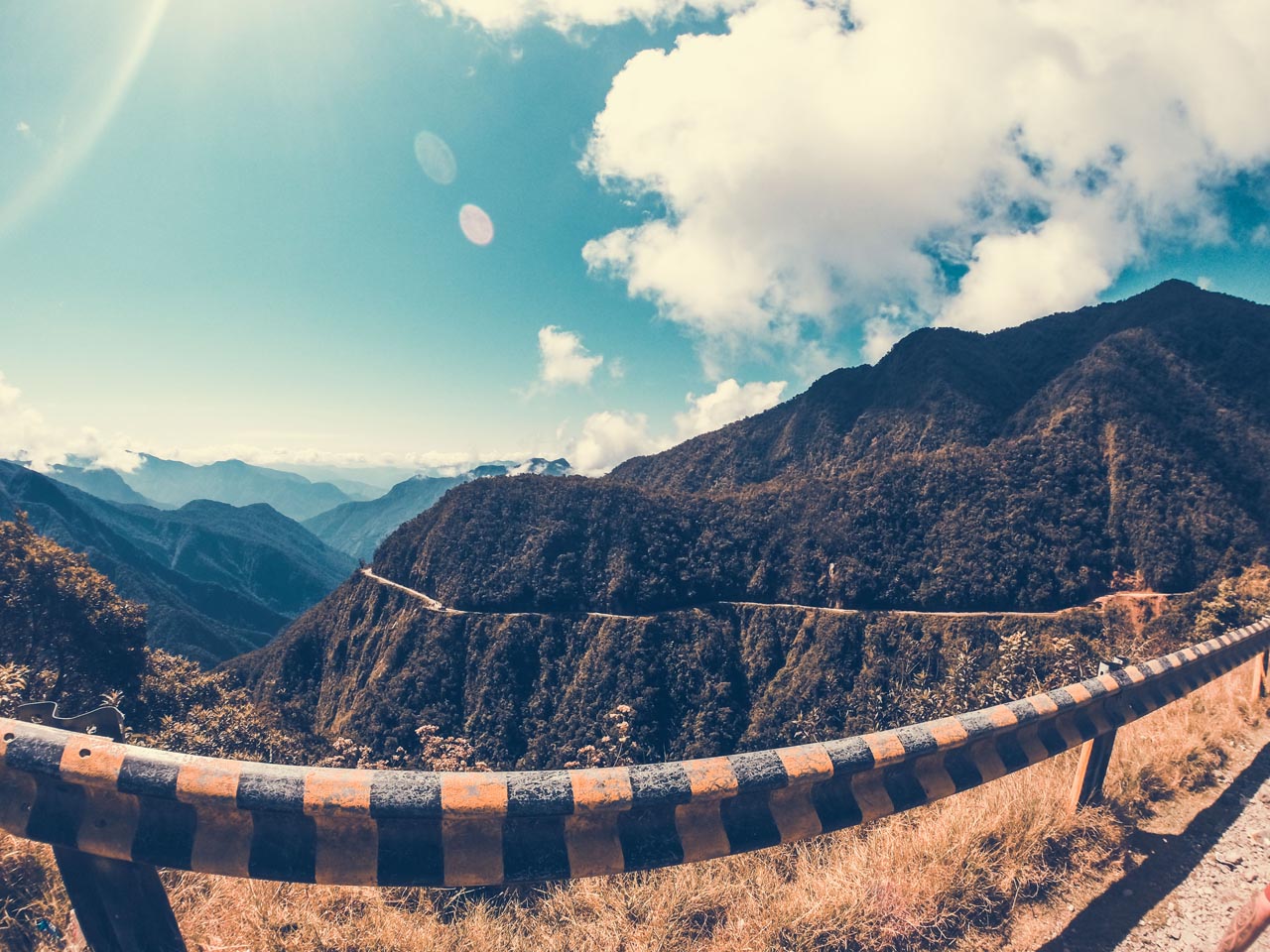 That One Story
When someone asks you to tell your best story from your travels, you've got that
That one that you have told a hundred times over, never missing a detail and reliving the memories time after time. That one where you can message the other people involved 4 years later, with just one word, and they know exactly what you're talking about.
That one that probably had a pretty drastic effect on your trip, travels or experience of that place. Well, mine takes place here on Death Road near La Paz.
I digressed…
About Death Road
Death Road is not named lightheartedly; this single-track road of dirt and gravel was formerly the only access route from the valley floor to the top.
The track is wide enough for a car or a small bus, so what's the problem? Well, this was a road for two way traffic!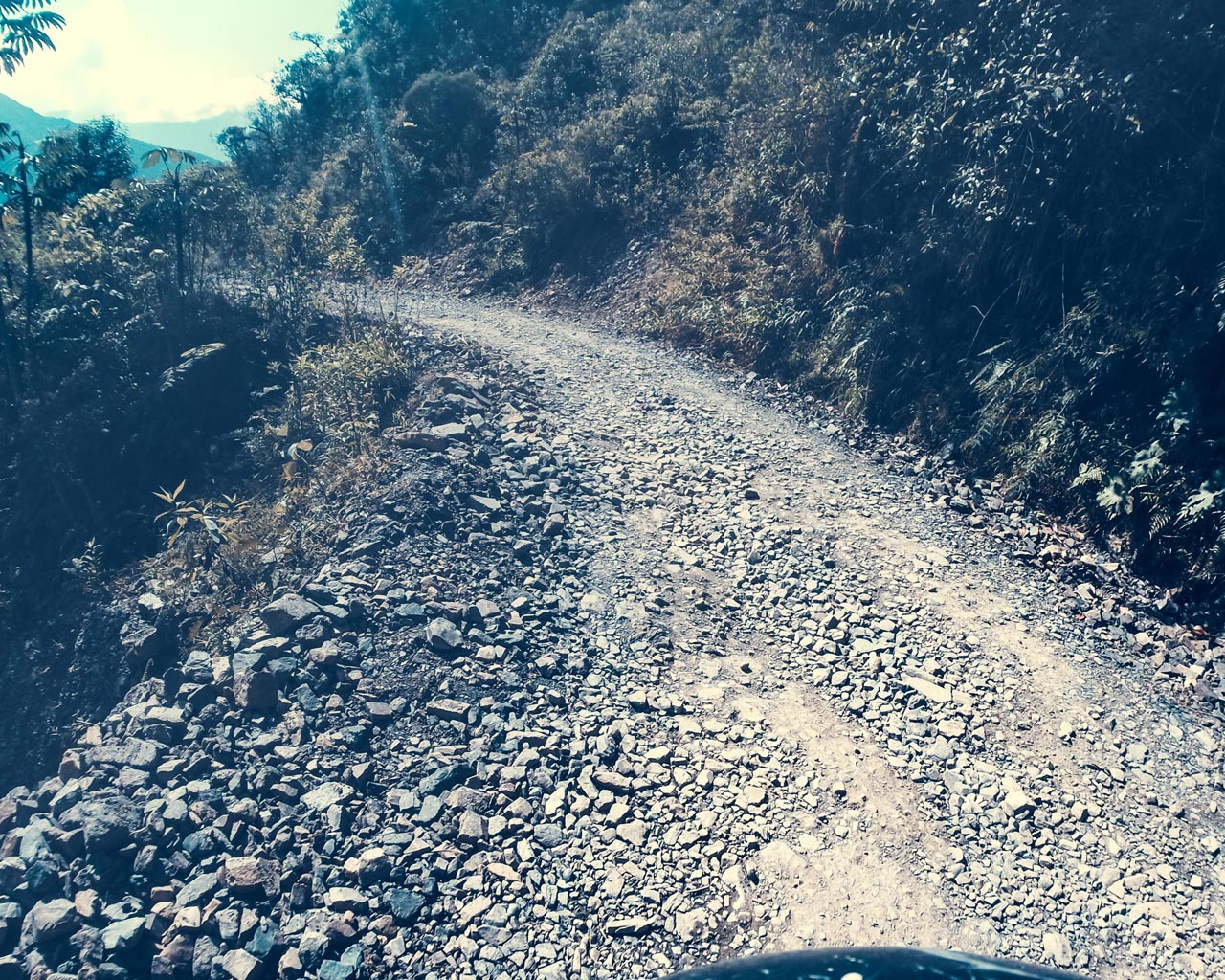 Trucks, cars, and buses going up and down a road covered with loose material and patches of moving water.
Oh, I forgot to mention, there's a sheer drop to the valley floor on one side. Sadly, vehicles fell and in more recent times backpackers too.
Following a bypass being built, this road is no longer used for traffic and instead you can pay to whip down it on mountain bikes in oversized armour and questionably safe padding.
Visiting The North Yungas Road aka Death Road
Many companies sell tours in La Paz, but make sure you travel with a reputable company. This is a dangerous road. Do your research. And if there is one time you don't want to skimp on prices, this is it.
Pay more for better bikes and gear. Also, be sure to test your bikes before riding. Check your brakes, gears and tire pressure before the trip.
Pack Layers: Temperatures change throughout the day as you descend from the altitude of the Andes to a tropical climate.
Sounds fun hey? It truly is! Do it.
People have and continue to die or seriously hurt themselves on this road. Nevertheless, I highly recommend you do this day trip.
Life > 'the gram'. Always
3. Potosi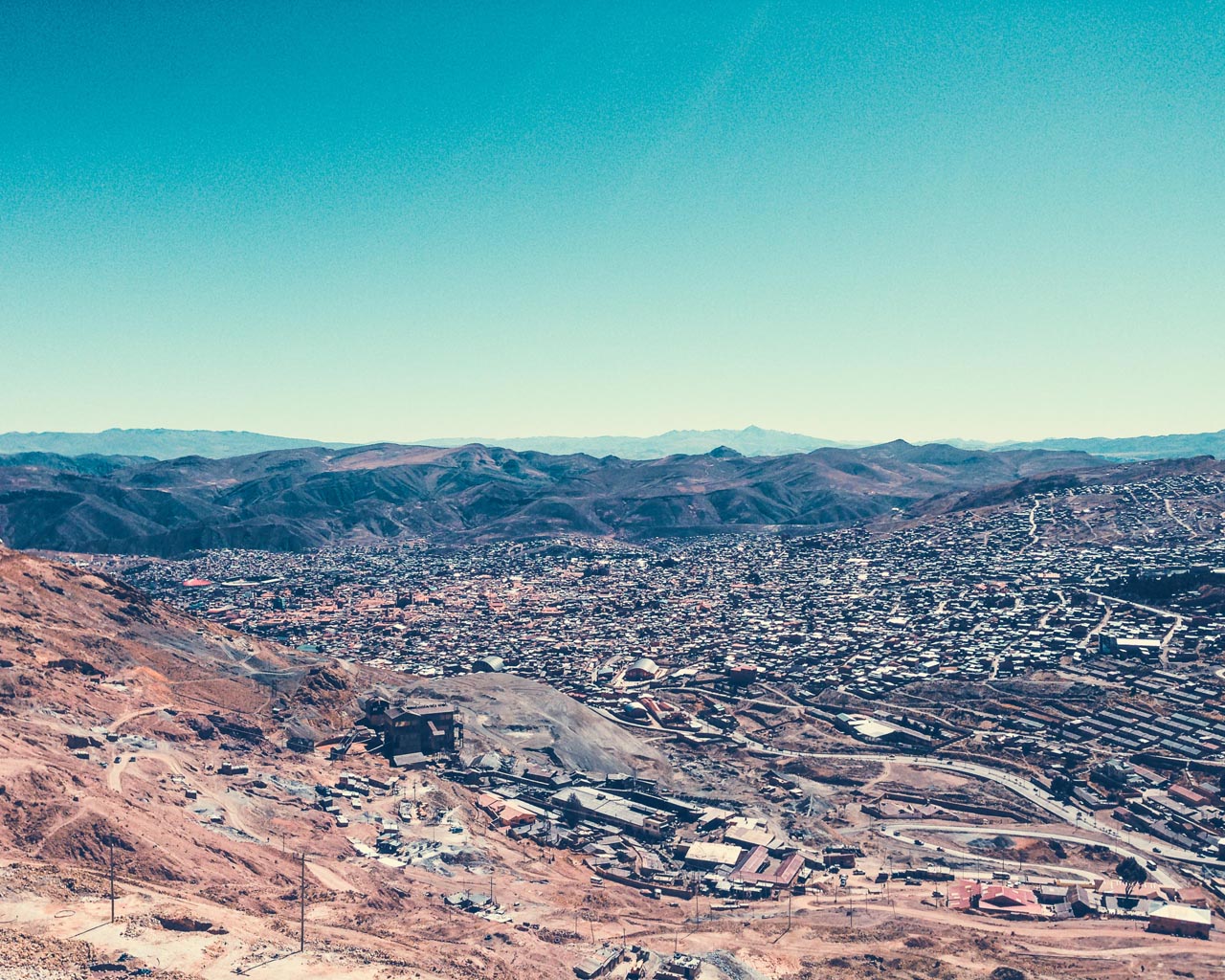 At 4067m, Potosi is the highest city of its size in the world.
A town ravaged and ruined by the Spanish in a rush for silver and other precious metals it has an almost derelict feel to it in places. This doesn't have to be a bad thing!
I love ending up in places that feel alien to me, that's what travelling is all about right?
I recommend that you visit Potosi if for nothing else, to venture into the working mines of the mountain.
You will meet modern-day miners working relentlessly to find their riches (hopefully) and who are grateful for the gifts you will donate to them.
I won't tell you what they like but I will tell you it's not your average gift!
Seeing these people work with tools ranging from a traditional hammer and chisel through to pneumatic drills really drives home how hard life is here.
With horrendously low life expectancies and the constant risk of the mineshafts collapsing around them, these guys work in some of the most brutal conditions I have seen.
Spend a day in their environment whilst learning about their trade and experiencing what life is like underground.
A phenomenal experience and one I will remember for the rest of my life.
4. La Paz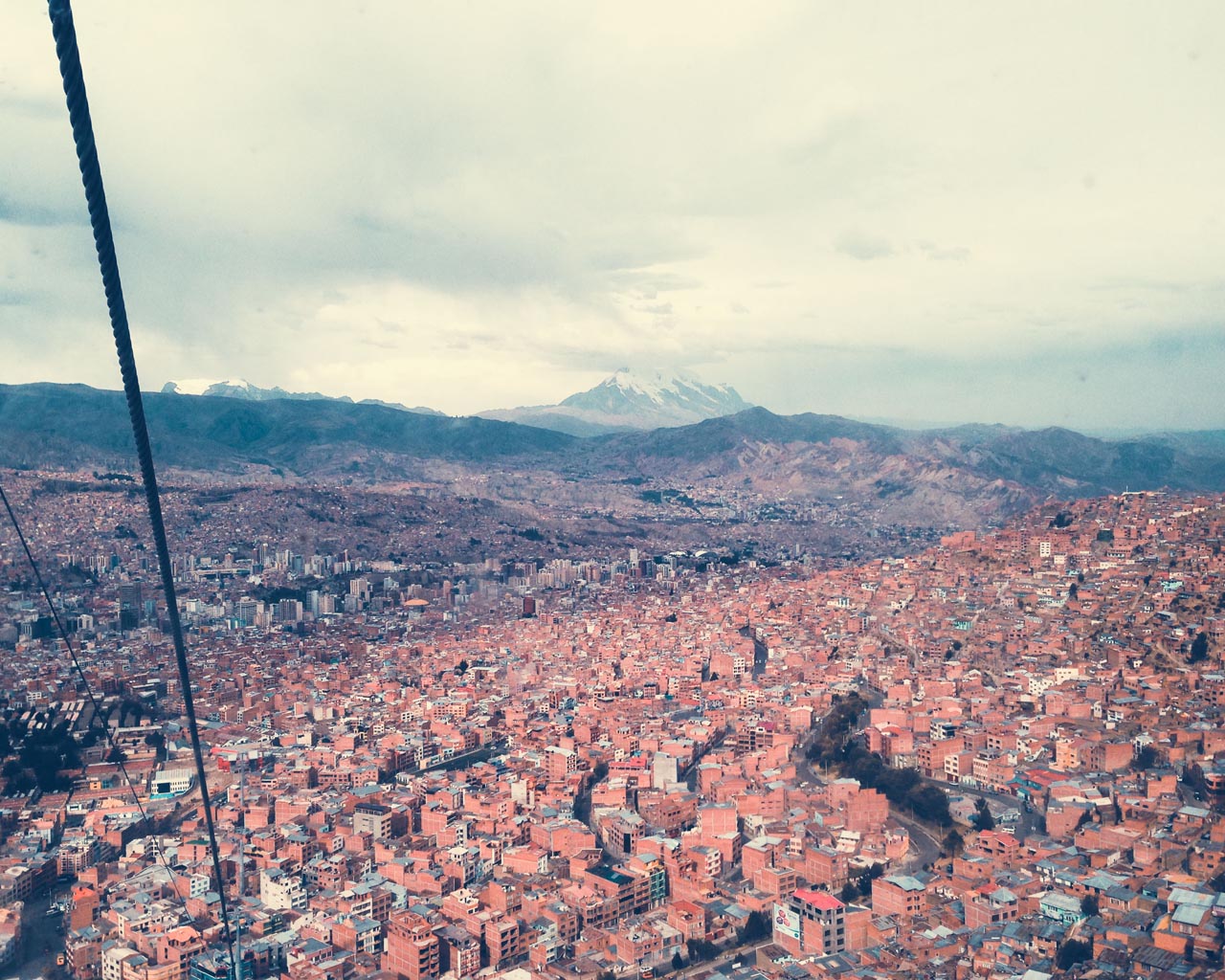 The former capital city of Bolivia has a lot to offer the traveller; from crazy prison stories to stunning views from cable cars and hostel windows alike.
La Paz is a brilliant spot to base yourself for a week or two whilst you sign yourself up to some of the craziest experiences of your life.
You can cycle the Death Road and survive to tell the tale (please) or spend 3 days hiking to the summit of Huayna Potosi.
If that's not your thing then spend an afternoon at the brewery or join the locals for a night of Cholita Wrestling.
When you're done with all of that then fly yourself to Rurrenabaque in the Amazon Basin for a whole new world of experiences.
Hot Tip: A word of advice, on your flight back to La Paz you'll be landing about 3000m above where you took off.
Drink some coca tea and lay low for the day to get used to the altitude.
Plus: Do not choose this day to try and get your haircut. The fluorescent light will wig you out, make you sweat and nearly faint. Trust me.
5. Huayna Potosi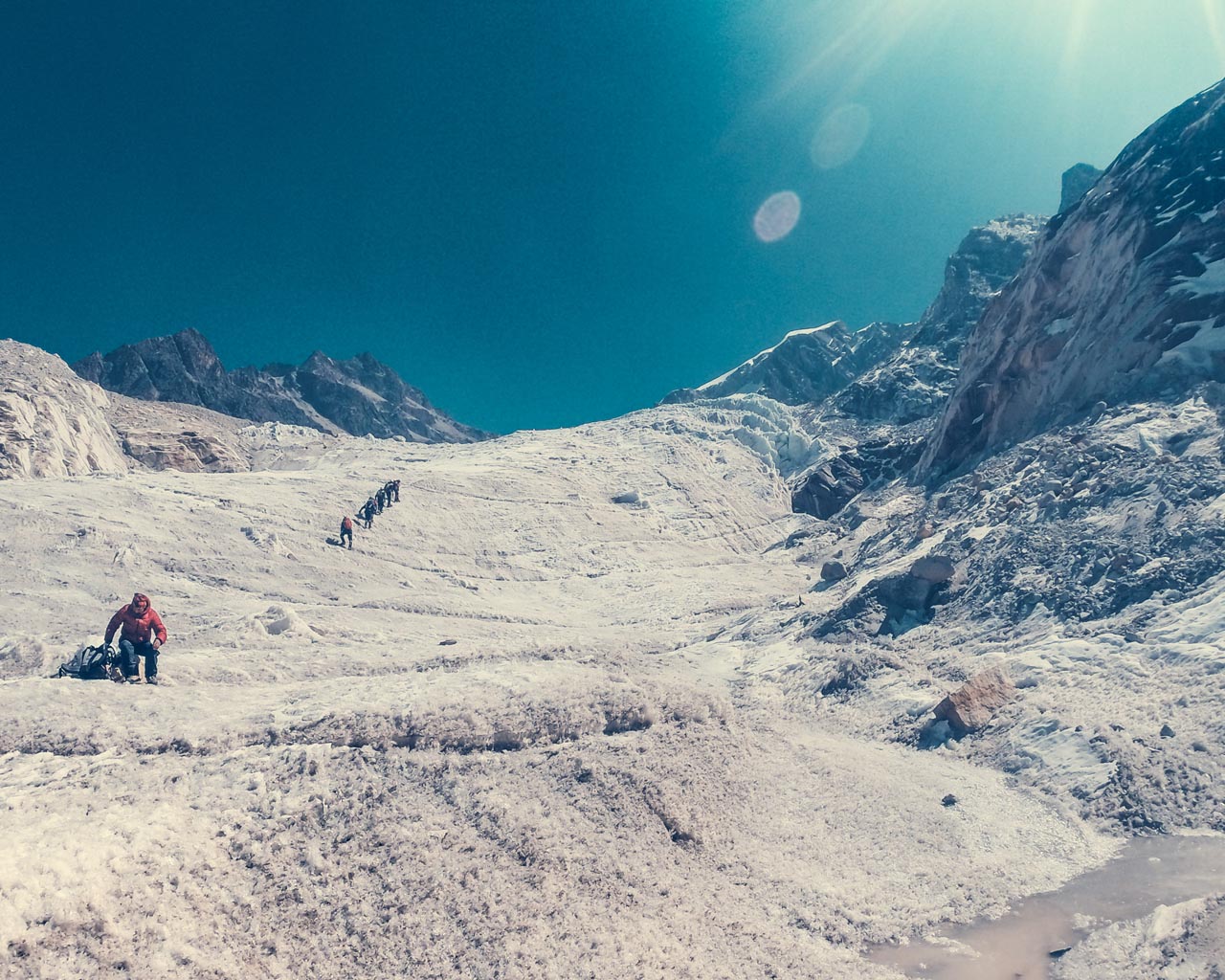 The hardest but most rewarding physical challenge I've taken on in my life was to climb Huayna Potosi.
I would recommend this to absolutely everyone who spends any time traveling in Bolivia.
It's a truly 'once in a lifetime' trip for most people and one with a reward that will silence even the busiest of minds.
About Climbing Huayna Potosi.
This 2 or 3-day trip will take you from La Paz up to a dizzying height of 6088m to the summit of Huayna Potosi.
You'll learn to ice climb with pickaxes and hike with crampons in order to complete your midnight journey.
Providing you are fast enough, you'll reach the summit just before sunrise and watch as the red hue illuminates the whole world around you, from the horizon to Lake Titicaca.
I saw tears flow from the eyes of a man who thought he wasn't strong enough to make it and hugs and high fives aplenty. A humbling experience that I implore you to take on.
Read: What Failing to Summit Huayna Potosi Taught Me
6. Rurrenabaque – The Amazon Pampas Tour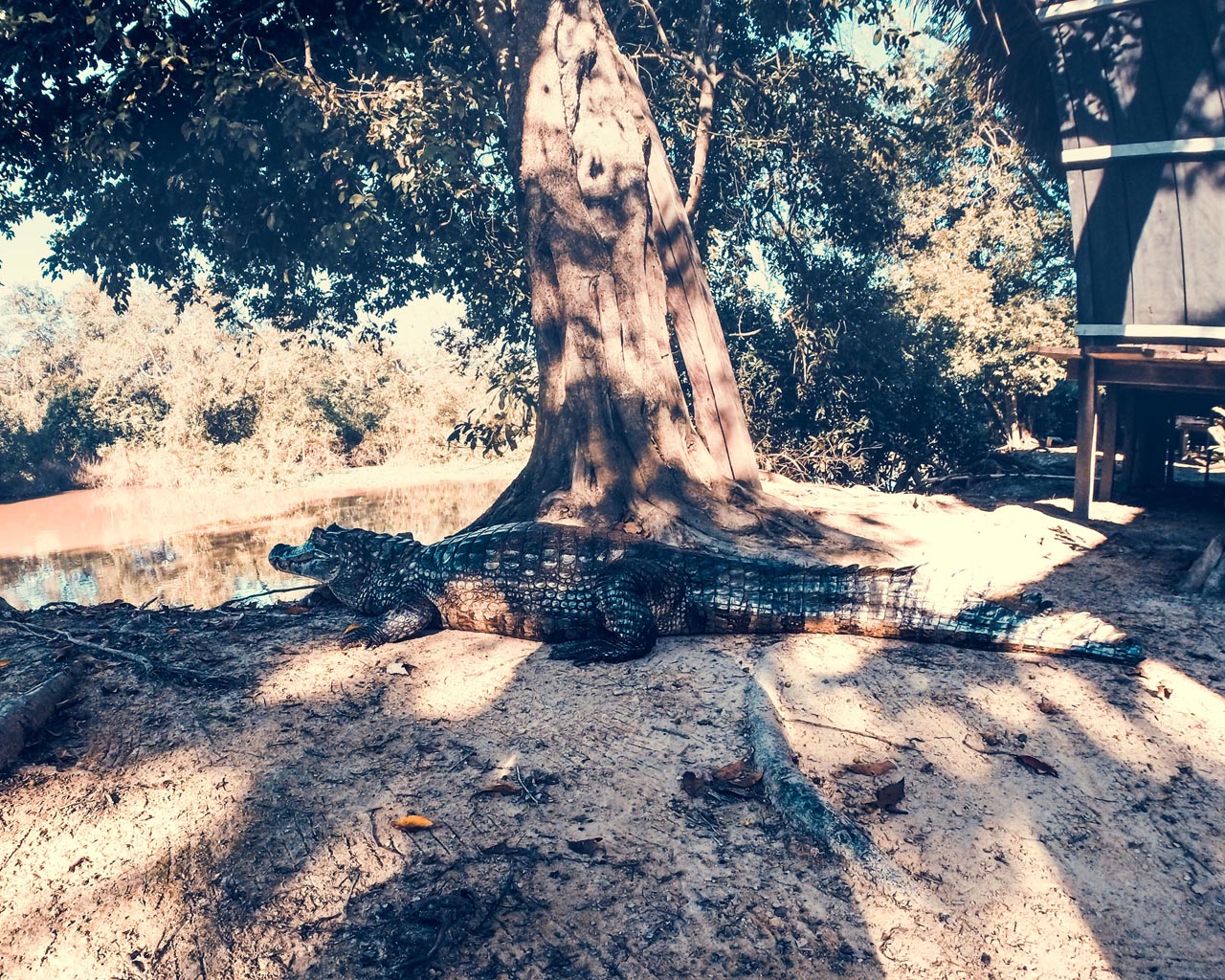 "The Amazon Basin." Need I say more?
Flying into this small town in a 15 seat aircraft whilst feeling the wind twist and turn your plane as it whips around the valley is enjoyable alone.
After landing on a dirt runway and passing through the most unassuming airport you've ever seen your next stop is the Amazon.
Once you begin your tour it is impossible to miss the wildlife that swarms this place.
From caiman and piranha below to sloths and macaws high above, the David Attenborough in all of us can't help but get excited.
Maybe you'll wake up on your tour to hear a huge caiman called Bruno grunting under your hut or you'll have the opportunity to swim with pink river dolphins if it takes your fancy.
I won't lie, jumping into a river that I'd just seen caiman swimming in, and fished piranha from, forced me into a mental battle but 'do one thing every day that scares you' and all that!
7. Lake Titicaca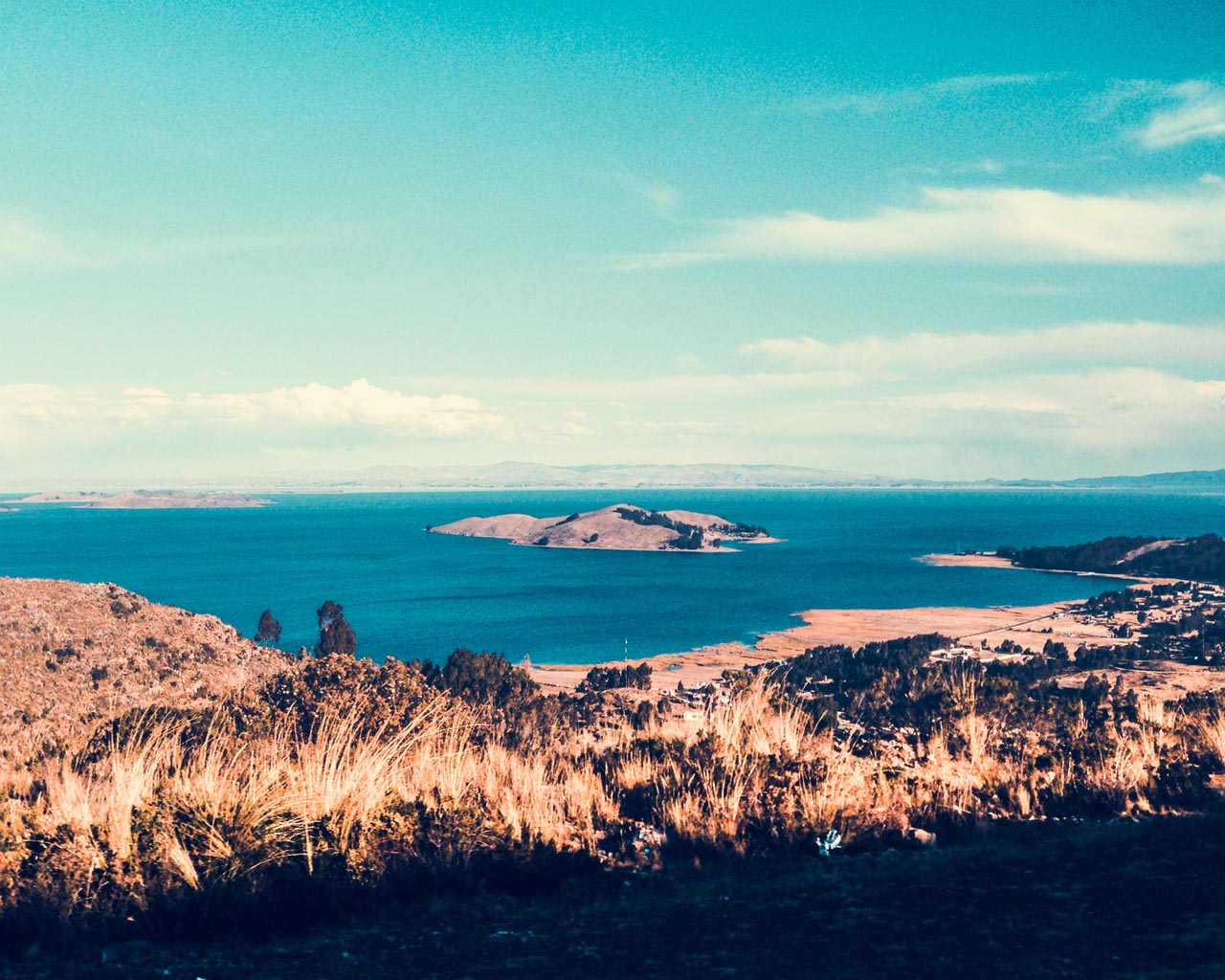 Ok, so this one only just makes the list, not because of how good it is but because it's right on the border with Peru.
I can tell you that it makes for one of the nicest border crossings I've ever taken!
The scale of this lake is a sight to behold in itself and at points, it is all you can see from horizon to horizon! Spend time in the little town of Copacabana or take an excursion to see the floating islands of the Uros people.
If you're taking life at a slower pace (well done!) then stay the night on Isla del Sol to surround yourself in traditional ways of life or experience the beautiful sunsets.
Top things to see on Lake Titicaca
Lake Titicaca is the highest lake in the world at 12,555ft (3.826 metres)
Highlights include the famous floating islands made of Tortora reed with Uros being the most popular.
Other islands to visit are Amantani and Taquile Islands.
8. Culture shock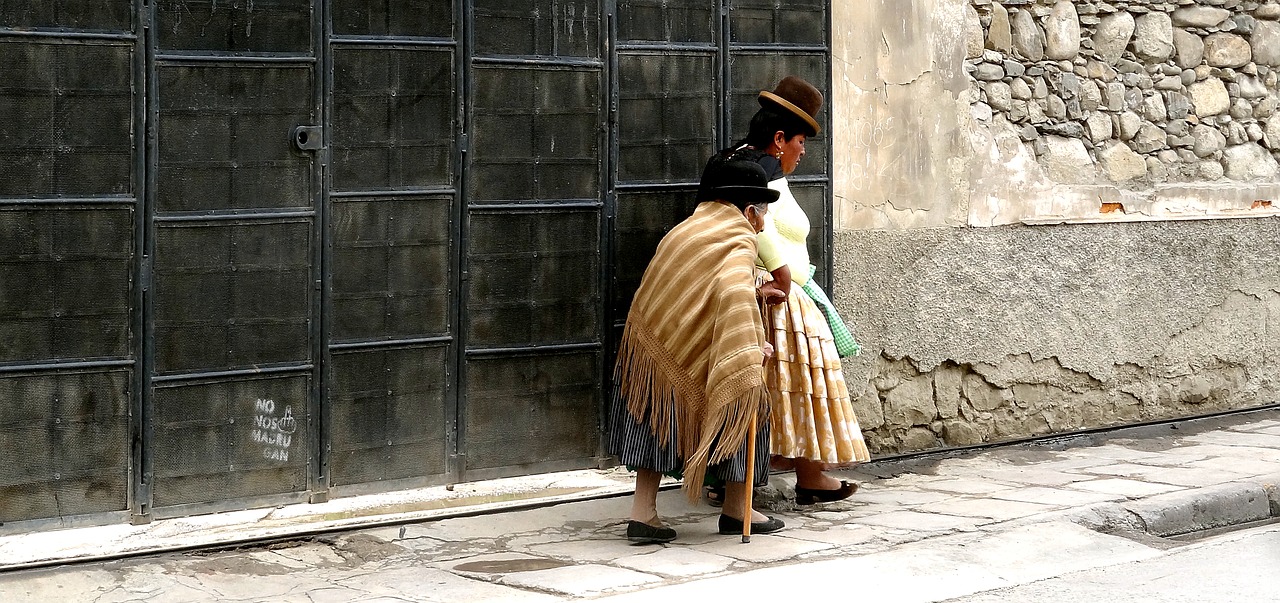 The wonderful thing about Bolivian cities is you will find yourself seemingly stuck in a time warp at times.
Whether you've flown in from somewhere around the world or you've made your way westerly across the country from Sucre you will quickly feel the cultural change.
Cities like Potosi, and even La Paz, are fraught with traditions from the clothing worn by the older women to the daily markets of families making their livings.
Amusingly, we were told during a walking tour that traditionally, very differently to the western way, ladies here flirt using their layered skirts to show their calves, but only as high as the man deserves to see!
With a responsibility to carry the goods to market (along with children!) it is attractive for the women to be strong and powerful. Enjoy the slower pace of life as you immerse yourself in a different culture.
English speakers are few and far between here when it comes to the locals so don't forget to bring your best Español or at least your best Spanglish (with arms waving) and see how well you go!
9. Good Quality Hostels – Loki vs. Wild Rover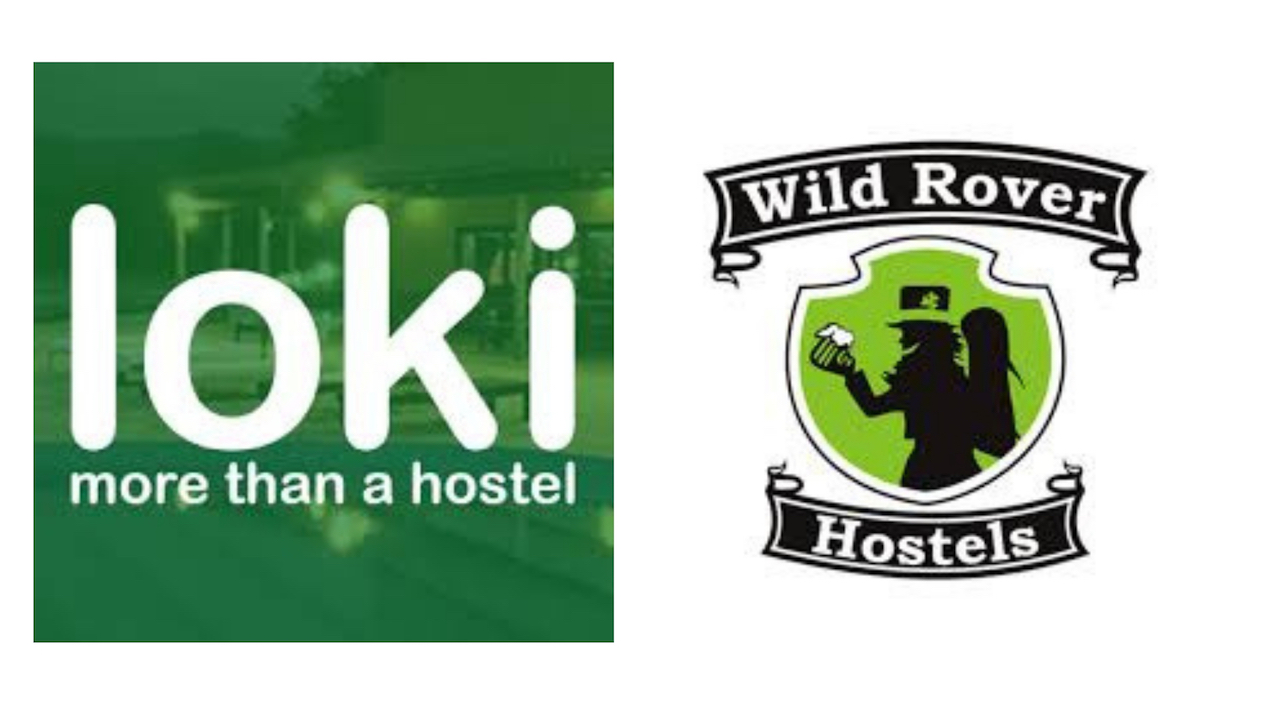 There is nothing better for a consumer than two businesses fighting for your custom.
Thankfully, this is exactly what is happening across South America as the two chains Loki and Wild Rover go head to head in many of the major cities.
For those who have been on the move for a long time, it can be comforting to see a chain you trust and recognise in a city that you don't yet.
As new travellers there is nothing better than a well-run hostel to meet new people and form new connections, especially if you're travelling solo.
This friendly rivalry provides backpackers with treats like Loki Cusco in its beautiful historic building, the lively parties in the bar of Wild Rover La Paz or the view from the front facing rooms in Loki La Paz.
These guys also offer a bonus system if you repeatedly stay with them as you move and who doesn't love a free night of accommodation?
10. More Bang For Your Buck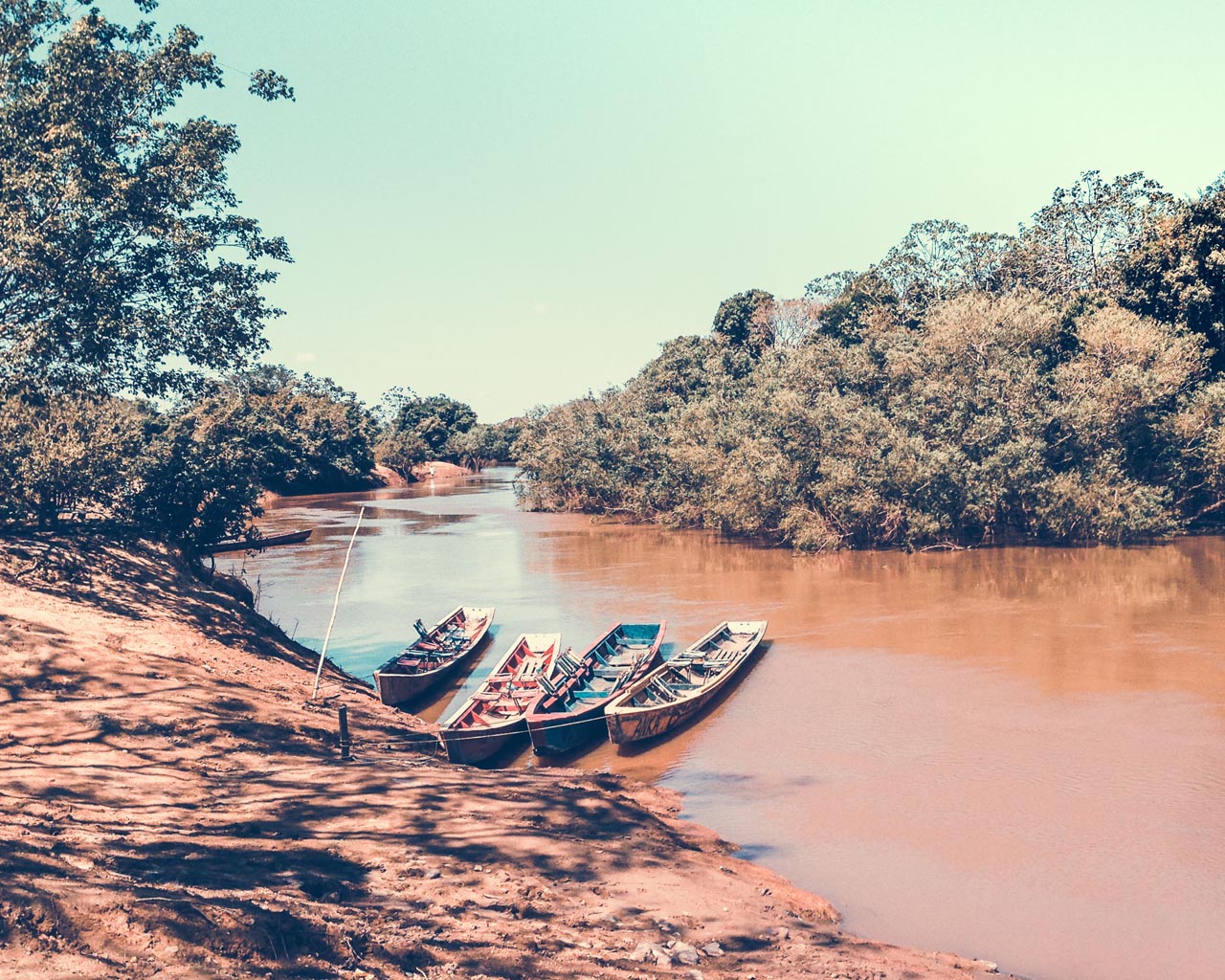 Admittedly it's not something you can see or a memory you'll create but the cost is up there with the most important details about any country.
When you're travelling the world on a shoestring then you want to know if the place you're headed to is going to drain your bank. I'm glad to tell you that Bolivia will not!
Compared to the southern countries of South America; Chile and Argentina, Bolivia is a breath of fresh air.
It is one of those countries where eating out rather than cooking won't ruin your daily budget and consequently, you can splash out a little more on those elaborate excursions.
Make the memories without dying inside with money worries, that's the dream!
Viajes Seguros!
Big love,
N & G
Plan Your Trip to Bolivia
Bolivia is on the Bolivian Boliviano. 1 USD = 6.91 Bolivian Boliviano. Get the XE Currency Converter App for up to date information.
Pick up your Lonely Planet Bolivia on Amazon
Carry a SteriPen with you to purify your water.
Limit Plastic by carrying a refillable water bottle and using your SteriPen to keep water clean and fresh
Help prevent sunstroke by wearing a Tilly Hat. It's breathable and keeps the sun off your head.
Bring a sturdy pair of hiking boots, we're fans of Merrell hiking boots. Lightweight, waterproof and breathable.
We have used Get Your Guide around the world and can recommend their tours with confidence. They offer tours of the Amazon and more around Bolivia.
Author Bio:
Nate and George are friends from Uni, now living in Sydney and London and travelling as much as they can while balancing their full-time careers in tech and theatre.
Follow their Blog at A Hot Minute
Check out A Hot Minute on Social: Instagram, Facebook, Twitter, Pinterest, and YouTube
Enjoy this article on reasons to travel to Bolivia? Make Sure to Pin it to your Dream Travel Board.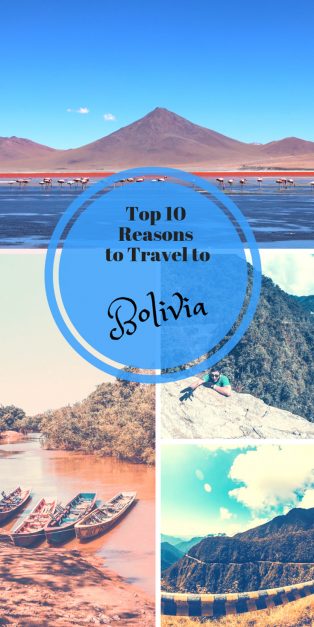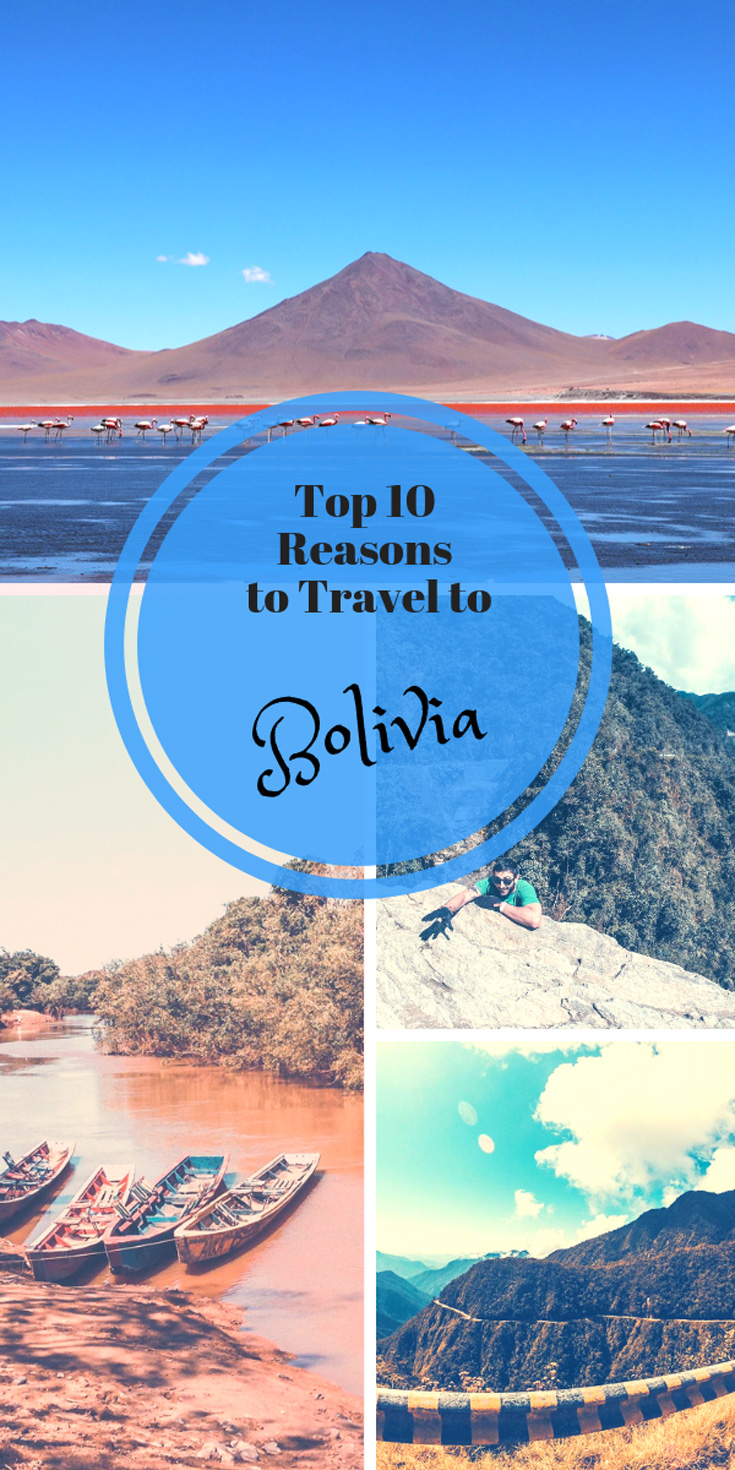 Read More:
Everything You Need to Know About the Bolivian Amazon