Bolivia, June 2011. I had been on the road for nine months and had crossed nine borders. After dropping down into Vietnam through the precipitous mountains of Northern Laos whilst perched on crates of Red Bull, and having paid a white-coated man for dubious 'health checks' to enter Cambodia, I thought I'd seen the best the immigration services of the world could throw at me, until I entered Bolivia.

Bolivia Travel
Since entering Bolivia through the blinding salt flats several days before, I had got word in La Paz that the border with Peru had been barricaded by riots. Leaving the rumour mill that was being fuelled by gap year students twiddling their pashminas in worry and buying inflated airline tickets to Lima, I decided to spend a few days relaxing in lakeside Copacabana. And despite my hostel in the capital of Bolivia selling boat tickets to Peru across Lake Titicaca for $250 a pop, I guessed – correctly as it happened – that if I got to Copacabana, there would be smaller, cheaper boats doing the trip.
Check out more Bolivia at Ignite Your Wanderlust with these photos of Bolivia's Salt Flats
Stories abounded: Whispers of assaults and armed thefts on the Bolivia, Peru border, warnings of tourists walking for miles in the searing heat to cross by foot. A boat started to seem like the easy option although as I handed over the cash, I wasn't naïve enough to imagine I might not be ripped off. I certainly didn't expect the boat to look like it did in the glossy cruise-style brochure I was presented with.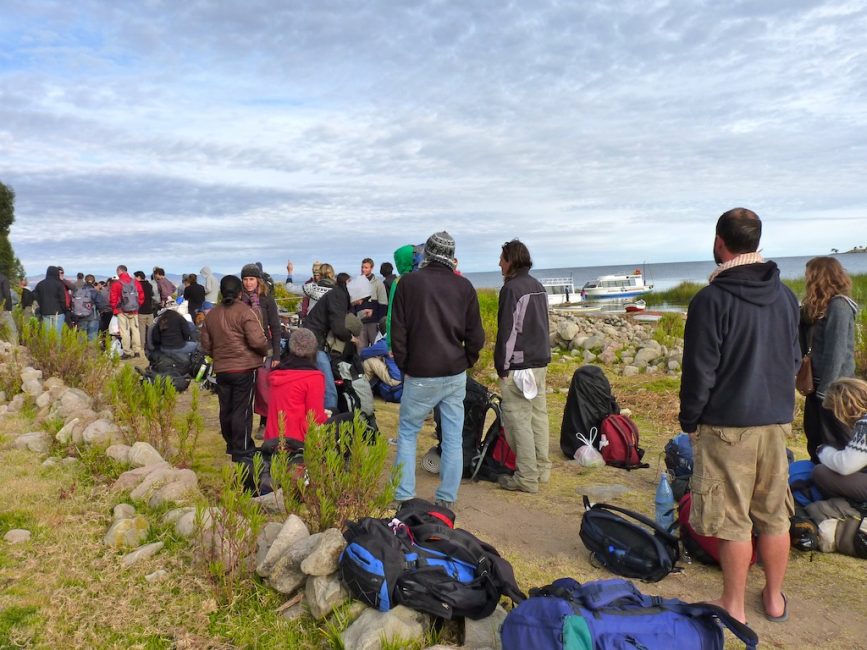 Bolivia by Bus and Boat
So, convinced it wouldn't arrive at all, I was in good spirits when the minibus picked me up in the early hours. Our busload was dropped off with over a hundred other tourists in some abandoned scrubland by the lake. We waited for hours in the cold and exchanged numerous 'what if's' when little fishing boats finally started to appear on the horizon and two emigration officers turned up. Endearingly, they had carried their wooden desk down with them – to make it all official, like. Even the ladies exchanging bolivianos for soleshiked down with their little tables and a few snacks to sell.
I was almost at the very back of the queue, and it didn't bode well that the fourth boat had apparently been stopped from leaving Peru. But luckily, two more soon arrived and we clambered on board into cramped conditions for what turned out to be a nine hour voyage across the waters.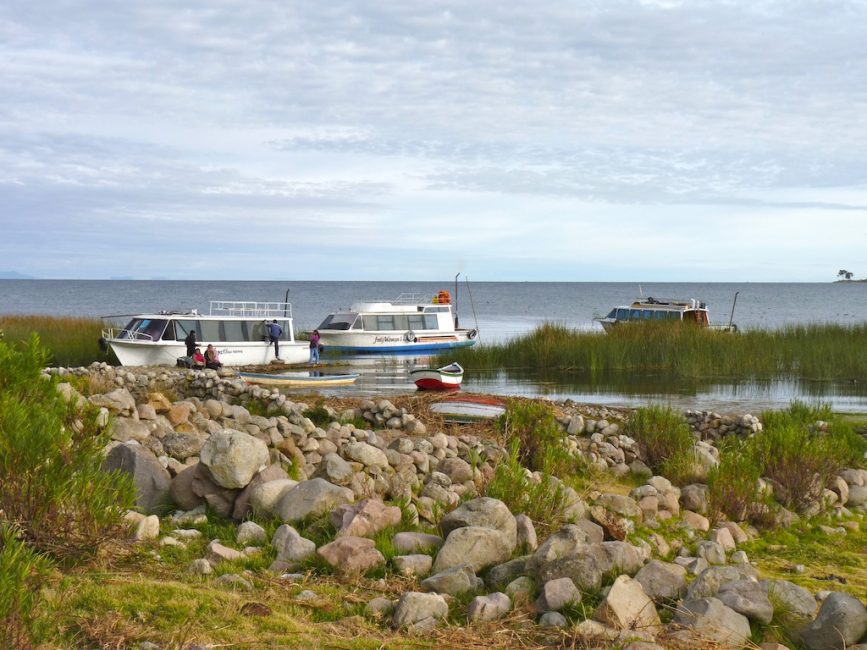 Our boat of around 20 people was the last to arrive in Puno, well after dark, mooring to the north of the town in what could only be described as a swamp. The captain jumped to his feet, pulled a black woolly hat down over his ears and began to speak broken English in hushed tones. I started to feel rather like an extra in a James Bond movie who wasn't quite sure of the plot.
Bye-bye Bolivia
We climbed out under orders of silence that were more or less obeyed. In complete darkness and in sombre line, we followed our newly-acquired Peruvian guide for half an hour, picking our way along the train tracks and then, cautiously, into Puno itself. Although quiet, rocks, glass and the remnants of bottle bombs were strewn through the streets and the lack of cars meant that kids were playing volleyball in the middle of the main strip. We attracted stares and yells but no anger. Even protesters sleep, apparently.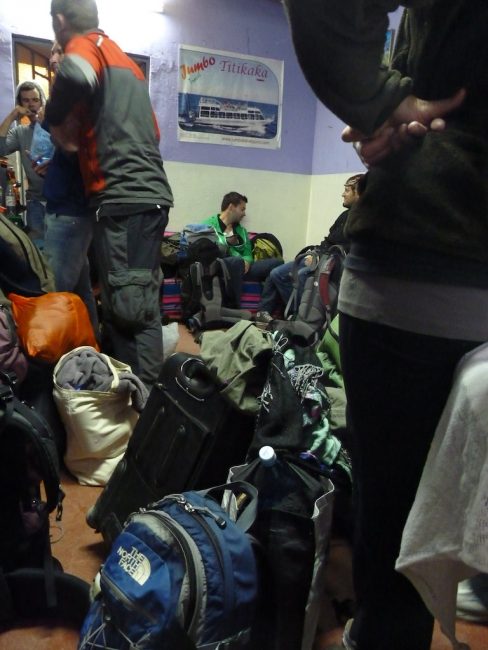 Picking up speed and jogging through back alleys – breathless from the altitude – we were quickly ushered into the immigration office to the sound of aggressive chanting and firecrackers emanating from the main square just around the corner. On the way back out, stamped passport in hand, we glimpsed balls of fire flying through the air and ranks of riot police.
At around midnight, a minibus arrived to drive some of us to Cuzco. It regularly veered off the road to avoid the fires and rocks scattered across the tarmac. Once, we reached a more serious effort at a barricade, barely visible in the darkness. A cluster of youths – some clad in balaclavas – gathered around the van. With one hand, they banged on the windows, with their other; they clasped not cans of Coke but sticks Molotov cocktails.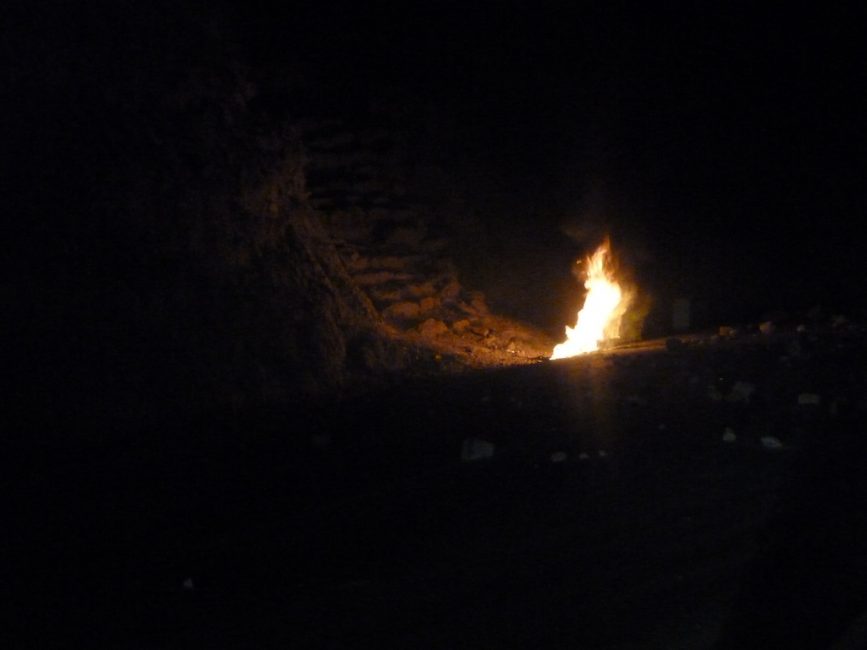 A translation of "they won't let us through," from the driver soon became: "They'll let us through if we pay." Just as I thought this was getting to be not only a dangerous but also an expensive day, a single sole (around 20 pence) was announced as the price and we all hastily extracted notes, thinking how much more we would have paid to reach our destination safely. "No, no," the bus driver laughed. "One sole for the whole bus!"
We finally arrived in Cuzco at 4am, exhausted.
"Ah, we love to protest," explained Coco, our gracious hostel host. He put down our bags in our room and spread his hands in defeat, a cheeky smile upon his face. "It's like football for us – a game – it's in our souls." He'd long since abandoned resistance, and so had I.
Biography Holly studied biology at university and, realising she couldn't actually read a graph or cut off the head of a cockroach, decided to train as a science writer. After working for four years at London's Science Museum, Holly swapped cramped tube journeys for sweltering bus trips around the world, during which she realized her true passion was for writing about places which were so intriguing they could be make-believe. Follow her on Facebook and Twitter and at her blog Travel Each Day. 
You Might Also Enjoy