Taking the Myanmar train was one of those things that we just had to do. Prior to arriving in the country, we heard from fellow travellers about how great and adventurous these journeys could get.
Myanmar Train Travel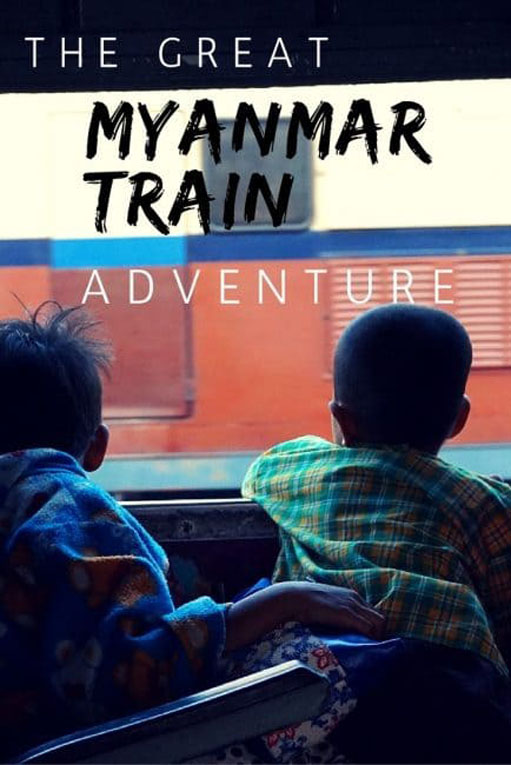 We were encouraged and warned at the same time about the amazing impressions but also by the ordeals that one could face on such as a trip. We eventually decided in favour of the adventure and what we experienced was far beyond what we expected!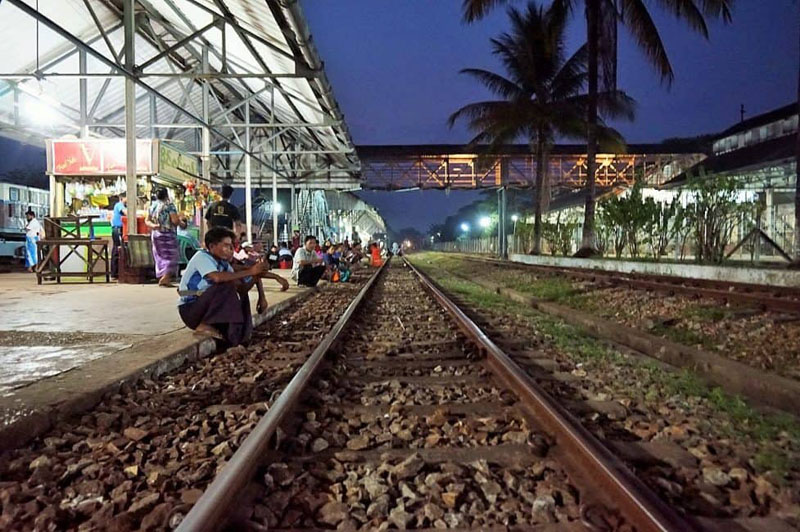 The entire train ride adventure came upon us by chance as we actually did not proactively plan it.
After a rather long bus ride from the town of Hpa-An to the Kyaiktiyo Pagoda (which we, unfortunately, couldn't see because of an ongoing construction) in the Southern Mon State we ended up in a town named Bago, roughly 80 kilometers north of the capital of Yangon.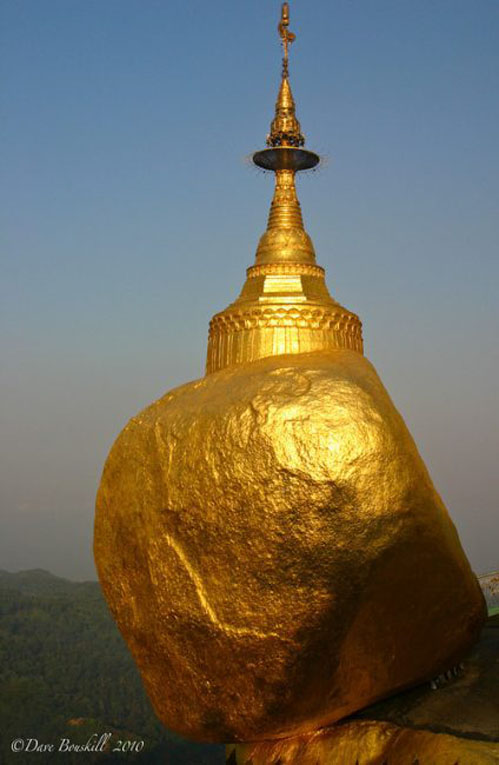 Buses were not to leave till the day after and we decided to go for the next best transportation to bring us to Kalaw, our planned destination.
Train to Kalaw
There was a train coming from Yangon which could take us to the northern town of Thazi from where we could then find a way to reach Kalaw.
We bought our tickets and the train arrived shortly after. We were at the beginning of an incredible adventure.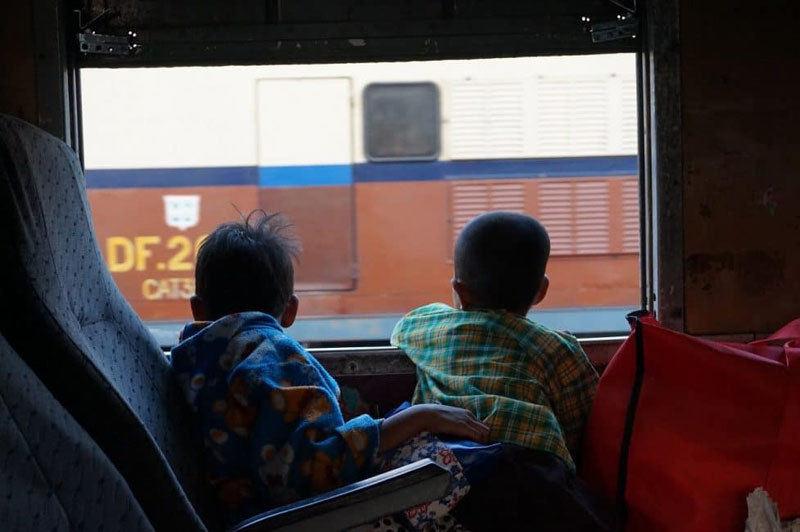 Travelling to Myanmar? You Can't miss visiting the Temples of Bagan
Bago to Thazi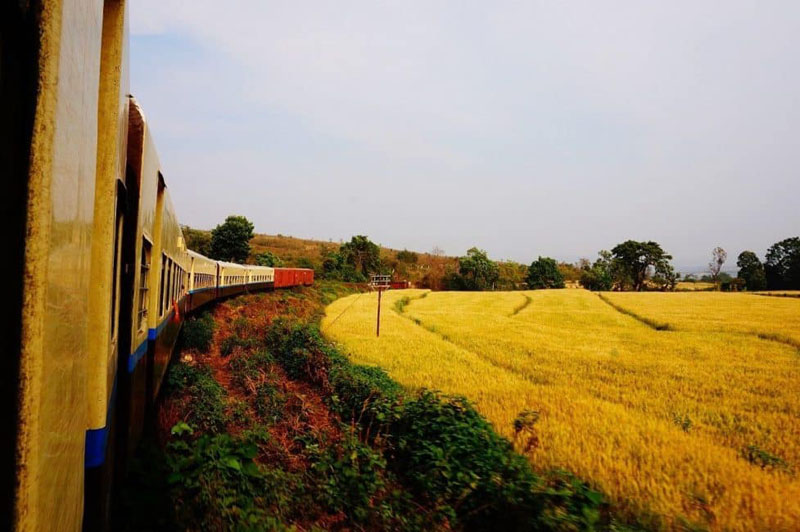 First-class tickets were sold out which left us with two seats in the 'ordinary class'. We were not sure of what to expect but we prepared for a bumpy ride.
The evening sun started to fade behind the train station as we drove into the night.
We spent the next 15 hours in an overcrowded wagon, sitting on rock-hard wooden benches while listening to the rhythm of the rattling tracks beneath. People around us were incredibly friendly.
They were smiling, taking pictures and videos – small girls giggling away in the back of the wagon.
People were simply curious about us being here together with them.
We all shared food, drinks and conversations – sometimes even without speaking a word or English. It was a great experience and we were able to get a small glimpse of Burmese life and culture.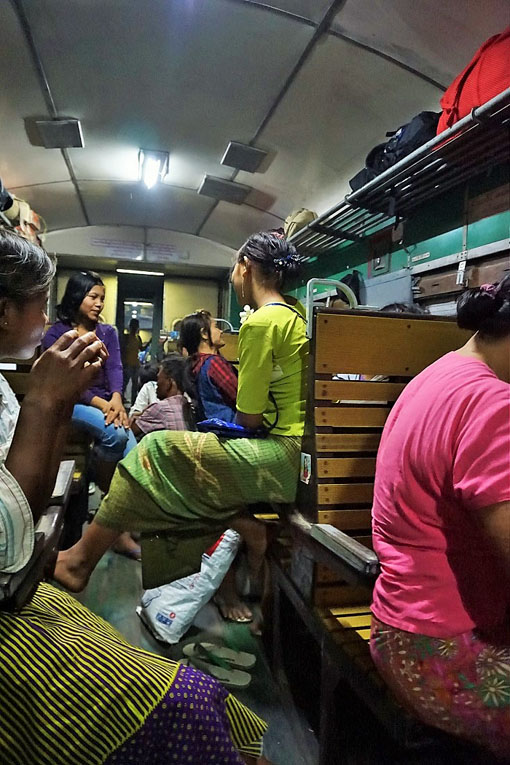 It is the people that make this country so amazing and this was something we encountered once again during this trip.
Thinking of taking the Myanmar Train? Consider visiting Inle Lake as well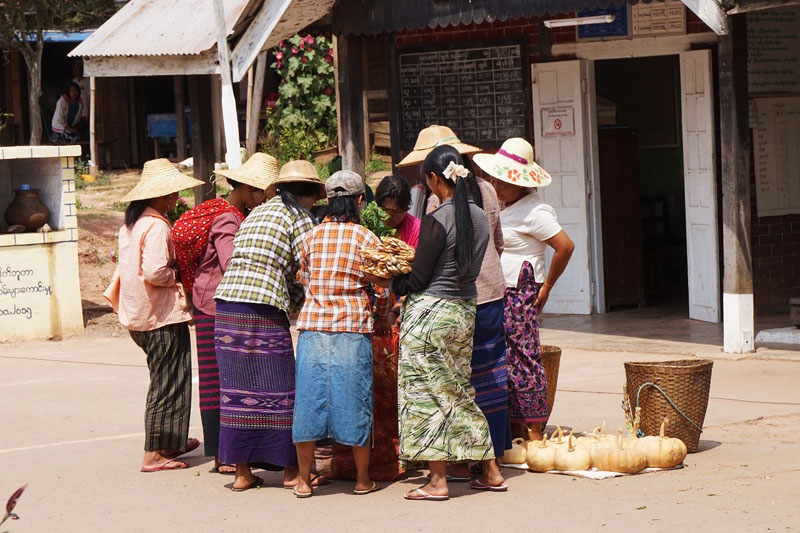 Sleeping on the Train
We eventually managed to fall asleep for a while and woke up as we approached the train station of Thazi.
People were still scattered on the rock hard benches and thin floor mats around us, somehow finding no discomfort in that.
We grabbed our bags and dragged our sore bodies out of the wagon. It was a bit cold as we stepped outside, a light fog of dawn covering the train station.
A few stray dogs were still sleeping, curled-up and waiting for the day to start. The sun slowly peaked in the early morning haze – a new day, a new adventure was awaiting us!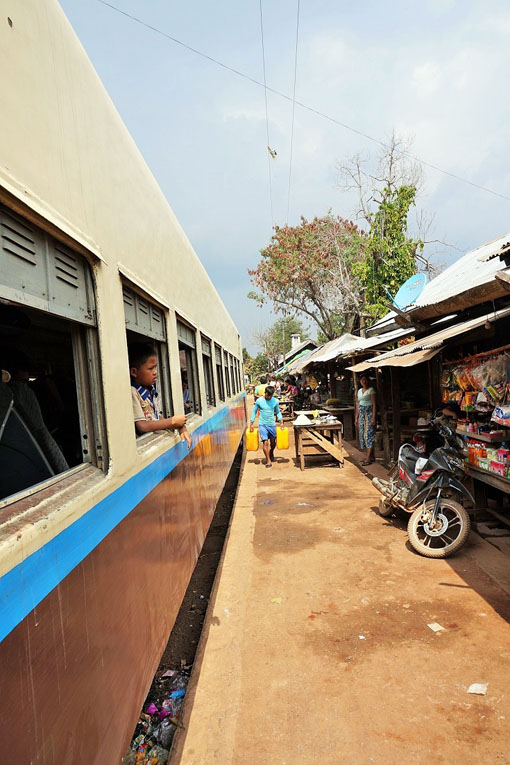 Learn about the history of the Burma Railway at The Myanmar Railway
Thazi to Kalaw
Searching for the next best way to reach Kalaw we found out that a train was leaving in just about one hour. Being a bit reluctant at first because of yet another train ride we eventually decided to take it – also because we managed to get first class seats this time!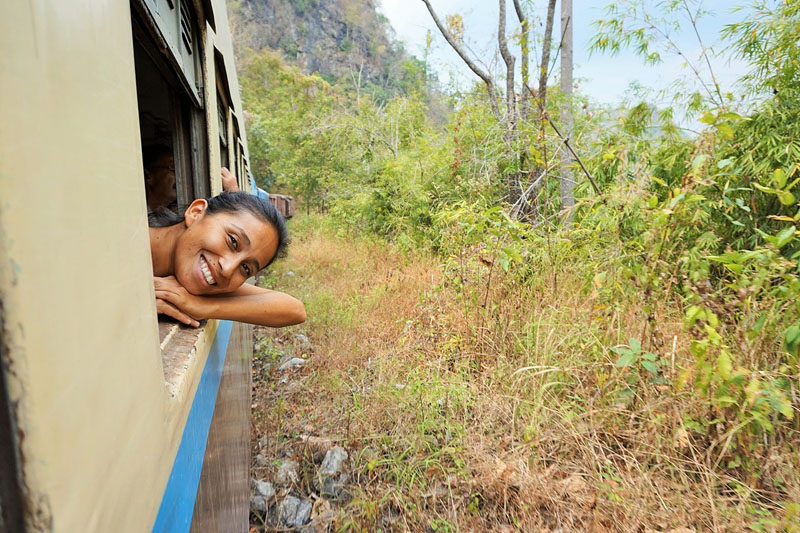 After a nice coffee in a small cafe infront of the station we boarded the train that was going to finally bring us to Kalaw.
Apart from a Burmese mother with her two small kids there were mostly tourists onboard.
Our seats were incredibly big and cushioned which was a true gift after the long and strenuous ride of the night before.
We immediately passed out and fell asleep for the next hour of the ride before awakening to some great views of the surrounding jungle landscape.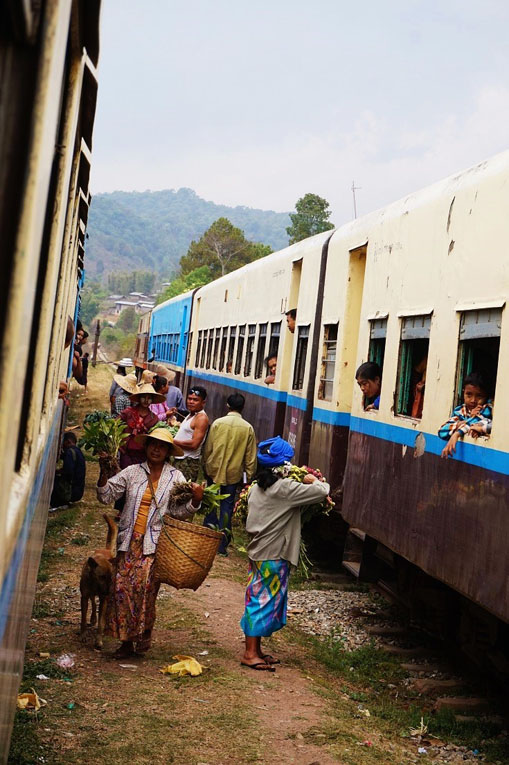 The train took us zig-zag up the mountain with the help of an advanced engineering construction.
It would move forward, stop, and then reverse onto another track in the opposite direction.
Train Vendors
A truly fascinating and unique experience and something that we would highly recommend seeing. Along the way, we stopped at several stations where loads of vendors were selling their products to the train passengers.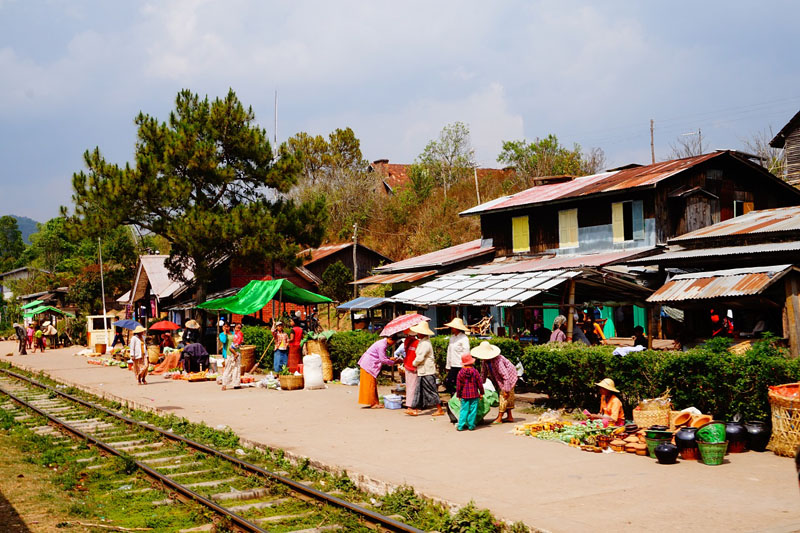 They would loudly approach the wagons, reaching up to the windows or entering the train, balancing all sorts of foods, flowers or drinks on their heads and in their baskets.
It was a great scene to observe and take pictures of.
Get your Myanmar Lonely Planet Travel Guide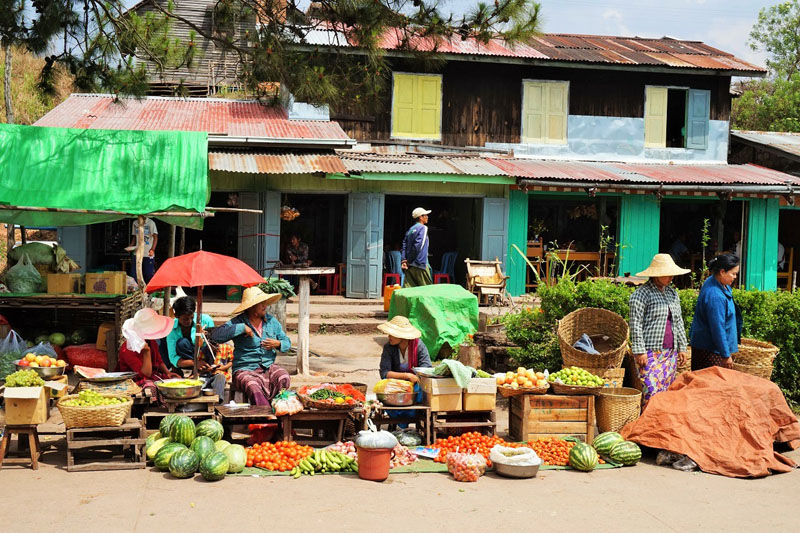 We reached the town of Kalaw after an incredible journey, taking us around 18 hours in total!
We were dead tired, bitten by some sort of insects along the way (a very unpleasant experience), exhausted and wrecked but so happy to have experienced something so wonderful.
The people, the experiences, the sounds, the smell and the views gave us more than what we expected. It was a true, authentic and memorable Burmese adventure and something that we will definitely remember for a long time!
BIO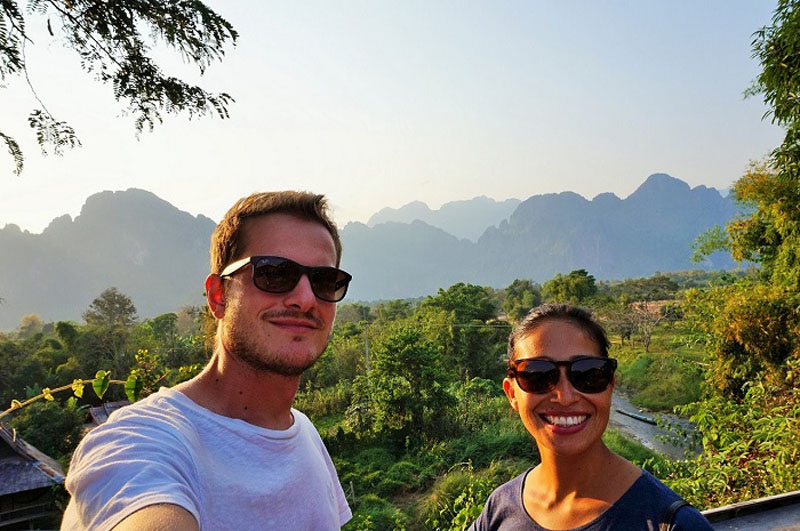 Apenoni is an inspirational travel blog filled with stories and pictures from a wanderlust Mexican-German couple passionate about traveling and exploring the world. You can follow their journey on Twitter & Facebook or go and visit their website.
Read Next
The Realities of Traveling in Myanmar
You Might Also Enjoy