Landing on the Galapagos Islands with Intrepid Travel is a dream for any avid traveler. One of the top destinations in the world for adventure travel, the Galapagos islands offers up spectacular wildlife viewing, awesome scenery and a intriguing historical past that will satisfy any type of explorer.
After passing through customs and paying our $100 park fee to enter the islands, we had just enough time to check into our hotel and grab a light lunch on San Cristobal before we set off for our mountain biking adventure.
Active Galapagos
We were on the Intrepid Travel, Active Galapagos tour so we didn't quite know what to expect when we read that we'd be doing some mountain biking on our first day in the islands. How much of a physical challenge would it involve and would we be on single-track trails or wide back roads?
It turned out to be more of a fun ride than an exhausting endurance challenge. And that's the way we liked it. It was also a great introduction to San Cristobal and helped us to find our bearing and get a lay of the land.
We were taken to the highest point of the island in 4X4 trucks with our bikes securely locked in the back. It was hot outside, but the cool air conditioning made for a pleasant ride lasting about a half and hour.
We arrived at a parking lot near the top of a mountain and took a short hike to the highest point to overlook the entire coast. It was a beautiful view and our guide Zambo pointed out where we'd be snorkeling the following day.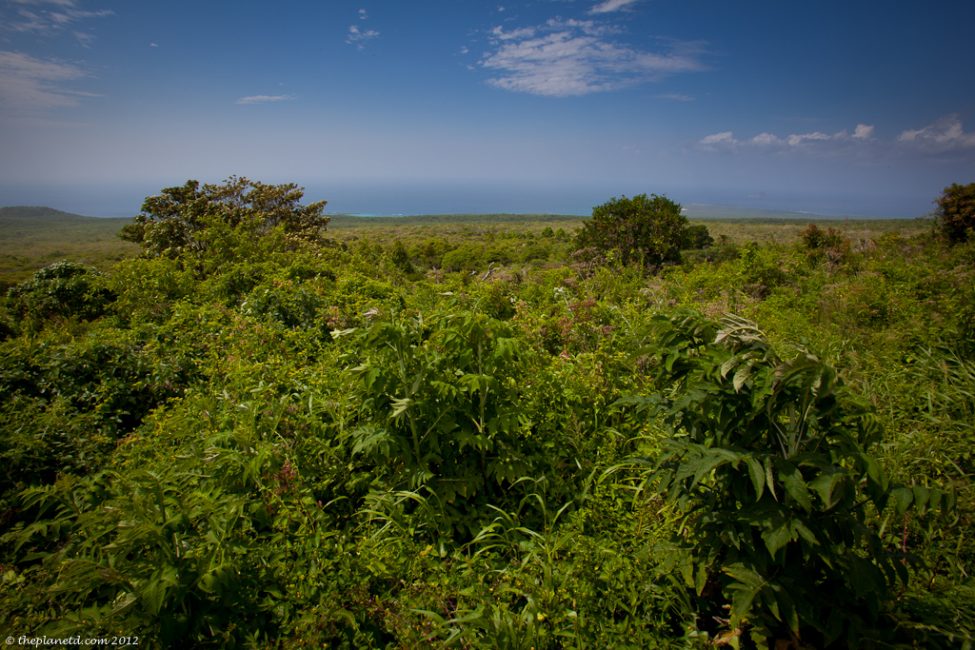 The day was hot and clear and we were all looking forward to getting on the bikes and feeling the breeze so without wasting too much time, we made our way back to the parking lot to start the ride.
We took off in one big group making sure to stay in single file, as we'd be riding on the road.  Zambo led the way with another guide from the shop taking up the position of "sweep rider" in the back to make sure everyone was safe and sound.
The bikes were in excellent condition and it made for a super easy ride. We spend about an hour coasting from the highest part of the island to sea level with stops along the way to learn about the flora and fauna of the land.
We tasted fruit fresh off the tree and felt the texture of different plants while learning about the local way of life on the island. Many of the residents simply pick their fruits right off the trees whenever they are in season. Fresh and yummy.
Every once in a while we would come across some epic downhill descents and our guides let us bike ahead as we tucked low to achieve optimal speed. You had to be careful though some of the road was uneven and you always had to keep a look out for cars coming in the opposite direction.
It was still hot when we finished our ride so we set off to the beach to enjoy a dip in the chilly waters. We left our bikes at an entrance to a trail and hiked through a jungle trail to a beautiful beach filled with sea lions, blue-footed Boobies, crabs and Iguanas. No wonder we saw so many sea lions, we had entered a sea lion refuge centre!
 The wildlife was sharing the beach with humans in complete harmony.
It was an exciting first day of our trip through the Galapagos Islands and what a thrill to spot so much wildlife in just a few short hours and to get right down to business with being active and seeing the sights.
This isn't your average Galapagos Tour and that is exactly the way we like it.
For more articles on our time in the Galapagos Islands read:
Playing with Sea Lions
Marine Iguanas Feeding Underwater
What it's like on an Active Galapagos Tour with Intrepid Travel
The Wildlife of the Galapagos Islands