We love to snowboard. It is the best way to pass the long winters in Canada. It actually makes the cold weather quite enjoyable. There is nothing like racing down the hill on a sunny day.
Mont Tremblant, Quebec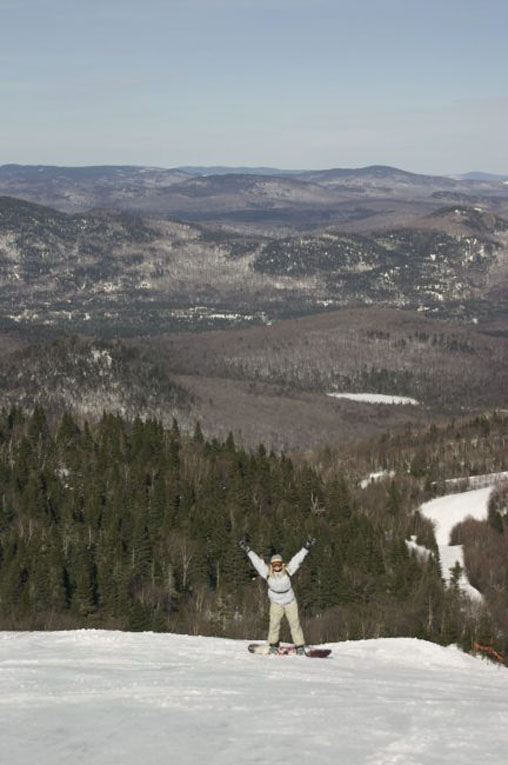 One of our favorite mini holiday destinations is Mont Tremblant in Quebec. There is just enough adventure mixed in with the decadence of luxury hotels, fine wine and great food.
Located 1 1/2 hours north of Montreal in the Laurentian Mountains, Mont Tremblant attracts tourists from around the world. Being a part of the Intrawest family, Mont Tremblant has all of the elements of Whistler in BC, Steamboat in Colorado and Panorama in Alberta.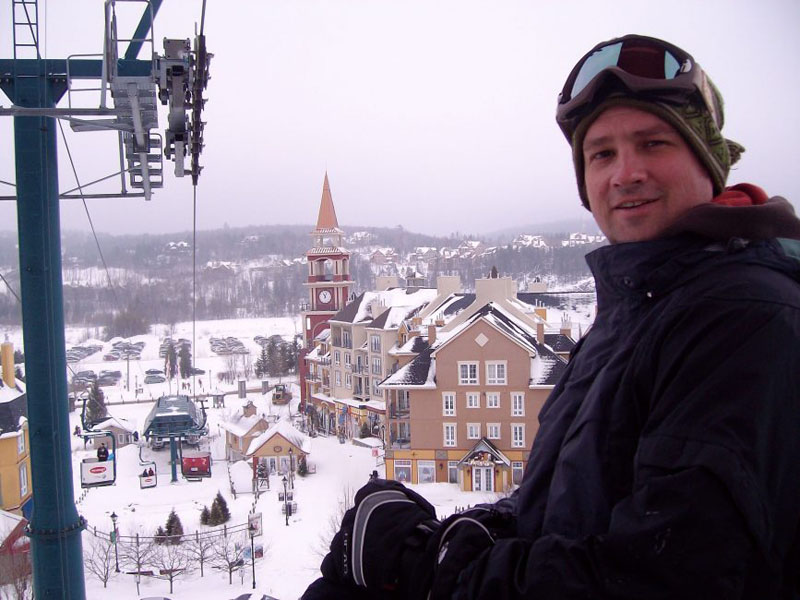 World Class Village
Intrawest has done an amazing job of transforming the base of each mountain into a world class village.
Packed with wine bars, bistros, Asian, French and International cuisines there is something to satisfy any craving. It has coffee shops and pubs cafeterias and places for fondues and raclettes.
Have you figured out that our favorite thing to do besides the odd adventure or two is to eat!
Mont Tremblant Village is post card perfect. Swiss style lodges line the hill, cobblestone steps make their way up to the gondola opening into a large square surrounded by patios with a giant fireplace right in the middle of it all.
The Fairmont Mont Tremblat
It is not just a quaint pretty village. There are numerous world class hotels, most notably The Fairmont Temblant.
After all of our years traveling to Mont Tremblant, we finally managed to stay there. Finding a great deal online took the chance to book blindly.
The Tremblant website was running a promotion last year where if you booked last minute at a hotel in the village, you would get it at a drastically reduced rate.
One catch, you didn't know what hotel you were booking until you paid in full. That is ok by us, we just looked at it as a little adventure. We love a surprise and what a surprise it was when we were booked in a room at the Fairmont.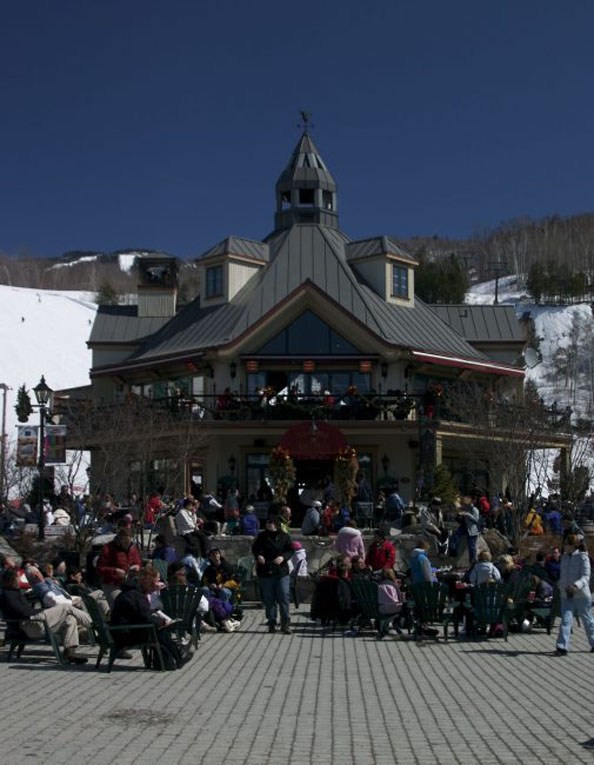 This place is spectacular. Located directly on the base of the mountain, you can ski in/ski out all day.
After hitting it hard on the slopes, drop off your boards at the storage and hop in the outdoor hot tub or take a play some volleyball in the outdoor heated pool surrounded by snow and rocks.
Swiss Spa
They have a Swiss spa and indoor pool and hot tub, but who wants to be inside, the action takes place on deck.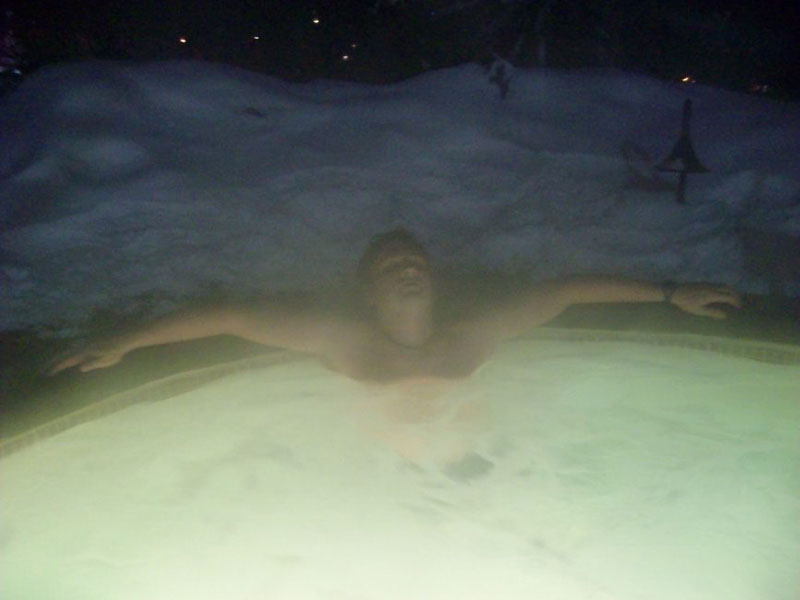 But enough of the resort and rooms, we are here to snowboard and snowboard we did. We always spend too much time on the hills.
Friends come with us and are annoyed that we have to be out at first tracks and going hard until the last run, but it is just too much fun!
Mont Tremblant for All Levels
Mont Tremblant has great runs for all levels. Head over to the North Face and make your way to The Edge and you will discover some wicked trails.
Tremblant has excellent Glades and mogul runs plus some near vertical slopes.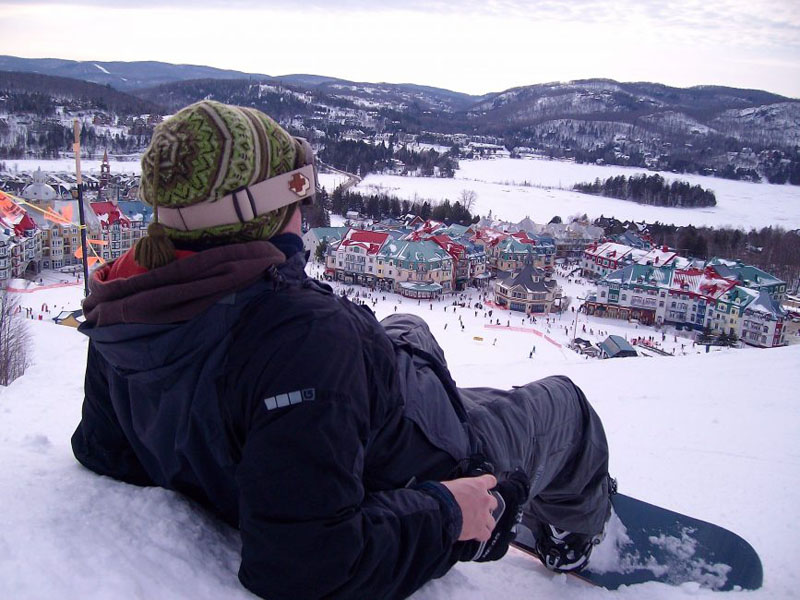 You can follow the sun by choosing runs on the South or North side.
I love taking The Duncan Express chair lift right to the top near the end of the day and doing a few fast top to bottom runs before calling it a day.
Different Runs and Terrain
There are so many trails and different runs, excellent terrain parks and enough lifts to keep the lines short that it is easy to spend the entire day on the hill.
A stop for lunch at the top of the Gondola is a fantastic choice. There is nothing more Canadian than having a beer on the patio dressed in snowsuits overlooking the beautiful snowy countryside.
Things to do in Mont Tremblant
There are other things to cater to your adventurous side as well.
There is dogsledding in the area
ice climbing
skating
snow tubing.
We call tubing the ultimate couch potatoes thrill ride.
Have a track pull you up the hill as you lay in your tub, have a guy grab the tube for you and take you to the top of the hill and then lay back down and plunge down at lightening fast speed.
Everyone has got to try tubing once.
Old Mont Tremblant
Make sure to venture away from the tourist area of Intrawest Village.
The Old Mont Tremblant Village is charming on the lake and St. Jovite is another beautiful village nearby. These villages give you an authentic taste of life in Quebec.
There are shuttles running from the mountain to the village and you can be sure to find a great place to eat at either of these towns.
So try a little French Canadian Culture for your next ski vacation in our favorite hang out. Mont Tremblant, Quebec, Canada!
Read More
1000 km From Wandake to Cree Nation
Summertime Things to do in Montreal