Dave and I have always wanted to stay in the heart of New York City. We've visited New York a couple of times, but we never seem to end up where we want. Not this time at the InterContinental Hotel Times Square!
This past January, we finally had the chance to stay in the heart of all the action at the InterContinental Times Square.
It was hotel week in New York so discounts were huge, but we had some leftover points from IHG© Rewards Club so our stay in the city that never sleeps didn't cost us a penny.
InterContinental Hotel Times Square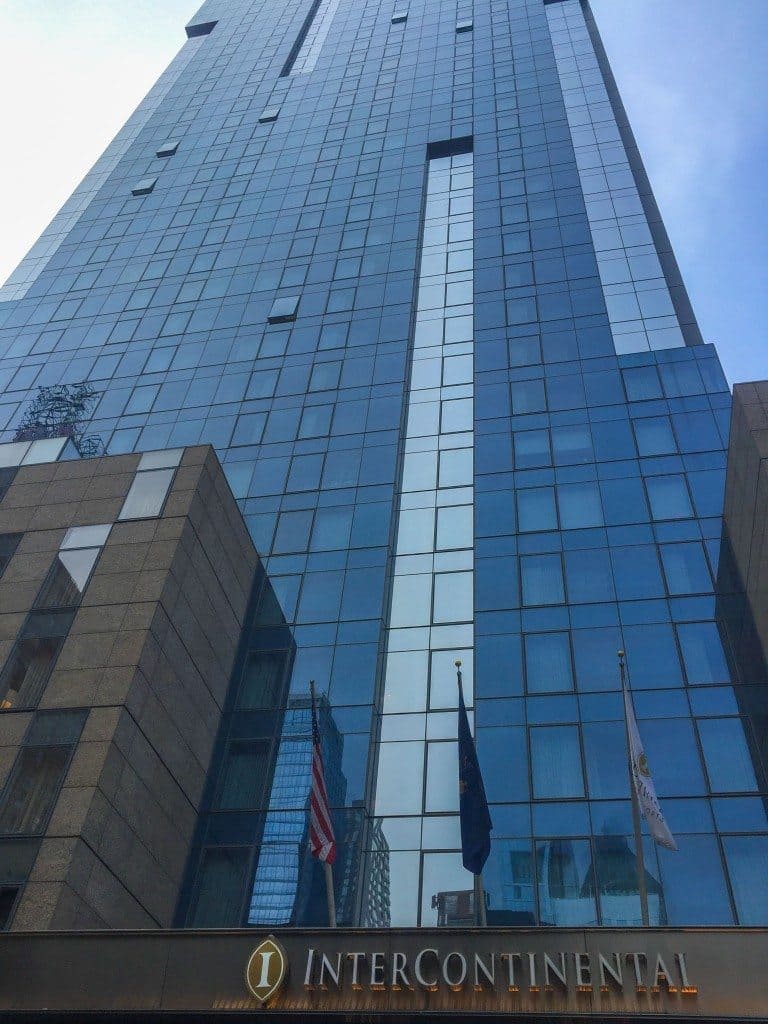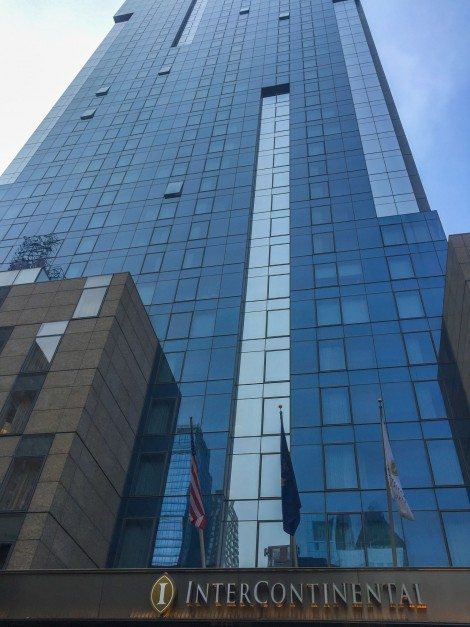 Whenever we book something on points or online, we are never quite sure how it is going to turn out.
Sure, it's the InterContinental, but at only 50,000 points per night, there has to be a catch right?
The Perfect Location for Business and Pleasure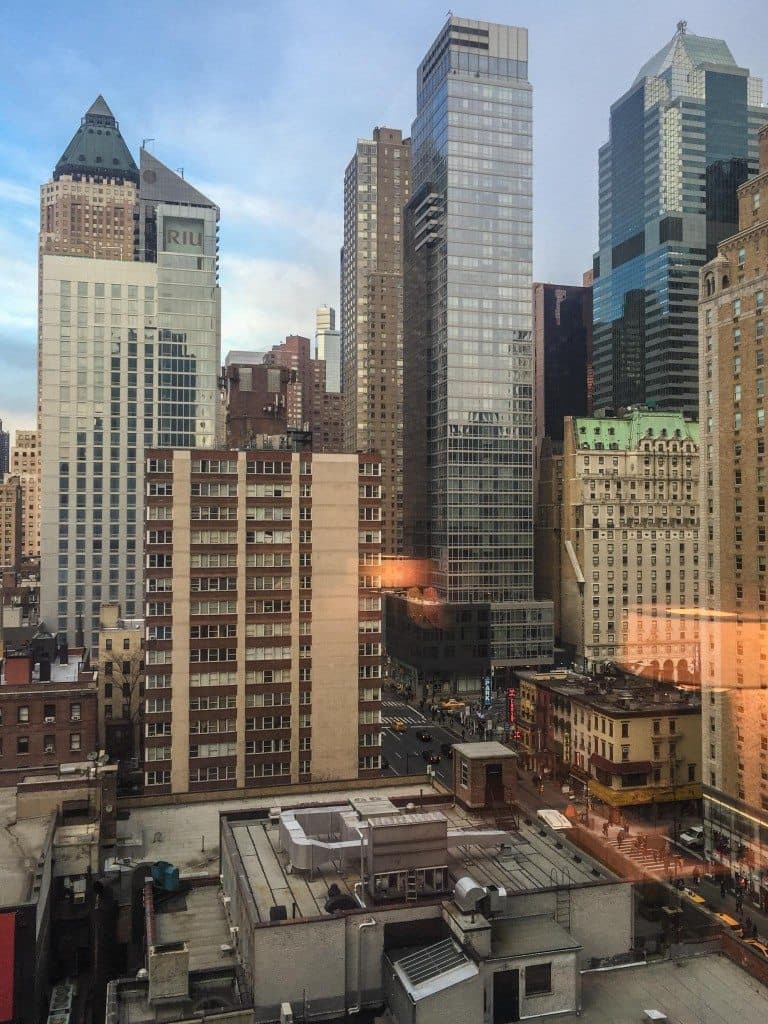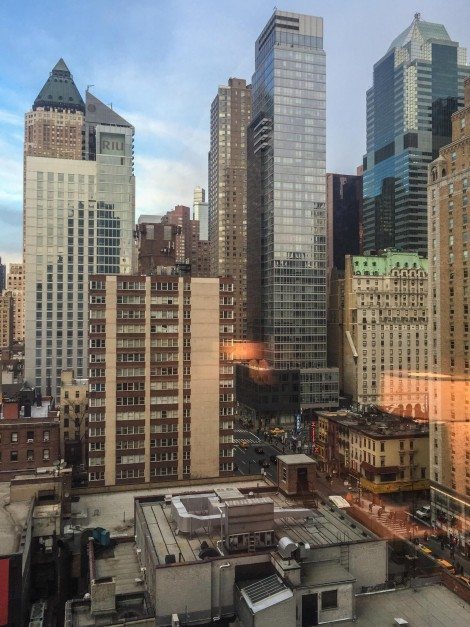 Maybe it's in need of a renovation or something? Maybe it really wasn't as close to Times Square as we thought. Nope. This hotel was exactly what we were looking for.
Get your Lonely Planet New York City Travel Guide
Location, Location, Location
Straddling the Times Square District and Hells Kitchen, The InterContinental Hotel Times Square is a ridiculously short walk from Times Square yet our street was quiet enough that we didn't hear the noise or have the annoying lights flashing in our faces.
Head one direction and you are in the heart of the action, go the other way and you are browsing Hells Kitchen for amazing dining options.
Broadway Shows were playing right down our street. Who could ask for more?
Enjoy this read: Choosing Travel Freedom over the New York Rat Race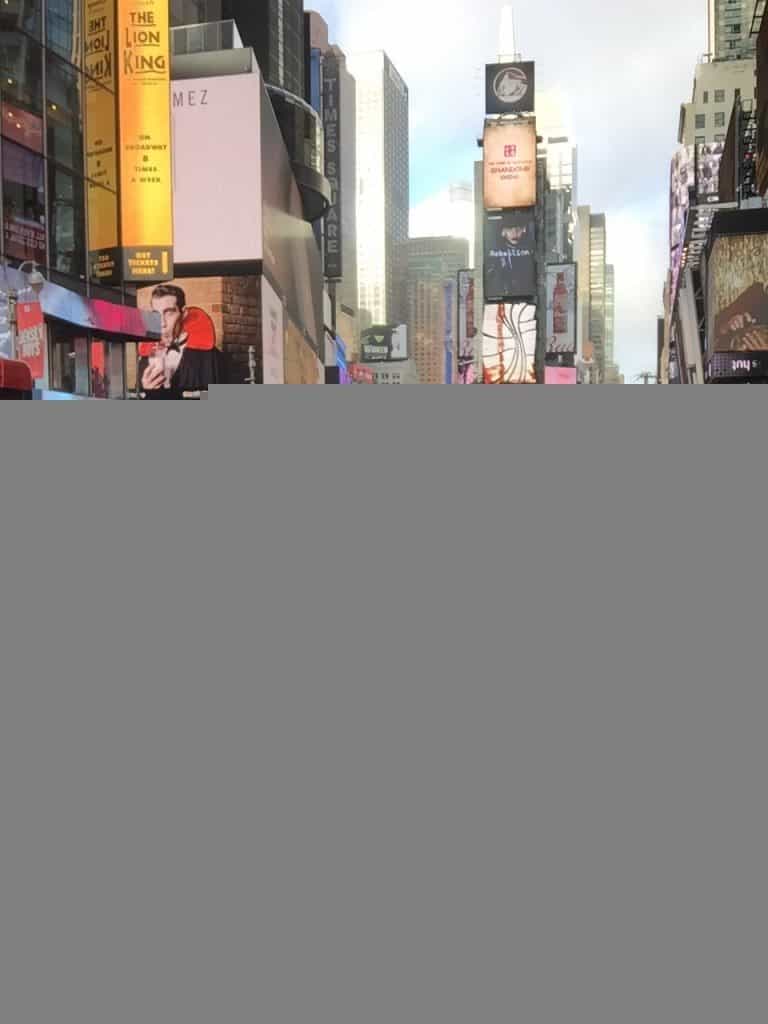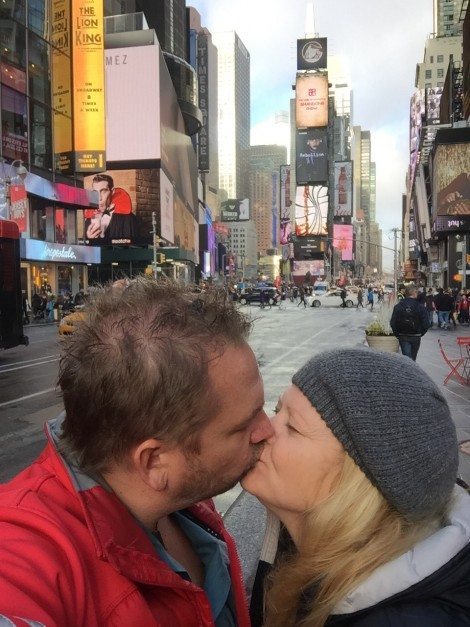 We were in New York, speaking at the New York Times Travel Show, but we booked a few extra days to enjoy the city.
We experienced New York and our hotel as both tourists and business travellers.
The weather was unseasonably warm, we had an unusually free schedule and we were ready to take time as a couple to relax and enjoy each others company.
Read about our Key West Vacation on IHG Rewards Points
New York Times Travel Show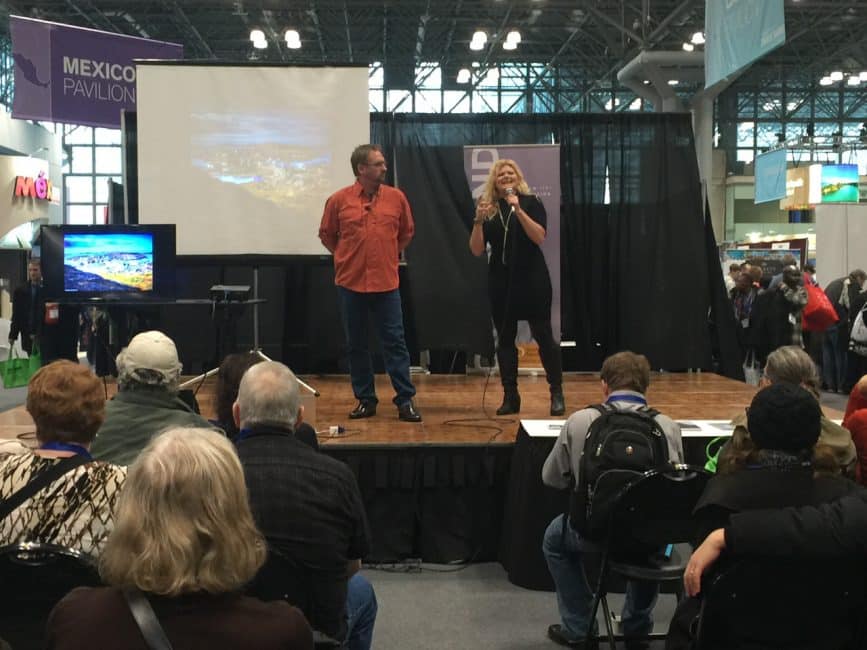 The hotel was a 15-minute walk to the conference centre or a short taxi ride costing about $6.
We had heard that everyone was using Uber now in the city, but Dave and I stuck to the yellow cabs because every time we got an estimate from Uber, it was more expensive than the yellow cab!
Besides, taxis were constantly parked outside our hotel, so it was easy to walk out the door and go straight into our ride.
The hotel doormen were friendly, helpful and efficient and we never had to hail a cab ourselves. They took great care of us.
Check out our youtube travel video: The Best of Brooklyn
Checking In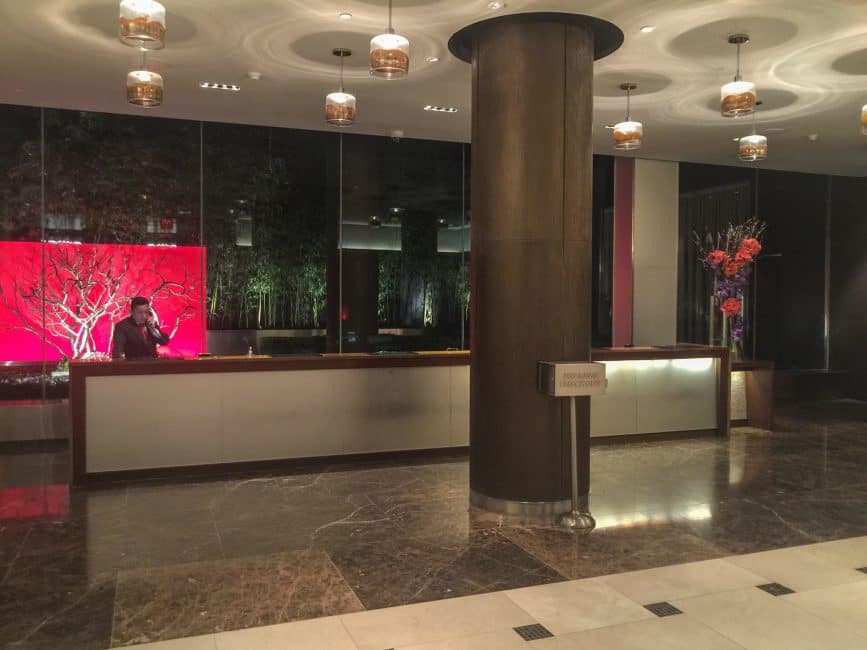 Arriving on an early morning flight to New York City from Toronto, we checked in but our room wasn't ready (since it was 10:00 am).
They stored our bags and took our phone number to call us when we were all set. We had a lunch planned at STK Midtown so we took a stroll to the venue which ended up only being about 15 minutes away by foot. This trip was starting off great.
We found that nearly every business lunch, dinner or after party was located near the InterContinental Hotel Times Square.
We never spent more than $10 on a taxi and the majority of the time we could walk anywhere.
A lot of people will say, the hotel doesn't matter when staying in a city because you never spend time in it anyway, but to us it's everything.
There is nothing better than coming in to an elegant room after a long day of sightseeing or business meetings.
Our city view was outstanding and for the first time, Dave and I felt like we did New York City right.
We've always had something amiss with our past accommodations.
They were either a little too far away from it all, just a little too basic, or our hotels were nice, but something seemed wrong.
It was like they were trying to be upscale, but were missing the finishing touches.
The Room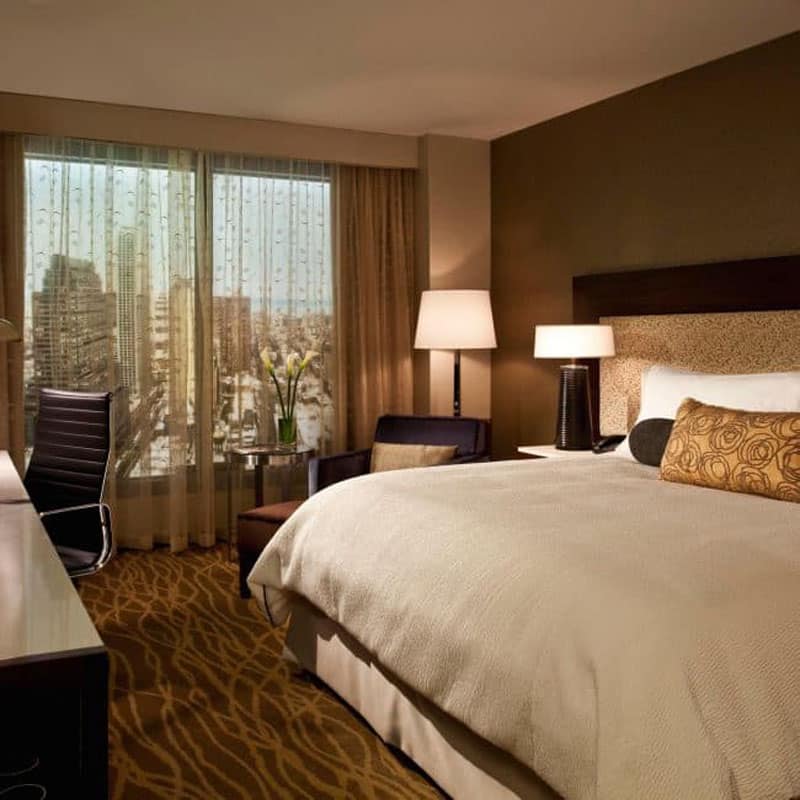 With the InterContinental, we felt that they got everything right. Dave and I spend a lot of time in hotel rooms.
We're in a hotel about 300 days a year so we have a lot of opinions when it comes to room amenities.
Dave likes to always say "it's the little things that count" Many hotels have the feeling of being upscale, but they miss the little things that truly set a high standard establishment apart.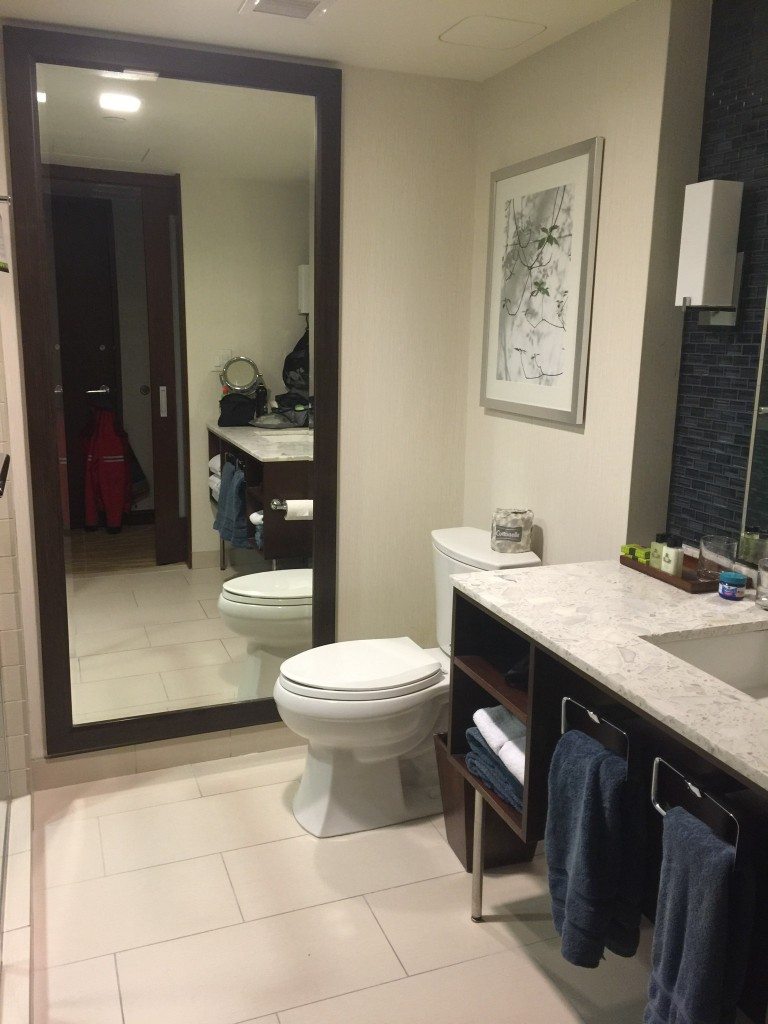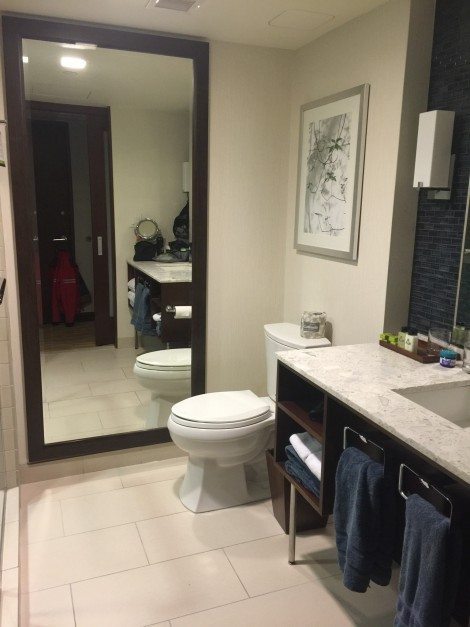 But at the InterContinental Hotel Times Square, everything felt right. The bed was so comfortable, we could sleep all day.
The pillows were so good, that my chronic neck pain subsided during my sleep. (It was back once I started moving again)
It was set up well for business travellers with several outlets and USB ports in the desk, Keurig® coffee maker and a big flat screen TV. Being IHG Rewards Members, we even had free wifi which was a bonus for us.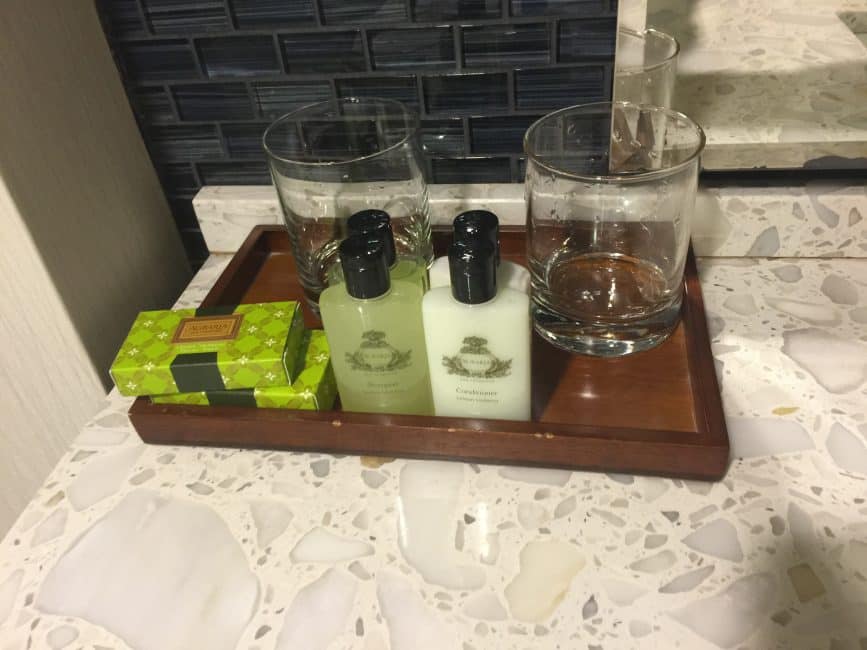 The minute you step into the hotel, everything feels relaxed. The lobby is tranquil with mellow lighting, and a viewing garden directly behind reception.
It instantly puts you at ease after being out in the hustle and bustle of New York City.
Looking for an alternative to hotels in New York? Check out our post on New York Vacation Apartments
We Love NYC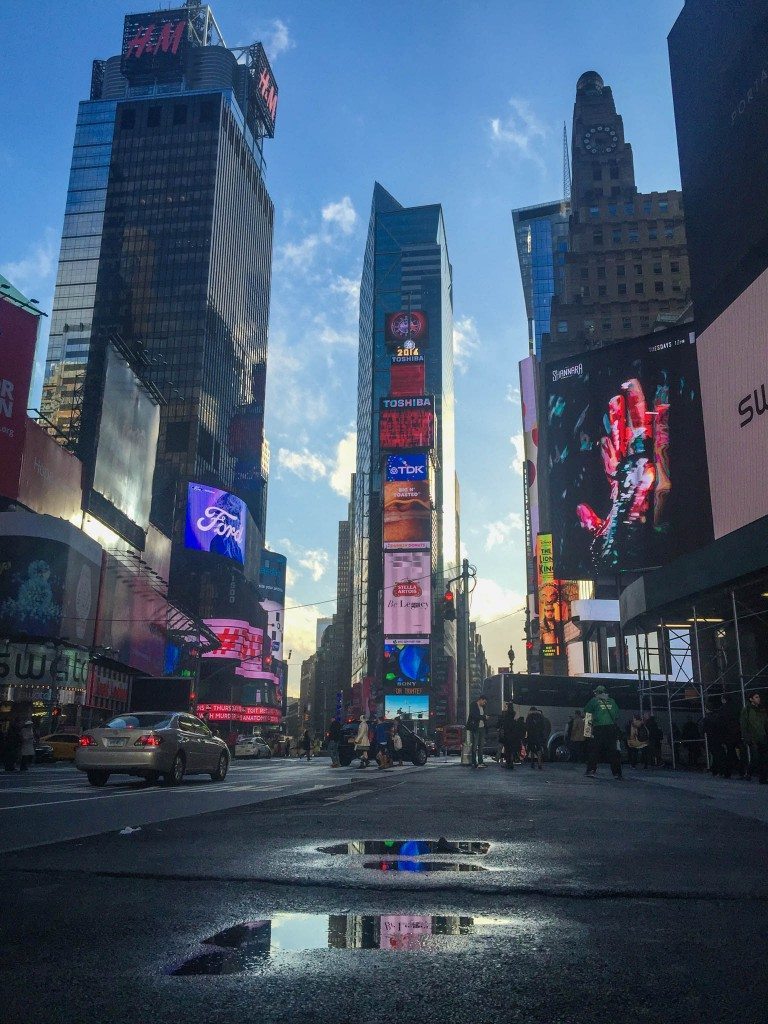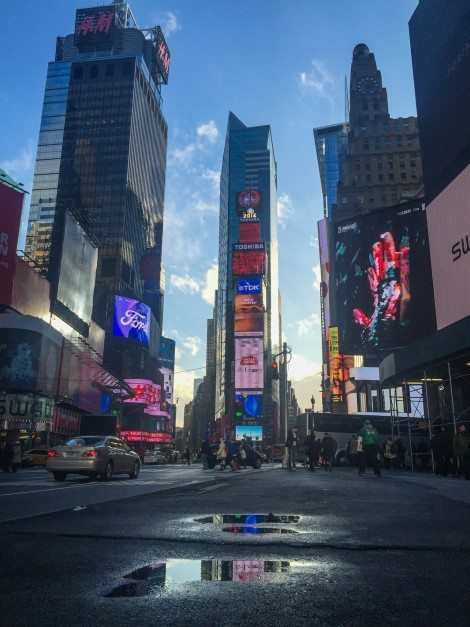 Being so close to everything means we are just walking distance from restaurant row for our choice of dining options and it was exciting to see Birdland directly across the street.
It's here where Broadway artists hang out on Monday nights to perform when the theatres are dark.
Oh how I would love to see the stars of Broadway performing in an intimate venue.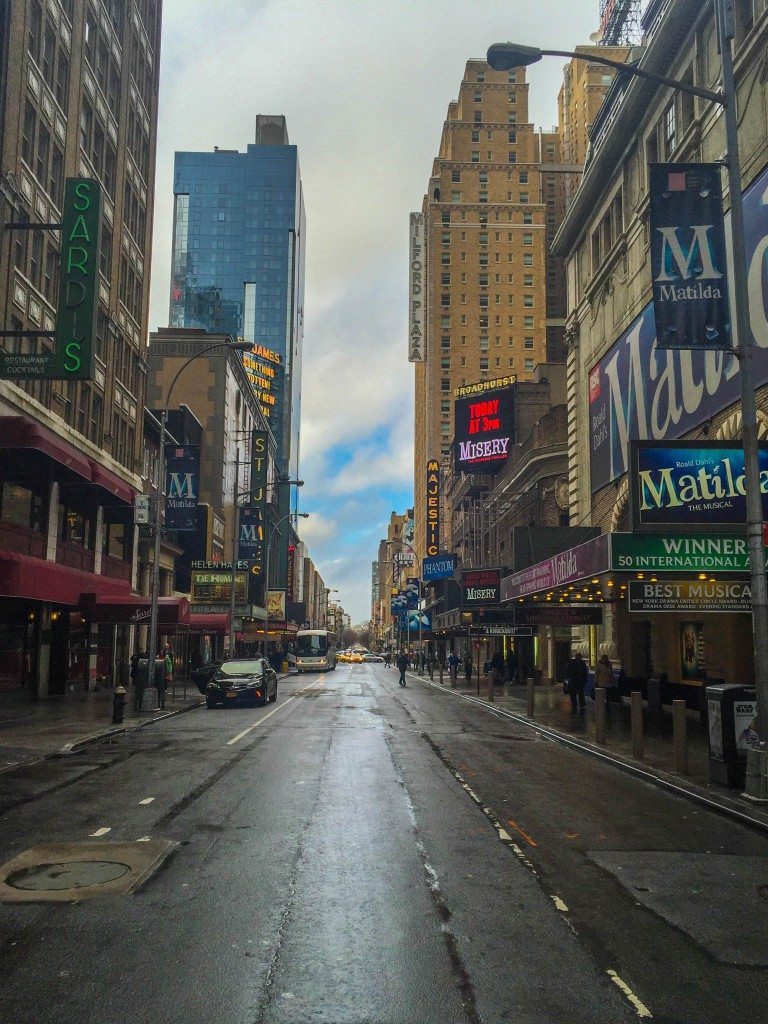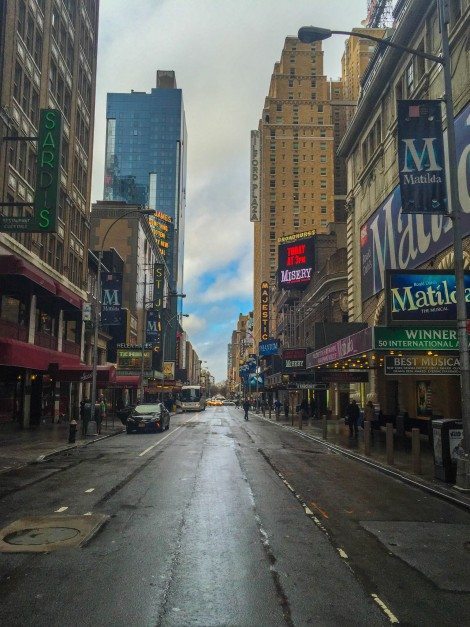 We were certainly in the entertainment district, the Actors Studio is right next door to the InterContinental.
We saw would be actors standing out front and I wondered to myself, "What future start is in the making in there right now?"
We walked everywhere popping over to the ice rink at Rockerfeller Centre, Bryant Park for some more ice skating action, MOMA, The Empire State Building and Radio City Music Hall.
All the iconic sites of New York City are right within our reach when staying at the InterContinental Times Square. After our stay there we won't stay anywhere else when we come back to New York.
The InterContinental Hotel Times Square was the perfect hotel for Dave and I. I can't wait to go back to New York and explore the lesser known tourist attractions next time. We still have so much more to see and do!
Our trip to New York City and the InterContinental Hotel Times Square was made possible by IHG© Rewards Club. However, our points were given to us for a previous trip to Key West.
We did not have to write about our stay here and chose to because we enjoyed it so much.
We don't get excited about travel in the way we used to before traveling for a living, but while staying at Times Square in New York, we were giddy with excitement all over again. New York will do that to a person.