Monday's are new!
It's our day to talk and share what we have learned over the past couple of years of the travel. Last week we shared what we did to secure Sponsorship for the Mongol Rally. Today, we are talking about StumbleUpon. For some it is the most confusing form of social media, but it doesn't have to be. We don't know everything by any means and we encourage you all to leave comments with your own ideas or additions to the post. If you feel something is wrong or you do it differently, we'd love to hear about it. We're always looking for new ways to make things work.
Now, On to StumbleUpon
We've had a lot of requests to write a post about how to use StumbleUpon. This can be one of the most exciting tools in driving traffic to your site. Many people will argue that StumbleUpon traffic allows for too much of a bounce rate, but we have found that once the numbers started growing, the visitors evened out and the bounce rate settled down. People now stay on the website longer. Not only has our StumbleUpon traffic gone up, our numbers consistently climbed and stayed there.
So here is a step by step guide on what we do each week when going through our stumbles on StumbleUpon. If you haven't got an account with StumbleUpon, you can sign up for one here.
Choose your interests: We don't only stumble travel interests, we have various interests on StumbleUpon and it is an excellent way to make connections outside of your niche. We regularly receive funny videos, entertainment, photography and technology from our different followers on StumbleUpon.
–
–
–
–
–
–
–
Find your friends and start Stumbling: You can friend us immediately we're ThePlanetD and we accept shares! How do you accept shares? When you click on follow a link will pop up asking you if you want to accept shares in your toolbar, if you click that, you will be able to receive that stumblers shares. We'll be explaining shares further down.
After You Have Signed Up 

First install the tool bar for your browser 
A mistake that we made when first starting with SU was not using the tool bar. The tool bar makes things a lot easier. We use the stumbleupon toolbar for chrome and once a week we go through our StumbleUpon Shares.  See that red number 172 on the left hand side beside Stumble button above? That is the number of people that have shared articles with us. We click on that red button, read the article and give it a like.
Discoveries
It is important to discover articles as well as liking them. You want to participate regularly in StumbleUpon to gain authority. Like most social networking sties, the more active you are, the better you do. If you discover a post, you will automatically have the option to write a review unlike when you are simply giving a thumbs up to a post already discovered. If you want to add a review to an article already discovered all you have to do is click on the bubble icon to the right of "friends" where it will allow us to leave a review.
Note: when going through shares, you won't be the discoverer because posts can only be shared if they are already discovered.
I've since learned the above is not true, I just went through my shares and was the discoverer.
Contrary to popular belief, We stumble our own posts. We just make sure to stumble other people's posts more than our own. What StumbleUpon doesn't want to see are spammy stumbles. If you only stumbled your own website, well that would be different. But if you stumble your own site as you are stumbling other sites you are fine.
There is debate over this method but we have received tens of thousands of stumbles on several different articles and we have listened in on StumbleUpon webinars where they have even said that it is fine to stumble your own stuff.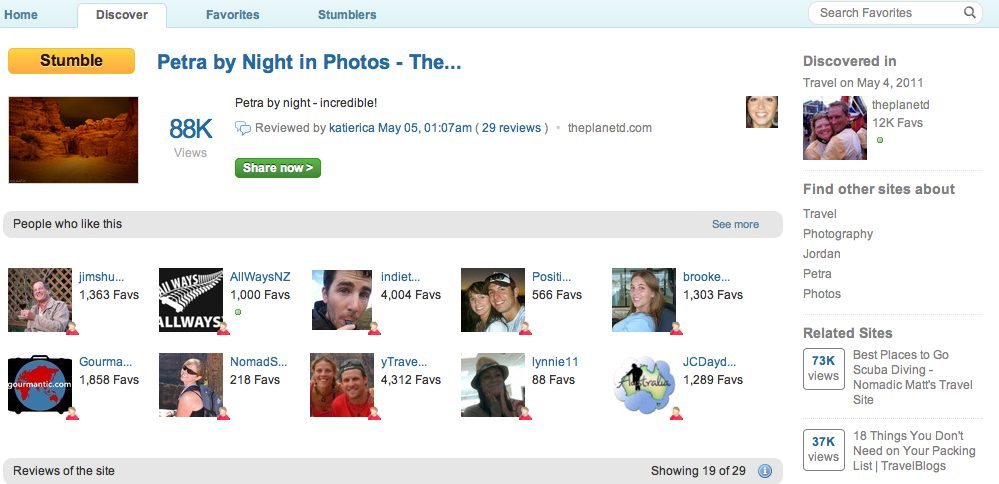 We discovered our own post Petra By Night (photo above) that received 88,000 Stumbles. The more you discover, the more authority you have on StumbleUpon.
Optimizing your time with the Toolbar

The great thing about the tool bar is that we can also kill two birds with one stone. We have also added on the hootsuite hootlet  for Chrome. It's the little owl icon above. While we are going through our stumbles, we can schedule tweets to come out throughout the day or even week.
It's all right at our fingertips! Once you've given a thumbs up and scheduled the tweet and shared it with your other social networks, just click on the red button again for the next stumble share. We can schedule a day of tweets, facebooking and finishing our stumbling in about an hour each day.
Once we get to the end of our shares we start stumbling through random sites. That is when we can discover a lot of new articles and expand our reach.
Sharing
If we particularly like a certain post, we can share it with our followers for them to stumble as well.

Sharing is an important function of StumbleUpon. This is a way to ask your friends to give your article a thumbs up. Make sure not to over share, you don't want to annoy your stumble friends with a share every single day. Also, it is a good idea to share other people's posts as well. When you see something that you think someone will like, let them know about it.
When you click on the share button, your list of contacts will drop down. Click on each person individually and then write a little message to tell them what the article is about. Then hit share now. It will then go out to everyone and be in queue for them to thumb up when they go through their shares.
Have Patience
StumbleUpon Takes Time. It took time before we started seeing numbers. But once we sat down to really work on sharing sites, we suddenly saw a spike in traffic. We have had posts reach up to 100,000 stumbles. Now that we are in the system our posts seem to catch on with little effort on our part since we laid the groundwork early. Unlike Twitter, you don't have to be on StumbleUpon day in day out to have a post go viral.
That doesn't mean that we don't use StumbleUpon regularly, we visit the site regularly. However, it is a social network that doesn't require the constant feeding that Twitter does to remain influential. When we travel, we go for days without visiting StumbleUpon, but once we come back to catch up on our shares and stumbles, we are back on track and can pick up right where we left off.
How do you use StumbleUpon? Do you find it effective? Let us know your opinions so everyone can gain from the collective knowledge.
 Remember if you do use StumbleUpon give us a follow we love to share great content.
You Might Also Enjoy