Arrowhead Provincial Park is often overshadowed by its big sister a short distance away. Everyone has heard of Algonquin Park, the mother of Ontario Parks near Huntsville, but Arrowhead just may be the coolest park in the province.
Not only does Arrowhead boast over 30km of cross country ski trails, but it also lays claim to a unique ice trail that runs through the forest.
If you've been following our winter adventures, you'll know that Dave and I have had the opportunity to skate at two iconic ice attractions in Canada, The Rideau Canal in Ottawa and Lake Louise in Alberta. But now we have added Arrowhead Provincial Park in Ontario!
Arrowhead Provincial Park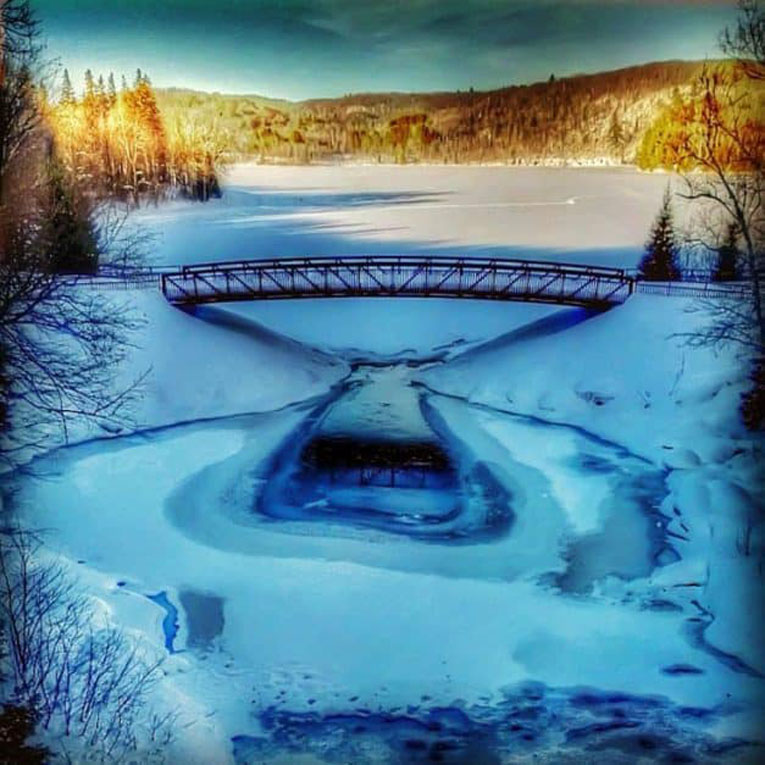 We were talking to Assistant Park Superintendent, John Leadston about how we haven't skated in nearly 20 years other than our two forays on the canal and lake. He agreed, that while many Canadians played hockey or skated as kids, it's just not appealing to go to the rink as an adult and skate around in circles.
Skating Outdoors
It's getting the chance to experience ice in the outdoors that is exciting for us. As a former competitive figure skater, the last thing I ever wanted to do was go to a community centre, hold hands with Dave and follow the pack around the ice.
However, now that you can enjoy 1.5 km of trails outside and through the beautiful Arrowhead forest, I'm totally game!
We were joined by Park Superintendent Peter Briand on the ice who looked completely at ease on a pair of skates. Something tells me he was quite the hockey player back in the day.
There's a staging area set up where you can sit on benches, leave your boots and put on your skates in comfort.
On the weekends, they even have a fire lit to stay warm. On Saturday nights Arrowhead does night skating with tiki lights and bon fires with hot chocolate.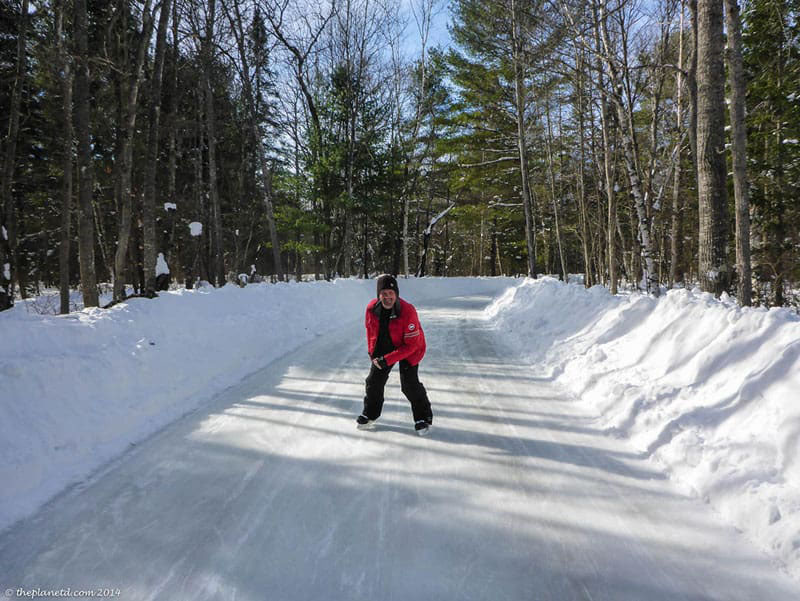 It was so much fun to skate through the forest and what a workout it was! We imagined we were speed skaters competing in the Winter Olympics. If I lived nearby, I'd be here every day doing laps. Skating is so much more fun than running and we get to practice our moves every once in a while too.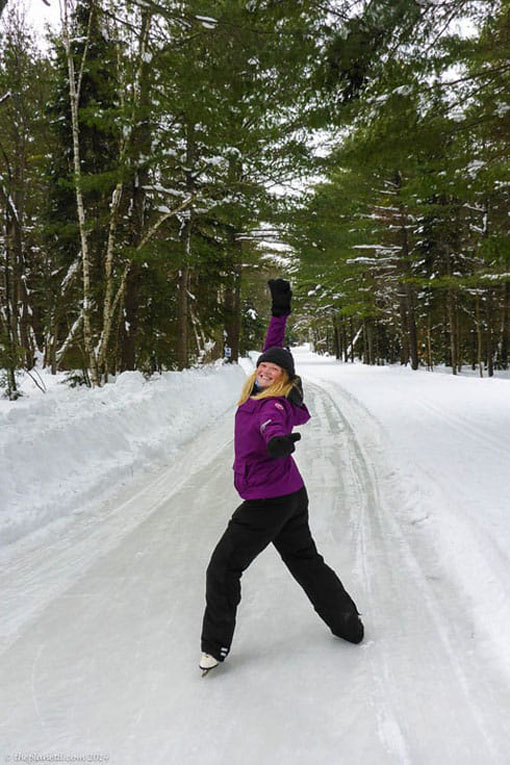 We played around on the ice, getting our legs back. We were very impressed with the quality of equipment Arrowhead rents out.
Our skates were sturdy and freshly sharpened. The only drawback for the ladies was the lack of toe pick. They took off the bottom pick and it really messed me up. That bottom pick is the prime tool for figure skating, I couldn't do a spin or a jump.
Most people get tripped up with that bottom toe pick though, so I understand why they don't have it on rentals, but it was during this time that Dave and I decided, we both need to invest in a new pair of skates to bring with us on our future winter adventures.
Lunch at Arrowhead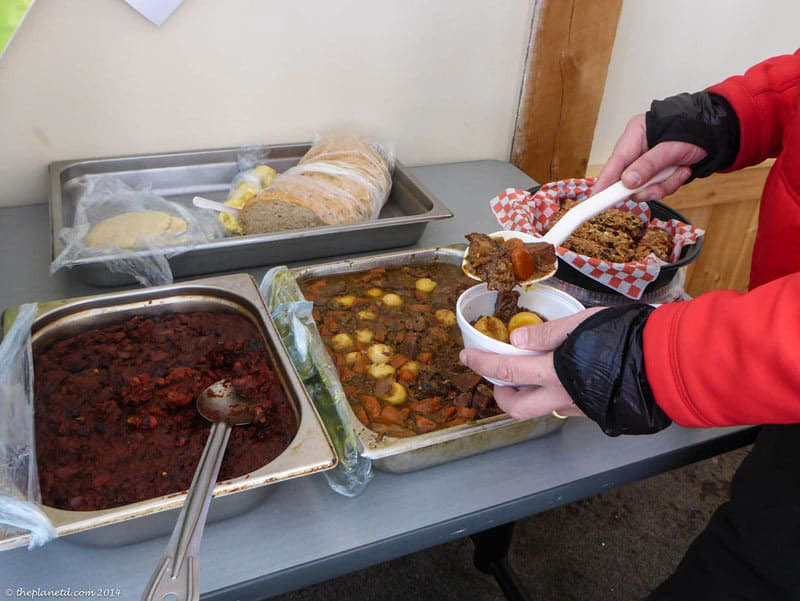 What we really loved about Arrowhead were the warming stations. We brought along a great catered lunch from the Iron Skillet in Kearny and set up shop in a cabin heated by wood burning stove.
Catered Lunch at Arrowhead
While enjoying our amazing meal by Chefs Martin Belzile and Justin Myles we recapped the fun we had as we warmed up by the fire.
Once we felt toasty warm again, we set out for more winter fun where the tube park was waiting for us. When Peter told us the tubing was old school and we'd have to walk up the hill, we were a bit apprehensive.
Tubing at Arrowhead
But much to our delight, we found that the tubing started at the top of the hill so we didn't have to make the long walk to begin with.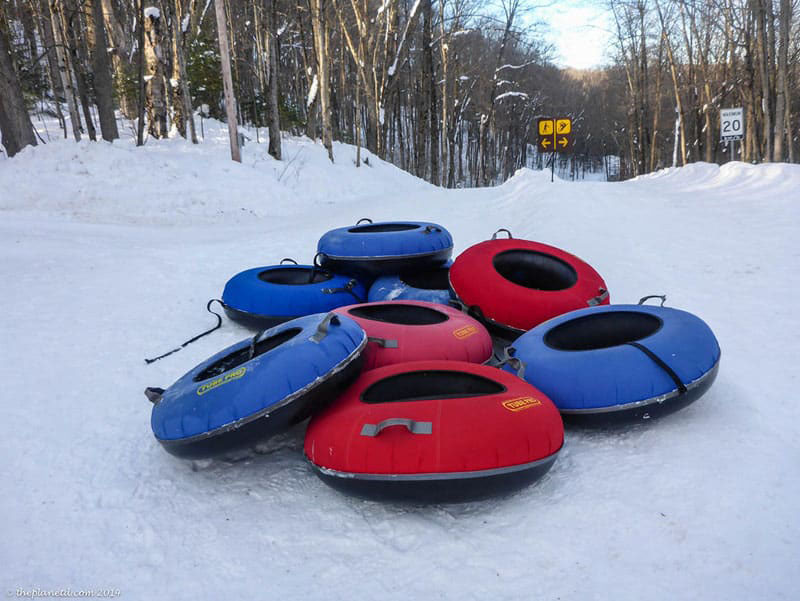 There were a couple of other women waiting to go and I could tell they were a bit nervous.
It's funny how tobogganing as a kid fills you with complete joy, but when you find yourself whizzing down the hill as an adult, nerves can catch up with you. Dave and our photographer from Ontario Tourism, Joey went first and I heard them whooping and hollering their way down the hill.
We felt like a kid again!
I hopped on the tube and Peter gave me a huge push off the top. It was a hoot! I felt like I was 12 again and as I banked off the corners, I saw Dave, Joey and Randy from the Explorers Edge tourism board all armed with their cameras on the side.
This was a surprisingly fast track that filled us with the exact thrill we were looking for.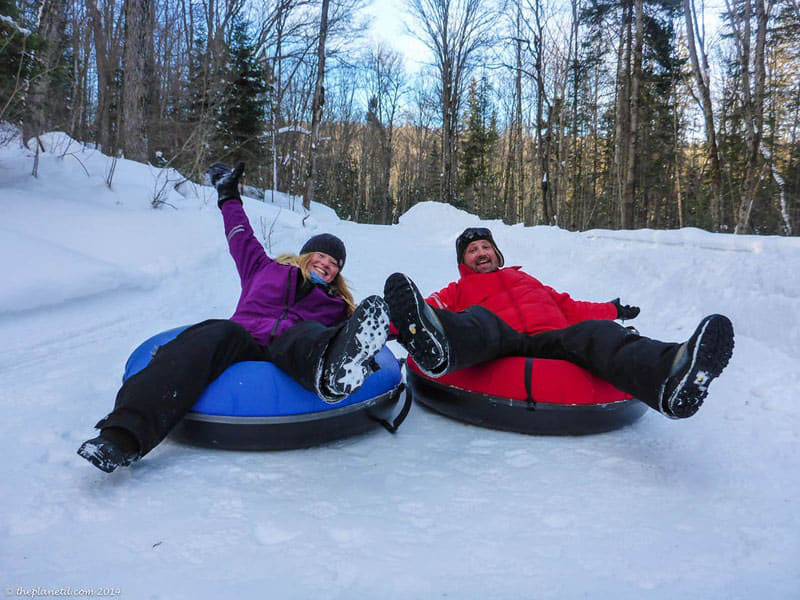 The walk back up was easy too. The trail has been stamped out so you don't sink into the snow and it's a gradual slope.
We found the walk to be so easy, we went three more times to capture more thrills and spills. If you go, don't miss it, you'll be taken back to your childhood and feel like you are a kid all over again.
Sometimes as grown ups we forget the pure bliss that one can feel playing in the snow.
Fat Bikes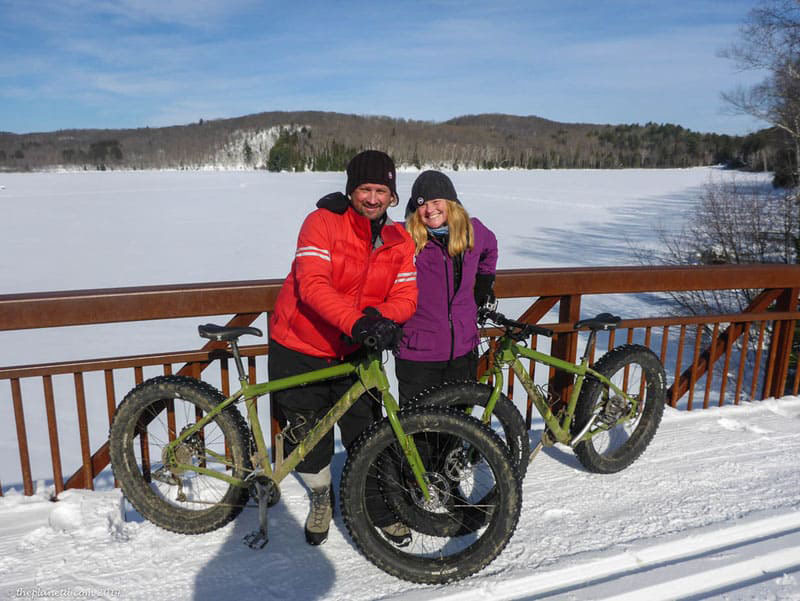 We had never heard of fat biking before this week, but now that we've done it, we think it's going to be the next big thing in winter sports.
We sometimes feel that cross country skiing can be bit slow for the attention span of today's kids, but man oh man, if Fat Biking takes off, this is what the next generation will embrace.
Fat biking is like mountain biking only it's in the snow.
We hopped on a set of mountain bikes with the fattest bicycle tires we've ever seen. We expected them to be slippery, heavy and difficult to maneuver, but they felt almost airy. The tires were so full of air, that it felt like we were biking on a cloud. We climbed hills with ease and we got great speed on the flats.
I am going to be bold and predict this being a huge X-Games or future Winter Olympic Sport. I can see people fat biking the same way they mountain bike.
Arrowhead Provincial Park doesn't have Fat Biking yet, but they are considering it for the future. What do you think, would you make the trip two hours North of Toronto if you could go for a bike ride in the winter? We think you should.
For more information on Arrowhead Provincial Park, visit their website and check out Explorers' Edge for more great winter activities in the region.
---
Read More
Dundas West Fest – A Little Bit of NOLA Comes to Toronto
Things to do in Niagara Falls – What to do, Where to Eat & Where to Stay
Toronto to Niagara Falls by Bus -It's Easy with Busbud
SaveSave