The other night at a Toronto Travel Massive meet up someone asked how to work with tourism agencies and PR companies. People seem discouraged that only a handful of Travel Bloggers end up on press trips or partner with companies.
I remember talking with Melanie of Travels With Two a year and a half ago asking her how she gets invited on so many trips. We didn't look at her success with frustration, we looked to her for inspiration and she told us that she has a very targeted travel blog that companies find attractive to work with. She runs one of the top Travel Couple Blogs on the Internet. It was less than a year later that we had the chance to travel on a press trip together to Rancho La Puerta in Mexico where we enjoyed being roomies for a week and now consider her and Adam very good friends.
PR companies do their research. They are well informed and they have their own lists and analytics that they draw from when choosing to contact travel bloggers. However, that doesn't mean that if you aren't on one of those lists and nobody is calling that you can't take control of the situation and make the right people notice you.
Introduce Yourself
Our first real press trip was the Princess Cruises Twitter Trip. It was the mother of all Press Trips where we were invited to tweet from sea for two weeks. We had the trip of a lifetime on a Twitter trip to Alaska alongside some of the most powerful travel bloggers out there. We never thought we'd be a part of such a strong campaign so early in our career.  We didn't have the credentials of EarthXplorer and we didn't have the influence of AOL's Gadling but here we were, invited to tweet right beside these two travel icons.
We weren't above sending Princess a tweet after their first Twitter trip to introduce ourselves and let them know that we're an adventure travel blog. We knew that their next trip to Alaska would be perfectly targeted to our demographic and put it in their ear that they should invite us along on their next trip! So remember if you don't pursue what you want how will you ever get it?
Meet in Person and Follow Up
It was at a travel meet up in Toronto that we first met our good friends at Intrepid Travel. We hit it off and had a great time talking travel with them. We had the same beliefs and values about seeing the world as Intrepid Travel and the next day we decided to send them our media package. We wanted to let them know that we loved their company and hopefully we could work with them one day when the timing was right. This is why it is important to meet face to face. Your personality carries just as much weight as your numbers.
It was a couple of months later that we were on our way to China taking part in their Grand China Tour and a long and happy relationship was born.
Reach Out
We assumed that because Thailand is such a popular destination for backpackers and Travel Bloggers, it would be impossible to get the attention of the tourist board. However, we contacted the Tourism Authority of Thailand anyway because we knew we had a great idea. We searched for a contact name and sent them a pitch. We were nervous when we hit send on the computer, but they were very helpful and put us in touch with the person that we should be talking to.
After a couple more emails, we found the proper contact in the company and they liked our idea. It was unique and showed people a different side of Thailand that they wanted to showcase. A couple of weeks later, we were on an amazing two-week adventure through the country with the Smiling Albino having us experience a Thailand that we have never seen before!
Use Social Media
You need to engage with the people you want to work with. Companies can't notice everyone so you have to make yourself stand out.
Many of our fellow bloggers travel on sponsored trips that we are not a part of. We may not be a part of that trip, but we get involved and interact with them and the sponsor while it is going on by retweeting their posts and engaging with the tourism board or company.
When we see our friends such as Travel Dudes or Isabelles Travel Guide on a trip, we make sure to retweet them with the trips organized hashtag whenever we can. The tourist boards may be watching and they will take notice of who is sharing their invited bloggers posts. Plus we like to support our fellow bloggers to show these companies the power of social media. The better they do promoting their trip, the better it is for all of our business.
You just may be invited on the next one if you engage and let the people in charge know that you exist. Many top bloggers always share articles freely from their fellow bloggers sponsored trips. Just because they didn't get invited this time doesn't mean that they won't be invited the next. And that explains why they do so well in this business.
Be Prepared
People won't know that they can work with you if you don't let them know are open to partnerships. Put up a media page that gives information about your blog. We labelled ours Advertise/Pr.  Make it easy for people to quickly reference and find out everything they need to know about your business.  Give them the option to download your media kit for more information.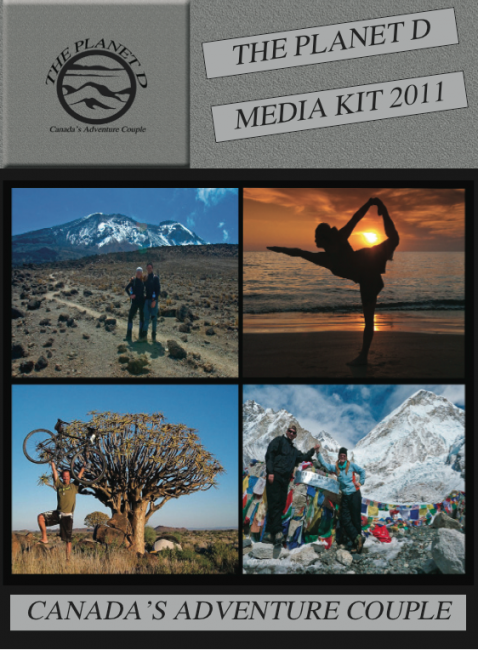 Make things easy for people wanting to work with you and let them know what they can get in return when partnering with you. When you contact companies be prepared to show them why they should work with you and send them a media kit to go along with your pitch idea.
Explain what your blog is about, who the target market is and who reads your blog. This will let companies know quickly whether or not you are the right fit for their demographic. They can then move on to check out your blog statistics and rankings and cross reference with their own system.
So, the next time you see your fellow Travel bloggers on a press trip, traveling with a tourism board or partnering with a company, don't be discouraged. Start to ask yourself, what can I do to get on one of those trips?
For more information and travel blog advice, check out our advice section on ThePlanetD.com
You Might Also Enjoy