The very first place that comes to everyone's mind when hearing the name "Georgia" is the US state. But there is also a small country in the Caucasus that shares this name.
The country with the most hospitable people in the world, delicious food and incredible places to explore.
Even if these days Georgia becomes more and more popular among foreign tourists it is still an unspoiled destination that should be visited as soon as possible.
Georgia has so much to offer! And what is more important – all the attractions in this small country are very different from each other.  
In a very short time, you'll be able to visit old cave towns, hike around high peaks of Caucasus, swim in the Black Sea and wander around the charming capital of Tbilisi.
After the recent war in 2008 Georgia is more than happy to welcome visitors and in exchange offers unforgettable experiences, unique landmarks and incredibly hospitable inhabitants.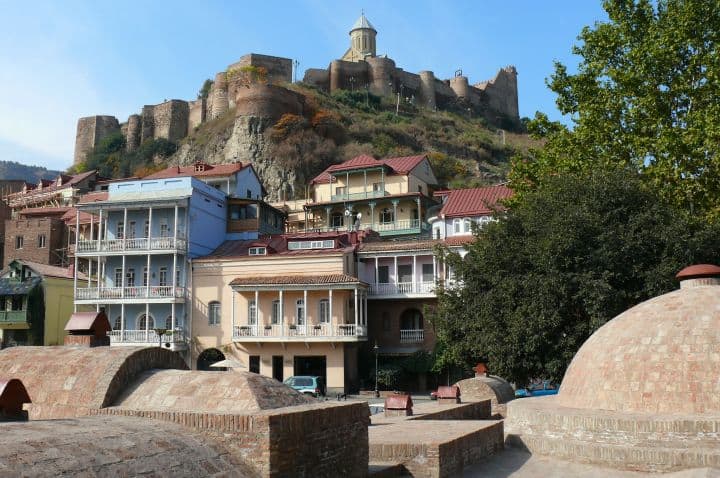 Georgia the Country
Most likely you'll start your visit in Tbilisi. The capital of Georgia dates back to IVth century and its long and rich history can be widely seen on every corner.
Some of the most important landmarks of the city, such as Sioni Cathedral or Narikala Fortress were built in the first centuries after Tbilisi was founded.
It's worth spending a day walking around the old neighborhoods in the center – they are not only charming with bohemian atmosphere but also hide a lot of gems.
Don't be afraid to step inside the houses – most likely you'll be rewarded with a beautiful staircase, wide backyard and a smile of local people.
Just below the Narikala Fortress, in the square surrounded by houses with amazing colorful balconies, you'll find famous baths, perfect to relax after the busy day of exploring Tbilisi.
That's also how the city got its name – in Old Georgian "tpili" means "warm".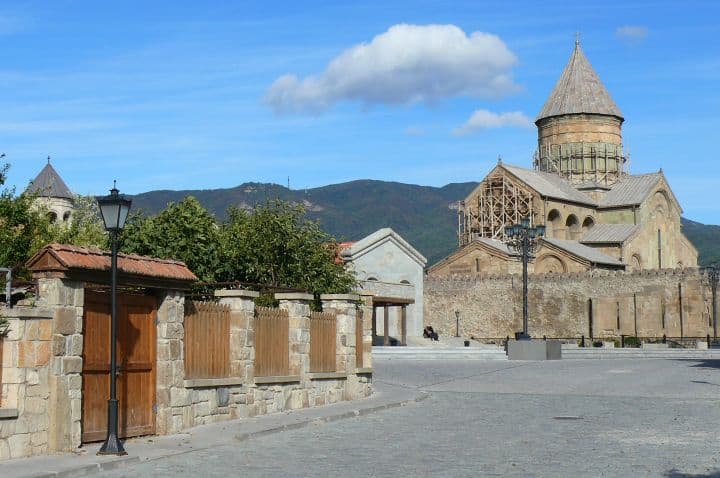 When in Tbilisi be sure to make a daytrip to Mtskheta – the former capital of Georgia.
Getting there is an adventure as you have to find the right marshrutka in the busy marketplace next to Didube metro station (and keep in mind that everything is written in Georgian that might be the most beautiful language yet impossible to understand).
But it's definitely worth to take up the challenge!
Mtskheta is now a quiet little town with world class monuments that are on UNESCO World Heritage List.
The most significant ones include Svetitskhoveli Cathedral and Jvari Monastery, located high above the town and offering breathtaking views of river Mtkvari meeting river Aragvi.
Georgia Military Highway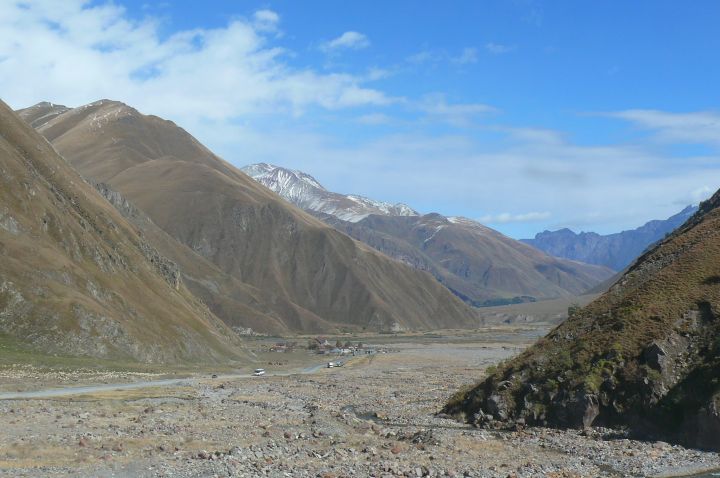 Further north from Mtskheta the Georgian Military Highway has its beginning (or end).
The famous road leads through Caucasus, connecting Georgia with Russia and is often taken by travelers to get to Kazbegi – the most popular Caucasus destination in the country.
But before it reaches its final point in the country the road winds through Caucasus valleys and passes (the highest one is at 7815 feet), offering incredible views.
It takes 3 hours to reach Kazbegi from Tbilisi. When you're there is one thing you have to do – hiking up to the Gergeti Trinity Church.
It's a fairly easy hike yet the views are breathtaking. And along the way you're accompanied by the Mount Kazbek in the background – the mythical mountain where Prometheus was chained to.
Sighnaghi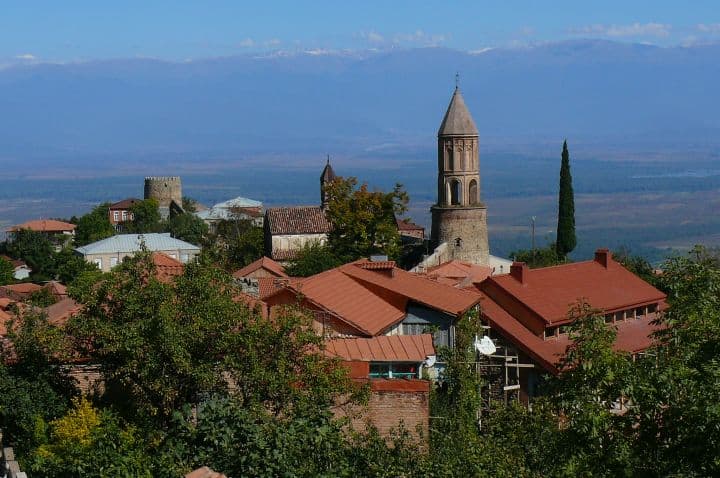 Another nice place for a daytrip from Tbilisi, this time to the east, towards Azerbaijan, is Sighnaghi.
The town has the Italian feel, with high cypresses and red roofs and is a must for every wine lower. Georgia is famous for its wine and the Kakheti region is where the best one is made.
Sighnaghi, located on the rolling hills and surrounded by the wall (from where the best view of the town can be admired, with high peaks of Caucasus mountains on the other side) is a charming place to spend a lazy afternoon, walking around the squares and houses that are fine examples of Georgian architecture from 17th-19th centuries. Not far from there Bodbe Convent, where St. Nino is buried, is located.
Gori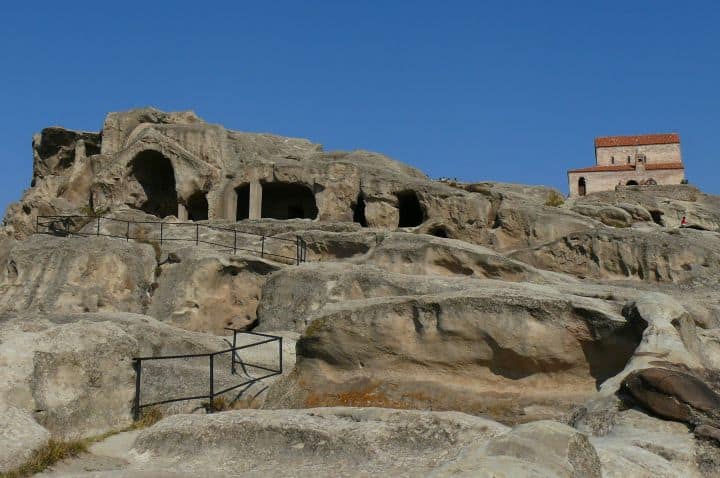 Everyone has heard about Joseph Stalin but not many people know that he was Georgian, born in Gori – the city just 1 hour away from Tbilisi.
Its inhabitants are still proud of their most famous man, the main avenue holds his name, the Stalin museum (including the house he was born in) is in Gori and until 2010 a big statue of USSR leader was standing proudly in the very center.
Gori was badly damaged in Georgian-Russian war in 2008 but it's still an interesting city to visit it, even if just for few moments on the way to/from Uplistsikhe.
Just 10kms east from Gori the impressive and once enormous cave town can be found, located on the bank of Mtkvari river. It was founded around 1000 BC and used to be one of the biggest and oldest settlements in the Caucasus area.
It served as the lively and important town until 1240 when it was destroyed by Mongols.
Now the town is in ruins but it's extremely interesting to wander around, thinking what was there all these centuries ago. A couple of public buildings are still there: a church, the theatre of the pharmacy being few of them.
Batumi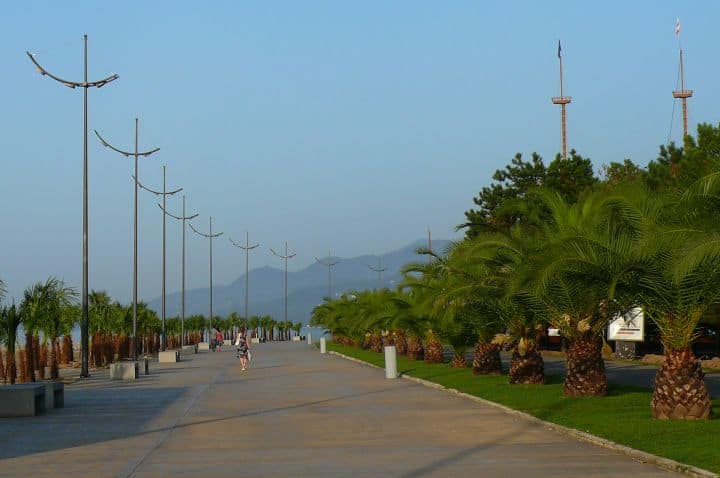 After the time of busy and extensive sightseeing it's worth to head to the west of the country, to the Black Sea coast.
Just hop on the night train from Tbilisi and in the morning you'll wake up in Batumi, the capital of Adjara. This busy harbor city is also where all the important people come for holidays as it's worth to be seen there.
The beach might not be the best one as it's narrow and with stones but the long boulevards full of cafes and beach bars make up for that.
The architecture in the beach area is modern and kind of out of place but once you go inside of the city it's like a different word, with narrow streets, small houses, charming cafes and the bohemian feeling.
Georgia, even if it's such a small country, offers amazing attractions that can suit everyone. It's definitely not your typical tourist destination and for that reason itself it's worth discovering it as soon as possible, before the crowd finds out about its beauty.

About the author:
Kami is a Polish female solo traveler who tries to balance full-time work with a love of being on the road.
She spends every free moment exploring new places or returning to old ones.
She's already visited 45 countries (mostly in Europe but not only), but new adventures are still ahead, she always has new plans where to go next! Check out her blog: MyWanderlust and follow her adventures on Facebook and Twitter!
---
Read More
Lithuanian Outdoor Adventures: Top 5 Insider Picks
What to do in Prague – Your complete 3 day itinerary
25 Haunting Chernobyl Pictures – 30 Years after the Disaster
SaveSave
SaveSave