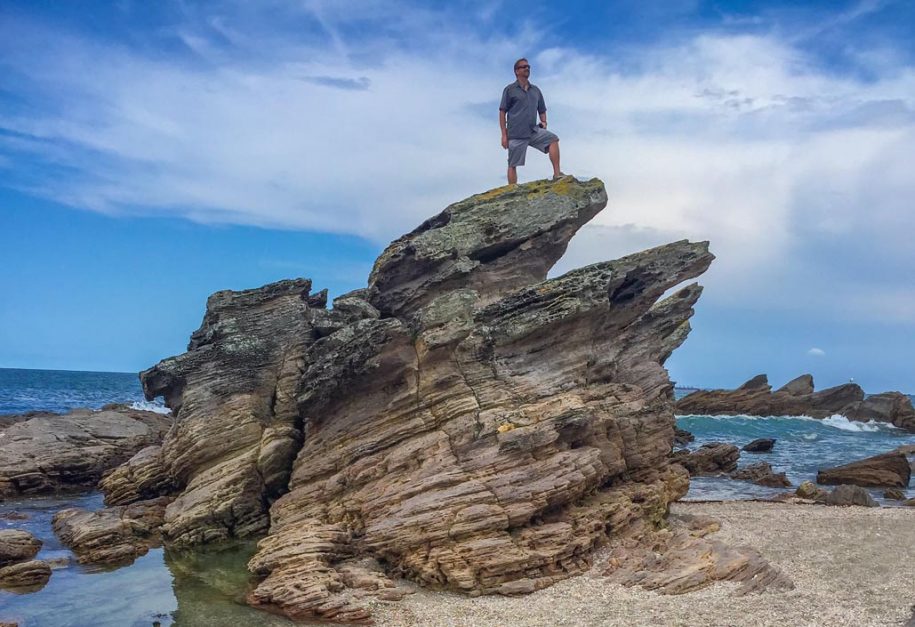 New Zealand really does conjure up images of Middle Earth. It is a land filled with breathtaking scenery, striking mountains, pristine beaches, lush forests and rolling hills.
The landscape is so diverse in such a small space. One minute you can be walking on a glacier and the next you can be hiking beside a waterfall. It is simply an unforgettable journey.
This New Zealand travel guide will help you plan your next vacation.
Fast Facts
New Zealand power voltage is 220 V 50Hz; Plug I
The currency is the New Zealand Dollar and is around 1.20 NZD to 1.35 USD
Internet can be slow and expensive, travelers can check out McDonalds and libraries for free Wi-Fi.
Tipping is not customary in New Zealand, so you don't need to leave anything extra unless the service was truly exemplary.
You can get a local sim card from Vodaphone once you arrive in New Zealand. We recommend this for longer stays.
If you are traveling for a short time, we use KnowRoaming International SIM for all our travels.
Readers Receive a 50% Discount with our promo code DDSave50. Packages start at $3.99 per day for unlimited data. You can order here and have it delivered or find out more at our post.
Budgeting
Accommodation
Food
Transportation
Getting to New Zealand:
Flights: The main hubs to New Zealand are Auckland, Christchurch, Wellington, and Queenstown. Air New Zealand flies from around the world with direct flights from cities such as Vancouver, San Francisco and Hong Kong.
You can check for the best flights to New Zealand on Skyscanner.
Compare Flight Fares Below
Trains:
Buses:
Taxis:
Car Rental:  Campervans are an excellent way to get around New Zealand with several companies offering rentals and well-established campgrounds with full facilities.
Uber:
Packing Tips
New Zealand has a diverse landscape with volcanoes, glaciers, breathtaking mountains, endless stretches of beaches and luscious forests. New Zealand's climate varies depending on the area travelers intend to visit.
The weather in New Zealand can change in an instant, so travelers should always be prepared for anything!
Layers – The general rule of thumb is to pack at least four layers: a base layer, long sleeve shirts, a fleece (mid-layer) and a top layer such as a windbreaker (waterproof!). Don't forget a warm pair of gloves, thick scarf and a hat!
Read our tips for layering and check out our ultimate list of travel gear.
Thermal underwear – this is especially important if traveling to the South during the winter or hiking in the mountains.
Sunscreen – The depleted ozone layer over the country means that the sun is incredibly strong. Along with sunscreen, pack a pair of sunglasses and a hat.
Rain Gear – it tends to rain a lot in New Zealand even in the summer. However, avoid bringing along umbrellas as the rain is coupled with strong gusts of wind. Instead, invest in a good waterproof jacket that will keep you protected.
Backpacks – a sturdy backpack or large bag is more appropriate for adventuring as they are easier to carry and you don't have to roll them through the sand of New Zealand's amazing beaches.
When to Go
New Zealand has a varied landscape with two distinct islands. The North Island is warmer than the South with a sub-tropical climate.
Snorkeling and swimming is more pleasant up here. But the South Island was made for adventure.
Dec-Feb is summer in New Zealand – this is high season with the most visitors. You'll see a lot of campervans on the road and campgrounds fill up quickly.
March – April – a great time to visit at just the start of autumn. There are still warm days and crowds start to thin out. But pack layers and a jacket. You'll start to see the fall colours too! We travelled through New Zealand all of March and days were warm. Evenings were cool, but we still managed to snorkel, go sailing, skydive, bungy jump…we did everything you would do in New Zealand during the summer months.
June – August is winter in New Zealand. If you are into skiing, you may want to check out New Zealand in the winter. The South Island can dip below -10 C
– the North Island sees more rain in winter
-Snowfalls happen in the Central Plateau on the North Island and the Southern Alps in the South.
Sept- Nov – Good shoulder season for travel as things start to warm up and crowds haven't arrived full swing.
Things to Do
Adventure
Culture
Tamaki Maori Village – Rotorua is renowned for its Maori culture experiences and the most well-known of them all is the Tamaki Maori Village Rotorua where travelers can experience a journey into the heart of the Maori culture.
What not to Miss
Company Suggestions
Flying Kiwi, Luxmore Jet Boat, Sky Dive Taupo, Rangitata White Water Rafting, AJ Hacket, Nevis Bungy Jump.
Places to Stay
Check out our favorite booking platforms Booking.com, Tripadvisor and Air B&B for the best deals on accommodation in Ireland.
Booking Resources
Whenever we travel to we make sure to start with these companies.
We have tried a lot of different ones over the years and all of these have consistently proven to be the best when it comes to offering great prices.
We have used every one of these personally and continue to do so.
Booking.com: This is our go site to when comparing prices for accommodation. It is usually the has the cheapest prices, not to mention you get free cancellation and you are guaranteed the best price.
Trip Advisor: What we like about Trip Advisor is that we can look at all the reviews and then book our accommodation.
Air BnB: Airbnb is the main search engine we use when we are looking for a home or apartment rental. It is the best way to stay in areas that offer a more local feel.
Skyscanner: This is the first place we check for flights. It consistently comes back with the cheapest and best options. It allows us to compare a lot of airlines to get the best price.
Hostelworld: With one of the largest databases of hostels in the world, Hostelworld is the go-to site when you are looking for budget accommodation.
Rome 2 Rio: If you want to see how to get somewhere by plane, train, bus, ferry or car Rome2Rio lays it all out for you as well as related costs. I love how they show it all to you on a Google Map and it works offline.
Get Your Guide: For all your day trip and city guide needs, we use Get Your Guide. It has the world's largest collection of things to do with more than 30,000 activities in 7500 destinations.
World Nomads Insurance: When traveling you should always have travel insurance.
Related